How can I add warmth to an entryway? 8 tricks designers use to create an inviting entrance
Interior designers share their tips for creating a cozy and inviting entryway full of personality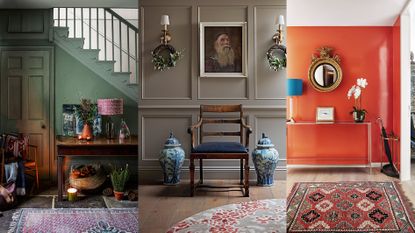 (Image credit: Future)
If there's any room in the home that deserves to feel warm and welcoming it's the entryway. There's nothing like having a cozy space to step into after a long day, and having a beautiful, inviting entryway will instantly make guests and visitors feel at home, too.
There are many ways to make an entryway feel warmer, from quick fixes like draft-proofing, to fitting underfloor heating, but it's not just about practical solutions to tackle cold spots, the decor you choose can also have a big impact on how warm and inviting a space feels.
We asked the interior design experts for their tips on how to add warmth to an entryway and have compiled our favorites below, from practical solutions to quick fixes and decor advice.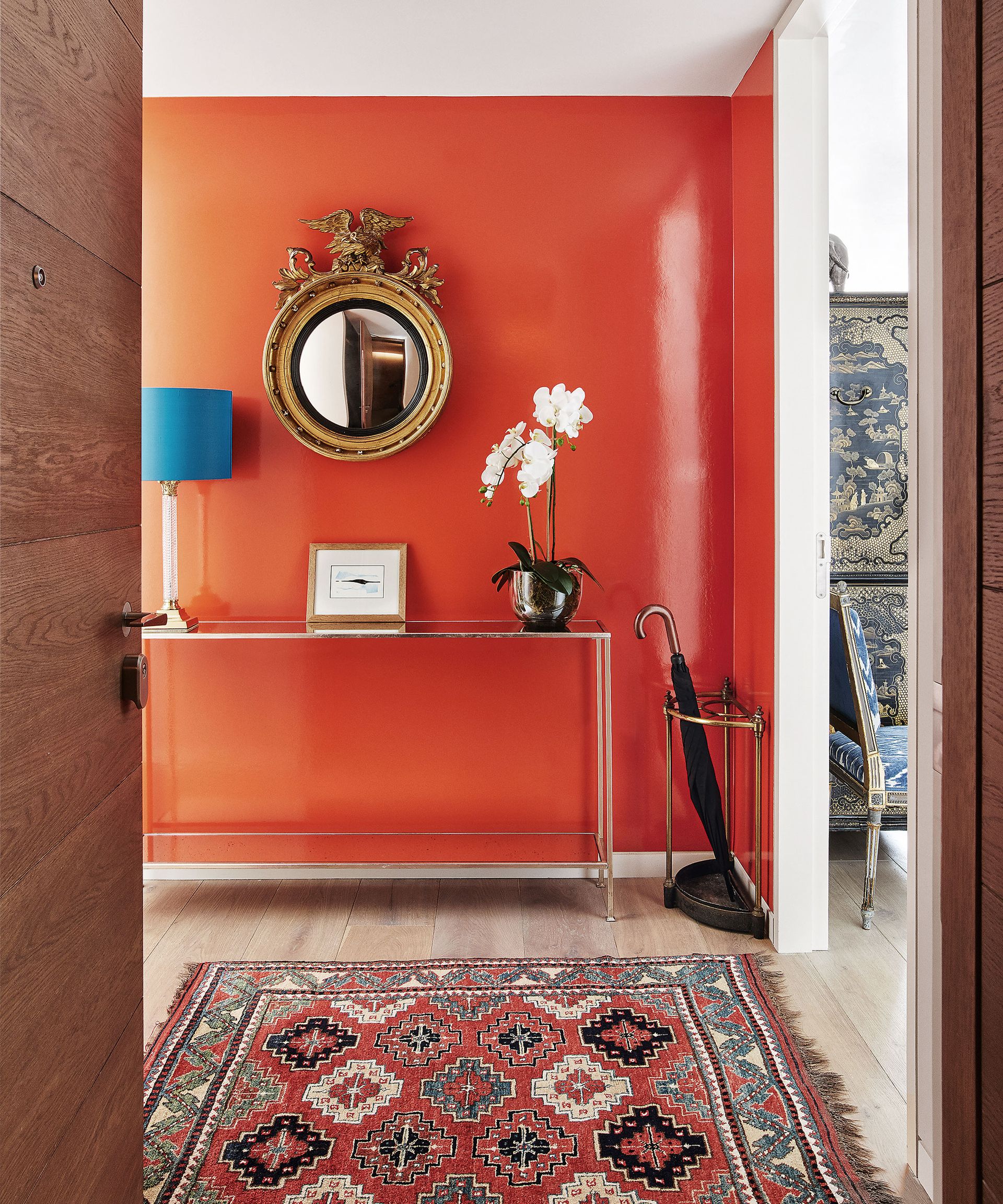 How can I add warmth to an entryway?
As any good interior designer knows, designing an entryway that is cozy and inviting involves far more than just practical heating solutions. From the lighting and flooring you choose, to entryway paint ideas, fittings and accessories, there are multiple elements to consider that all contribute to a feeling of warmth in your space. Whether you're looking for quick updates or starting out on a new entryway design, we've shared an array of tips and ideas on how to add warmth to your entryway to help inspire your project.
1. Choose a warming wall colour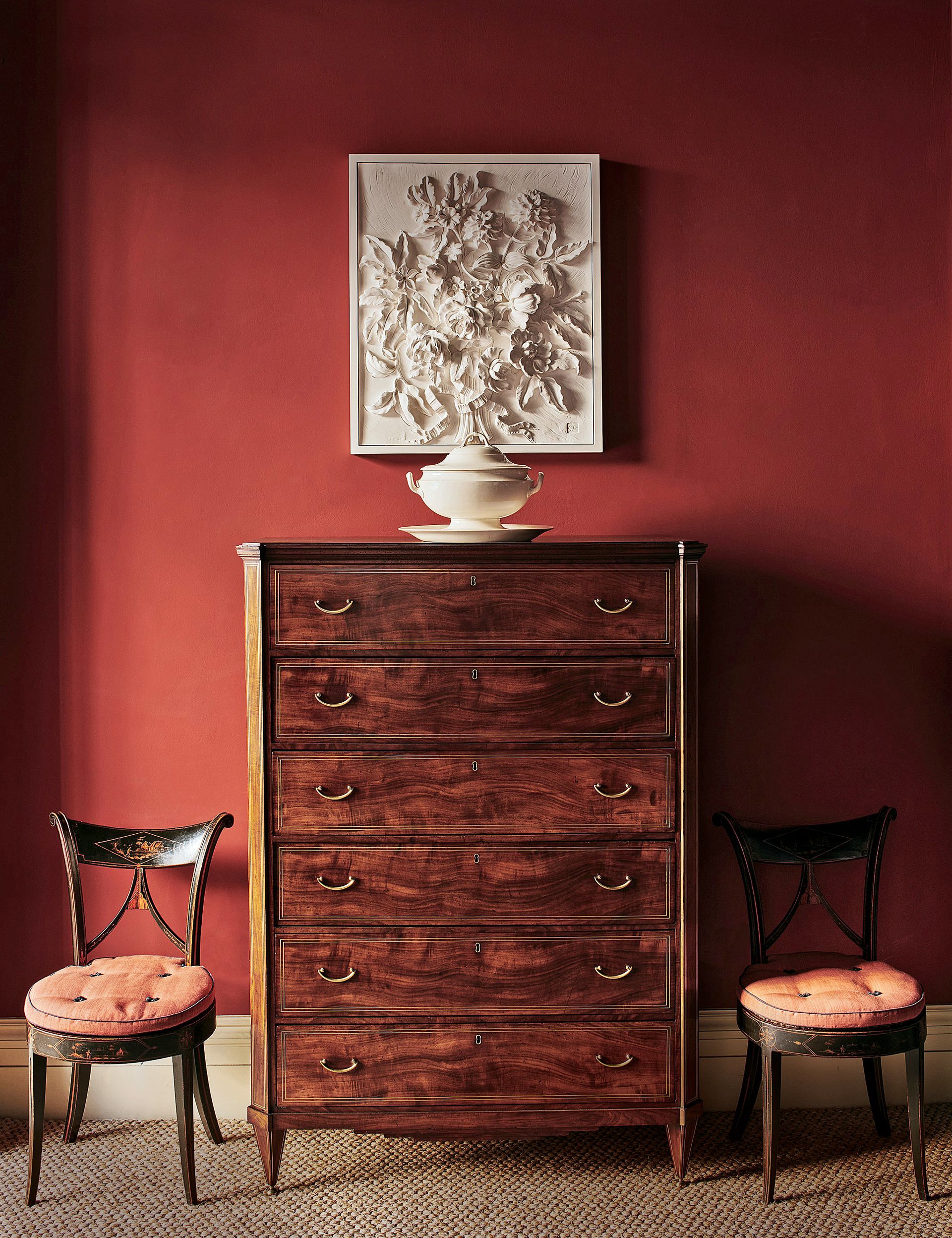 Color has the power to instantly change the mood, so if you're looking to make an entryway more inviting then wall color is a great place to start. Reds, oranges, terracotta, ochres, and yellows are guaranteed to bring warmth to an entryway. However, it's also worth considering tone, too. Painting an entryway in a dark color can bring the walls in to create an enclosed, cocooning atmosphere. A clever benefit of this is that it can also make the rooms leading off feel brighter in comparison.
2. Embrace pattern and texture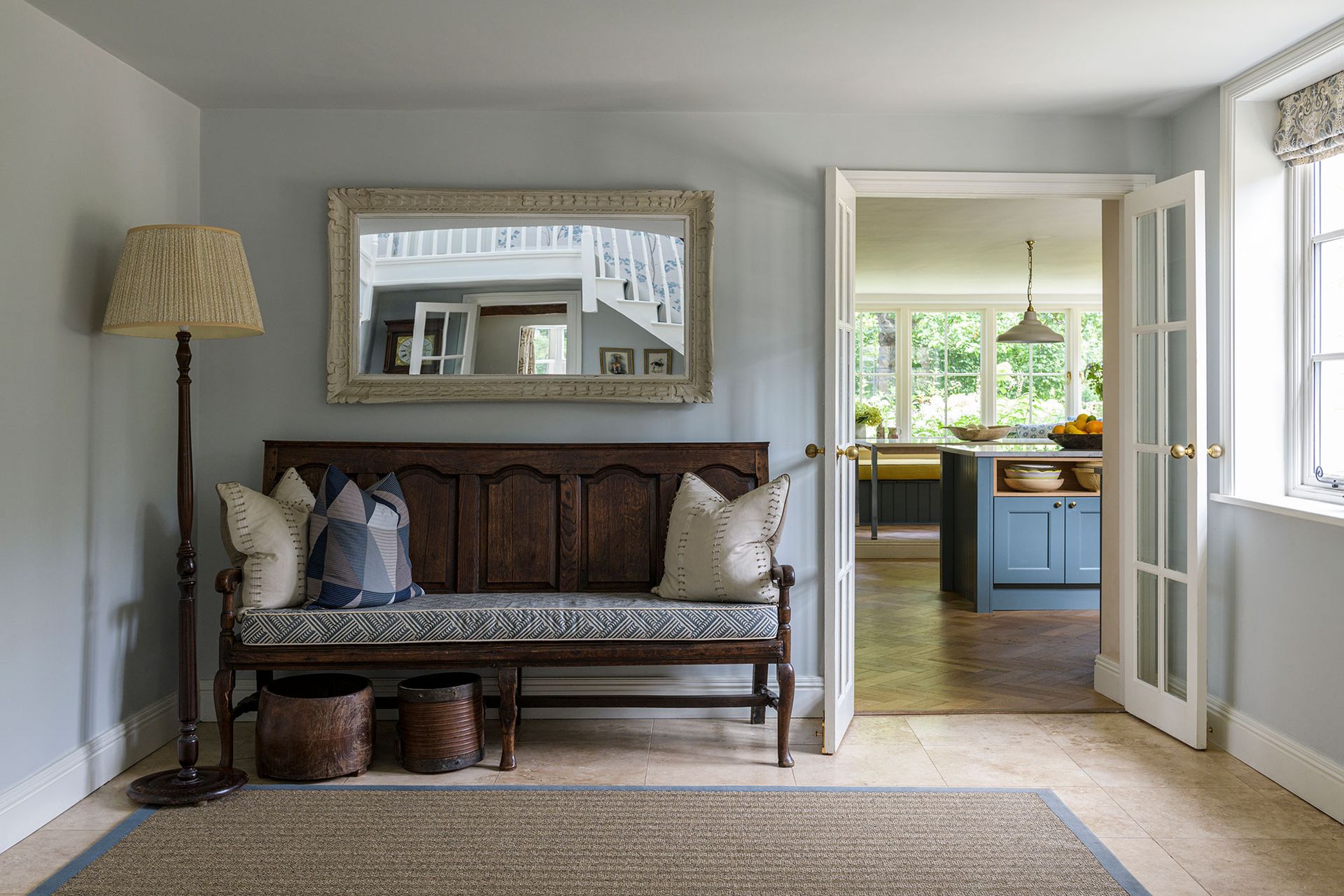 While warm paint colors are guaranteed to create a cozy feel, that doesn't mean greens and blues can't work well too – the key is to use shades on the warmer end of the spectrum but also to dress the space with plenty of texture and accessories, as demonstrated above.
'From cozy rugs to patterned prints and ambient lighting, create a warm and welcoming entryway by introducing comforting textures and tones. If you have a larger space, complete your entrance by adding natural textures with wooden furniture and rattan accessories,' suggests Sam Hood co-founder of Amara.
3. Layer warm white lighting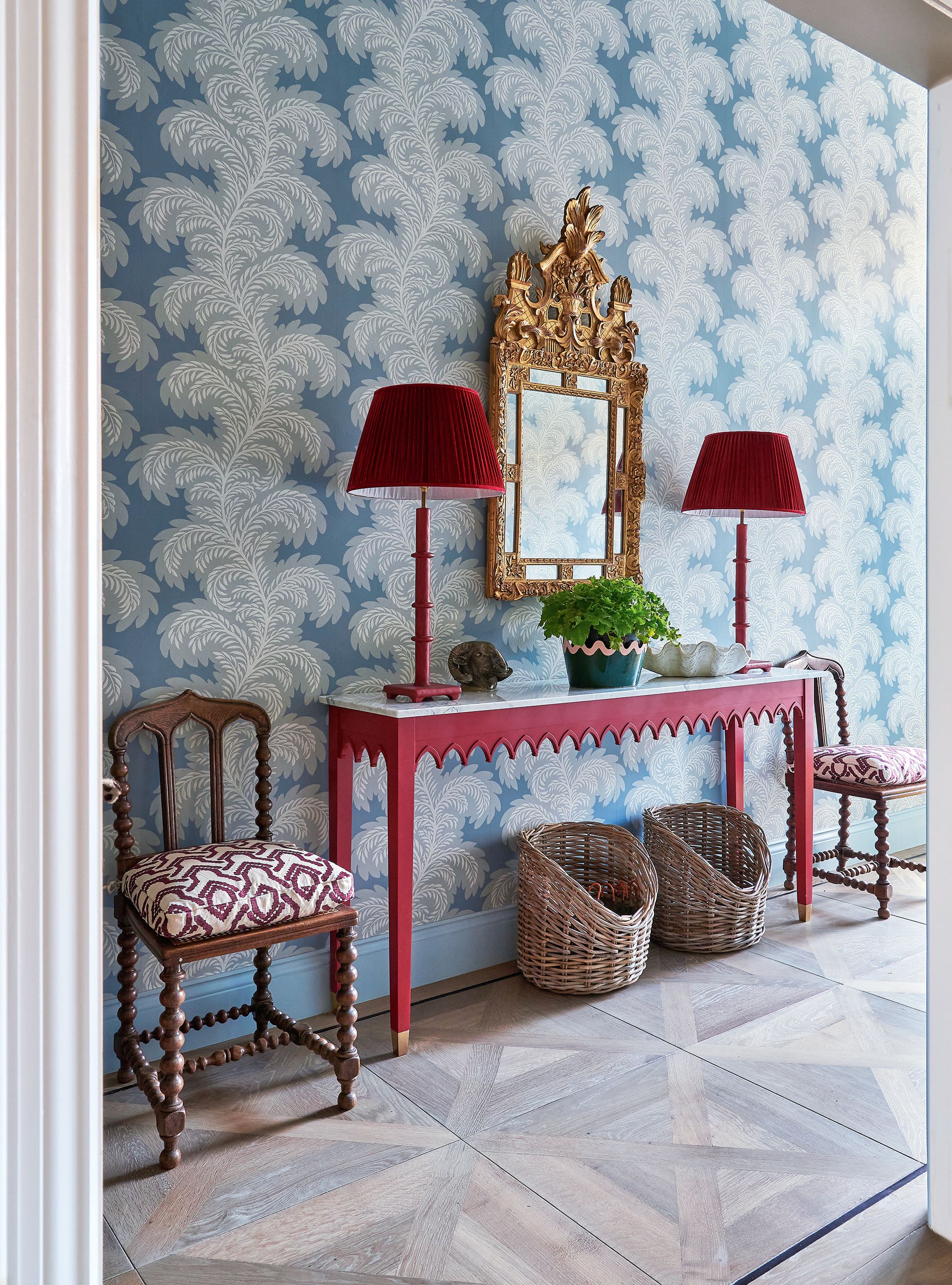 When it comes to entryway lighting layering plenty of ambient sources as well as is the best way to create a welcoming atmosphere. Think about combining pendant lights, wall lights, and table lamps on a console if space allows, plus be sure to choose the right warmth of light say the experts. 'Generally speaking, cool white or even daylight bulbs are only really good for high-task or workspace areas where there is no natural light. Layering warmer light is a more natural way to brighten your living space and help transition the day into evening,' says Niki Wright, co-founder of lights&lamps.'
'The use of brighter ceiling fittings in the day is often a subtle enhancement to natural daylight. Dimming them down in the evening and complementing them with low-level lamps can transform a bright space by day into a cozy room by night.'
'A statement light in an entranceway creates a focal point and for those with smaller spaces, it helps to lead the eyes up making the room feel larger,' adds Julian Page, head of design at BHS Lighting. 'Wall lights are also another great lighting option. Not only do they light up larger areas such as entryways or staircases but can highlight interesting features in the space such as art or family photographs. If you decide to choose more of a sculptural wall light, this too can act as a piece of art in the home.'
Placing a mirror on the wall behind table lamps will also serve to amplify the warm glow adding to the cozy atmosphere after dark.
4. Add fitted carpet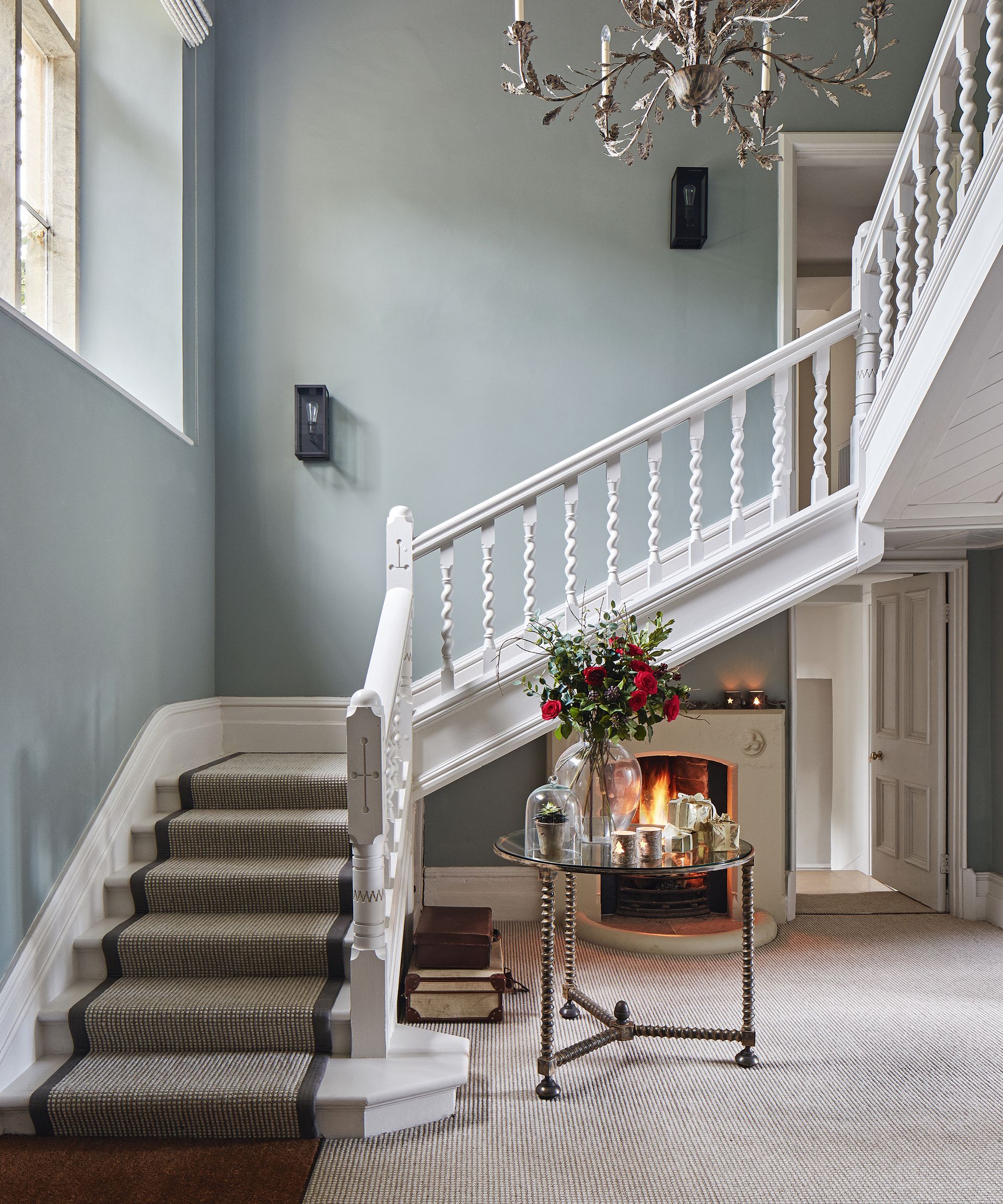 It may not be the first entryway flooring material that comes to mind when decorating an entryway, but fitted hallway carpets are a great way to make entryways feel cozier, plus they can be wonderfully durable. Carpet brings softness underfoot and a layer of thermal insulations, but also helps muffle sound which can be particularly handy in large, echoey entrances.
'For areas of high traffic, such as the entrance, you are going to need something more durable. Fitted carpet that is made from 100% wool, pampas boucle is the perfect material for this,' says Jon Flannigan, product manager at Kersaint Cobb.
In this beautiful home, the owners have created the ultimate cozy focal point with the addition of an open fireplace.
5. Embrace the warmth of wood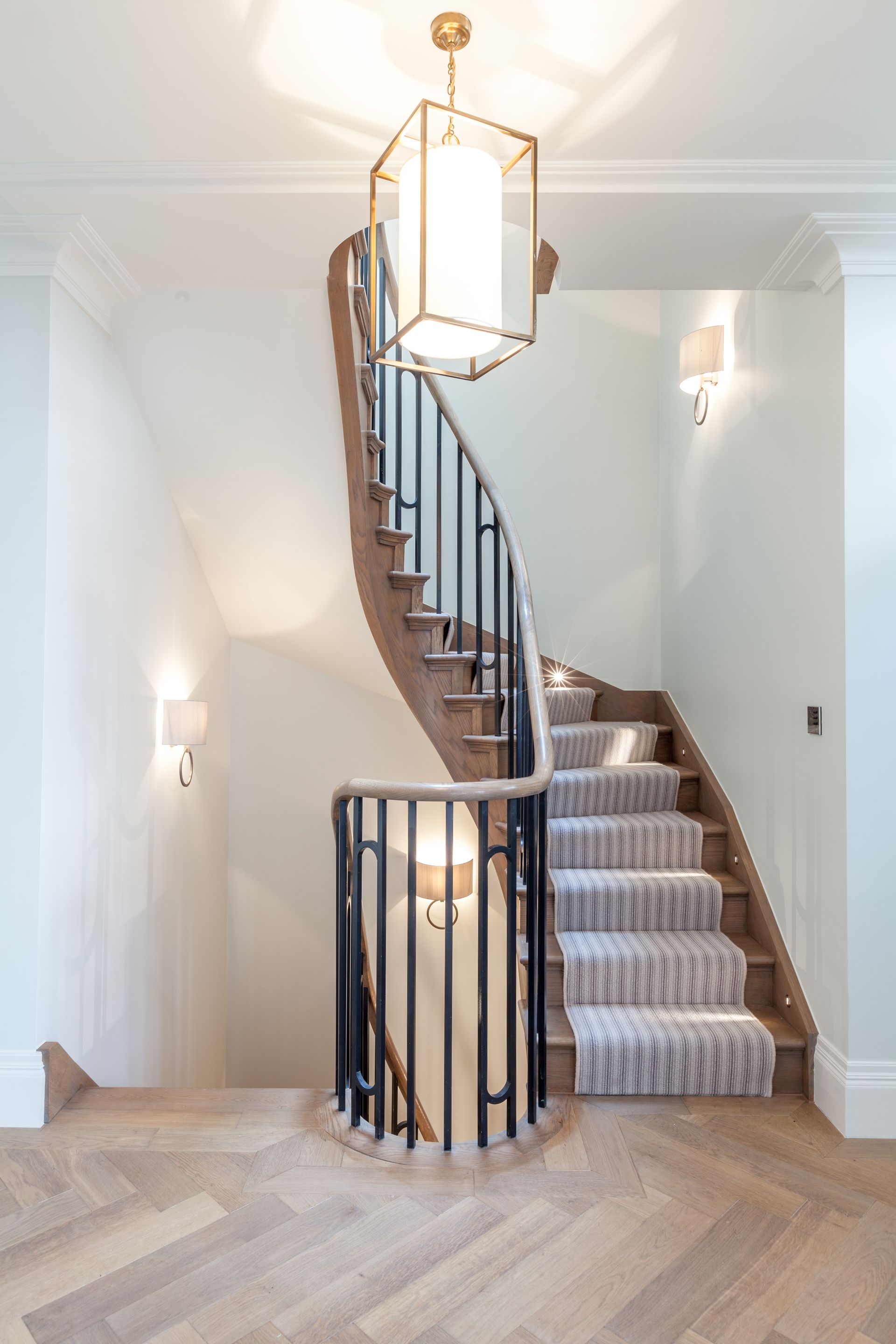 With its beautiful textured grain and varied, warm organic tones, natural timber makes a wonderful flooring material for those looking to bring warmth to an entryway. As well as being hardwearing engineered wood planks work particularly well over underfloor heating which is a great way to warm an entryway without the need for radiators cluttering up the walls.
When it comes to entryway flooring, 'ultimately you want to install a material that has longevity and doesn't need to be regularly replaced. Although solid or engineered wood does have a higher cost attached to it, when properly maintained, it can last a lifestyle compared to other solutions such as vinyl or wood-effect tiles,' says Simon Myatt, brand ambassador at Havwoods.
'Natural light plays a part in the aesthetic of your entrance. If the room is flooded with light, you have more flexibility with your choice of floor as the room will naturally feel larger. Complement the light with a soft finish or opt for a darker wood flooring finish which is more forgiving over time. For darker entryways, choose a mid-tone floor color as it's easy to maintain and helps give the illusion of space.'
6. Brighten up the space with a runner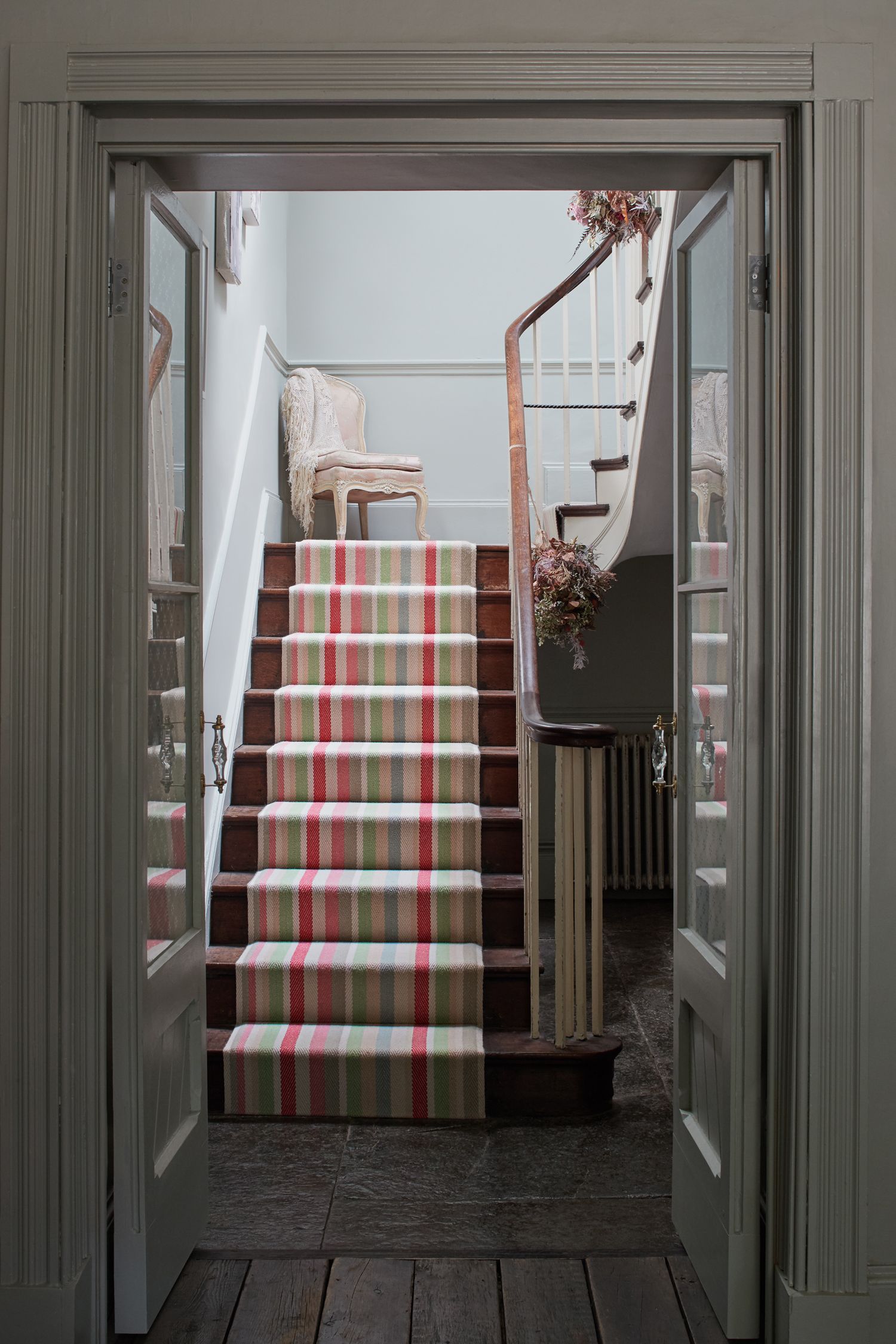 While fitted carpet may offer ultimate coziness, if you have a beautiful hard floor in wood or stone it can be a shame to cover it up. In this case, a vibrant hallway runner is a perfect way to bring life and personality while still showcasing the character of your floor.
'Runners should not be defined as protective but are decorative in their own right, a runner will add the perfect welcoming touch to any hall or stairway, instantly transforming a dark entrance into a warm space,' says Andy Guard, creative director at Roger Oates. 'On wooden or stone floors, if laid with underlay, runners soften the resonating sounds of crashing feet but allow the wood or stone beneath to be visible making them far chicer than fitted carpets.'
7. Add a door curtain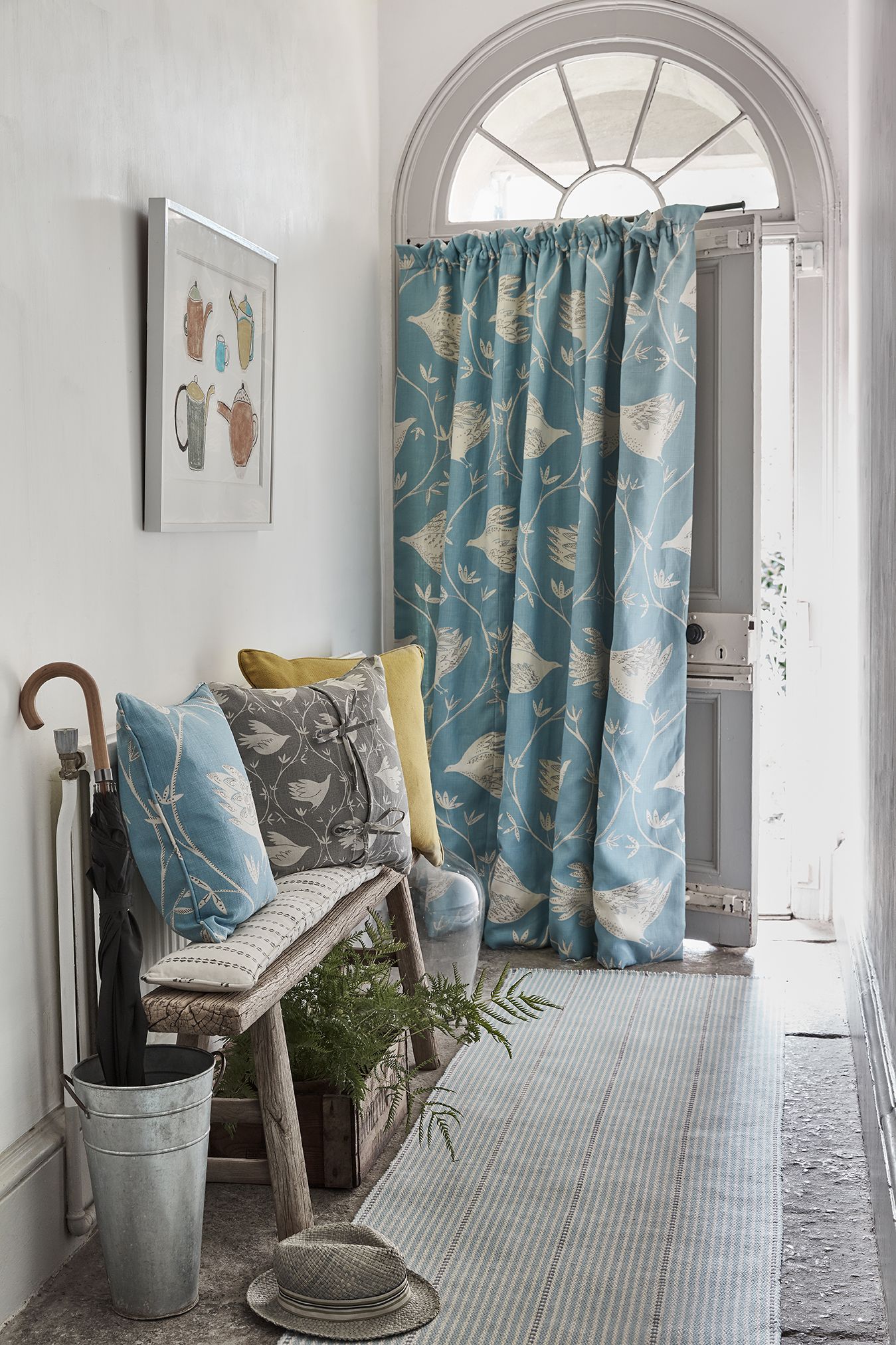 If you live in an old property with poor insulation which is prone to drafts around the doorway then adding a thick, curtain with a thermal lining will instantly make an entryway feel warmer and cozier. A bright, playful design such as Vanessa Arbuthnott's In Full Flight fabric pictured above is guaranteed to brighten the room and create a relaxed feel.
If space allows, a small bench with cushions provides a handy perch for guests to take their shoes on and off in comfort. Fitting in draft seals around the doors will also help tackle cold spots.
8. Display artwork and collectables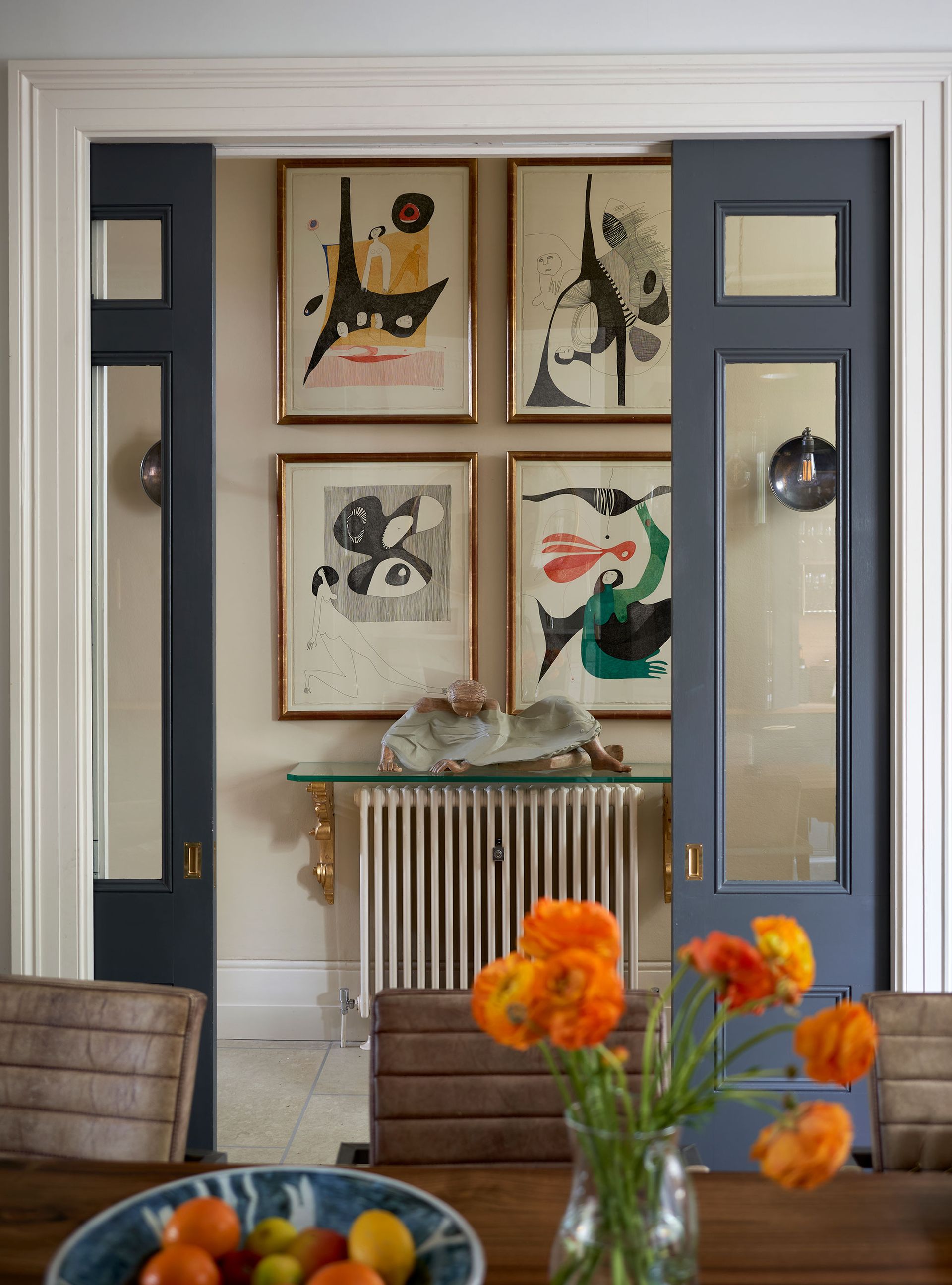 When it comes to creating a feeling of warmth the items we surround ourselves with can play a huge role. Filling our homes with meaningful possessions, artwork and items that spark happy memories is a wonderful way to make your home feel inviting. 'Displayed collections of art or objects are fun to encounter in an entry and can immediately offer personality and warmth,' explains Catherine Fowlkes, of DC-based architecture firm, Fowlkes Studio.
What do you put in an entryway to a house?
What you put in an entryway will depend on the size of the room and the function you wish it to fulfill. For a warm, inviting hallway it's best to keep the space clear and clutter-free, keeping the floor space clear where possible. Factoring in built-in entryway storage is a great way to keep the space feeling open and airy while keeping coats, boots and everyday items out of sight. Alternatively, try a freestanding storage bench which will also provide a handy perch for taking shoes off and on and place hooks above it for coats. If space allows, a console table makes a handy space for storage, table lamps and displaying decorative items.
'Freestanding pieces such as a console table will not only allow you to display personal touches and prized possessions but will also be practical to drop smaller items such as keys and mail as you go in and out of the house,' says Emma Deterding, founder and creative director, Kelling Designs. 'It will also give you a surface to add some decor so people coming into your home get a sense of your personal style and what to expect.'
'Dress the console with decorative vases and objects, display your best family photos and bring in a touch of nature with plants. A pair of matching table lamps will help create symmetry and balance and opting for lampshades and upholstery in bright colors and bold patterns will allow you to bring your personality into the space, whilst setting the mood for the rest of your home.'
Sign up to the Homes & Gardens newsletter
Decor Ideas. Project Inspiration. Expert Advice. Delivered to your inbox.
Pippa is Content Editor on Homes & Gardens online contributing to Period Living and Country Homes & Interiors print issues. A graduate of Art History and formerly Style Editor at Period Living, she is passionate about architecture, creating decorating content, interior styling and writing about craft and historic homes. She enjoys searching out beautiful images and the latest trends to share with the Homes & Gardens audience. A keen gardener, when she's not writing you'll find her growing flowers on her village allotment for styling projects.