Christmas fireplace decor ideas – 25 ways to a festive fireside
Give your home the wow factor with Christmas fireplace decor that enhances this festive focal point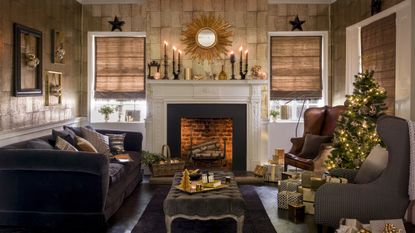 (Image credit: Simon Bevan)
Sign up to the Homes & Gardens newsletter
Decor Ideas. Project Inspiration. Expert Advice. Delivered to your inbox.
Thank you for signing up to Homes & Gardens. You will receive a verification email shortly.
There was a problem. Please refresh the page and try again.
Want to boost your Christmas fireplace decor for the holidays. We love love love making this natural focal point even more of an eye-draw, and it's so easy to do with anything from tree ornaments to a simple garland.
Below, we've gathered the very best Christmas fireplace decor ideas, from decorating experts and our very own styling team.
'Decorating the fireplace at Christmas is my favorite job,' says our Deputy Editor and stylist, Jo Bailey. 'I tend to choose my most treasured ornaments to show off here because they can get lost on the tree, but will be noticed around the fireplace.'
We agree: a spot with such emotions and resultant fond memories attached to it should be celebrated and dressed with Christmas decor ideas that reflect this. Here's how.
Christmas fireplace decor
From chic and minimal to wholesome and relaxed, we've found a bevy of beautiful Christmas fireplace decor ideas, and asked the experts to share their top tips for cozy but elegant fireplace ideas.
1. Build up to a festive scheme over time
If you find yourself in the festive spirit long before December, consider decorating your fireplace with seasonal items that aren't Christmas-exclusive. Winter greenery and cozy candlelight, for example, should be celebrated and enjoyed long before the big day arrives.
'An abundant display of greenery, real or faux, creates such a wonderful winter welcome. Candles and candlesticks on a mantelpiece never fail to please, particularly when mixed with pretty small-bud votives – don't forget storm glass vases can often double up as lanterns too. Creating small groupings along with artwork and ceramics will form pleasing compositions and add interest', says Mark Winstanley, Chief Creative Officer at The White Company.
The beauty with this Christmas mantel decor idea is that you can gradually build upon it as the date nears, adding in ornaments, stockings, seasonally scented candles, and so on. The same works after Christmas too – take down your more 'festive' decor and enjoy your wintery scheme a little longer.
2. Take a less is more approach
Going back to basics is one of the most beautiful ways to decorate for the holiday season. 'For me, the holidays are all about gratitude for the abundance we experience throughout the year, so I like to keep things very natural when I decorate', says Anastasia Casey, interior stylist and founder of The Identité Collective, who likes to group candles.
'Group the candles together very closely – track down as many different sizes as you can, and then buy 20% more! Keep things simple on the stockings; a few loosely tied velvet ribbons in monochromatic colors elevates the entire look', says Anastasia.
3. Choose a vintage feel
If you love a vintage look, it's easy to achieve with a combination of found items and dried flower arrangements. When choosing your designs, consider the Christmas decor ideas you're trying to achieve; wooden frames suit rustic farmhouse Christmas decor, while ornate brushed gold will add an elegant festive flourish, for example.
The same goes for candlesticks too. Try to stick with a similar material and finish, but don't feel like you have to find a matching set; incorporating varied designs at staggered heights makes for a wonderfully eclectic look.
4. Style a show-stopping floral display
The best way to complement the humble simplicity of an open fireplace is with a standout Christmas foliage treatment. This striking display, by renowned royal wedding florist Philippa Craddock, is nothing if not a showstopper, and if you're wondering how to make a Christmas garland just like it, the great news is, you can do it yourself using branches and fresh, seasonal flowers (sourced from local growers where possible).
Here, Philippa has chosen hellebores, acacia and talinum stems, but you could use variations, or introduce extra details such as pine cone decorations or ornaments, if you wanted to put your own spin on things.
While the flowers only last a few days, the branches make for a beautifully organic display on their own, and can be left for a much longer period of time. Alternatively, consider replacing the fresh blooms or substituting for dried flowers for a longer-lasting floral display.
5. Go big with greenery
Pine, fir, eucalyptus and holly – evergreen foliage is an absolute hero of Christmas decor, so enjoy it in its fullest by using it in abundance around your fireplace.
'Garlands of greenery, with a rope base and swagged heavily over mantelpieces look fabulous and will last for ages if you select hardy, evergreen foliage,' says florist Philippa Craddock. 'Or think about using different ingredients: a mass of naturally dried grass mixed with seasonal stems will give you something beautifully unique.'
It's a decor trick that works wonderfully among rustic farmhouse Christmas decor ideas, but also in more formal homes too – here, a matching wreath and garland bring wildness to an elegant, formal living room.
6. Choose scented candles for glow and aroma
'The perfect Christmas scent allows me to reminisce those evenings by a cozy log fire,' says Henry Miller-Robinson, Co-Founder of K&H Design. 'My favorite incense is Oulan Bator by Astier De Villate, with its notes of leather tobacco and wood smoke.'
Your Christmas mantel decor ideas shouldn't just look good, but smell good too. Include scented candles that waft festive aromas around the room as well as contribute a glow beyond the fireplace itself.
7. Festoon your fireplace with string lights
If you're wondering how to make a Christmas garland for your fireplace, don't forget to light it up. 'We use a lot of fairy lights – always warm white – as they can be adapted in a multitude of different ways, particularly when used to fringe a mantelpiece or wrapped around big indoor plants,' says Angus Buchanan, Creative Director at Buchanan Studio. Entwine fairy lights into a pine-based garland, or weave them standalone through your candles, Christmas cards and festive ornaments.
8. Add a floral arrangement
Christmas just isn't Christmas without the velvety red poinsettia.
Instead of leaving it in a pot on the entryway table this year, give it pride of place on your mantelpiece. Split you plant up into separate stems and arrange in a mixture of glass votives – placing a single stem in the smaller one, but building up the larger vessels with a few of instead. Try to not play too much with height difference, as the natural variations of the bracts themselves, plus the mixture vases will be enough to create interest without overwhelming.
If you don't already have a mirror above the fireplace, consider placing one here for the holidays as part of your Christmas wall decor ideas, to give the impression of multiple rows of the posies.
9. Mix fruit and foliage – and candlelight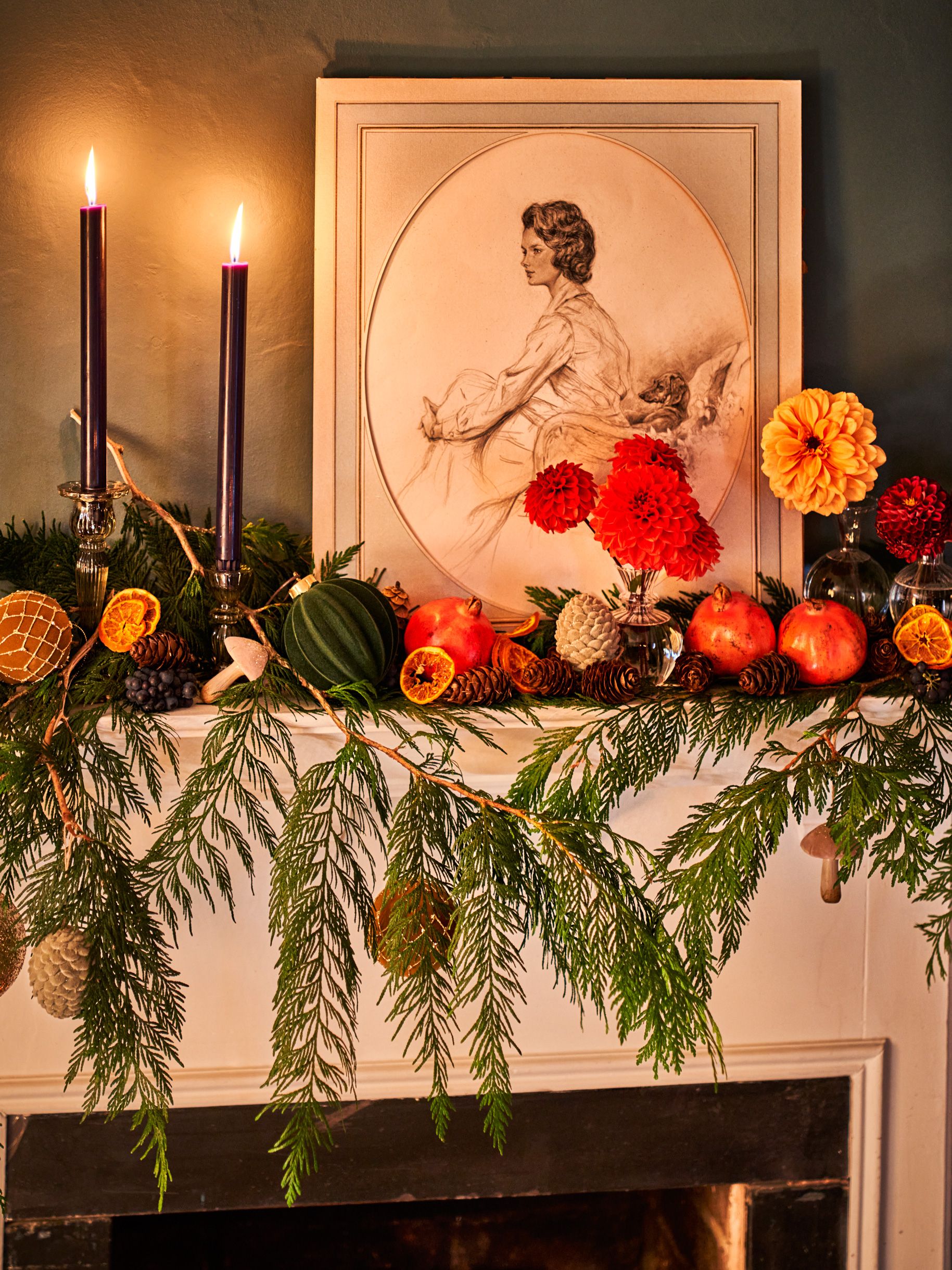 This gorgeous idea from chef and lifestyle guru Clodagh McKenna is wonderfully easy to recreate, and its foodie theme works well among kitchen Christmas decor ideas too.
McKenna has simply taken foliage from the garden and dotted bright flowers and fruits in traditional Christmas colors amongst it. And, of course, candlelight adds to the atmosphere.
10. Keep it authentic
How you celebrate Christmas is totally unique to every individual, so add some of your personality to the space above your fireplace.
Choose a hobby you're passionate about and display it proudly. For example, if you're especially into craft, fill an eclectic selection of vessels – from Mason jars to milk jugs – with related icons such as paintbrushes and thread.
Whatever the theme, enhance the festivities with fairy lights and seasonal nuggets of nature. Think pine cone decorations, ferns and seed heads.
11. Aim for elegance
To add that extra-special festive touch, create a candlelit foliage mantelpiece arrangement among your Christmas living room decor ideas.
For pure elegance in the natural element of this display, stick to green colorways, such as classic holly and eucalyptus; play around with shapes of seed heads and leaves, but the shades should only vary from sage to emerald green. To add interest, weave in a clean, white option, such as boughs of glossy snowberries.
Enhance this glamorous look by using pure white tapered candles, sitting on crystal and silver candlesticks. Try creating movement with the candles by arranging these candlestick in size order.
12. Have a ball
If you don't have a working fireplace in your home – or for whatever reason you don't choose to light yours – but you have the architectural detail remaining, there's still lots of fun you can have when making this a festive focal point and part of your Christmas traditions.
Fill this space with oversized spheres, a mixture of wire, metal and the Christmas-perennial paper waffle. Mix and match sizes, but stay within a limited color palette to keep things stylish.
13. Keep it simple
Sometimes you want your fireplace to speak for itself. In this case, opt for a simply draped string of string lights over the mantelpiece. To stop these subtle indoor Christmas lighting ideas feeling too 'thin', either layer up a few strings, or select a version with a slightly oversized bulb element.
Mirrors are another wonderful way to simply dress a fireplace. Using reflective surfaces is a long-established trick to bounce light around a space, and this becomes even more delightful at Christmas thanks to candles and twinkling lights. If you're looking for a touch of sultriness choose antiqued glass, which has the effect of effusing a gentler, more sophisticated quality of light into the room.
14. Bring the outdoors in
There's something both invigorating and comforting when you walk in nature over the holiday period. Perhaps it's the combination of bracing cool air, crunching frost on the ground, and pretty seasonal plantlife with the warmth you know you'll be rewarded with when home.
Echo the atmosphere of your outdoor Christmas decor ideas this year by decorating your hearth in a similar manner. A shapely boughs of pussywillow, and fill wooden or galvanized steel pots with ferns and heathers. Additions of sparkling baubles on branches will evoke memories of icicles, and the reflections of candlelight on these will create that festive glow.
15. Enjoy fringe benefits
Go a bit glam for the holidays by adding some unexpected pizzazz above your fireplace.
A sparkling length of trim will create that party mood for your New Year decoration ideas, and works especially well with Art Deco decor. Make sure to keep surrounding decorations to a minimum to allow this fringe to remain on the chic side of fun.
16. Hang a garland
Foliage-laden Christmas garland ideas are a festive staple, but combining them with a wreath and baubles can make the look even more exuberant. This wonderful Christmas garland arrangement was created by Instagram influencer Paula Sutton of Hill House Vintage in a collaboration with Wayfair. We love the traditional style and the warm colors it exudes.
17. Show off a wreath
A glorious, oversized wreath can make even the most humble of fireplaces into a true statement.
There are myriad Christmas wreath ideas out there, and certainly one to suit your interiors style, but for a suits-all winner we love going with classic foliage. Real or faux, this green display will bring natural indoors in a controlled and stylish manner. Remember that you can always add natural elements into faux arrangements –simply replace when dried out. For wholly real displays, be sure to mist with water daily to prevent it fading from glory before its time.
Co-ordinate your scheme with a matching garland, and candles picking up festive tones from within the wreath.
18. Make a statement
If you don't tend to do things by halves, then you certainly shouldn't leave your fireplace unadorned over Christmas.
Go big with a sweeping arrangement of Christmas foliage ideas, including draped elements of ivy, baubles or even clove-studded clementines on ribbon (although make sure these are well out of the way of flames, or easily removable for when the fire is lit).
Bookend your design with imposing vases holding a bouquet, and wrap anything overhead, like a mirror or painting with more color. The real trick for going all out is to be even more strict than usual with your palette. Choose one dominant color, such as red, and use the secondary shade, here green, to support and calm down the dominating tone.
19. Think outside the box
For a louche and relaxed nod to the holiday, make use of any unused fireplaces.
An oversized wicker basket is the perfect vessel to fill to the brim with Christmas baubles and decorations. Wrap with a slender wreath and then mirror this with a twin wreath above.
It's an easy but effective scheme, and perfect if you're short on time or perhaps are staying in a rental as there's no real commitment.
20. Have some fun
It doesn't all have to be objets and candlesticks adorning your mantelpiece. Hark back to childhood block letters and create a festive word (Noel, Xmas, Santa...anything relatively short will do) spelt out in mismatching letters. Using a wreath for an 'O' is an inspired touch.
Keep the rest of the decor fairly pared back. Hang a garland – real or faux – of winter evergreens or eucalyptus with pine cone Christmas craft ideas mixed in; choose native species for a country-house look and be generous with lengths, letting sprays overhang the mantel to prevent the finish from looking too tight and formal. Finally, crown the arrangement by hanging some further embellishment from the mirror, such as a generous sprig of holly or ivy.
21. Indulge in drama
Create your own winter wonderland around your fireplace.
To evoke this magical look, layer up stacks of white decorations on the mantelpiece, such as a forest of frosted paper trees, uplit with non-flammable LED lights. Create height and mystery with spray-painted ferns and a few glitter tree toppers. A mirror is key here, to create the true magical forest effect.
On the hearth, stock up white candles and oversized baubles for a fairyland-like feel, and tie in your Christmas tree theme too.
22. Create a warming scene
For a restrained yet satisfying look, lean into warm autumnal oranges, russets and golds.
A sprinkling of preserved moss (to ensure to can recreate this look if desired) sets the scene. Dot with candle votives in a mixture of fall colors, and simple coloured candlesticks with the most delicate of golden bases. The final touch is a length of bronzed leaves circling the solid elements.
23. Take a traditional route
In years gone by there wasn't a fireplace to be seen on Christmas without a stocking.
Reclaim this tradition by hanging a stocking for each member of your family, even if just for decorative purposes. Continue this old-school theme with the most delicate of filigree style ornaments.
Avoid anything too overtly 'modern' like fairy lights, bold colors or glitter and instead rely on the sparkling of the metal decorations.
24. Add some fragrance
A sumptuous garland lain over a mantelpiece is a classic Christmas move when it comes to decorating a fireplace.
Make your garland work that bit harder by including seasonally scented elements. Add in dried oranges, lemons and cinnamon sticks, along with fragranced foliage like pine and eucalyptus, to be transported to Christmas Day with every inhale.
To build out the garland, add in textural detailing, such as hessian ribbon, seed heads and delicate twigs.
25. Include ornaments for an elegant touch of color
Whether you have tons of baubles left over from decorating the Christmas tree or have bought new ones this year, adding them to your Christmas fireplace is the perfect way to bring color and sparkle into your scheme. This arrangement was created by Instagram influencer Paula Sutton of Hill House Vintage in a collaboration with Wayfair, which is where you can find these baubles.
How should I dress my fireplace for Christmas?
The challenge when decorating a mantelpiece is that often they are narrow, says florist Simon Lycett.
'If this is the case, a garland made from foliage bound into a length of rope or sash cord will form a generously but flat-backed swag of greens, the weight of which will help to keep it in position.'
Next, address the decorations. 'Stems of berried ilex and holly can be secured with florist's wire, and pine cones with clusters of dried flowers or seed heads look lovely either left natural or sprayed for a festive feel. Lightweight non-breakable baubles can add some sparkle along with strings of battery-operated fairy lights.'
Sign up to the Homes & Gardens newsletter
Decor Ideas. Project Inspiration. Expert Advice. Delivered to your inbox.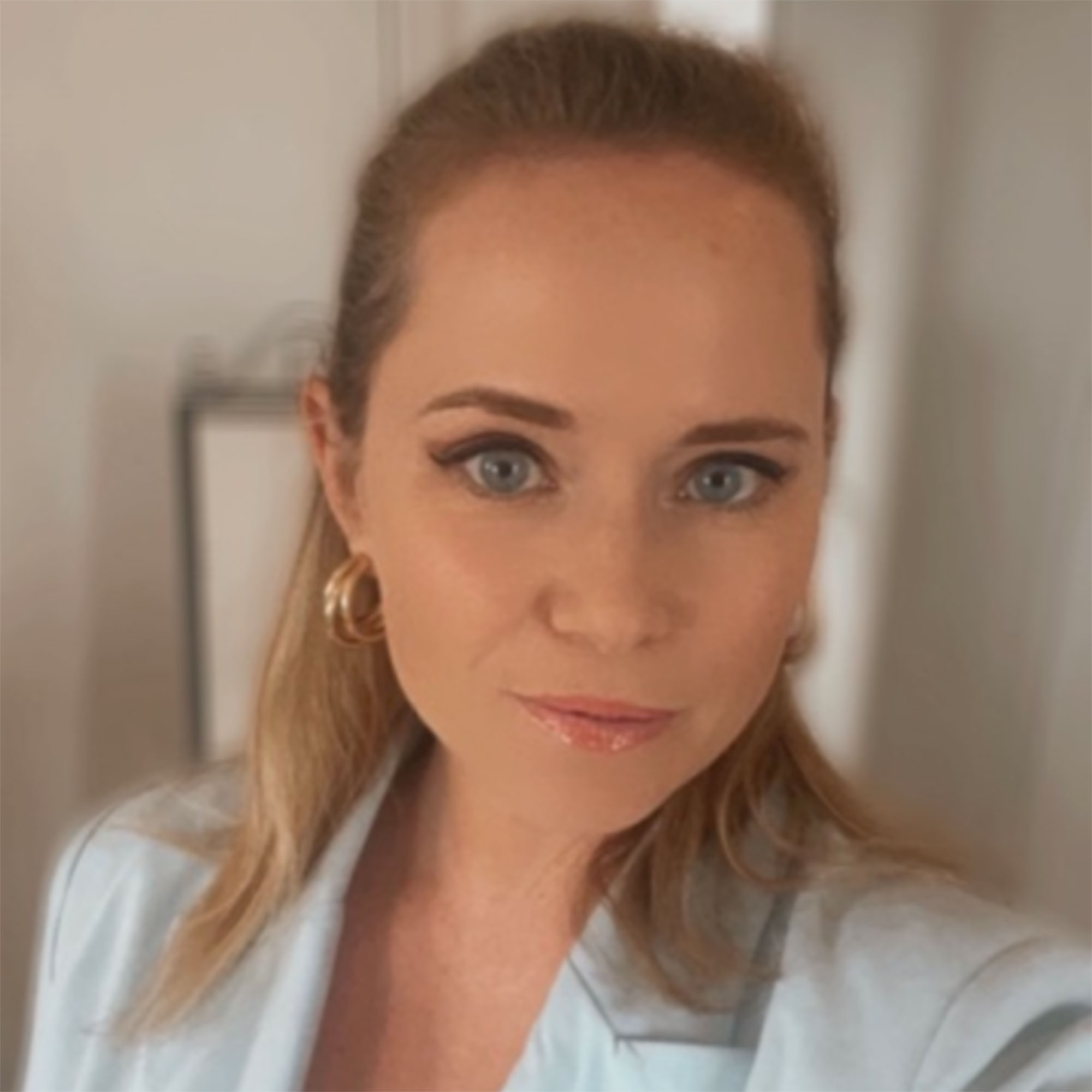 Thea Babington-Stitt is a Content Editor at Future. She has been an interiors journalist for nearly 10 years and has held positions at LivingEtc, Country Homes & Interiors and Homes & Gardens. Currently, she is writing for Ideal Home and Style At Home's websites and magazines.