7 rustic Christmas decor ideas – for a cozy country feel
Create a more relaxed Christmas scheme filled with organic natural charm with our favorite rustic Christmas decor ideas – perfect for homes of all styles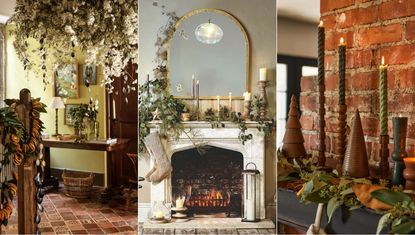 (Image credit: Jon Day Photography / Designers Guild / Trenoweth House | Nkuku | Lulu and Georgia)
Celebrating the timeless beauty of nature, a simple, organic use of materials and earthy, natural color palettes, rustic Christmas decor can create a wonderfully cozy and inviting feel in your home for the holidays.
Rustic Christmas decor often embraces many classic, more traditional Christmas decor ideas, such as adorning your home with festive foliage and flowers, cozy candles, and using a real Christmas tree – but don't worry, faux will do, too.
Here we explore some of our favorite rustic Christmas decorating ideas, and ask a collection of interior designers for their best decorating advice for creating a more natural and homey Christmas scheme.
Decorate your home for Christmas in a cozy rustic style
No matter the style of your home, or if you live in the city or the countryside, the beauty of rustic Christmas decor is that it can effortlessly integrate into spaces of all designs.
Whether you want to embrace a rustic Christmas theme throughout your home, or are looking for a few new festive decorating ideas, rustic Christmas decor can create an utterly timeless look.
1. Decorate with plenty of festive foliage and flowers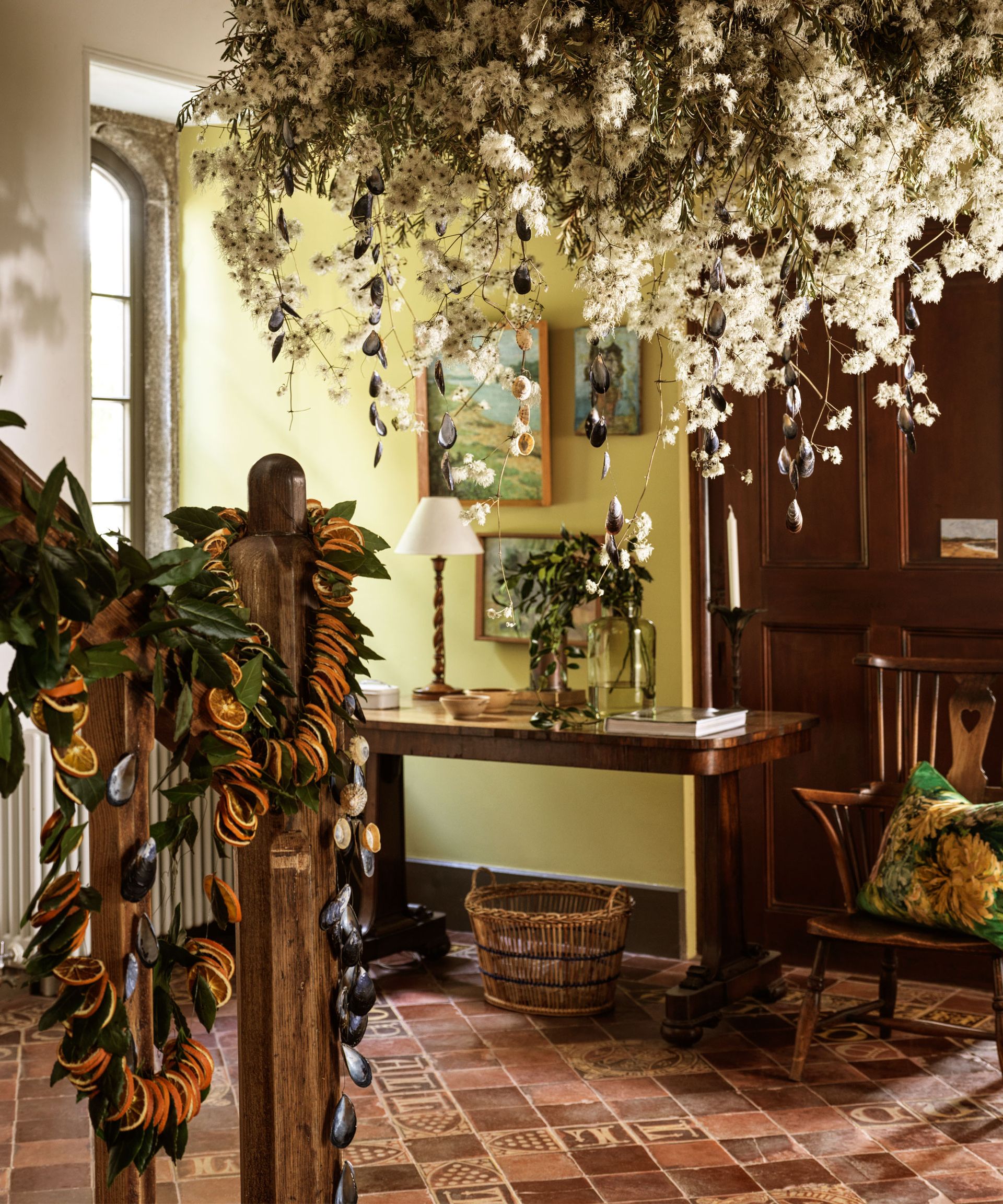 Beautiful Christmas foliage is one of the most popular and enduring festive decorating ideas, and it is a wonderful way to create an inviting, indoor-outdoor feel in your home for the season.
'Embrace the season's bounty by decorating with flowers in warm hues like chrysanthemums, dahlias, and physalis. Mix them with dried eucalyptus, branches, or wheat for rustic elegance — a vase of these seasonal blooms can become a stunning centerpiece. For a more frosty, rustic atmosphere, opt for winter flowers like snowdrops, or even white roses combined with pine branches,' says Tracey Hague, director at Where Saints Go.
'You can also use pinecone decorations, acorns, and other natural elements to enhance your decor with a rustic feel. Gold painted pinecones can add a pop of natural luxe to your Christmas table – display them in a raised bowl for a Christmas table centerpiece. Incorporate these autumn/winter icons into opulent Christmas wreaths and Christmas garlands, too, or even as decorative accents on your Christmas mantel for an effortlessly elegant and natural look,' says Tracey.
2. Use decorations crafted from natural materials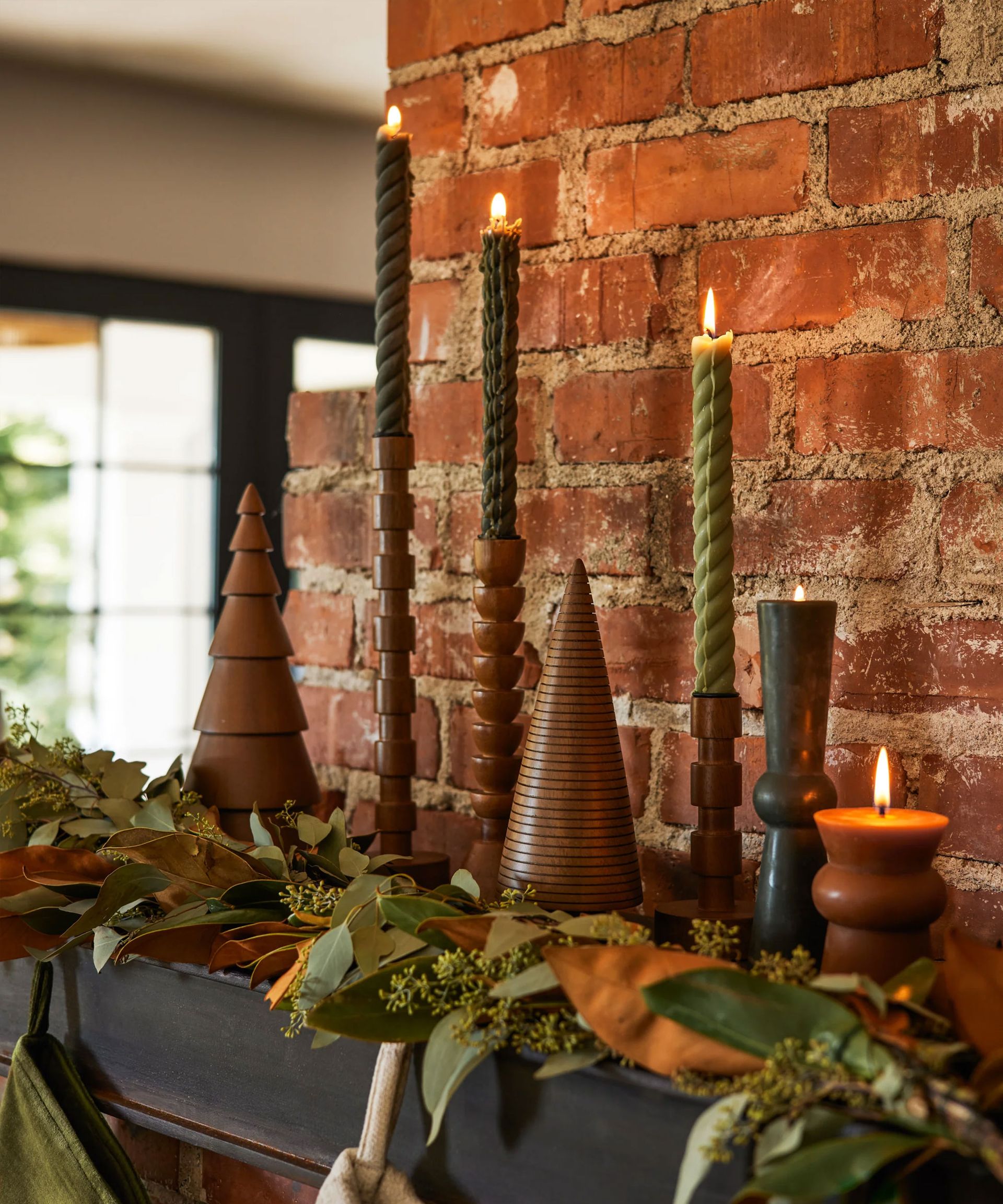 When choosing Christmas ornaments and decorations for your home for rustic Christmas decor ideas, stick to warming, tactile natural materials such as wood and wicker.
'Natural materials like rattan and wood are on-trend choices for a rustic, luxe style,' says Tracey Hague, 'you can even drape sheepskin throws or rugs over chairs and sofas to create a more subtle rustic look, adding a warm, inviting feel whilst providing a luxurious texture.'
We love these stylish wooden Christmas tree ornaments from Lulu and Georgia, with the sleek, more modern tree shape and wooden material establishing an elegant blend of the old and the new. This rattan ball ornament from The Six Bells also has wonderful rustic character, perfect for bringing decoration to mantels, trees, shelves and more.
3. Embrace earthy color palettes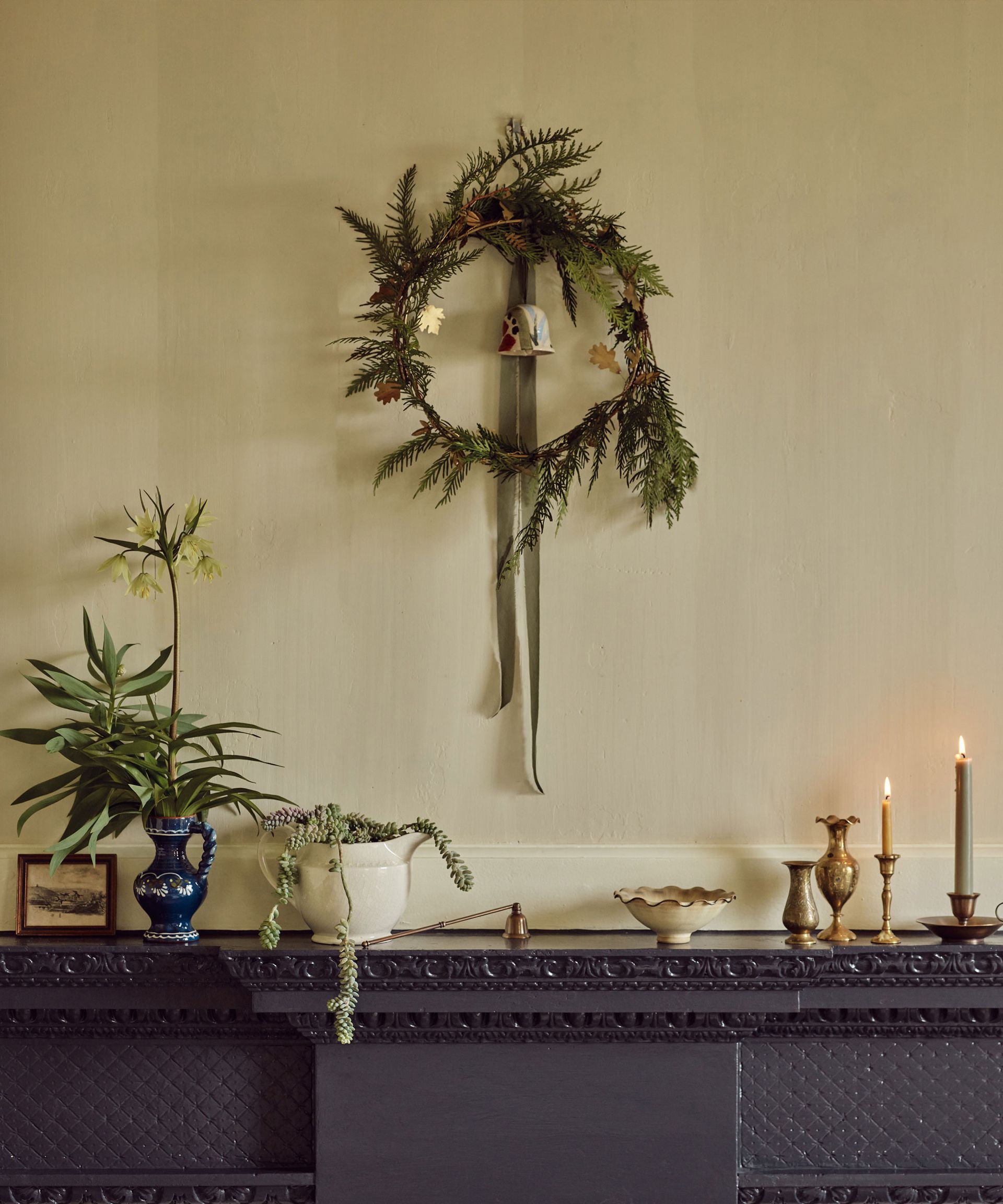 'One way you can embrace a rustic look for Christmas decor is to decorate with earthy colors, such as browns, taupes, and different shades of white. Complement these natural color schemes with elements such as wood and greenery; enhancing the rustic look and creating an inviting, indoor-outdoor feel,' says designer Sarah Ruffalo from The Holly Jolly Box.
Interior designer Artem Kropovinsky also says, 'Go for muted greens, browns and creams across your decorations, and create a contrasting note with accent colors such as red and orange. These colors are a reflection of what nature is all about, which is perfect for rustic Christmas decor.'
From foliage to ornaments, tableware to Christmas tree themes, an earthy color palette inspired by the colors of nature will help to establish a more relaxed and rustic look.
Founder of NYC-based interior design firm, Arsight, Artem Kropovinsky has a decade of extensive global design experience, connecting a cohesive, collaborative team of passionate professionals, who work on interior projects in the U.S. and worldwide.
4. Decorate Christmas trees sparingly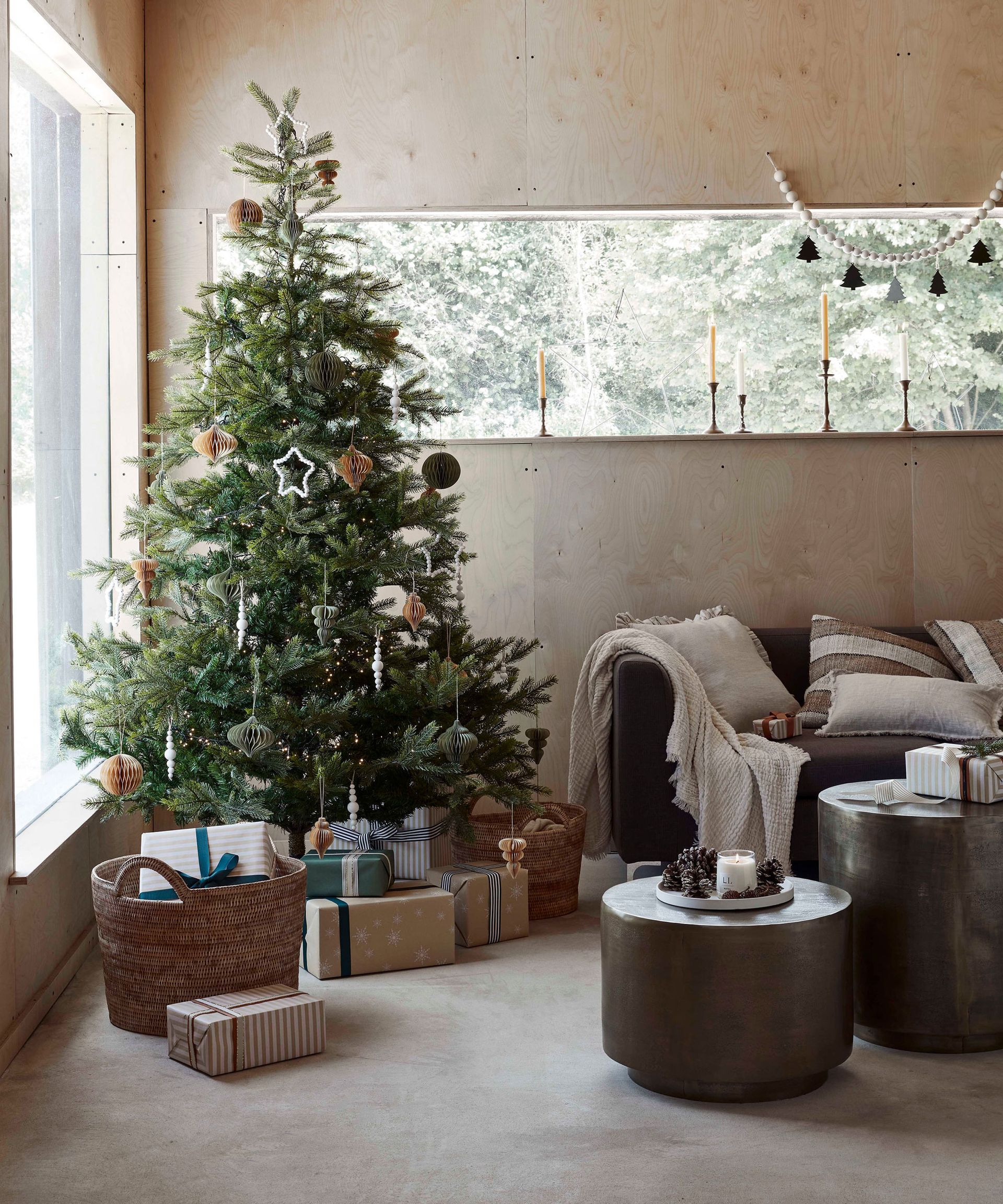 As fun as it can be to go all out with Christmas tree decorations, appreciating the natural beauty of your tree – especially if it's a real tree such as a spruce, pine or fir, and leaving lots of space between each decoration, can help to create a more rustic look; beautifully shown on the tree above by Layered Lounge. For a super simple look, why not decorate your tree with just a Christmas tree topper?
Marzia Dainelli, CEO and interior designer at Dainelli Studio says, 'for a rustic or more modern style for your Christmas tree, use a maximum of two colors across your different types of ornaments and place the decorations sequentially and neatly, giving a nice visual balance to the tree.'
Marzia Dainelli is a designer and co-founder of Milan-based design firm, Dainelli Studio. Along with Leonardo Dainelli, the pair work on interior projects for public and private spaces and have active collaborations with a range of furniture brands.
5. Opt for DIY decorations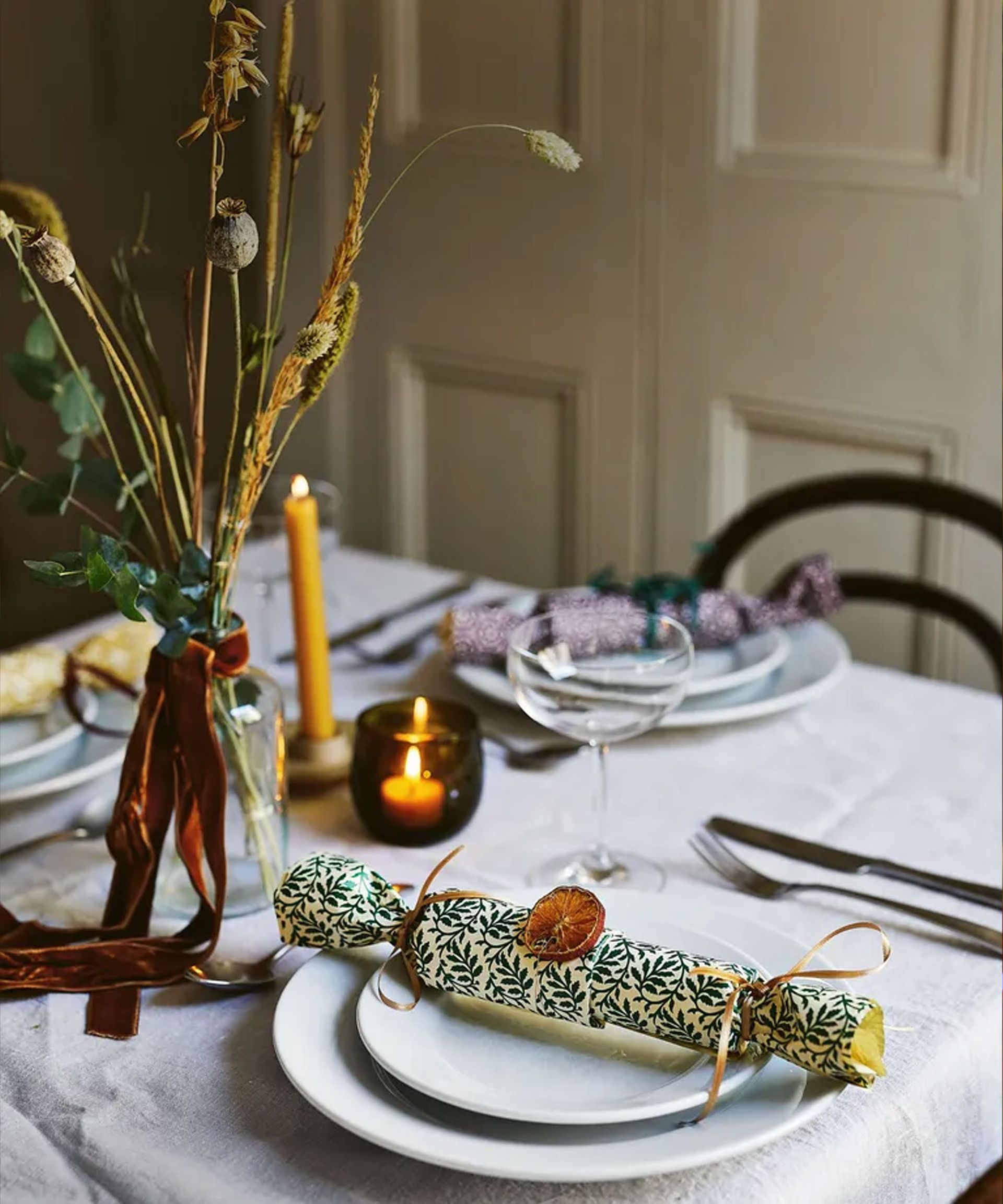 DIY Christmas decor is a great way to enhance your home with rustic, handmade character, and many homemade festive decorations are often crafted from beautiful natural materials.
Artem Kropovinsky says, 'make use of pinecones, dry leaves and branches for homemade decorations, they can form parts of garlands, wreaths or even table centerpieces on the dining table, giving it a special, natural feel.'
Whether you learn how to make a Christmas wreath, embrace a classic, British Christmas tradition and create rustic reusable crackers, or make a dried orange garland, these creative, crafty accents are perfect for rustic Christmas decor.
6. Use plenty of cozy candles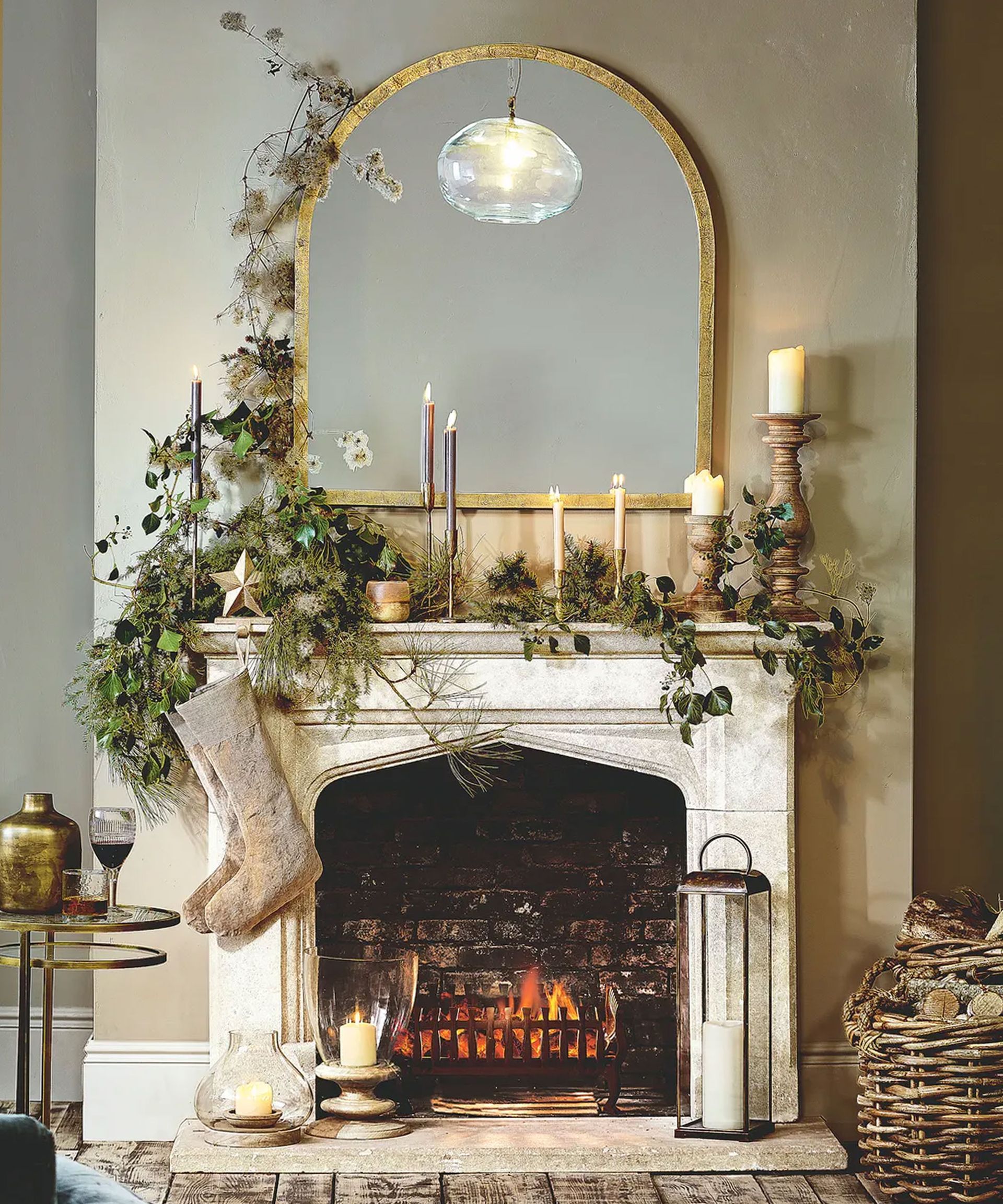 It doesn't get more classic than decorating your home with the best candles for Christmas.
Not only can candles help to make your home feel more cozy and warm, they can act as a stylish decorations, and can fill your home with an inviting scent – perfect for making your home smell good for Christmas.
We think these Nordic wood candles from The White Company are ideal for enhancing your rustic Christmas decor ideas with a natural scent, with notes of soothing eucalyptus, rich amber, and warming birchwood.
7. Create a rustic Christmas tablescape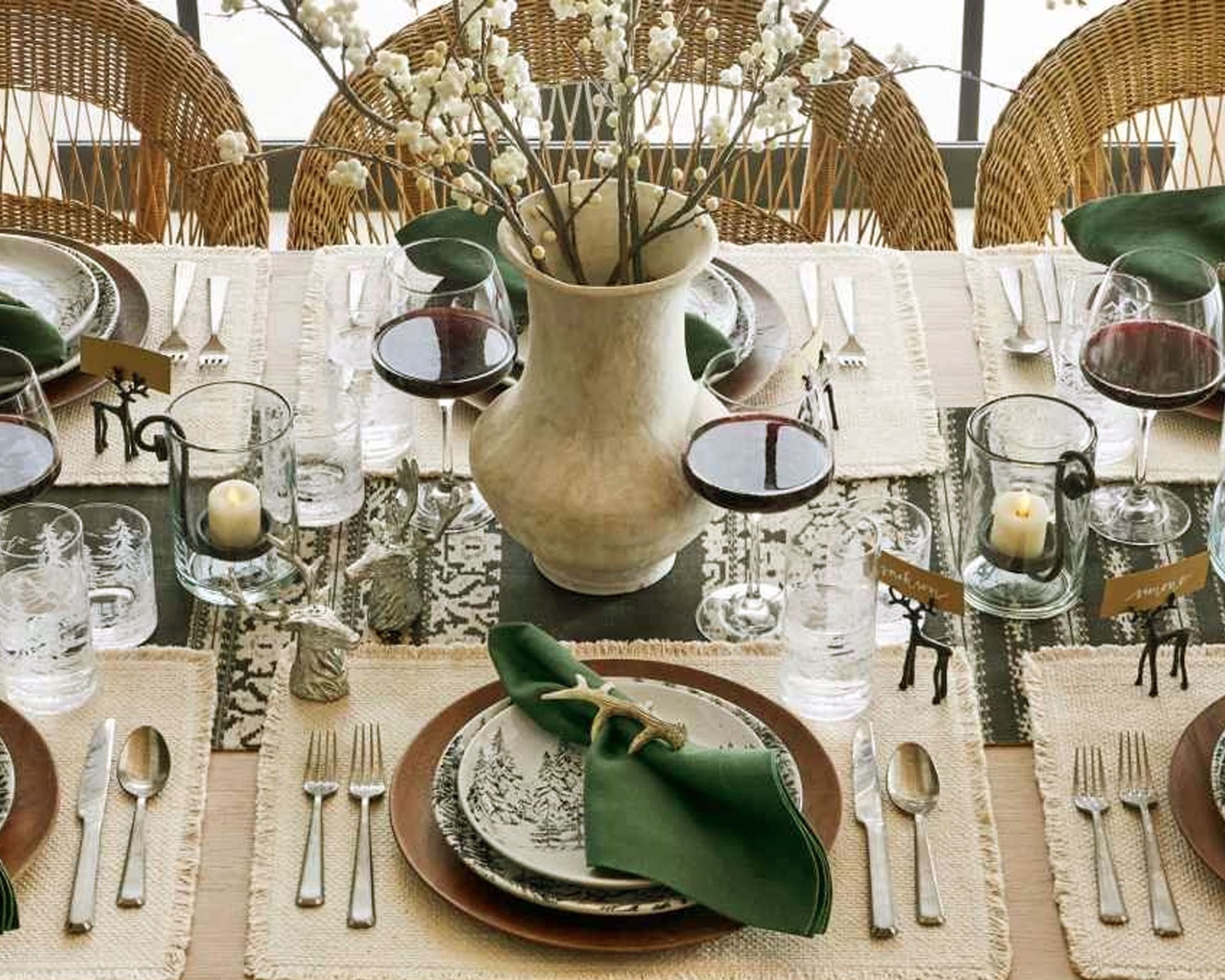 A rustic Christmas tablescape uses elements of all the different design ideas we have explored in this piece.
From embracing earthy color palettes across your tableware to enhancing your table with candles and homemade natural decorations such as garlands, a rustic tablescape can create a wonderfully inviting dining space for you and your guests over the holiday season.
We love this table setting from Pottery Barn, aptly named, 'Rustic Warmth', with the design embracing a grounding color palette, plenty of tactile texture, and charming natural accents. A simple, pared-back look, like above, can look great for rustic decor, as can a more maximalist design that embraces layers of flowers and foliage.
FAQs
What are rustic Christmas colors?
Often, rustic Christmas colors and traditional Christmas colors work together hand in hand. From deep, earthy greens, to cocooning browns and rich reds, these nature-inspired palettes will create a rustic, natural look that feels wonderfully Christmassy – silver and gold accents are great for creating a stylish note of contrast, too.
Taking the lead from the colors found in festive foliage and flowers will always be guaranteed to create a beautiful, indoor-outdoor feel across your Christmas decor.
---
If you're looking to shop for some new decorations to enhance your rustic Christmas decor, then Balsam Hill have a wonderful collection of designs for both indoor decoration and outdoor Christmas decor ideas.
Sign up to the Homes & Gardens newsletter
Decor Ideas. Project Inspiration. Expert Advice. Delivered to your inbox.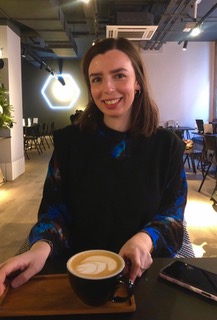 Zara joined Homes & Gardens in February 2022 as a Content Editor. After studying English Literature at University, she worked as an Ecommerce Website Editor, Content Writer and Buying Intern at multiple independent businesses within the luxury retail and lifestyle sectors. Her role at Homes & Gardens unites her love, experience and passion for the world of design and desire to create inspiring written content. She enjoys nothing more than discovering new trends, brands and products, whether that be in fashion, interior design or lifestyle.