Outdoor Christmas decoration ideas – ways to dress your backyard for the festive season
Decorate your yard this Christmas using these festive tips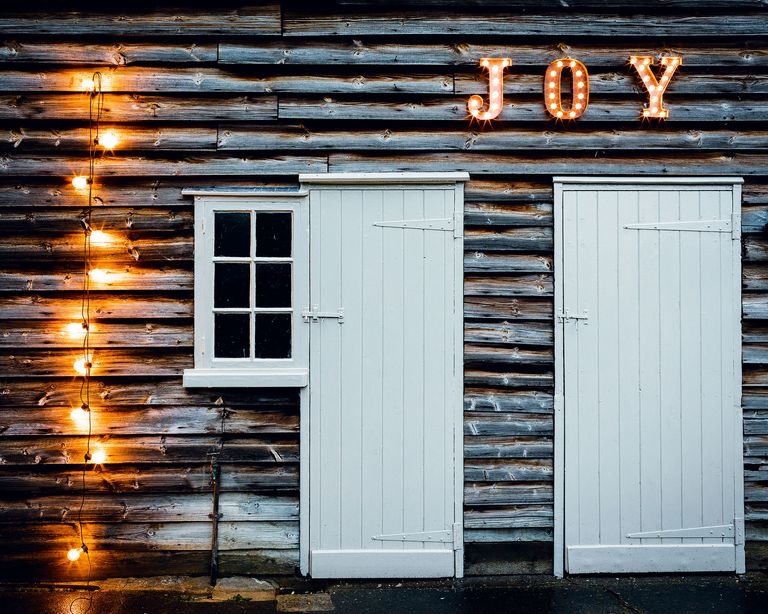 (Image credit: Future)
A visit to an organised Christmas light show has become one of the most popular festive activities for those seeking a magical experience, with public gardens and stately homes across the country decked out all a-glow for the holiday season. 
These professional displays, full of sparkle and creative ideas, have become a festive tradition and it makes perfect sense that we want to recreate that enchanted wonderland to enjoy for ourselves in our own backyard.
 'We have seen a huge trend in customers wanting to decorate the outside of their homes as much as the inside," says Jason Billings-Cray, Partner & Christmas Shop Buyer, John Lewis & Partners. 
From a simple lantern to an all-out exterior light display, we've found the best ways to give the exterior of your home a decorative treatment set the perfect mood for Christmas.
See more: Christmas door decorating ideas
1. Decorate trees
Wrap trees or shrubbery in an abundance of golden string lights to create a display to delight guests or passersby. 
Twinkling lights outside the front or rear of your home also create a magical atmosphere when glimpsed through the window from inside come dusk.
'Festoon lights make any space happier,' says Dani Taylor, Buying Director at Cox and Cox. 'If you have a small patio or balcony just one or two sets can make a huge difference to the ambience, and you can connect multiple sets to decorate a bigger space or garden.'
2. Embellish steps
An easy way to dress up your doorstep or front steps, fill smart hurricane lanterns with a beautiful array of baubles in various shapes and sizes, lit with simple battery-powered string lights. 
Wind the lights around the decorations so that the bulbs are reflected in the baubles to maximise the twinkle effect, so the lanterns will add a welcome glow to your entrance. For a range of lantern choices, try Nkuku.
3. Go big on foliage
If you don't have a porch to decorate, you can still go to town with real foliage to frame your front door. 
Wire fir and evergreen branches together to form a lavish, oversized garland, wrap with simple warm white string lights so it looks as good come nightfall as it does during the day, and hang the garland around the doorway.
Continue the theme with a wreath on the front door, made from the same foliage for a coordinated look. 
4. Use symmetry
For a festive touch that matches the elegance of a pillared stone portico, keep the display simple and restrained, with a pair of identical tall hurricane lanterns in smart silver (such as Nordic House's stainless steel lanterns), placed symmetrically either side of your front door. 
As well as looking striking, the lanterns will protect candles from the elements, meaning you don't need to worry about them being accidentally blown out. Continue the sense of scale with an oversize wreath on the door – real foliage or a frosted finish brings a sophisticated flourish. 
5. Create a tree from lights
Use lighting to conjure up a festive focal point in your front or rear garden. 
Hang strands of warm white LED string lights from a central pole (or peg the strings to a bamboo cane wigwam designed for climbing plants) to create a showstopping outdoor tree.
'Creating your very own winter wonderland is easier than you may think,' says Becky Tasker, Brand Creative, Lights4Fun. 'The key is to focus your efforts on one stunning focal point.' 
6. Line the path
Draw the eye up the steps to your front door with a glowing arrangement of lanterns and flickering candles.
'Place potted trees either side of your front door to create an alpine feel, complete with outdoor lanterns around the porch area and down steps. As the evening draws in, the lanterns will produce a charming glow to welcome you home,' says Becky Tasker, Brand Creative, Lights4Fun. 
Battery-operated candles mean you don't have to worry about the potential fire hazard and they'll last longer, too. 
7. Hang paper lanterns
Evoke Christmasses past with these classic Oriental-style concertina lanterns, hung from simple shepherd's crook hooks –  just the ticket for lining a path. 
Choose simple, white, fire-retardant paper lanterns and fill them with a tealight (real or battery) to provide soft, ambient light and a magical glow. 
You could also string them up from trees, or hang them from ribbon from the porch ceiling for an extra outdoor display.
8. Gift wrap your door
Stand out from the crowd and make a flamboyant statement by gift wrapping your front door theatrically in giant ribbon, created using a roll of festively cheerful red taffeta. 
For extra flounce and flourish, finish with a luxurious bow. 
9. Light up shrubs
Swap the classic net of fairy lights across hedging for something more striking. 
Nestle classic star-shaped outdoor lights (usually to be found lighting up the walls or roofs of houses) into hedge foliage – if you have an opening, decorate around it so that it feels as if you're stepping through into an enchanted wonderland. 
Take your cue from professionally lit gardens by lighting trees and shrubs from below to give an ethereal ambiance. 
10. Style a porch scene
Treat the porch or doorstep as an extension of the home, and deck it out for the holidays as you would your rooms inside. 
Decorate a mini tree (fresh or artificial) with lights and baubles, fill vases or urns with festive foliage, and cluster groupings together with lanterns and votive holders. 
Vary the height and size of the objects in the display to create a well-balanced vignette and dress the front door with a coordinating wreath for a harmonious look.
See more: How to make a Christmas wreath
What Christmas lighting do I use outdoors?
'Wrap trees in glowing golden string lights and place an illuminated garland and wreath on the door to welcome guests in. Icicle lights look dazzling lining gutters and their stalactite style create the perfect winter display,' Becky Tasker, Brand Creative, Lights4Fun.
What's the best way to decorate a front porch?
'I love an Instagram shot of a big American porch with trees up either side of a grand staircase,' says Cox and Cox' s Buying Director, Dani Taylor.
 'Most front doors could accommodate a small indoor outdoor pre-lit potted tree - if you have enough room then one each side of the door - perhaps pop them in a fluted zinc planter to look fabulous and give you instant curb appeal.' 
How do you hang a garland or wreath without nails?
There are some creative hanging solutions if nails aren't an option. For wreaths, look out for over-the-door hangers – these come in a host of finishes so choose one to suit your scheme. 
Command hooks are a stylist's favourite – these clever hooks come in different finishes and are easily removable. Choose one to suit the weight of your wreath – they're also the perfect answer for hanging a garland without nails – fix them at regular intervals to hook the garland in place.
I've been writing for Ideal Home magazine for over 12 years where I started out on the interiors team, looking after the magazine's real homes and makeovers features.
After going freelance following the birth of my twins, I continued to write for Ideal Home, as well as other leading homes titles. In 2011 I set up my own interiors blog, Growing Spaces, to chart my own home renovation projects and makeovers, and I still love creating content for the blog in my spare time.
I rejoined the Ideal Home family a couple of years ago and am currently Editor across Ideal Home and Style at Home.