Outdoor Christmas decor ideas – 20 looks to bring festive cheer to your neighborhood
Extend the holiday enchantment beyond your home's four walls with our outdoor Christmas decor ideas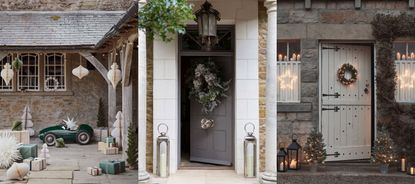 (Image credit: Layered Lounge | Future | Lights4Fun)
Transform your yard, balcony, patio and beyond with our favorite of outdoor Christmas decor ideas.
What could be more magical and festive than being greeted by twinkling lights, beautiful foliage and glorious garlands as you arrive at your front door? Often, we spend so much time planning our Christmas decor ideas for the inside of our homes that we forget that our outside spaces deserve just as much love and attention.
But these outdoor Christmas decor ideas are not only a great way to greet your guests on arrival for festivities, they can also set the tone and style for the Christmassy magic that awaits inside, too.
Outdoor Christmas decor ideas
From lanterns filled with ornaments to an all-out exterior light display, we're showcasing the best outdoor Christmas decor to set the perfect mood for the holidays, and give the exterior of your home an inviting, decorative treatment.
1. Create an alluring lighting display
Turning your home into a bright, twinkling grotto, you can never go wrong with outdoor Christmas lights, and every year many of us adorn our hedges, trees and exterior walls with all kinds of lighting designs.
We love how the area surrounding this front door has been transformed with lighting, from the candles and stars in the windows, to the lanterns, trees and wreath; all work as one to create an eye-catching lighting display.
2. Set the scene with fun, festive props
If you really want to go above and beyond with your outdoor Christmas decor this year, why not collect a fun collection of festive props and use them to style a Christmassy scene in your outside space?
In this front yard, featuring decorations from Layered Lounge, the props, ornaments and toys make for a magical, almost theatrical display that playfully invites you into the home.
However, this merry scene is not the most practical, so save your show-stopping design for the day that your guests arrive if you are using decorations and ornaments that cannot be left outdoors for long periods of time.
3. Dress up the driveway
Don't forget to decorate the driveway!
'Front gates, railings and fences make for perfect locations for outdoor Christmas decor ideas. From string lights to garlands, you can easily revamp these features from functional to festive during the holiday season,' says Lucy Searle, global editor in chief, Homes & Gardens.
Simple yet effortlessly stylish, this idea posted by interior designer Amber Lewis shows us how two simple Christmas wreaths can create a warm welcome on a gated driveway.
4. Decorate with a collection of festive figures
Another popular choice for outdoor Christmas decor ideas are eye-catching festive figures.
These Reindeer Figures from Lights4Fun have not only been crafted from beautiful rattan, but they light up too; adding stylish decoration to your space through the day and night.
5. Decorate your windows
So these are not *technically* outdoor decorations, but creating an indoor Christmas window decor display using lights, ornaments and even foliage, can make for an eye-catching, festive scene that can be appreciated from both the inside and outside of your home.
Here, a selection of elegant ceramic ornaments and a large, white paper star decoration establish a simple snowy scene that feels beautifully timeless.
6. Make a homemade hanging decoration
From a hanging basket of festive foliage to pinecone kissing balls like above, a unique, homemade hanging decoration can make for a lovely craft project in the lead up to Christmas, and add a more personal touch to your Christmas porch decor.
To make your own pinecone kissing ball, you will need:
7. Christmas trees are not just for indoors
Make sure your Christmas tree ideas look just as good outdoors as they do indoors.
'Whether you have natural firs growing in your yard, or buy some especially for the holiday season, decorating your outside space with Christmas trees is guaranteed to make your outside space feel festive. Leave them bare for a relaxed, natural look, or get busy decorating with outdoor lights and ornaments,' says Jennifer Ebert, Homes & Gardens' digital editor.
Here, Crate & Barrel shares how lifestyle blogger @lilypadcottage uses their Toolo Red Planters to house four Christmas trees illuminated with warming lights; working with the wreath, garland and lanterns to establish a picturesque, festive front.
8. Make your own wreath
Christmas wreath ideas are among both the easiest and most effective ways to spruce up your outdoor space – and you can have even more festive fun by setting aside some time to make your own.
'We recommend foraging and working to create a more organic design,' says Holly Bannon, design manager at Milc Interiors. This wreath has been made with willow and branches of winter berries, which can be easily forages and formed into a wreath. 'For a wreath, start at the top, bottom, left and right and then work to fill the gaps so it's balanced', advises Bannon.
9. Deck your doorway with garlands
'We have seen a huge trend in customers wanting to decorate the outside of their homes as much as the inside,' says Jo Bailey, Deputy Editor (print) of Homes & Gardens and long-time stylist.
Of course, Christmas door decor ideas are about much more than wreaths. If you want to extend your holiday decorations above, around and beyond the door area, Christmas garlands are a great way to continue a festive theme over a wider surface area. Pin them above the doorway or across a porch roof, or wrap them around porch columns like in this example, where a garland that features pine cone decorations, dried oranges and cinnamon sticks.
10. Scatter faux snow to create a winter wonderland
Dreaming of a white Christmas? Not everyone will be lucky enough to wake up to freshly fallen snow on the morning of the 25th December, but it's possible to recreate that magic in all sorts of climes with a bit of trickery.
Using faux snow to turn your porch area into a winter wonderland will create a magical experience for kids – save it for a Christmas day surprise for maximum effect. If you're wondering how to make a Christmas wreath feel a little extra special on the big day, consider scattering a handful of it on your wreath too for an immersive feel.
11. Decorate trees
Christmas light ideas for outdoor trees are a dazzling way to make your garden glow from top to bottom. Wrap trees or shrubbery in an abundance of golden string lights to create a display to delight guests or passersby.
Twinkling lights outside the front or rear of your home also create a magical atmosphere when glimpsed through the window from inside come dusk.
'Festoon lights make any space happier,' says Dani Taylor, buying director at Cox and Cox. 'If you have a small patio or balcony just one or two sets can make a huge difference to the ambience, and you can connect multiple sets to decorate a bigger space or garden.'
12. Embellish steps
For an easy way to dress up your doorstep or Christmas porch decor, fill smart hurricane lanterns with a beautiful array of ornaments in various shapes and sizes, lit with simple battery-powered string lights.
Wind the lights around the decorations so that the bulbs are reflected in the baubles to maximize the twinkle effect, so the lanterns will add a welcome glow to your entrance.
13. Go big on foliage
If you don't have a porch to decorate, you can still go to town with real Christmas foliage ideas to frame your front door.
Wire fir and evergreen branches together to form a lavish, oversized garland, wrap with simple warm white string lights so it looks as good come nightfall as it does during the day, and hang the garland around the doorway.
Continue the theme with a wreath on the front door, made from the same foliage for a coordinated look.
14. Use symmetry
For a festive touch that matches the elegance of a pillared stone portico, keep the display simple and restrained, with a pair of identical tall hurricane lanterns in smart silver, placed symmetrically either side of your front door.
As well as looking striking, the lanterns will protect candles from the elements, meaning you don't need to worry about them being accidentally blown out. Continue the sense of scale with an oversize wreath on the door – real foliage or a frosted finish brings a sophisticated flourish.
15. Create a tree from lights
Use outdoor Christmas light ideas to conjure up a festive focal point in your front or rear yard.
For the simplest of alternative Christmas tree ideas, hang strands of warm white LED string lights from a central pole (or peg the strings to a bamboo cane wigwam designed for climbing plants) to create a show-stopping outdoor tree.
'Creating your very own winter wonderland is easier than you may think,' says Becky Tasker, Brand Creative at Lights4Fun. 'The key is to focus your efforts on one stunning focal point.'
16. Line the path
Draw the eye up the steps to your front door with a glowing arrangement of lanterns and flickering candles.
'Place potted trees either side of your front door to create an alpine feel, complete with outdoor lanterns around the porch area and down steps. As the evening draws in, the lanterns will produce a charming glow to welcome you home,' says Becky Tasker, brand creative, Lights4Fun.
Battery-operated candles mean you don't have to worry about the potential fire hazard and they'll last longer, too.
17. Hang paper lanterns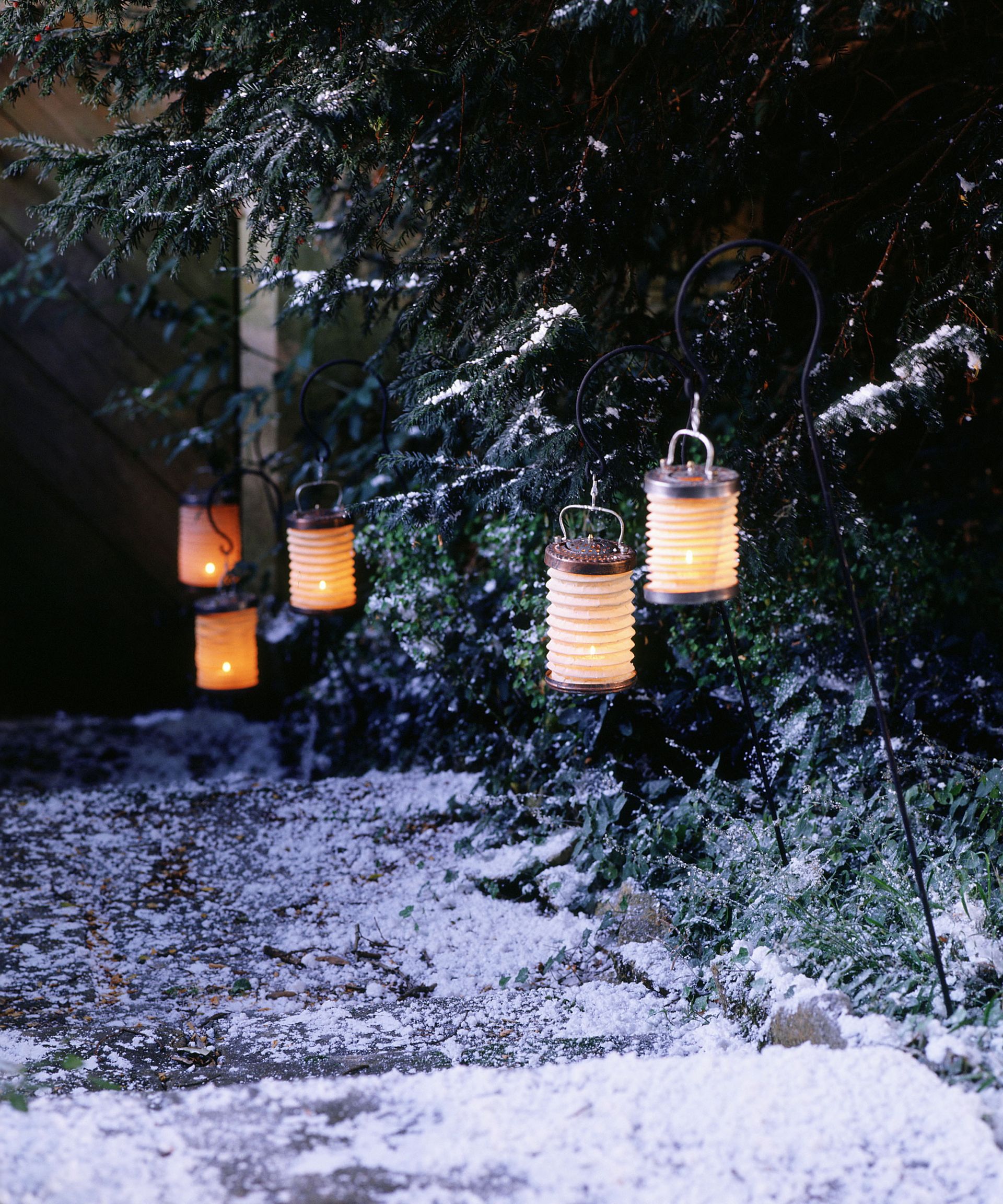 Evoke Christmasses past with these classic Oriental-style concertina lanterns, hung from simple shepherd's crook hooks – just the ticket for lining a path.
'Lanterns can be used to illuminate a garden pathway and offer an intimate glow along the path or be hung from trees to accentuate the natural feeling of your garden,' says Michael Meiser, President of Lumilum.
Choose simple, white, fire-retardant paper lanterns and fill them with a tealight (real or battery) to provide soft, ambient light and a magical glow.
You could also string them up from trees, or hang them from ribbon from the porch ceiling for an extra outdoor display.
18. Gift wrap your door
Stand out from the crowd and make a flamboyant statement by gift wrapping your front door theatrically in giant ribbon, created using a roll of festively cheerful red taffeta.
For extra flounce and flourish, finish with a luxurious bow.
19. Light up shrubs
Swap the classic net of string lights across hedging for something more striking.
'If your backyard has features you want to show off, use LED spotlights to highlight its best bits – and any decorations you might have put up – while giving that striking appearance to the area this festive season,' says Meiser.
'For a less intense alternative, weave warm colored bulb fixtures or lanterns into your plants or shrubs to create warmth that emanates from amongst them – giving your whole garden that warm, cozy feeling.'
Nestle classic star-shaped outdoor lights (like these from Amazon) into hedge foliage – if you have an opening, decorate around it so that it feels as if you're stepping through into an enchanted wonderland.
Take your cue from professionally lit gardens by lighting trees and shrubs from below to give an ethereal ambiance.
20. Style a porch scene
Treat the porch or doorstep as an extension of the home, and deck it out for the holidays as you would your rooms inside.
Decorate a mini tree (fresh or artificial) with lights and baubles, fill vases or urns with festive foliage, and cluster groupings together with lanterns and votive holders.
Vary the height and size of the objects in the display to create a well-balanced vignette and dress the front door with a coordinating wreath for a harmonious look.
How do you hang a garland or wreath outdoors without nails?
There are some creative hanging solutions for hanging outdoor Christmas decorations if nails aren't an option. For wreaths, look out for over-the-door hangers – these come in a host of finishes so choose one to suit your scheme.
Command Hooks are a stylist's favorite – these clever hooks come in different finishes and are easily removable. Choose one to suit the weight of your wreath – they're also the perfect answer for hanging a garland without nails – fix them at regular intervals to hook the garland in place.
Ailis started out at British GQ, where a month of work experience turned into 18 months of working on all sorts of projects, writing about everything from motorsport to interiors, and helping to put together the GQ Food & Drink Awards. She then spent three years at the London Evening Standard, covering restaurants and bars. After a period of freelancing, writing about food, drink and homes for publications including Conde Nast Traveller, Luxury London and Departures, she started at Homes & Gardens as a Digital Writer, allowing her to fully indulge her love of good interior design. She is now a fully fledged food PR but still writes for Homes & Gardens as a contributing editor.