15 outdoor Christmas decor ideas – bring chic holiday cheer to your neighborhood with a stand-out festive display
From classic wreaths to beautiful festive lighting, extend the holiday enchantment beyond your home's four walls with our favorite outdoor Christmas decor ideas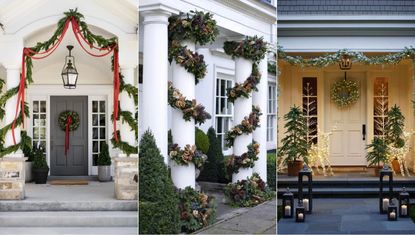 (Image credit: McGee & Co. | Debi Treloar | Pottery Barn)
What could be more magical and festive than being greeted by outdoor Christmas decor? Transforming your yard, balcony, front porch and beyond with inviting seasonal decor will only make your home feel more inviting and special for the holiday season.
Often, we spend so much time planning our Christmas decor ideas for the inside of our homes that we forget that our outside spaces deserve just as much love and attention.
Our collection of outdoor Christmas decor ideas are not only a great way to greet your guests on arrival for festivities, they can help to set the tone and style for the Christmassy magic that awaits inside, too.
Enhance your outside space with elegant outdoor Christmas decor
From classic Christmas traditions, such as wreaths for Christmas door decor and foliage for Christmas porch decor, to more unique and modern lighting displays, our outdoor Christmas decor ideas have something for everyone – no matter the style of your outside space.
1. Hang a beautiful wreath
'Christmas wreath ideas are among the easiest and most effective ways to spruce up your outdoor space – and you can have even more festive fun by setting aside some time and learning how to make a Christmas wreath,' says Jennifer Ebert, Homes & Gardens' digital editor.
Make the most of the plants, flowers and foliage in your yard and garden and forage for your own branches and stems to create your wreath – we explore the best foliage for Christmas decor in our designated feature.
If you don't fancy getting crafty and making your own design, then there are plenty of shoppable options to consider – both real and faux. Explore some of our favorite wreath picks below, perfect for adding a beautiful, natural accent to a front door.
This year, Anthropologie Christmas wreaths are on their A-game, and this wreath is utterly timeless. The faux pine brings a homely feel offset by bursts of color from the red berries.
Red Leaf Christmas Wreath
Lend a lovely touch of the season to your indoor space with this Leaf Christmas Wreath. This unlit artificial wreath is covered with red leaves and winterberries to spruce up your holiday decor a colorful natural accent.
Jen is the Editor (Digital) of Homes & Gardens. Before starting this position, she had completed various interior design courses at KLC Design School, as well as working across Ideal Home, LivingEtc, 25 Beautiful Homes and Country Homes & Interiors as an interiors writer.
2. Deck your doorway with garlands
If you want to extend your Christmas foliage decorations to beyond your front door, then Christmas garland ideas are perfect for using outside.
Garlands are a great way to continue a festive theme over a wider surface area. Pin them above the doorway or across a porch roof, or wrap them around porch columns, beautifully shown above with a garland that features pine cone decorations, dried oranges and cinnamon sticks.
Similar to a Christmas wreath, you can make a Christmas garland out of fresh foliage and flowers, or you can shop for some pretty realistic faux designs.
Faux Winter Evergreen 6' Garland
This versatile faux garland is perfect for adorning a mantel, tabletop or staircase, adding inviting and colorful natural texture to your space.
We love the understated simplicity of this Faux Cypress Garland, ideal for adding a rustic natural touch to your home for the holidays.
3. Enhance foliage with colorful ribbon
Studio McGee always create fabulous seasonal displays both inside and outside of their home, and we love how their outdoor Christmas decor combines traditional foliage with more modern, colorful ribbon, adding eye-catching movement and tactile, soft texture to the outside space.
The garland and hanging ribbon on the porch also perfectly mirror the design of the wreath, creating an overall simple yet stand-out design that utilizes the architecture and that feels wonderfully festive.
4. Create an alluring lighting display
Turning your home into a bright, twinkling grotto, you can never go wrong with outdoor Christmas lights, and every year many of us adorn our hedges, trees and exterior walls with all kinds of lighting designs.
We love how the area surrounding this front door has been transformed with lighting, from the candles and stars in the windows, like these star lights from Amazon, to the lanterns, trees and wreath; all work as one to create an eye-catching lighting display.
5. Set the scene with fun, festive props
If you really want to go above and beyond with your outdoor Christmas decor this year, why not collect a fun collection of festive props and use them to style a Christmassy scene in your outside space?
In this front yard, featuring decorations from Layered Lounge, the props, ornaments and toys make for a magical, almost theatrical display that playfully invites you into the home.
However, this merry scene is not the most practical, so save your show-stopping design for the day that your guests arrive if you are using decorations and ornaments that cannot be left outdoors for long periods of time.
6. Decorate with a collection of festive figures
Another popular choice for outdoor Christmas decor ideas are eye-catching festive figures.
These Deer Figures from Pottery Barn have not only been crafted from beautiful rattan, but they light up too; adding stylish decoration to your space throughout the day and night.
7. Enhance your windows
So these are not *technically* outdoor decorations, but creating an indoor Christmas window decor display using lights, ornaments and even foliage, can make for an eye-catching, festive scene that can be appreciated from both the inside and outside of your home.
Here, a selection of elegant ceramic ornaments and a large, white paper star decoration, we love these similar Paper Star Ornaments from Pottery Barn, establish a simple snowy scene that feels beautifully timeless.
8. Christmas trees are not just for indoors
Make sure your Christmas tree ideas look just as good outdoors as they do indoors.
'Whether you have natural firs growing in your yard, or buy some especially for the holiday season, decorating your outside space with Christmas trees is guaranteed to make your outside space feel festive. Leave them bare for a relaxed, rustic Christmas decor look, or get busy decorating with outdoor lights and ornaments,' says Jo Bailey, Homes & Gardens' print editor.
Jo Bailey is Deputy Editor of Homes & Gardens, overseeing all features for the print edition. Before joining Future PLC, she worked as an interior stylist for over ten years, specializing in commercial photo shoots for luxury clients such as; Design Centre Chelsea Harbour, Christopher Farr Cloth and Heal's. She has worked with Homes & Gardens for over a decade, having styled and produced editorial shoots and events over the years.
9. Decorate the trees in your yard
Instead of styling your outside space with new Christmas trees, you can also make the most of the existing trees in your yard by adorning them with inviting Christmas lights.
Christmas light ideas for outdoor trees are a dazzling way to make your garden glow from top to bottom. Wrap your trees in an abundance of golden string lights to create a display to delight guests or passersby.
Twinkling lights outside the front or rear of your home also create a magical atmosphere when glimpsed through the window from inside come dusk.
'Outdoor Christmas lights make any space happier,' says Dani Taylor, buying director at Cox and Cox. 'If you have a small patio or balcony just one or two sets can make a huge difference to the ambience, and you can connect multiple sets to decorate a bigger space or trees in your garden.'
10. Go big on foliage
If you don't have a porch to decorate, you can still go to town with real Christmas foliage ideas to frame your front door.
Wire fir and evergreen branches together to form a lavish, oversized garland, wrap with simple warm white string lights so it looks as good come nightfall as it does during the day, and hang the garland around the doorway.
Continue the theme with a wreath on the front door, made from the same foliage for a coordinated look.
11. Style with symmetry
For a festive touch that matches the elegance of a pillared stone portico, keep your outdoor Christmas decor display simple and restrained. A pair of identical tall hurricane lanterns in smart silver, like these designs from Pottery Barn, placed symmetrically either side of your front door can create an elegant effect, perfect for more minimalist Christmas decor ideas.
Continue the sense of scale with an oversize wreath on the door – real foliage or a frosted finish brings a sophisticated flourish.
12. Enhance outdoor steps
Draw the eye up the steps to your front door with a glowing arrangement of lanterns, potted trees, such as this potted tree from McGee & Co.
'Place potted trees either side of your front door to create an alpine feel, complete with outdoor lanterns around the porch area and down steps. As the evening draws in, the lanterns will produce a charming glow to welcome you home,' says Becky Tasker, brand creative, Lights4Fun.
Battery-operated candles mean you don't have to worry about the potential fire hazard and they'll last longer, too.
13. Gift wrap your door
Stand out from the crowd and make a flamboyant statement by gift wrapping your front door theatrically in giant ribbon, created using a roll of festively cheerful red ribbon, like this ribbon from Amazon.
For extra flounce and flourish, finish the look with a luxurious bow or wreath.
14. Light up hedges
Swap the classic net of string lights across hedging for something more striking.
'If your backyard has features you want to show off, use LED spotlights to highlight its best bits, giving striking appearance to the area during festive season,' says Michael Meiser, president of Lumilum.
'For a less intense alternative, weave warm colored bulb fixtures or lanterns into your plants or shrubs to create warmth that emanates from amongst them – giving your whole garden that warm, cozy feeling.'
Nestle classic star-shaped outdoor lights, like these from Amazon, into hedge foliage – if you have an opening, decorate around it so that it feels as if you're stepping through into an enchanted wonderland.
Take your cue from professionally lit gardens by lighting trees and shrubs from below to give an ethereal ambiance.
15. Create a pretty porch scene
From garlands to string lights, Christmas trees to wreaths, a range of outdoor Christmas decor can create a truly wonderful festive display when used in combination.
Treat your porch, doorstep or back patio as an extension of the home, and deck it out for the holidays as you would your rooms inside. Vary the height and size of the objects in the display to create a well-balanced vignette and a harmonious look.
FAQs
How to decorate for Christmas outside on a budget?
Some of the most timeless, enduring and effective outdoor Christmas decor ideas, such as wreaths and garlands, can be created from materials found in your own yard and garden – and they can make for a fun, festive craft to enjoy over the holiday season, too. We explore more DIY Christmas decor ideas in our dedicated feature.
From sets of string lights wrapped around trees and porch pillars, to an elegant star decoration hanging in the window, a 'less is more' approach for your outdoor Christmas lighting can still create a beautiful effect – and these lighting designs don't have to cost the earth, either.
Amazon always have an extensive selection of festive lighting designs to choose from, these outdoor string lights are one of their bestsellers.
How do you hang a garland or wreath outdoors without nails?
There are some creative hanging solutions for hanging outdoor Christmas decorations if nails aren't an option. For wreaths, look out for over-the-door hangers – these come in a host of finishes so choose one to suit your scheme.
Command Hooks, such as these outdoor Command Hooks from amazon, are always a stylist's favorite – these clever hooks can also come in different finishes and are easily removable.
Choose one to suit the weight of your wreath – they're also the perfect answer for hanging a garland without nails – fix them at regular intervals to hook the garland in place.
---
If you're looking for some stylish new designs to use for your outdoor Christmas decor, then Balsam Hill always have a fabulous selection of Christmas yard decorations. From unique ornaments to cozy lights, there are options to suit Christmas schemes of all styles.