Outdoor Christmas light ideas – 15 ways to bring that festive twinkle
From lit-up gables to illuminated porches, the latest outdoor Christmas light ideas will make your home shine for the holiday season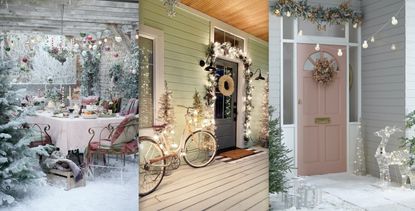 (Image credit: Future)
Say it in lights – it's time to go big, bright and bold with our outdoor Christmas light ideas.
The latest trends in Christmas decor ideas put as much emphasis on the exterior of your home as the interior, and we're not just talking a wreath on the door.
'This year is all about creating magical memories by adding bold statements to your exterior,' says Amy Mason, Direct of Product at Lights4Fun (opens in new tab). 'Whether you choose a fun festive figure or go for more traditional festoons and fairy lights to brighten up your home, a vibrant outdoor display is sure to light up smiles of passers-by and welcome you home on those brisk winter nights.'
Outdoor Christmas light ideas
Lights may be only one element of your outdoor Christmas decor ideas, but a swag of festoon bulbs, a pergola wrapped in fairy lights, or LED micro lights twisted through the wreath on your front door, will bring a magical touch to your holiday trimmings.
'Decorating outdoors for Christmas has fast become an integral part of creating a festive home,' agrees Dani Taylor, Product and Creative Director for Cox & Cox (opens in new tab).
'Today's range of Christmas lights and outdoor products has allowed us to extend our seasonal vision with interior-style standards. We can scale up to a fun, fantastical display or scale down to an intimate twinkle with ease.'
Feeling inspired to upgrade your outdoor Christmas light ideas? We've talked to the experts to get you the brightest festive ideas.
1. Twist lights around your trees
Turn a tree into a talking point with a twist and turn of solar-powered or electrical lights around its trunk. It's the simplest of Christmas light ideas for outdoor trees (although you can replicate it in miniature version on your indoor houseplants, too).
'This idea can turn a single tree into a festive focal point, or create a magical grotto scene if you're fortunate to have more than one tree in your yard,' says Andréa Childs, Editor of Country Homes & Interiors (opens in new tab) magazine.
'It's a wonderful way to brighten winter's dark, early nights – although you may be tempted to leave them up all year, so you can enjoy the long, hot evenings of summer with a sparkling backdrop, too.'
3. Create a sparkling welcome
Looking for front porch ideas with a festive feel? The porch is the link between the exterior and interior of your home, and as such it can be given a more decorative treatment. It's certainly the place to add a playful touch to your outdoor Christmas light ideas.
'You can decorate your porch with "Merry Christmas" banners and light up your porch with different colored lights,' says Joel Phillips, home remodeler and Founder of Texas-based Home Guide Corner (opens in new tab).
'Some Christmas lights come with Bluetooth speakers, so you can play carols whenever you want.'
3. Illuminate a gateway
Christmas foliage that may be covered in blossom in the spring or summer months can be given a festive glam-up during the holiday season – fairy lights simply replace petals for a pretty touch.
'Putting lights all over the garden will immediately add a bit of twinkle, sparkle and warmth, creating a beautiful and festive light display,' says garden expert Sarah Raven (opens in new tab).
'It's a good idea to think about what color lights you want and how you want to power them. We always go for warm or antique white lights and our range comes solar, battery and mains operated so you can pick what works best for you.
'My main tip would be to go mad! Sparkling lights are the remedy for murky Christmas evenings and give superb, welcoming cheer.'
4. Give containers a Christmas touch
If you're not a fan of bold festive illuminations, you can take a more subtle approach to your outdoor Christmas light ideas.
Wrapping plant pots and containers with flexible wire lights is a quick way to add a twinkle to your porch or steps, or your Christmas patio decor ideas.
'These color changing fairy lights have nine different settings, from plain white to a colorful finish, so you can decide on the look you want every time you use them,' says Thalia Shaw, Founder and Owner at Sparkle Lighting (opens in new tab).
'They have a delicate and bendable gold wire finish, and can be used both in the garden and inside.'
5. Light up front yard plants
You'll be the envy of your street with some festive front yard styling, but resist the urge to close your curtains and you can make the most of the cheery outlook, too.
'Framing the view out into the garden is a key factor to good interior design, and right now we're seeing customers lighting up flower beds and borders so that they can enjoy looking out into the garden out at night,' says Dani Taylor, Product and Creative Director, Cox & Cox.
And don't forget the back of the house while your planning your outdoor Christmas light ideas…
'Now that we're entering the season of hosting and toasting, decorating the back garden for Christmas will add that extra layer of magic for guests to enjoy,' Dani says.
Outdoor Christmas light ideas tend to major at ground level, in the yard and on the porch, but take a tip from the pros and extend them up to the roofline for full-on festive flair, too.
'The garden has very much become an extension of the home when decorating for the festive season, and both the front and back garden have become the perfect place to bring your décor to life,' says Amy Mason, Direct of Product at Lights4Fun.
'Adding string festoons and fairy lights along guttering and walls can add sparkle and warmth to darker corners.'
For a chic Christmas effect, follow the line of your wreath with a neat row of lights, rather than letting them sag and swing.
6. Make your greenhouse glow
Looking for greenhouse ideas with a seasonal twist? Take a tip from the trend for outdoor dining pods and pop-up restaurants in unusual locations, and turn your greenhouse or outdoor room into an illuminated garden entertaining zone for festive drinks and holiday dinners.
'Here, we used drop bulb festoon lights to bring a lovely warmth to this glasshouse,' says Thalia Shaw, Founder of Sparkle Lighting. 'They really create a wonderful atmosphere with the hanging individual light bulbs.'
7. Add charm with character lights
Rudolph and Santa, elves and even penguins – some homes will always find a spot for novelty Christmas lights in a festive display. If you love the fun but don't want to overdose on kitsch, choose a warm white light for character lights that still look chic.
'Figures and character lights have become a firm favorite for decorating outdoors,' says Amy Mason, Direct of Product at Lights4Fun.
'For a chic style and trending this year, choose a majestic reindeer to adorn your porch or pathways. Their warm glow will keep in theme with your traditional holiday exterior and will serve as the perfect showstopper to pull your outdoor Christmas light ideas together.'
8. Add festoon lights to a covered porch
Christmas lights can turn this inside-outside space into a cozy nook to relax in during the holidays.
'Create a joyful Christmas-themed sitting area by decorating your rocking chair, bench, or porch seating with Christmas-designed throws and blankets,' suggests Joshua Blackburn, Director of Design and Construction at Evolving Home (opens in new tab).
'Customize your sitting area with decor and elements that will make you feel warm and cozy; a place where you will want to sip eggnog and enjoy the holiday spirit.'
A garland of festoon lights across the porch roof, and some festive pine cone Christmas craft ideas on a table, will bring the holiday spirit.
9. Match your indoor and outdoor lighting
A light twinkling in the window will bring a joyful touch to your home, and hint at the Christmas living room ideas inside.
'I love to see a connection between indoor and outdoor Christmas light ideas,' says Andréa Childs, Editor at Country Homes & Interiors magazine.
'Mirroring the same motifs, whether it's stars, angels, reindeer, or simply using similar festoon or fairy lights for your interior and exterior, creates a beautifully cohesive display that will give your decorations a designer touch.'
10. Pair candles with bulb lights under a pergola
The trend for outdoor entertaining is not going away this Christmas – in fact, we've learnt how to make our table settings even more memorable for the festive season.
'When it comes to lighting, I like to keep it simple with festoon-style bulbs and accessorize my spaces with plenty of foliage (the more the better) and jewel-colored baubles,' says fabric designer and interiors expert, Susie Watson, Founder of Susie Watson Designs (opens in new tab).
'Whichever lighting you go for, make sure the bulbs throw a warm yellow glow and not a stark white light, as some LEDs will. And don't forget candlelight, which is my absolute favorite.
'I like to use candles of different heights – it creates more of an atmosphere. And I especially like incorporating our metal chandelier which holds six or eight candles and looks incredibly festive dressed with foliage.
'Hurricane lamps are a must if you are outdoors and handblown glass has a unique and beautiful way of reflecting the light. A firepit is a must; there is nothing like flickering flames to bring people together.'
11. Light the way to your front door
Lead the way to your front door with a selection of outdoor Christmas light ideas along the pathway, up the steps, on to the porch and up to the door – bearing in mind that you can combine wreath ideas with outdoor Christmas lights.
'Decorating your yard is a must during Christmas. Large outdoor decorations such as LED trees, reindeer and Santa's mailbox are ideal options,' suggests Joel Phillips from Home Guide Corner.
'If there is a certain color theme that you are following for your decorations, make sure that your wreaths, garlands and any other trimmings match that.'
12. Frame an arch
Stone and brickwork, garden walls and the walls of your home, take on a dramatic new look when lit for the season.
'There are so many different types of light strings these days that you can just drape everywhere,' agrees garden expert Sarah Raven. Chunky, robust ones like our Use Everywhere lights (opens in new tab) are great for transforming walls, outbuildings and barns.
'Then I like using more delicate LED wire lights for their simplicity and versatility. I'll twist these lights all the way through a wreath for our front door.'
13. Use lanterns to create a cozy outdoor spot
After a quiet Christmas for many last year, consumer experts are expecting people to embrace entertaining and hosting like never before.
'Our gardens have become an extension of our homes, and we've really seen the festive winter garden building as a trend, complete with fairy lights, candles and decorative ornaments,' explains Abi Wilson, Celebrations Buying Manager at Habitat (opens in new tab).
'Colorful string lights are a popular choice for large gardens, where they can be wound around tree trunks, helping to evoke a winter wonderland for guests.
'Meanwhile, lanterns remain a popular choice year after year, providing an understated way to cast a warm, ambient glow in more intimate outdoor spaces.'
14. Put up a permanent trim of colorful bulbs
Permanent smart holiday lights are growing in popularity – not least because you can program your color combinations to match any holiday, from Thanksgiving and Halloween, to St Patrick's Day, Christmas and the Fourth of July.
'A system like EverLights is a permanent, decorative, smart lighting system that need to be installed only once in a lifetime and then you can control millions of color combinations for any occasion with a smartphone app,' explains Lisa Bernstein from Everlights (opens in new tab).
If you want to break the annual tradition of tangled lights, balancing on ladders and replacing burnt-out bulbs, this is the option for you. They'll give you a base that you can then layer your other outdoor Christmas light ideas on top, giving you the best of both worlds with a permanent display that you can tweak each season or when you want a fresh look.
15. Take our outdoor Christmas lights on your travels
You don't have to embrace the van life trend to add a little road trip fun to your outdoor Christmas light ideas.
Pack up hot chocolate and the fixings for s'mores and head out for a festive day trip, decorating your camp with solar festoon lights and even a lit tree (or two, or three).
With a flickering firepit and a place to snuggle down in the camper when it begins to get chilly, this is the ideal festive getaway for family and friends.
How should I use Christmas outdoor lights in my yard?
Always start with a theme,' suggests Andra DelMonico and I'm the Lead Interior Designer for Trendey (opens in new tab). 'This helps you stay on track with your decorating. Common themes are a winter wonderland, country Christmas, Santa's workshop, or religious. Add lights, accent bows and a touch of personality.'
Your Christmas lights should complement your theme in color, size and design – think clear white LED lights for a winter wonderland theme, and warm festoon or cage lights for farmhouse Christmas decor ideas.
Start closest to the house, then extend your lighting further into the yard. You may want to light your gate and drive to welcome visitors, or create an outdoor area in your backyard.
Is it safe to put up outdoor lights for Christmas?
'While there's nothing quite like adorning your home with bright and festive lights, it's always important to make sure that outdoor lights are installed and managed safely,' says Amy Mason, Direct of Product at Lights4Fun.
'Make sure that trailing wires are tidied away and clear from frequently walked upon paths. Connectable lights are the perfect solution for this as you can connect large displays from a singular power source, keeping trailing wires to a minimum.
'It's also important to make sure that outdoor power sources are protected from the bleak winter weather, so no rain or snow can get to your power supply.'
Andrea has been immersed in the world of homes, interiors and lifestyle since her first job in journalism, on Ideal Home. She went from women's magazine Options to Frank. From there it was on to the launch of Red magazine, where she stayed for 10 years and became Assistant Editor. She then shifted into freelancing, and spent 14 years writing for everyone from The Telegraph to The Sunday Times, Livingetc, Stylist and Woman & Home. She was then offered the job as Editor on Country Homes & Interiors, and now combines that role with writing for sister title homesandgardens.com.