Christmas tree ideas – 10 stunning festive styles, from traditional to modern
Make sure your Christmas tree ideas are all merry and bright this year by taking inspiration from these stunning looks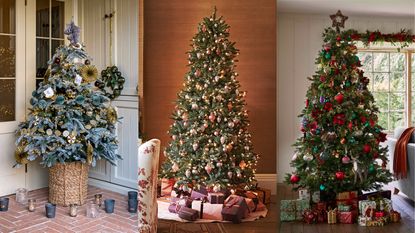 (Image credit: Polly Eltes/Adrian Briscoe/John Lewis)
Making sure your Christmas tree ideas are worth rocking around is the most important decor choice you'll make this holiday season.
As the festive centerpiece to your entire home, the tree should get all the decorative attention you can muster.
It's also the place in the house where you can be the brightest, the merriest and the most outlandish with your festiveness, so don't miss out on the opportunity to showcase the shiniest baubles and the jazziest tinsel, and create a Christmas cornucopia.
If you like things a little simpler, it's also perfectly possible to create a pared-back elegant look that still channels festive fun – and we've found styles to inspire both the minimalists and the maximalists out there.
Christmas tree ideas
From traditional trees bursting with an eclectic selection of holiday delights, to stylish gold and silver schemes dripping in glamor, we asked the experts to share their top Christmas tree ideas and found some beautiful examples to inspire your Christmas decor ideas.
1. Make it personal
While it's easy to be swayed by tradition on one side and Christmas tree trends on the other, ensuring your Christmas tree decor is authentic to you and your style is the most important design choice you can make. 'Remember to have fun when decorating, and that your Christmas tree should be personal to you and what you love,' says Daisy Coombes, Marketing Manager at Sass & Belle (opens in new tab).
If festive reds and golds aren't your thing, choose a color scheme that is. In this home, the tree is filled with blush pink and champagne-colored decorations from John Lewis (opens in new tab), and features quirky touches like feathers, butterflies and even plush octopuses, as well as a sequinned angel making a delicate landing for the Christmas tree topper ideas.
2. Follow a theme
For an ultra-stylish look, it's important to keep your Chritstmas tree decor consistent. 'Just like design, decorations must have one idea, one image bringing together various parts of the space being decorated,' says Ana Agapova, Creative Director of O&A Designs (opens in new tab), and strong advocate of Christmas tree themes. 'It can be one color palette, pastel and light colors, traditional red and gold, vintage-style decor with vintage tree decorations, cards and grandma's tablecloth.'
Carry this color theme though to your wrapping and Christmas tree skirt ideas, too, for a cohesive look.
3. Get a traditional look with red decor
If you're wondering how to decorate a Christmas tree stylishly without investing in an entire tree-full of new decor, listen up. Many of us have acquired an eclectic collection of Christmas tree ornaments over the years, and would rather use them to conjure memories of Christmases past than have a totally matching tree.
A mismatched look has a traditional feel, so bolster that by running color-blocking items of red and green decor throughout the tree. This will help create a sense of consistency, while still allowing you to enjoy your old favorites.
4. Keep it simple
It's already a pretty big deal having an actual tree inside your home, so sometimes keeping Christmas tree ideas simple is best. A pared-back look can be incredibly elegant, especially if you invest in quality decorations. 'I love mixing delicate, clear, hand-blown glass ornaments collected over years which add some sparkle, adding freshly cut winter foliage to layer the tree decoration, and not forgetting a few white accents,' says Henry Miller-Robinson, Co-Founder of K&H Design (opens in new tab).
This simple tree design needs only three decor elements to create a stylish look: shimmering glass baubles, silver streamers at the tips of the branches, and light in the form of electric candles.
5. Stay sustainable
'It's very important to source a great tree,' adds Miller-Robinson. 'Hopefully, something that has been grown sustainably with a regrowing programme.'
Staying sustainable at Christmas is increasingly on the agenda, and applies both to the tree itself and the decorations. 'Small changes can make a big difference so enjoy an environmentally friendly Christmas this year with sustainable, hand-crafted, wood, recycled glass and papier-mâché decorations,' says Coombes. Thinking outside the (plastic) box can inspire some alternative Christmas tree ideas too, such as this tree decorated with almost entirely paper ornaments.
6. Have a hygge holiday with Scandi style
One of the greatest joys to be found at Christmas time is cozying up by the fire, in full view of your Christmas tree – so why not take decor inspiration from the people who are perhaps the best at that in the world? Embrace the Scandi tradition of 'hygge' this Christmas and channel softness and warmth in your tree decor, as well as in your wider soft furnishings. Woven decorations like the one used here are a perfect fit for farmhouse Christmas tree ideas and look great in traditional red and white, matched with other details around the room.
7. Immerse the senses with scented decor
'For me, Christmas is hugely about fragrance,' says florist Philippa Craddock (opens in new tab). 'It's the evocative scent of fresh spruce from the tree brought indoors, bundles of cinnamon, dried oranges and the richness from cloves placed together in decorative bowls, their fragrance released with the warmth of the room.'
Take note from your Christmas wreath ideas and build on the scent of your pine branches with tree decorations that conjure Christmassy aromas. This tree is decorated with the likes of both dried orange and apple slices, as well as pine cones and bunches of cinnamon sticks.
8. Stick to single color baubles
'A fabulously modern way to style a tree and emphasize the healthy glossiness of those fir spruces is by painting all your baubles in one statement block color – ideally red, to contrast best against the green,' says color and paint expert Annie Sloan (opens in new tab). 'The single use of color is bold and looks terribly expensive, whilst the contrast between the sheen of pine needles and the velvet soft finish of matt baubles is deeply satisfying.' The boldness of this contemporary choice is bolstered by the use of oversized red baubles, which are also a great way to make a Christmas tree look fuller.
9. Create a winter wonderland
Don't just bring a tree into your living room this Christmas – bring the atmosphere of an entire snow-covered forest. If you're worrying about how to keep a Christmas tree alive (or at least green) and leaning towards an artificial option, consider frost-effect trees that look like they've been plucked straight out of a frozen fjord. To create a winter wonderland feeling, mirror it with frosted wreaths like in this room, and decorate exclusively with ornaments in icy white, silver and blue.
10. Reflect the room's color scheme in your decorations
While a Christmas tree is always going to stand out, we also want it to feel like part of the furniture, as if it grew up naturally through the floorboards. Taking into consideration your existing decor is the best way to make your tree feel like home, so think about using your room's color palette as inspiration for everything from your topper to the Christmas tree skirt ideas. In this neutral living room, the warm whites and creams of the surrounds are echoed in the gold, silver and white of the tree decor.
What's trending in Christmas trees?
The biggest Christmas tree themes we're seeing includes an increasing focus on sustainability. Recycled and biodegradable materials are, quite rightly, the designs of choice for this year and beyond. Revellers are choosing to invest in handmade, high-quality decorations that will last for years to come, rather than swapping them out for new decorations every year.
How do I arrange my Christmas tree ornaments?
Whether you're going for a maximalist look and cramming every inch of green with decorations or championing a more pared-back look, arranging Christmas tree decorations is all about achieving a consistent and even spread.
This means no part of the tree should be filled with more decorations-per-inch than any other area, and you should also try to ensure that the same approach is put towards decorations by type. For example, don't have all your baubles in one corner and all your angels in another – make sure they intersperse one another
You may be inclined to not put as much effort into lesser-seen parts of the tree, but make sure every visible angle is covered. If your Christmas tree backs onto a window, remember not to leave the reverse side decoration-less – you want it to look good from out the window too!
Ailis started out at British GQ, where a month of work experience turned into 18 months of working on all sorts of projects, writing about everything from motorsport to interiors, and helping to put together the GQ Food & Drink Awards. She then spent three years at the London Evening Standard, covering restaurants and bars. After a period of freelancing, writing about food, drink and homes for publications including Conde Nast Traveller, Luxury London and Departures, she started at Homes & Gardens as a Digital Writer, allowing her to fully indulge her love of good interior design. She is now a fully fledged food PR but still writes for Homes & Gardens as a contributing editor.