Indoor Christmas lighting ideas – 10 sparkling looks to inspire you
From subtle and sophisticated to all-out magical, these indoor Christmas light ideas will have you feeling merry – and bright!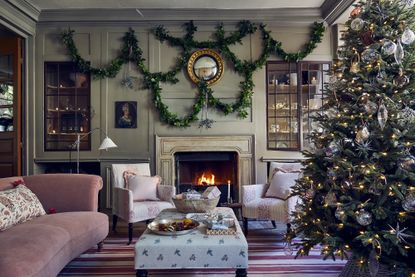 (Image credit: Future)
Now we're all for baubles, but nothing sets a festive scene quite like beautiful indoor Christmas light ideas. As any expert will tell you, they're the unsung heroes when it comes to festive decorating – it's the season for sparkle, after all!
When it comes to lighting up your Christmas decorating ideas, we're not just talking string lights on a tree. Nowadays, there are all manner of ways you can achieve that sought-after seasonal glow indoors. So many in fact, that it can be a little overwhelming. Luckily for you, we're here to help.
'One of the main wonders of Christmas is the lights, and getting yours perfect can really add the finishing touches to any Christmas-inspired decor,' says Connor Prestwood, interior designer at Dowsing & Reynolds .
Indoor Christmas lighting ideas
Below, we've shared our favorite indoor Christmas lighting ideas, from glowing tablescapes to twinkling window displays. Our outdoor Christmas lighting ideas are in our dedicated guide. What's more, we've also spoken to the experts to glean top tips and advice on how to get the light shining right (and bright) in your home, just in time for the holidays.
1. Make light of a tree
If you're tight on space, or you're looking for sustainable, alternative Christmas tree ideas this year, a magical string light tree is the perfect solution. If you're feeling creative, have a go at creating your own by loosely stringing up lights in a zig-zag tree shape using clear hooks, or opt for a ready-made design, like this one from Cox & Cox.
Crafted with shaped metal boughs, and easy to hang from a hook on your wall, it can be displayed either inside or outside the home to striking effect. Stand it alone in your entrance hall or porch to welcome guests, or as the main attraction teamed with an array of decorations', says Dani Taylor, product & creative director at Cox & Cox .
Stack piles of beautifully wrapped gifts underneath the tree for the perfect finishing touch.
2. Warm up a bedroom
When it comes to Christmas bedroom decor, you'll want to keep things subtle – the mood should remain calm and restful, despite the excitement of the season.
'Aside from your Christmas tree, LED fairy lights can add a touch of Christmas to the bedroom, displayed on open shelving, around window and door frames or if you don't have a headboard, strung up on the wall above your bed. Add sprigs of faux foliage around the room to create a minimal, forest-inspired scheme that doesn't feel too overpowering,' says Connor Prestwood.
One or two strings of twinkling lights are more than enough to add some magic. Avoid stark white in favor of a soft, golden glow to add warmth to an all-white scheme – this applies to any room, not just bedrooms!
3. Give festive foliage extra sparkle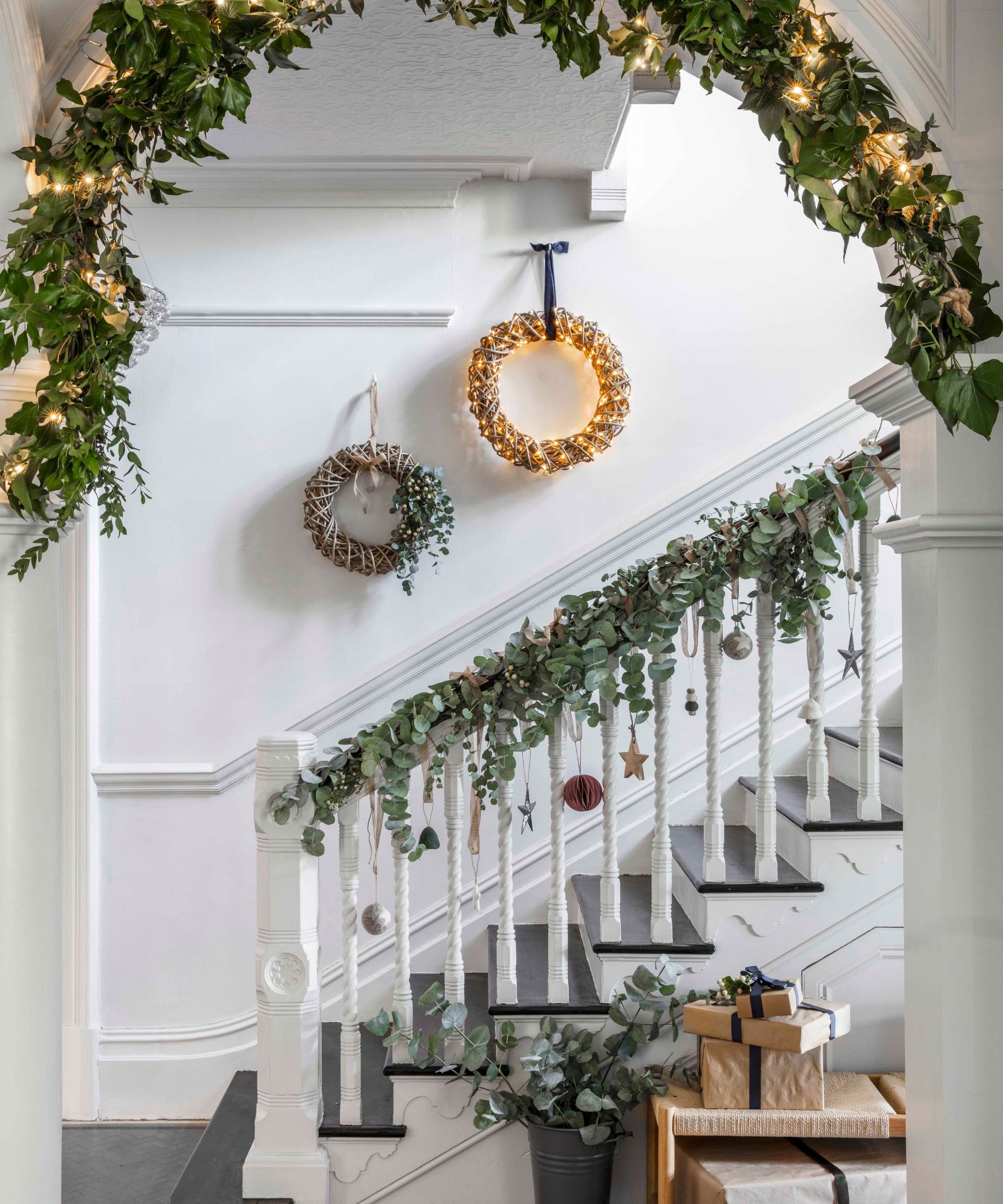 There's no doubt about it, fresh Christmas foliage and soft, glowing lights are a match made in heaven when it comes to holiday decorating. Hallways, mantelpieces and stairways are the most obvious places for Christmas wreath ideas and Christmas garlands, but it's worth looking to other areas around your home that might benefit from some sparkly festive foliage.
'If you are lucky enough to have empty niches, sculptural archways, or even exposed beams across your home, illuminate the outline of these shapes with dainty fairy lights', says Francesca Morris, senior buyer at Garden Trading. Avoid unsightly, tangled wires by opting for pre-lit, battery powered designs.
Twinkly garlands also make for a rather special Christmas window decor idea. Drape one just low enough so you can appreciate it from the outside, too.
4. Light the way at windows
Delight children and impress the neighbors by incorporating indoor Christmas lighting ideas into your Christmas porch decor or entryway decorating. A lit, sophisticated wreath, a mini, elegant tree or illuminated figures, like these ones here, make for a truly festive display.
'Introducing warm clusters of twinkling light in the form of pre-lit wreaths, garland and Christmas tree are perfect for lighting up porchways at all levels,' says Lucy Kirk, Creative and Photography Manager of Lights4Fun.
5. Add warmth to a winter table
Love the idea of creating a magical mood over the holiday season? Getting creative with indoor Christmas lighting is the key to creating a wow-factor Christmas table decor idea, plus offers up the chance to soak up the ambience long past nightfall.
Arrange classic white candles and glowing tealights down the center, then dot pretty star-shaped micro lights at random for the perfect mix of traditional and modern.
6. Let the curtain fall
With vast expanses of wall to light up, Christmas living room decor can sometimes be tricky. So why not follow Kelly Wearstler's advice on how to hang Christmas lights? A single string of warm string lights can look a little lost, so Kelly ups the festive ante by hanging a curtain of lights instead. It's easy to do; mount clear command hooks where the wall and ceiling meet, then allow the lights to cascade down. To keep things tasteful, steer clear of cool white or blue bulbs – warm white is best, and avoid any garish flashing.
'Think big and let your imagination be your inspiration,' says Kelly.
7. Create a warm welcome
Incorporating lights into your Christmas hallway ideas has the benefit of creating a festive atmosphere in transitional spaces. While twinkling string lights come into their own at nightfall, pre-lit decorations, such as these adorable ceramic houses, will look warm and inviting throughout the day, too.
'We have so many friends and family visiting us over Christmas, so we like to make sure the hallways in our home look festive yet elegant. In our porch windows, we like to add rows of white ceramic houses filled with LED tealights to create a pretty miniature village that guests can see before they've even stepped foot inside – it's always a lovely talking point', says Suzy Humphreys, founder of Layered Lounge.
8. Illuminate your architecture
Creating a cozy indoor Christmas lighting scheme is all about embracing the vertical. If you're feeling a little overwhelmed at the prospect, choose smaller areas to focus on, beams, arches and columns to create eye-catching pockets of sparkle.
'Hang plenty of twinkling lights and use these wires to string up baubles, handmade decorations and other ornaments,' says Garden Trading's Francesca Morris.
9. Take a 'less-is-more' approach
Beautifully lit Christmas tree ideas don't always equate with piling on the string lights – taking a pared-back approach can be just as striking, particularly in contemporary or Scandi-inspired interiors.
It may not 'steal the show' in the literal sense, but adopting this approach allows your tree to work in harmony with the rest of your lighting, making for a beautiful glow that resonates throughout the entire room.
'By not going overboard on the lights, you can create a focus on the tree itself and use strands of lights to illuminate the branches and introduce a subtle glow to the room. When complemented by table lamps and floor lamps, this creates soft pools of light throughout the room which introduce relaxing ambience and plenty of festive magic,' says Lucy St George, co-founder of Rockett St George.
10. Introduce glowing candlelight
Going back to basics is one of the most beautiful ways to decorate over the holiday season. Whether it's groupings of glowing tea lights arranged on tabletops, or tapered candles adding ambience to a wintery window display, the humble glow of candlelight just cannot be beaten. Here, chunky beeswax candles light up a festive tablescape. You can learn how to dry orange slices for Christmas very easily to adapt your own candles for the season.
As well as looking lovely, candles have the added benefit of smelling wonderful, too. Notes of cinnamon and spice are wonderfully nostalgic, or enjoy fresh scents of the great outdoors – such as pine, fir and eucalyptus – in the warmth and comfort of your own home.
Never leave burning candles unattended.
What can I use instead of indoor Christmas lights?
Instead of indoor Christmas lights, you can use traditional pre-lit garlands, wreaths and ornaments, contemporary twig trees and fun, light up figures. Rather than tackling your whole home at once, focus on specific areas: windows or Christmas wall decor ideas, for example, and think about what will work best.
LED is the best option for a number of reasons. This type of bulb is long-lasting so you won't end up replacing your lights each festive season; and on top of that, they don't heat up in the same way so are safer and suitable to be used around all that festive foliage and paper decorations.
It's also worth bearing in mind that going back to basics can be the loveliest way to decorate at Christmas, and when it comes to indoor Christmas lighting, that means the humble candle. Don't underestimate it – there's nothing quite like that warm, flickering glow for adding festive ambience, even more so if you choose a beautiful seasonal scent. It may not be the sole player in your lighting scheme, but used in combination with other lighting ideas, it can tip the balance from mediocre to truly magical.
How do you make indoor Christmas lights look good in your house?
Ultimately, this comes down to getting the light right for every room or display you're using it in, so treat them all individually – there's no 'one light fits all', unfortunately.
When it comes to deciding on a color, Connor Prestwood, interior designer at Dowsing & Reynolds, says: 'Maximalist rooms could look extra vibrant with colorful indoor Christmas lights, whereas a pared-back neutral scheme will look beautiful with simple, LED string lights'.
You'll also need to think about the glow factor. 'LED lights that emit a warm golden glow as opposed to cool white will give a softer look, enhancing the coziness of a space, perfect for living rooms and bedrooms. If you're looking to create a snow-scape inspired grotto though, opt for cool white light for a magical frosty feel!' he says.
Getting the light right is the most important thing, how you place them is up to you. It all comes down to personal preference, so it's sensible to with your instincts, however, as a a general rule of thumb:
'Lighting up the hearth and mantlepiece is a great place to start as indoor Christmas lights will brighten up the heart of your home, casting a warm and inviting glow,' recommends Amy Mason, director of product at Lights4Fun. 'Think about positioning too; adorn side tables and windowsills with Christmas lights to add a mid-level glow to your festive display, and finish with illuminating shelves and bookcases to uplift the smaller, darker corners of your home.'
Sign up to the Homes & Gardens newsletter
Decor Ideas. Project Inspiration. Expert Advice. Delivered to your inbox.
For 10 years, Tara King worked as a Content Editor in the magazine industry, before leaving to become freelance, covering interior design, wellbeing, craft and homemaking. As well as writing for Ideal Home, Style at Home, Country Homes & Interiors, Tara's keen eye for styling combined with a passion for creating a happy – and functional – family home has led to a series of organization and cleaning features for H&G.