Alternative Christmas tree ideas – 11 ways to create a quirky but stylish focal point
Rethink your evergreen with alternative Christmas tree ideas, and create a totally unique focal point for your festivities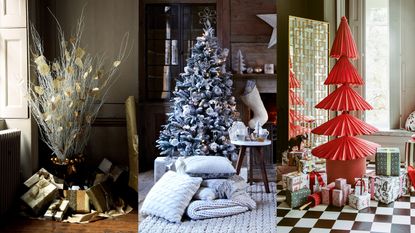 (Image credit: Jan Baldwin/Jon Day/Simon Bevan)
Rudolph's unorthodox red nose has nothing on these alternative Christmas tree ideas.
For festivities with quirk, kook and tons of personality, rip up the Christmas tree ideas rulebook, and create a decorative centerpiece to your home that is as unique as you are.
Don't get us wrong, the 8ft green spruce decorated with a bevvy of red and gold baubles and a twinkle of fairy lights is a magical thing – but if you fancy a change this year, there are many ways to reimagine this festive tradition that are both a little off-the-wall and totally enchanting.
Alternative Christmas tree ideas
Whether you're looking for a tree that's larger than life in its decor, slimmed down and simple, or a tree that's not even a tree at all, we've found some inspiring Christmas decorating ideas for alternative Christmas trees that will make you rethink that evergreen.
1. Make your tree out of unusual objects
Choosing quirky objects for your decorations and Christmas tree topper ideas is one thing, but using them to make the tree itself is quite another.
'Last year we crafted our Christmas 'tree' out of stacked books,' says Angus Buchanan, creative director at Buchanan Studio (opens in new tab). 'Starting with a wide base and getting narrower up to a single book at the top, you can make it as petite or as colossal as you see fit.'
For another unique take on tree construction, this home hosts a Christmas tree fashioned from 24 envelopes pinned to the wall, acting like an advent calendar by holding a surprise to be revealed each day.
2. Reflect your hobbies in your decorations
When choosing a Christmas tree theme for this year, the most important thing to consider is how it channels your personality. If you're less into robins and reindeer than you are llamas and octopuses, pick decorations that reflect your unique tastes.
'Over the past few years, we've seen homeowners have more fun with their decorations, as they opt for more color, cheeky characters, and novelty decorations such as sprouts, and even decorating as per their favorite hobby – be it baking, bee-keeping or gardening,' says Daisy Coombes, Marketing Manager at Sass & Belle (opens in new tab).
3. Christmas trees don't have to be conifers
If you're pondering how to decorate a tree for your Christmas living room, you're most likely looking for tips on stacking tinsel and baubles onto the spiney branches of a traditional conifer. While pines, spruces and firs are the traditional Christmas tree favorites, why not pick a variety that's magical in a completely different way? In this example, a willow tree with lateral branches has been painted silver and decorated with silver streamers, creating a winter wonderland beneath its canopy.
4. Drop the needles and go for bare branches
If you're wondering how your not-particularly-green fingers are going to keep a Christmas tree alive (or at least perky) until the end of December, consider dropping the needles before they even make it into your home. Twig trees are another alternative to the traditional Christmas tree – they don't necessarily have to be bare conifers, as all sorts of leaf-less trees can be dressed up with decorations to create an effect that is at once wintry and festive. This example blends the natural world with design touches, as a white-painted miniature tree is decorated with a mixture of pine cones and gleaming gold decorations.
5. Choose a colored tree
In winter, we're always grateful for evergreen trees – but for a Christmas with a more creative touch, give the color wheel a spin. 'For the brave, we love bright pink Christmas trees hung upside down from the ceiling, such as the one seen in our restaurant Le Bab in Bucharest,' says Buchanan.
If you're on the hunt for an artificial tree, consider conifer-style trees in a whole rainbow of colors, from icy whites to festive reds. In this instance, the layers of a conifer tree have been mimicked with a tower of bright red parasols, opened to varying degrees, for a fun take on the enduring triangular shape.
6. Make a tree out of wreaths
What's better than one Christmas decor favorite? Two, of course. Create a festive decoration powerhouse by using Christmas wreath ideas to create an alternative Christmas tree. Running again with the idea that the stepped triangle shape is the most instantly recognisable trait of the traditional Christmas tree, this minimalist example recreates this form through carefully positioned wreaths of different sizes hung from the wall of the home, with presents even piled beneath it.
7. Center a grotto around a miniature tree
A 10ft spruce isn't for everyone – for more low-key festivities, a miniature tree can be just the right fit. They don't, however, need to feel any less special than their taller counterparts, and can still be at the heart of a space where you and your guests gather. Prop them up on a platform for a bit of height, finish them off with statement Christmas tree skirt ideas and create a cozy seating nook round them festooned with blankets and cushions – this will result in a romantic, intimate festive corner for smaller parties.
8. Create a deconstructed tree from collected branches
Full trees may be great fun, but they're not the only festive foliage arrangements you can tuck presents under at Christmas time. Think outside the box and take a deconstructed approach instead.
'For a more statement look, perfect for spaces such as a hallway, a large vase with a branch and baubles can give a minimal but festive feel,' says Holly Gannon, Design Manager at Milc Interiors (opens in new tab).
This contemporary look is a great way to mix modernity into farmhouse Christmas tree ideas, and can work both as the central festive statement in your home, or as series of side 'trees' in addition to the main event.
9. Let it snow with a frozen effect
Dreaming of a white Christmas? Take notes from your outdoor Christmas decor ideas and embrace the magic of snowfall on your indoor tree. Choose an artificial tree with a frosted effect to effortlessly transport your guests into a snowy forest, or sprinkle artificial snow across the top and around the base of your real tree for a more authentic illusion. Be inspired by this stylish example and keep the decor to a palette of icy whites, silvers and blues for a full-on frozen feel.
10. Get a surreal feel with oversized decorations
Bigger isn't always better, but when it comes to Christmas, you have licence to get as grand as you can handle. Dainty decorations aren't for everyone, so why not decide to take a slightly more surreal route and go oversized? Stars as big as supernovas and baubles as big as your head will add a fresh take on Christmas decor with a side of humor, and are particularly impactful when all kept in the same aesthetic vain, like in this example.
Position your baubles carefully, and this strategy will also help make a Christmas tree look fuller, helping to fill in the gaps and push branches closer together as the decorations take up the excess space. Just remember to make sure everything is light enough to stay off the floor.
11. Get arty with a photographic tree
Is your Christmas hallway in need of an update this year? For a wholly contemporary approach, dispense with your tree's third dimension altogether. With one foot firmly in the art gallery, this home's innovative approach to Christmas tree installation consists entirely of a pinned, life-sized photographic print of a forest. Instead of chopping down the tree at the heart of the frame, the print acts as something of a portal to the forest, and the tree can be decorated with the use of stickers and more attached to the paper.
What can I use instead of a Christmas tree?
If you're not using an actual Christmas tree this year – by which we mean a conifer tree, artificial or real – the best alternatives are ones that either play a riff on the idea of gathering around a natural monument, or ones that think entirely outside the box.
Conifer branches or even bare winter twigs can be arranged in a large vase and decorated as a subtle allusion to the Christmas tree and decorated subtly with lights and simple decorations. Alternatively, think about how you can recreate the classic triangular shape of a Christmas tree using objects such as books, wreaths or even a stack of presents.
How can I make my house Christmassy without a tree?
While it makes for a great central focus to your home over the holidays, a Christmas tree isn't the be all and end all of festive decor. You can use any of the suggestions above to create that focal point in place of a tree, while incorporating a wider range of Christmas decor ideas is always important to making a home feel Christmassy, even when you have a tree. Ensure your walls are filled with wreaths and garlands, your dinner table is festooned with festive elements, and turn your fireplace into a cozy grotto fit for Santa.
Ailis started out at British GQ, where a month of work experience turned into 18 months of working on all sorts of projects, writing about everything from motorsport to interiors, and helping to put together the GQ Food & Drink Awards. She then spent three years at the London Evening Standard, covering restaurants and bars. After a period of freelancing, writing about food, drink and homes for publications including Conde Nast Traveller, Luxury London and Departures, she started at Homes & Gardens as a Digital Writer, allowing her to fully indulge her love of good interior design. She is now a fully fledged food PR but still writes for Homes & Gardens as a contributing editor.