Christmas hallway decorations – 20 ideas for your entryway and beyond
Christmas hallway decor is a wonderful way to make transitional spaces feel festive. These ideas stretch from entryways to landings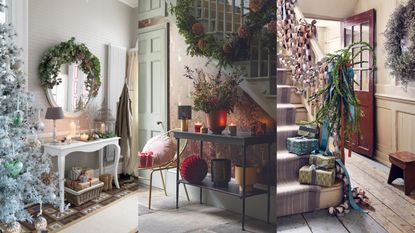 (Image credit: Future)
Dressed up and dressed down, bold and subtle, sophisticated and abundant, take a look at our gallery of inspiring Christmas hallway decorations and ideas for festive entryways.
After all, why limit your Christmas decorating ideas to reception rooms when you can create a warm welcome in your entryway and a sparkling, seasonal looks in transitional spaces.
'In the Christmas hallway, I always do the banister,' says designer Sophie Conran. 'That is the focal point. I like it to look busy, and I seem to add more and more throughout the Christmas period which is such fun. I keep on going back to it.
'I start with a lot of foliage woven around the banister, and then I add all sorts of red decorations – bows, candy canes, lots of pine cones, paper apples, berries.'
Christmas hallway decorations and ideas
There are so many ways to use Christmas hallway decorations effectively, from mini trees on console tables to garlands up stairs, to wreaths hung on walls. These are our favorites.
1. Create a cozy glow
Nothing says 'warm welcome' quite like the cozy glow of candlelight, particularly when it's illuminating the most festive of Christmas stair decor ideas. Setting candles upon an antique entry table is a sensible – and safe – option, and if you opt for an eclectic display, like the one shown here, it's easy to create.
Vintage candle holders can be sourced online, or look around your home for various tealight holders, candlesticks and stands – no need to worry about whether they match. Similarly with the candles themselves, although it's a good idea to invest in seasonally-scented versions for extra Christmassy fragrance.
Never leave burning candles unattended – convincing fakes are the safest option; we really like Amazon's flickering LED tapers.
2. Be bold with baubles
If you can't have a little fun with your Christmas hallway decor ideas, when can you? Lining the floor with bright, oversized baubles is guaranteed to raise a smile. Plus you get the chance to put your own creative spin on things, which is always good fun.
'Baubles aren't just for trees, you can source giant ones from craft shops or online and transform them with a lick of paint. It's a fun way to decorate a hallway, and you can give them a new look every year', says paint and color expert, Annie Sloan. Amazon has a wide range of giant Christmas baubles.
Whilst we love it, this decor idea isn't the most practical for everyone – those with small hallways, or anyone with pets or children, for example. However, this isn't the only way to display Christmas tree decor in your hallway, and you don't necessarily need room for a tree either; hang them out of reach across a mirror, or pile them high in a glass bowl for an original take on a traditional decorating trend.
3. Adorn a staircase with a garland
Usually the focal point of an entryway, and the first thing you see when you walk through the door, it makes sense to focus your decorating efforts on the stairs with Christmas garland ideas and over-sized paper decs. Whether you opt for honeycombs, balls, stars or pendants, paper decorations are bang on trend at the moment; colorful and pretty (not to mention sustainable), they also weigh next to nothing, so can be hung easily from the banister, plus it's not the end of the world if one or two get damaged.
When it comes to styling them, Lucy St George, co-founder of Rockett St George says: 'Try pairing string lights or foliage with beautiful decorations including paper honeycombs and glam glitter stars. As with any style spot in your home, play around with different heights and either focus on creating a cluster at the bottom of the stairs or scatter along the entirety of your staircase for the ultimate feature.'
In line with an eco-friendly approach to decorating, Suzy Humphreys, founder of Layered Lounge adds: 'For extra decoration, I like to wrap up empty cardboard boxes in festive paper, then dot them along a console table or bench. This means we don't have to take gifts from under the tree, and if they get damaged in a busy hallway it doesn't matter'.
4. Don't forget the window
If your hallway includes a window, think about ways you could utilize the ledge as extra surface space for decorating. Incorporating foraged foliage into your display is a great way of bringing the outdoors in, and can be made extra festive by adding in complementary decorations – berry red is always a good choice!
Hanging glass baubles in the window offers the perfect finishing touch, and makes for a lovely Christmas window decor idea that can be appreciated both inside and out. Coordinate with your Christmas wreath ideas to ensure a stylish and coherent scheme.
5. Have welcome drinks at the ready
Ensure everyone has a drink in hand by setting up a fizz-filled drinks station in the hallway so guests can help themselves as they walk through. Not only will it guarantee you 'host with the most status', it's a great styling opportunity, too.
Grouping glasses and bottles on a stylish metal tray makes for a neat display that's pleasing on the eye – and makes spillages less likely, too. While you'll need to keep the top surface fairly free for practical reasons, you can get as creative as you like with Christmas wall decor ideas, a clever way of drawing the eye of guests as they arrive, while Christmas plants and bunches of greenery add a decorative touch.
6. Bring in a Christmas tree
Not all of us are lucky enough to have a hallway big enough to host a full-sized Christmas tree, but a smaller, potted version standing tall on a console table can bring just as much magic. Here, there's the best of both worlds, with a full-sized tree and Christmas mantel ideas employed above the console.
'If you really haven't got space for a tree in your hallway, consider using festive foliage styled on a console table instead, for a more subtle nod to the season,' advises Paul Deckland, Director of Buying at Cotswold Co. 'Using fresh, foraged greenery looks considered and smells amazing, too – a great welcome for friends and family as they step through the door'.
7. Hang a wreath on the inside of the door
Hanging a Christmas wreath on the back of your door, as well as the front means you leave the house feeling full of festive cheer, as well as returning home to it. It doesn't have to be big to make an impact either; here, a relatively simple design is brought to life by a beautiful velvet ribbon, and perfectly complements other wintery decor dotted around the hallway.
'One of the most important things to address in a hallway is the fragrance; this is just as much of a mood-setter as the decorations themselves. If you've got a wreath hanging, try spritzing it with natural oils so you get a lovely waft of Christmas scent whenever you open the door,' says Suzy Humphreys, founder of Layered Lounge.
8. Go big on greenery
You don't have to go big and bold on decorations and colors to make an impact – using an abundance of fresh, all-green foliage is guaranteed to add wow-factor as soon as you walk through the door. Handily, hallways often present perfect display opportunities, too. An entryway table can be adorned with vases of freshly foraged greenery, light fittings, mirrors and front doors offer settings for wreaths and swags, and of course, not forgetting the stairs.
'A hallway is a great opportunity to get creative with your festive decor as it's a space you don't have to be in for long periods of time, so you can go all out with your decorations. Hang wreaths, garlands and lights from multiple points to create a maximalist feel. This will also help bring little moments of joy as you pass through to another room,' says Connor Prestwood, interior designer at Dowsing & Reynolds.
9. Adorn an entry table with baubles and foliage
Entry table decor ideas are a must for making not just the entryway but other hallway spaces look fabulous year round, but especially at Christmas.
'Styling a console table is an art,' says Lucy Searle, Editor in Chief, Homes & Gardens. 'The key is to underplay it a little, especially at Christmas. Over stuff it and you won't see the wood for the trees. I would say that some festive sparkle with LED candles combined with dimmed overhead lights can go a long way to creating a magical feel.'
10. Pile gifts high in a Christmas hallway
Getting the balance between style and practicality is the most important thing in a hallway, particularly over the holiday season when guests arrive piled high with coats, gifts, drinks, party food and so on. One way of achieving this is to create a designated area for gifts.
Obviously the stairs aren't it, so think about a devoted console, a rolling trolley or a mini tree set on a side table. Start off by stacking your own beautifully-wrapped presents and watch it grow into an eye-catching display as more guests arrive… just be sure to stop children (or adults, for that matter) tearing them open before the big day!
11. Hang a festive wreath
Don't confine these floral decorations to the front door. Instead, add seasonal cheer to any room in your home with your favorite wreath designs.
The hall is the first area of your home that your visitors see, so dress it with an impressive wreath. A design made up of just one tile of flower or foliage is an elegant option with dramatic impact.
12. Make it a celebratory affair
A sparkling scheme of soft pinks and amber is a perfect way to dress your home for a fabulous Christmas celebration.
Create a stunning entrance with an abundant floral arrangement ascending the stairs. To ring the changes, design your display so the flowers rise from the steps in a contrast to the more traditional garland which runs along he handrail.
Simple paper wheel decorations are a quick way to bring a bold decorative touch a staircase wall.
13. Deck the halls
A grand staircase in an entryway area is the most obvious choice for a decorative focal point at Christmas. As the first room that visitors will see, it's an opportunity to make something of a showpiece to set the tone of the whole house.
More of a challenge to manipulate into shape, nevertheless, twigs make a striking alternative to foliage for any garland but particularly one to be strung up a staircase as the irregular and organic shapes help to break up and soften the edges of the spindles.
On their own, the look would be too harsh; instead decide to bunch together at intervals pine cone decorations, ribbons and pompom balls which have been spray painted. Take a view on whether you want to either make a vivid color statement here or take a cue from the surrounding space, such as in this scheme which uses calm and warming colors of red and burnt amber on the wide-width satin ribbons.
14. Essay in elegance
The tradition of the Christmas wreath, with its circular shape and evergreen material, is thought to represent eternal life and a symbol of Advent; today they are almost as essential form of decoration as the Christmas tree itself.
Generally reserved for the front door, or in street-facing windows, indoor hallway wreaths are a simple nod to traditional decorating with a modern twist. For a fresh and elegant look, maintain a strict colour scheme of green and white.
Take a plain wreath (or make your own out of juniper branches, lot of different types of eucalyptus, olive branches, mimosa and privet) and thread a short string of battery-powered, warm white fairy lights into the wire frame to give off a subtle yet welcoming glow to the hallway.
Finally, pair this with a simple spray of mistletoe on a length of wide-width satin ribbon.
15. Go for a festive festoon
One of the easiest ways to decorate a Christmas hallway is to make the architectural details do most of the work. Generous period architraves are particularly well suited to carrying a festive garland, with little or no damage to the walls, save for a few pins to hold it in place.
Where possible, draw the eyes further into the house, again working within the existing shapes and room proportions for a pleasing visual marriage. The door opening perfectly frames the Christmas tree, for example.
Within a traditional context, keep the decorations in neutral colors of green and silver but strike a less formal accent; here a witty disco ball takes the place of the standard mistletoe hanging above the doorway.
Using the same colors of silver, white and green to wrap up the presents under the tree requires some extra forward planning (no raiding last year's leftovers) but has the effect of elegantly tying together the decorative scheme.
16. Instil a heavenly scent
With sustainability becoming increasingly core to every aspect of our lives, try to embrace winter-flowering plants when assembling flowers in the hallway.
Choose whites and greens for a fresh, neutral look and use rosemary (thought to bring health and happiness for the coming year during the Middle Ages), white chrysanthemums, the Christmas rose, and, of course, mistletoe.
Pots of hyacinths not only add to the scheme but will introduce a sweet floral scent into the hallway, introducing another layer of impact for guests and family. A mix of terracotta and glass planters keep the tone natural and less formal.
Then, in a nod to the shorter days and to make the display stand out during the day and evening, weave in some light – either with string lights or tealights (LED ones for homes with young children).
17. Opt for fabulous foliage
Looking to create a seamless transition between your Christmas porch ideas and festive hallway decor? Most designers and decorators agree that key to decorating a Christmas hallway is to be as generous as possible with flowers and foliage – in an era when everyone is starting to keep a closer eye on how much plastic we use and dispose of, it's a sure-fire way to keep a cleaner environmental conscience.
Seasonality is, of course, fundamental to that, meaning that most will be made of native foliage including eucalyptus, ivy, yew and fir – with a few imports for a bit of color.
When making a Christmas wreath for the front door, go a little wayward with the shape if possible and have the greenery trail down the front door for a loose and natural look with the highest welcoming impact.
18. Look up
Take the traditional Christmas bauble for a creative spin. An obvious choice would be a central hallway chandelier where the light will bounce off the glistening surfaces and create a pretty and eye-catching display. Be led by the design of the chandelier itself and try and echo the shapes that it makes.
Here, the droplets of crystals are embellished by a collection of silver, white and frosted baubles in varying shapes and textured finishes which are artfully tied at different heights using lengths of delicate narrow-width silver ribbon. Together it creates a glamorous display which might see out the festive season and beyond.
19. Decorate with a country style
For a farmhouse Christmas ideas with a truly contemporary twist, go for a magical, playful look in a hallway with wood board flooring and woven runners. Abundantly swathe a staircase in rustic paper chains and a mass of flowing ribbons or glittering lengths of garland.
20. Create a garland centerpiece
In a panelled hallway, centre a painted Swedish demi lune table between the boards and add candle sconces either side for symmetry. Simply decorate with a beautiful large bowl of pink limonium foliage.
A collection of miniature antique wooden sheep give a 'nativity' look, and the whole room is dominated by a stunning wrought iron garland on the wall.
How can I decorate my hallway for Christmas?
To decorate your hallway for Christmas in a way that's unforgettable, always start with the lighting. Dimmer lighting supplemented by fake candles with convincing flickering candle light (LEDs are fantastic) will set the scene. Around this, adorn walls with wreaths and narrow wall-hung garlands; string a garland up and along bannisters; and ensure your console tables are decorated with bowls of baubles and festive flowers. If there's space, a hallway Christmas tree with gifts piled beneath is a wonderful indulgence.
Sign up to the Homes & Gardens newsletter
Decor Ideas. Project Inspiration. Expert Advice. Delivered to your inbox.
With over 30 years of working in journalism on women's home and lifestyle media brands, Rhoda is an Editorial Director, Homes Content, at Future. Over time, Rhoda has worked on the entire homes and gardens portfolio including Homes & Gardens, Country Homes & Interiors, Livingetc, Ideal Home, Style at Home, Woman & Home, 25 Beautiful Homes, Amateur Gardening and Easy Gardens. She was also editor of Country Homes & Interiors for 14 years, leading it across print and creating the blog Country Days. She has also worked at Woman's Weekly, Family Circle and Practical Parenting.