Christmas stair decor ideas – 10 festive looks for stylish staircases
Take your Christmas stair decor ideas to the next level with shimmering garlands and fragrant wreaths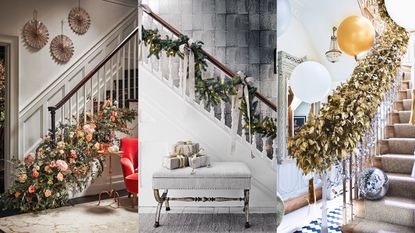 (Image credit: Adrian Briscoe/Joanna Henderson/Simon Bevan)
Christmas stair decor ideas are what you need to take your hall-decking to – quite literally – the next level.
To create a truly magical Christmas decor ideas scheme, ensuring festive decorations are festooned in empty spaces all around the home is crucial.
Often located in the entrance hall and therefore a dazzling way to welcome guests, decorated staircases allow the Christmas charm to travel from one part of the home to another.
Christmas stair decor ideas
From shimmering garlands to fragrant wreaths, we found some stunning Christmas stair decor ideas asked the experts to share their favorite festive decorating tips.
1. Channel a Nordic Christmas with traditional red and white
Dreaming of a white Christmas? Make it a partial reality by crafting a Scandinavian scheme for your staircase ideas – and embracing an enduring combination of crisp whites and ruby reds.
'Sleigh bells, wood, felt and traditional red and white Nordic designs can be effectively themed alongside metallics – silver and gold – in garlands, baubles and Christmas wreaths,' says Daisy Coombes, Marketing Manager at Sass & Belle (opens in new tab). This slightly rustic approach works particularly well among farmhouse Christmas decor ideas, surrounded by exposed beams, log piles and antique furniture.
2. Get ready for Santa with stockings
Stockings may be a staple of Christmas fireplace ideas, but the mantel isn't the only part of the home where Santa can drop off presents. Create a wholesome family feeling by lining up a stocking for each member of the household, and hanging them along the staircase balustrade. Pair them with a garland wrapped around the handrail, and choose stockings that fit in with color scheme of your other decor details. In this example, rustic wool stockings are paired with spindly twigs and dried cotton stems for wintry look with soft interludes.
3. Fill your stairway with wintry scents
If you're wondering how to make a Christmas garland for a staircase, remember to appeal to as many senses as you can. Consider using organic scented elements – and Christmas foliage ideas – in your decorative designs, building on fresh pine branches with a wider array of festive aromas.
'Fragrant homemade dried oranges and limes will scent your home beautifully and they can be tied onto your wreathes, used to decorate the table or hung amongst your foliage arrangements,' says Wild at Heart (opens in new tab) florist Nikki Tibbles. On this staircase, both the garland and the matching wreath are interspersed with bundles of cinnamon to add a spicy waft to this corner of the house.
4. Florals can be festive too
Fresh flowers may not be the first things you think about when it comes to Christmas garland ideas, but bountiful blooms can still have their place among the pine cones and holly. The contemporary Christmas staircase decor in this home features a fabulous floral arrangement at the foot of the banister, which is festooned with winter blooms including chrysanthemums, roses and dahlias in warming shades of pink and orange, as well as foliage including growing festive favorite eucalyptus.
5. Add a twinkle or two with fairy lights
'One of the most dramatic places to warm your home for the holidays is your staircase,' says Samantha Candela, Christmas Merchant at Grandin Road (opens in new tab). 'Light the way to visions of sugarplums by draping the banister with a realistic, pre-lit faux garland.'
Fairy lights aren't just for your Christmas tree ideas – light the path up to the remaining 'sleeps' before the big day with twinkling lights incorporated into your staircase design. Either wrap separate strings of lights around your handrail, intertwined with a garland, or choose a ready-to-go garland with built-in electrical sparkle.
6. Go big
Christmas is not the time to be shy and retiring. For a decor scheme filled with full-on glamor, choose larger than life staircase decor that makes a real statement as soon as guests enter your home. In this narrow hallway, the party gets off to a shimmering start with oversized helium balloons in metallic shades and glittering textures, while the staircase itself sports a substantial garland made from gold painted leaves, trailed by high-shine silver paper chains.
7. Lead the way with wreaths
'Traditionally, we think of wreaths for front doors but this year you could use it on the Christmas dining room table as a centrepiece or on the wall as a festive focal point,' says Meaghan Hunter, Senior Stylist and Art Director at Neptune (opens in new tab).
Wreaths are a fabulous addition to Christmas wall decor ideas, especially when incorporated into a staircase. Choose either a large, highly decorative wreath to bring focus to a landing, or line up multiple, simpler wreaths to mark climbing intervals, like in this simple but effective example. They also need not stay on the wall – consider hanging wreaths from the handrail and have them climb the balustrade.
8. Create a scheme that embraces the whole hallway
Ensuring your staircase looks tip top may be a big part of your Christmas hallway decor ideas but it isn't the only aspect of the space you can decorate. If your staircase is part of an entrance hall, it's especially important to create an immersive and warm welcome for your guests by tying in your staircase garland with the likes of your door, walls and any seating areas.
In this grey hallway, the amber gold of the chandelier is picked up in the painted copper leaves on the staircase and in the yellow ochres of the wreath, tied with a gold bow.
9. Get crafty with style-forward paper chains
Setting aside time to make your own Christmas decorations can become a holiday event that is just as fun and memorable as the festivities themselves. Paper chains are perhaps the easiest festive decorations to make, meaning they are great for getting crafting with the kids. They can also provide a real punch of pattern when used as a staircase garland, as showcased in this example where layers of paper chains made from patterns strips of paper in different colors create a standout look.
10. Delight on Christmas morning with a present pile
There are few greater joys than coming down the stairs on Christmas morning to find that Santa has paid you a visit. A delight for kids both big and small, start the sense of wonder early by placing a pile of presents at the bottom of the staircase. Split the gift haul between the stairs and the tree to create an unexpected surprise – it'll make for a delightful start to the day, and will last as a decorative addition until present-opening-time.
How do I decorate my stairs with Christmas decorations?
When decorating stairs with Christmas decorations, you naturally have height covered – what you really need to think about is choosing decor that can give you impact for the whole of the staircase's length. You'll want to avoid putting anything directly on the steps as this can be a trip hazard, so focus on your balustrade, handrail and walls, if you have them.
Garlands are an adaptable Christmas decoration that can be used all over the home, and work especially well when wrapped around the handrail of a staircase – intertwine this with fairy lights for a twinkling effect. Wreaths and other large hanging decorations like pop-up paper snowflakes are great for covering ground in an impactful way. To create pockets of detail, draft in Christmas tree decorations like baubles or organic items like pine cones and dried oranges, and include them among your wreaths and garlands.
Ailis started out at British GQ, where a month of work experience turned into 18 months of working on all sorts of projects, writing about everything from motorsport to interiors, and helping to put together the GQ Food & Drink Awards. She then spent three years at the London Evening Standard, covering restaurants and bars. After a period of freelancing, writing about food, drink and homes for publications including Conde Nast Traveller, Luxury London and Departures, she started at Homes & Gardens as a Digital Writer, allowing her to fully indulge her love of good interior design. She is now a fully fledged food PR but still writes for Homes & Gardens as a contributing editor.