Christmas ornament ideas – 24 styling ideas and the best places to shop
From the classic to the truly unique, our Christmas ornament ideas will ensure your Christmas tree is the star of the show this holiday season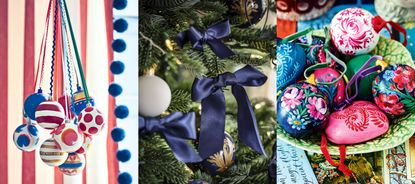 (Image credit: Future | Brent Darby Photography)
Whether you are in need of a special new ornament to add to your existing collection, or want to freshen things up with a whole new scheme for your Christmas tree, our collection of Christmas ornament ideas will be sure to provide you with some beautiful inspiration.
When the all important day comes around and you finally put up your Christmas tree, and decorate your home with a range of Christmas decor ideas, your chosen ornament designs can bring in beautiful color, texture and character to your space, helping to create a fun and festive atmosphere.
From unique novelty designs to traditional shapes and color palettes, there are so many ornament options to choose from to add a touch of merry magic to your home.
Christmas ornament ideas
You can trust Homes & Gardens. Our expert reviewers spend hours testing and comparing the latest products, helping you choose the best for you. Find out more about how we test.
Explore our collection Christmas ornament ideas below as well as some of the best places to shop.
1. Embrace a traditional look with the 'classic' Christmas colors
You can never go wrong with a 'classic' Christmas color scheme for your Christmas ornament ideas; the beauty of a red, green and gold Christmas tree will always be utterly timeless, and for many, a Christmas tradition when decorating the home.
For hundreds of years, red, green and gold tones have been seen as the traditional colors of Christmas, but why? Well, the colors actually have deep connections with religion: red to represent the blood of Christ; gold is one of the gifts from the Three Kings and green is a symbol of everlasting life – so now you know!
From green foliage, to gold tinsel and beads and red ball ornaments, there are many ways you can embrace the classic colors of Christmas for your Christmas ornament ideas.
2.
Festive Plaid Ornaments - Set of Six
These plaid glass ornament designs from Frontgate feel utterly timeless. The set of six ornaments come in a collection of different shapes, each painted with colorful plaid detailing.
3.
50ct Shatter-Resistant Round Christmas Tree Ornament Set - Wondershop
This set from Target includes fifty ornaments in red, green and gold finishes. The ball ornaments are shatter-resistant, so are a great if you have children or pets running around!
4.
16ft Christmas Bead Garland
We love a bead garland here at Homes & Gardens, and this elegant design can enhance your Christmas tree, mantelpiece, staircase and Christmas table with beautiful decoration, the decorating possibilities are endless!
5. Bring in beautiful bows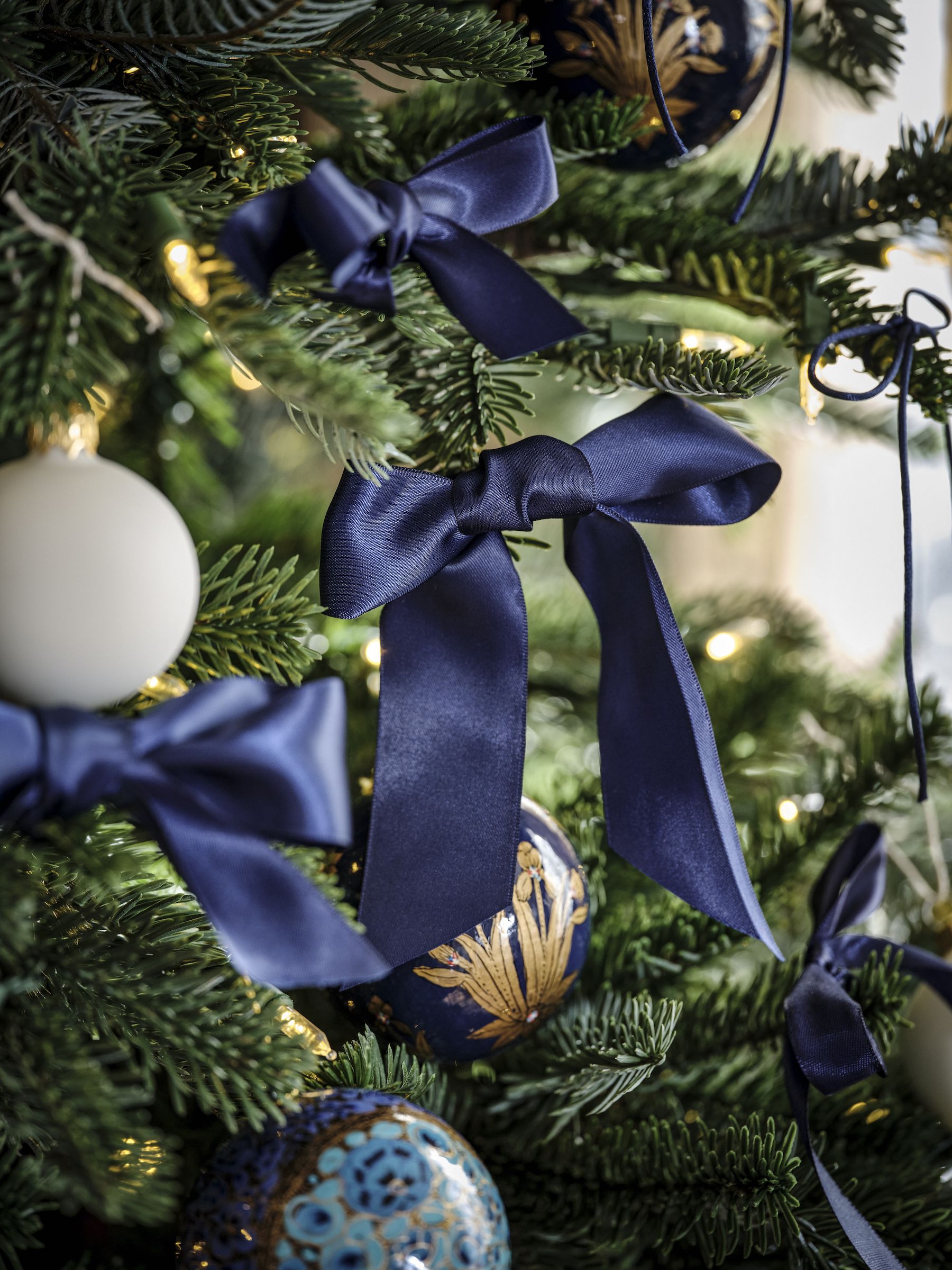 One trend we have been loving this year here at Homes & Gardens is decorating a Christmas tree with bows.
From homemade bow decorations using colorful ribbon, to stylish velvet bow ornaments, there is something so pretty and elegant about a lovely bow.
A bow can add beautiful color and texture to not only your Christmas tree, but they can be used across you home to decorate wreaths, place settings, and even house plants!
6.
Velvet Bow Tree Decoration, Gold - Set of 4
Decorating a Christmas tree with bows can enhance your tree with beautiful texture, and these gorgeous velvet bows from Amara add a luxurious and classic finishing touch.
7.
Forest Green Velvet Mini Bows
These adorable mini velvet bows from Mrs. Alice can not only adorn your Christmas tree, but can also be used to decorate wreaths, tables and more! A wonderfully versatile Christmas ornament.
8.
As well as purchasing beautiful bow ornaments, you can simply purchase some lovely ribbon and tie some bows on your Christmas tree yourself – it is that simple and looks great!
9. Be bold with your color scheme
Of course, the 'classic' Christmas colors are not for everyone. Whether you want to coordinate with the color scheme in your home, or simply want to make a colorful statement with your Christmas tree this year, do not be afraid to go big and bold!
Embracing a Christmas tree theme can be a great way to establish a colorful and coherent look for bold Christmas ornament ideas. From a rainbow of different colors, to pastels and clashing patterns, there are so many ways you can get colorful and creative with your ornament ideas.
10.
Checked Papier Maché Christmas Decoration
It's fair to say that checkerboard is everywhere in interior design at the moment, so why not take this trend through to Christmas with this fun and colorful checked decoration from Selfridges & Co.
11.
Mini Vintage Glass Ornaments, Set of 12
We love these vintage inspired glass ornaments from Anthropologie. Available in a large palette of colors and a collection of unique shapes, these ornaments can enhance your tree with styles of the past.
12.
Gold Bloom & Wild Recycled Paper Bauble
Liberty London are world-renowned for their extensive collection of printed floral fabrics, as well as their glorious Christmas shop, with this ornament perfectly combining the two!
13. Style your tree with an eclectic mix of designs
From funky novelty decorations to more minimalist and modern designs, your Christmas Ornament ideas should be a celebration of your personality and what makes you happy – there are no rules when it comes to decorating your home this festive season.
Even though they are not for everyone, we can't help but love the grand array of unique ornaments out there to choose from. Lobsters? Unicorns? Mushrooms? There are definitely Christmas ornament ideas out there for everyone!
14.
Circle & Line Polished Brass Ornament
A striking, sculptural design that can be hung around the home all year round, this abstract brass ornament from Lulu and Georgia embodies a unique, modern appeal.
15.
Fabric Christmas Tree Decoration
Oliver Bonas' glamorous collection of fabric decorations have been made using sparkling embellished sequins and colorful embroidery, with designs ranging from disco balls to cocktail glasses and bumble bees!
16.
Sur La Table Christmas Ornaments
You've got to have at least one novelty Christmas decoration, right? Sur La Table, who stock some of our favorite appliance and kitchen brands, have a great selection of unique ornaments to choose from.
17. Choose a meaningful, personalized ornament
A personalized Christmas ornament can add a more meaningful, special touch to your Christmas tree, and there are so many places you can now shop and create them online, with Etsy being our number one choice for beautiful, personalized gifts.
From ornaments that feature initials and names, to family portraits and unique painted scenes, a personalized design can also make a lovely gift idea.
18.
Etsy has a huge range of personalized designs to choose from, with Etsy seller, Open Window Art, offering custom home portrait designs, hand-painted on glass ball ornaments.
19.
You Name It Personalized Wood Ornament
These personalized wooden ornaments from Personalization Mall are laser-engraved with a name of your choice, finished with elegant swirls and available in a range of stain finishes.
20.
Alison Hawkins 2022 Christmas Tree Ornament
This ornament, by artist Alison Hawkins, embodies what Christmas is all about, spending time celebrating the festive season with friends and loved ones. The design is also personalized with a delicate star charm, featuring the year 2022.
21. Get creative with your tree topper ornaments
Finally, you cannot forget your Christmas tree topper ideas! Traditionally topped with a star or angel ornament, the top of the tree is your chance to choose a show-stopping design and complete your Christmas tree decoration in style.
We love how unique and creative tree topper decorations are becoming, from light up stars and angels to Santa hats, bows and pom poms, there are options to suit all Holiday decor styles.
22.
A more modern take on a classic star tree topper, this stunning design from Anthropologie features swirls of beautiful shooting stars, adding a striking, artistic detail to the top of your Christmas tree.
23.
Elegant and ethereal, this light-up angel from Kurt Adler has been intricately crafted from brass and capiz shell, with vine and pearl accents, adding a beautiful finishing touch to your Christmas tree.
24.
Christmas Tree Last Name Topper
Make it personal with a Christmas tree name topper! Handmade by Loft Charm on Etsy, this delicate design can add a meaningful and more personal touch to your ornament collection.
What is the most popular Christmas ornament?
One of the greatest things about Christmas is that we all have our own Christmas traditions and unique ways to decorate our homes, with many of us having eclectic combinations of ornaments each with a story to tell.
However, there are some ornament designs that are favored year on year, with ball ornaments probably proving the most popular, enduring shape. Ball ornaments can sit beautifully on a Christmas tree and are available in a collection of different finishes, sizes and designs.
How do you decorate with extra ornaments?
From hanging ornaments on large house plants to placing them on shelves and mantel pieces for Christmas fireplace decor ideas, so much fun can be had with extra ornaments!
Other options include:
Zara joined Homes & Gardens in February 2022 as a Content Editor. After studying English Literature at University, she worked as an Ecommerce Website Editor, Content Writer and Buying Intern at multiple independent businesses within the luxury retail and lifestyle sectors. Her role at Homes & Gardens unites her love, experience and passion for the world of design and desire to create inspiring written content. She enjoys nothing more than discovering new trends, brands and products, whether that be in fashion, interior design or lifestyle.