Christmas tree topper ideas – 9 ways to finish your tree in style
Take the holidays to new heights with Christmas tree topper ideas that range from classic to quirky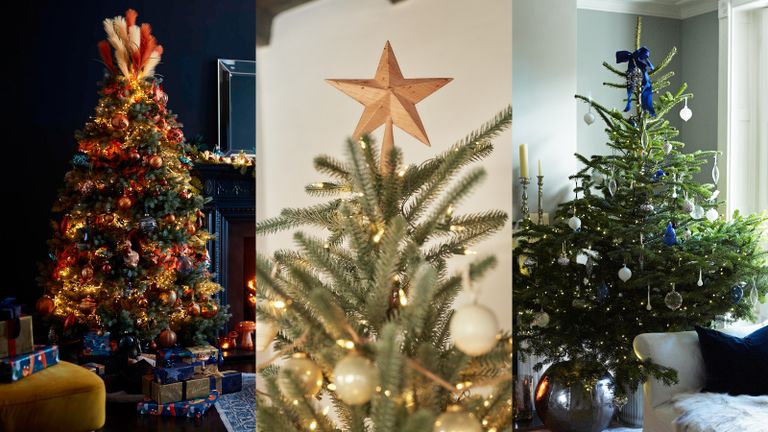 (Image credit: John Lewis/Lindye Galloway Design Studio/Tom Leighton)
Christmas tree topper ideas are exactly what you need to make the centerpiece of your holiday festivities feel elegantly finished.
A lot of thought will inevitably go into your Christmas tree ideas and its decorations, but it's often easy to forget that your guests' eyes will always be drawn to the top of the tree – and therefore it's an area that should never be forgotten.
While a singular topper isn't strictly necessary and is often left out of more contemporary schemes – especially if your tree shape doesn't feature a tall vertical branch at the very top – it's a really fabulous, statement way to make your tree design feel complete and thought-through.
Christmas tree topper ideas
From traditional stars to beautiful bows, we've found some inspiring Christmas tree topper ideas to help your festive decor feel all wrapped up.
1. Look up at the stars
'Be it a star or a fairy, no matter what you go for, the tree topper is the icing on the cake,' says Jason Billings-Cray, Christmas Buyer at John Lewis (opens in new tab). If you're leaning towards more traditional Christmas tree themes, a star is the consummate Christmas tree topper. With its origins in Christmas's religious side but with a distinctly modern feel, it's a choice that straddles Christmas's past and present. On this tree put together by Lindye Galloway Design Studio (opens in new tab), a simple wooden star gives a contemporary touch.
2. Keep it heavenly with an angel
Anyone who knows how to decorate a Christmas tree knows that it's important to hit on that sense of magic, awe and wonder. Putting an angel on top of your Christmas tree (or indeed a fairy, like this one from John Lewis (opens in new tab), for more secular approach) conveys the idea of this little character looking down on your holiday celebrations. Alternatively, you can consider branching out to include other festive friends.'A little santa perched up on the tree is a fun addition for those who prefer a kitsch aesthetic and is a big winner with kids,' adds Billings-Cray.
3. Follow your personal style
Whether you're fully embracing alternative Christmas tree ideas, or just want a tree that feels right at home, it's always important to make your tree topper feel unique to you. 'Shoppers are finding new ways to make bold statements with their decorations, all while showcasing their personal style,' says Dayna Isom Johnson, Trend Expert at Etsy (opens in new tab). In this tree, a penchant for subtle blues and greens, as well as paper decorations, is extended to the periwinkle tree topper.
4. Tie up your design with a bow
If you want your Christmas tree design to feel all wrapped up, then top it off with a beautiful bow. Not just the reserve of presents and Christmas wreath ideas, bows are a simple but effective addition to Christmas tree decor. Try tying smaller ribbons on branches across your whole tree and using a larger bow for the tree topper, or use a standalone bow on top that color-matches your other decorations, like in this example.
5. Go big and bold
'A standout topper is the ultimate finishing touch to any Christmas tree,' says Isom Johnson. Going for a big and bold tree topper is a great way to instantly draw attention to your tree, before guests' eyes wander down to your more detailed decorations below. In this example, an oversized, bright green, patterned paper decoration takes the top spot, with matching ornaments peppered throughout the tree. If you're wondering how to make a Christmas tree look fuller, larger decorations are great for filling or disguising gaps in your branches.
6. Have fun with feathers
If Christmas is just one long party in your house, make sure your tree is shaking its tail (or top) feathers too. A crown of feathers is an excellent alternative way to make your Christmas tree feel both fun and contemporary. For a natural, countryside look, try natural brown feathers, while showgirl-style can be created through the use of peacock feathers or artificially dyed examples – either way, be sure to choose ones that are long and fluffy for impact.
7. Put a modern twist on traditional toppers
If you love traditional Christmas decor ideas but want ones that feel at home in the 21st century, choose modern takes on tried-and-tested topper silhouettes. 'A classic doesn't need to mean boring,' says Billings-Cray. 'Try something traditional with a twist, like a decorative copper star or a fairy embellished with sequins.' In this example, a star is given a rustic, industrial look with the use of rusted steel for a modern farmhouse look.
8. Stay on trend with natural materials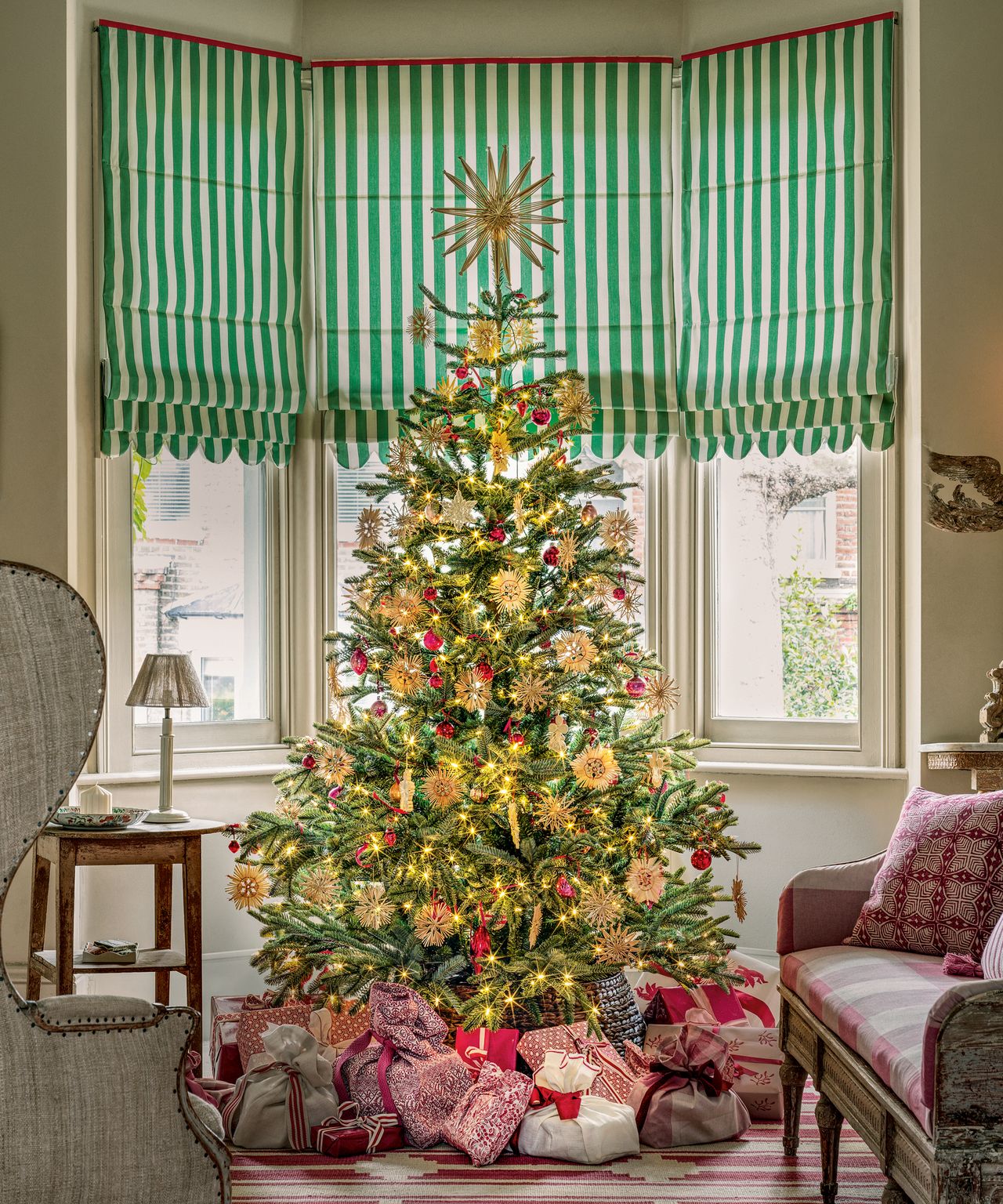 Natural materials are one of the biggest growing interior trends, so consider bringing them into your Christmas decorations too. Delicate straw decorations like the ones in this stunning Christmas tree design are proving a popular swap for high-shine glass ornaments, and the material works wonderfully for the topper too. Natural materials like wood, ceramic and clear glass can help create a contemporary look, but also work wonders with farmhouse Christmas decor ideas too.
9. Get crafty and make your own
The life changes of the last 18 months have seen many of us take up new hobbies – including getting crafty. If you've learned to crochet, sew, knit or whittle, think about using your newfound talent to make your own Christmas decorations. In this example, a concertina star Christmas topper has been made with very thin sheets of plywood, and idea that can also be replicated to make Christmas tree skirt ideas. As well as being a fun festive activity, making your own decorations will make your tree totally unique.
What can I use as a Christmas tree topper?
Choosing the right Christmas tree topper really comes down to whether you want a traditional, modern or slightly quirky look. Stars and angels are an enduring favorite for classic tree schemes, but they can easily be modernized through the use of trending materials and abstract styles. If there will be kids around at Christmas time, consider something that peaks their interest, like Santa or a snowman sitting on top of the tree. For a less traditional look, consider using a scaled up version of some of your favorite tree decorations, like a big bouncing bow or a paper pompom.
Ailis started out at British GQ, where a month of work experience turned into 18 months of working on all sorts of projects, writing about everything from motorsport to interiors, and helping to put together the GQ Food & Drink Awards. She then spent three years at the London Evening Standard, covering restaurants and bars. After a period of freelancing, writing about food, drink and homes for publications including Conde Nast Traveller, Luxury London and Departures, she started at Homes & Gardens as a Digital Writer, allowing her to fully indulge her love of good interior design. She is now a fully fledged food PR but still writes for Homes & Gardens as a contributing editor.