Christmas trends – 7 ways we're decorating and spending Christmas
These are the Christmas trends to take note of this year – and, unsurprisingly for 2021, when everything was so different last year – they're not all about looks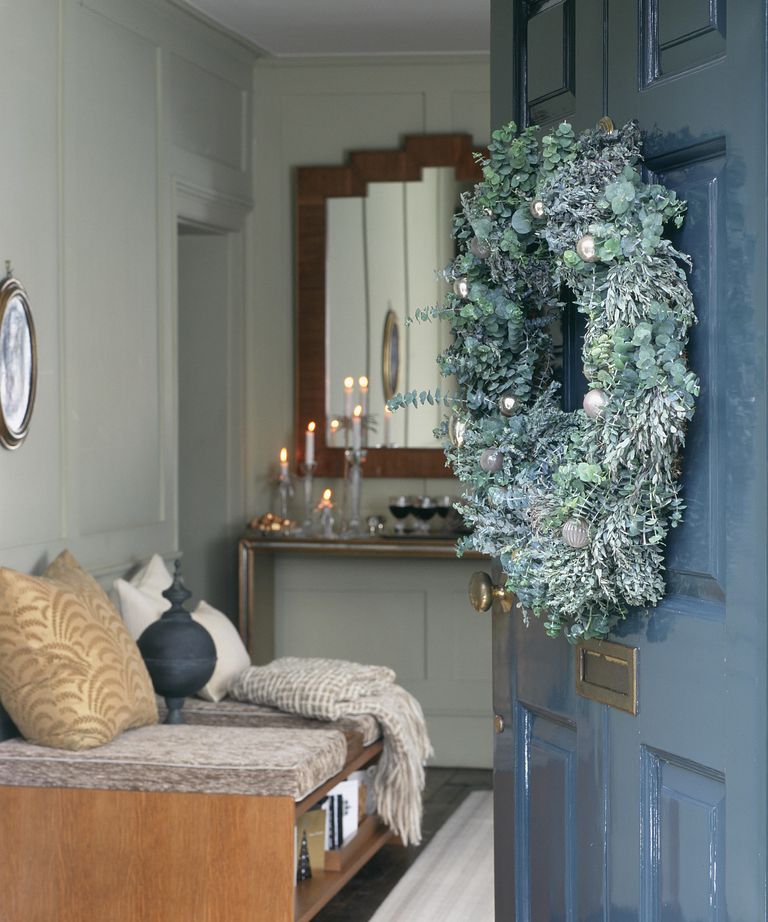 (Image credit: Future / Adrian Briscoe)
Usually, when we talk about Christmas trends, we're talking looks. For the H&G team, Christmas trend hunting begins in early July, when we do the rounds of the press shows held by all our favorite retailers and begin to come to an understanding of which trends will be big for the Christmas ahead.
Understandably, there were no Christmas trend shows in 2020, so we relied on all the information we were sent instead... and while some trends were along the usual lines – bauble colors and shapes, wreath looks, Christmas tree trends – most last year were about how we were doing Christmas a little differently. For 2021, it will be a whole different story – and exuberance will be obvious in our Christmas decorating trends.
Keep reading for our take on what's big for Christmas 2021.
1. Huge, oversized baubles – but made from recycled glass
Everyone we speak to this year is predicting that 2021 will be a year of exuberant decorating – think pops of primary color at home, statement pieces and wallpaper, fabrics inspired by dreamy, distant destinations... and it looks like that trend has started already for Christmas: big baubles are in.
Usually, big baubles are consigned to the bottom of the Christmas tree to help with the proportions of your tree decorations. Not in 2021 – the trend is to dot huge, oversized baubles all over the Christmas tree.
Just as important? The baubles should be glitter- and plastic-free... and ideally made from recycled materials, such as glass.
2. A homespun Christmas
Our Christmas gatherings are likely to be bigger this year, and therefore we'll be taken up with prepping huge feasts for family and friends. We're also yearning for simpler times, according to trend reports, which means that we have more time for craft – and that's inspired a whole new Christmas trend: the homespun look. Even if you don't make it yourself, you can buy ready-made, folksy decorations. The good news? This is one gorgeous Christmas trend.
3. Baked Christmas decorations
It follows, doesn't it, that we gave more time for baking last year, too? While many of us spent the first part of lockdown learning to make and perfect sourdough and banana bread, our baking habits have become more seasonal as the months have progressed, which means lovely Christmas bakes, many of them hung on the tree...
4. Natural wreaths, homemade if you can
A renewed love of craft, a rejection of plastic and a desire to get back to nature means this Christmas trend is another natural progression. Wreath-making is a fun pre-Christmas weekend activity that we can all get into (why stop at one?) and they're really not that difficult to do – see our guide to how to make a wreath to find out how to create yours. There are maintenance tips there, too, to keep yours looking good for weeks ahead.
You can check out our Christmas wreath ideas if you're looking for inspiration, too.
5. Furoshiki – fabric gift wrap
We LOVE this idea – it's so simple, so easy to create and so much more eco-friendly than gift wrap. Furoshiki – see our guide to find out more and how to – is the Japanese art of gift wrapping with fabric. You can use offcuts of material you have at home or scarves that you can retrieve or give as part of the gift. Genius.
6. Chickenwire doorscaping
Doorscaping, from huge door-sized bows to extensive floral arrangements held in place by chickenwire were a big Christmas trend in 2020. We're not sure we totally buy into this look – we prefer the elegance of a simple wreath.
7. Eco-friendly Christmas trees
More of us than ever before are switched on to having an eco Christmas. That needn't mean swapping your turkey for a meat-free option – just read up the list to find a couple of easy examples. But the biggest change you can make (physically, anyway) is to swap to an eco-friendly Christmas tree.
According to The Carbon Trust (opens in new tab), a real Christmas tree has a much lower carbon footprint than a fake one, assuming, that is, that you disposed of it correctly. Artificial Christmas trees, on the other hand, cannot be recycled and will clog up landfill for decades.
The first step in buying a real Christmas tree is to check that it has an FSC-certification  (opens in new tab) logo. That way, you can check it's sustainably grown. Buy it with roots, plant it in the garden after Christmas (in a very big pot, preferably), and you can bring it back inside again next year. Finally? Buy from a grower near you, if at all possible.
Lucy Searle has written about interiors, property and gardens since 1990, working her way around the interiors departments of women's magazines before switching to interiors-only titles in the mid-nineties. She was Associate Editor on Ideal Home, and Launch Editor of 4Homes magazine, before moving into digital in 2007, launching Channel 4's flagship website, Channel4.com/4homes. In 2018, Lucy took on the role of Global Editor in Chief for Realhomes.com, taking the site from a small magazine add-on to a global success. She was asked to repeat that success at Homes & Gardens, where she has also taken on the editorship of the magazine.