Christmas trends 2022 – 10 decor trends for the festive season
As the year comes to a close, here are ten timeless Christmas trends to inspire your holiday decorating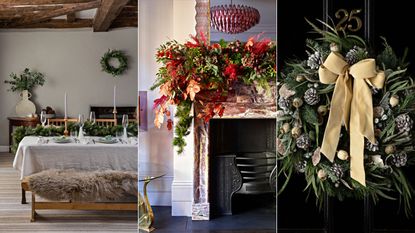 (Image credit: AMARA / Ronnie Colby)
It feels almost as if we have blinked and the end of the year is upon us once again. With the festive season fast approaching and the
As in recent years, natural finishes and a rustic, homemade feel are once again taking center stage, with an added touch of exuberance and luxury for good measure. Whether it is Christmas tree trends, the finest Christmas decor ideas, or, perhaps more unusually, the best Christmas plants and flowers, this year's focus seems to be on natural touches and nostalgia.
Here, we break down ten of the best Christmas trends as we fully embrace the season.
1. Dress your table for dinner
Embracing going big with decorating is certainly the main theme for Christmas trends this year with an emphasis on hosting close family and friends leading most of our design decisions. Perfecting tablescaping and putting together idyllic Christmas dining room decor is one of the biggest focuses this season.
'If you're looking to create a showstopping centerpiece embracing maximalist themes for your Christmas table, a great option is leaning into ornamental extravagance, with elaborate ornaments and luxury home accessories leading the way,' says Sam Hood, co-founder, and chief creative officer at AMARA. 'A large candelabra makes for a perfect focal point for the arrangement, and you can surround this with an elegant festive garland. If you're decorating a long table, you can add some symmetry to the table landscape with the addition of candlesticks to either end in the same style as the candelabra. Don't forget to complete each setting with a Christmas cracker.'
Luckily, it is fairly simple to get your tablescaping right. 'When considering elements of table setting, such as placemats and tableware, choose ones that will accentuate and complement your chosen theme,' explains tablescaping expert Andrea Waters of Portmeirion. 'For example, if you have a floral theme, you could use leaf-trimmed tableware alongside botanic-adorned cups and saucers.
'When setting the table and assembling tableware, it's a good idea to use the rule of three. Begin with your placemat, then place the dinner plate on top, and, lastly, finish with a dessert plate. Top it all off with a carefully folded napkin and your chosen cutlery according to how many courses you are having. Finally, your glassware choice is a great opportunity to top off your theme. Between textured glasses with a colored rim or perhaps a classic, deep wine glass with a crystal stem, the only limiting factor is your imagination.'
2. Taking it back to tradition – making the hearth the centerpiece
After the disruption and uncertainty of the last few years, Christmas trends are leaning back into nostalgia – conveying our hopes for more normalcy and security in the year ahead. This year, Christmas fireplace decor is making the hearth the heart of family celebrations once again, taking us back to tradition.
'Often the simplest adorned festive fireplaces are the most beautiful, especially when the surround is so ornate. Especially at Christmas, fireplaces really bring a room into its own. Generally, architectural furniture like this acts as a focal point in the room, so it's important to get the decorations right.' says Owen Pacey, founder of Renaissance London. 'For particularly ornate fireplaces, minimal decorations that let the sculpture of the mantelpiece sing is best, while pared-back models benefit from a slightly more creative direction. Think boughs of holly and pine, some candles in antique candlesticks, and of course, a stocking or two.'
'Styling your home with gorgeous mantelpiece garlands should complement your interiors yet remain in keeping with festive tradition,' adds Ronny Colbie, florist. 'If a traditional red and gold theme resonates, wintery red hydrangea adds both opulence and warmth, and pairs perfectly with burnt beech, and fresh pine which can be sourced locally or foraged in the garden. To complete a perfect garland, use a mixture of everlasting fillers, such as Pampas grass and pinecones, amongst the fresh foliage that will dry gorgeously by the fire to be enjoyed throughout the Christmas season.'
3. Curating a Christmas kitchen for festive hosting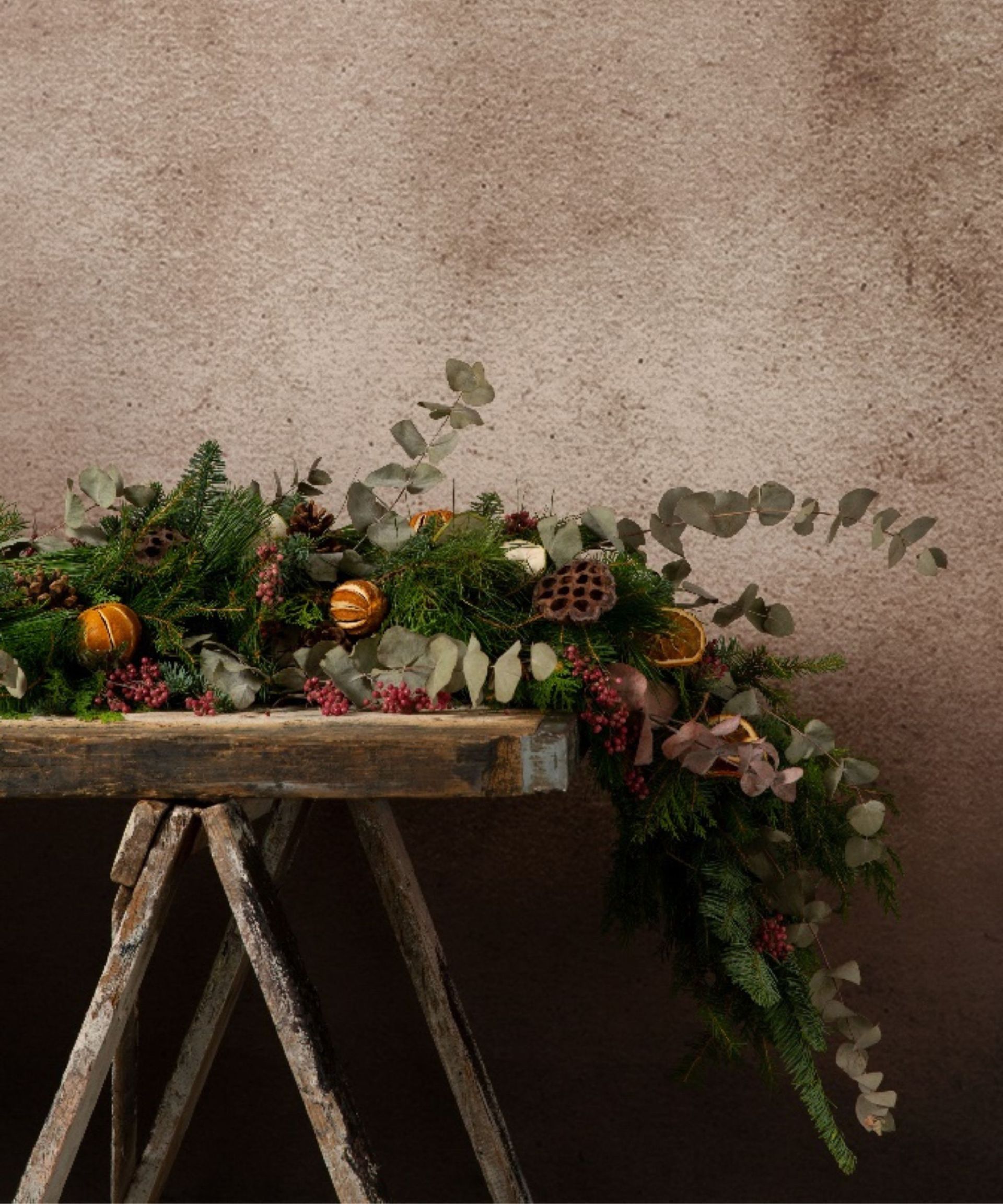 Just as our dining room ideas are stepping up to compliment our Christmas hosting this year, our kitchens are becoming more of a hub for gatherings too with kitchen Christmas decor ideas taking a cozier, more welcoming approach.
'If you'd like to add a little festive cheer to your kitchen island, a tall vase with seasonal branches or a Christmas garland can look fantastic,' suggests Tom Howley, design director of the eponymous kitchen brand. 'Inject some vibrancy with colorful baubles or keep it simple with twinkling LED wire lights. Add natural foliage wreaths to pantry doors, adorn kitchen table settings with spruce and holly, and drape garlands of pine and eucalyptus over staircases, window ledges, and kitchen mantles.'
'Place church candles in hurricane jars on kitchen islands and add candlesticks and string lights to mantels or table settings to add a magical twinkle to late-night suppers in the kitchen. Mood lighting from integrated lights inside glass cabinets works just as well when it comes to creating a cozy kitchen with a romantic atmosphere,' says Howley.
'Consider warming things up with wood grains, add fluffy throws on benches, or scatter sumptuous cushions onto your bar stools. Anything that's impossibly soft and tactile will encourage you to cuddle up and relax this festive season.'
4. Bring the outside in with natural wreaths and garlands
'Christmas entranceways are impactful as they leave a lasting impression on both passers-by and guests you welcome into your home. Whether it is a festive door wreath, a large-scale mantelpiece arrangement, or a simple arrangement for a credenza, having a touch of floral throughout the entrance to your home will create a welcoming feeling and help set the tone for a relaxing festive celebration,' says florist Ronny Colbie.
You could even try making your own to add that handmade touch. A renewed love of craft, a rejection of plastic and a desire to get back to nature mean this Christmas trend is another natural progression. Wreath-making is a fun pre-Christmas weekend activity that we can all get into (why stop at one?) and they're really not that difficult to do – see our guide to how to make a wreath to find out how to create yours. 'If fragrance is of the utmost importance to you, select a combination of aromatic evergreens for your wreaths,' Ronny suggests. 'A mix of pine, cedar, eucalyptus, balsam, and juniper will result in a wintry scent. My top tip for keeping a wreath fresh is a daily misting of water.'
You can check out our Christmas wreath ideas if you're looking for inspiration, too.
5. Focus on festive florals
Festive greenery is not stopping at Christmas wreaths this year. With a focus on bringing nature into the home for a more rustic, traditional scheme, adding festive Christmas florals to your space has never felt so magical.
While adding Christmas flowers and plants is certainly on trend this season, making sure to do so with restraint is of the utmost importance for a luxury scheme that is not overwhelming, as Ronnie Colby explains.
'Christmas decorating for me to create impact is all about abundance. Less is more, so don't have too many mixes of florals, best to keep to a few different pines, berries, and flowers, but plenty of them. Using locally sourced foliage and decoration will always create a refined look. Winterberries are a great way to add drama to any archway, wreath, or garland, in abundance they will be admired by anyone in sight this Christmas.'
5. Craft a cozy space for comforting nights in
Cozy room ideas have been top of our wishlist this year, with many of us looking at how to make a house look cozy as the weather cools down.
This cozy-core trend is not going away anytime soon either, with our best cozy efforts only doubling as we approach the Thanksgiving and Christmas periods. Consider drawing furniture close together, especially around fireplace ideas or your Christmas tree, to pull the family together this holiday. Decorating with some of the best candles would not go amiss this season wither, with live flames instantly warming any space with their soft flickering glow – just make sure to keep them away from decorations.
Making sure to nail cozy lighting ideas will also play a part in making your Christmas decor look more welcoming, with Christmassy fairy lights a brilliant stepping stone for embracing the cozy feel throughout your home.
6. Play with paper decorations and pared-back schemes
Paper Christmas decorations are back this year, although we are not talking about those thin paper and glue-stick creations children may bring back from craft day at school. Luxury paper Christmas ornament ideas made with high-quality card and a professional finish are adding to the old-world appeal of our traditional Christmases this year, and are certain to add a perfect personal touch to any tree.
7. Host with a homespun spin
Our Christmas gatherings are likely to be bigger this year, and therefore we'll be taken up with prepping huge feasts for family and friends. We're also yearning for simpler times, according to trend reports, which means that we have more time for craft – and that's inspired a whole new Christmas trend: the homespun look. Even if you don't make it yourself, you can buy ready-made, folksy decorations.
The good news? This is one gorgeous Christmas trend.
8. Bake your own Christmas decorations
It follows, doesn't it, that we gave more time for baking last year, too? While many of us spent the first part of lockdown learning to make and perfect sourdough and banana bread, our baking habits have become more seasonal as the months have progressed, which means lovely Christmas bakes.
The question is can you resist them long enough to make them into rustic Christmas decor? Or will they simply be too good to not eat!
9. Embrace rustic fabric wrapping
We LOVE this idea – not only is it simple, but easy to recreate and so much more eco-friendly than gift wrap. Furoshiki is the Japanese art of gift wrapping with fabric. You can use offcuts of material you have at home or scarves that you can retrieve or give as part of the gift.
It also means a few less trips to your trash bin with reams of scrap paper in your Christmas slippers. Genius.
10. Opt for eco-friendly Christmas trees
More of us than ever before are switched on to having an eco Christmas. That needn't mean swapping your turkey for a meat-free option – just read up the list to find a couple of easy examples. But the biggest change you can make (physically, anyway) is to swap to an eco-friendly Christmas tree.
According to The Carbon Trust, a real Christmas tree has a much lower carbon footprint than a fake one, assuming, that is, that you disposed of it correctly. Artificial Christmas trees, on the other hand, cannot be recycled and will clog up landfill for decades.
The first step in buying a real Christmas tree is to check that it has an FSC-certification  logo. That way, you can check it's sustainably grown. Buy it with roots, plant it in the garden after Christmas (in a very big pot, preferably), and you can bring it back inside again next year. Finally? Buy from a grower near you, if at all possible.
What colors are trending for Christmas?
Christmas 2022 has a deeper, richer palette than previous years, with dark crimsons and fir greens dominating the decorating schemes of the season. These traditional colors come from the year's trend towards nostalgia and Christmases of the past, with gold and white coming in as accents.
Sign up to the Homes & Gardens newsletter
Decor Ideas. Project Inspiration. Expert Advice. Delivered to your inbox.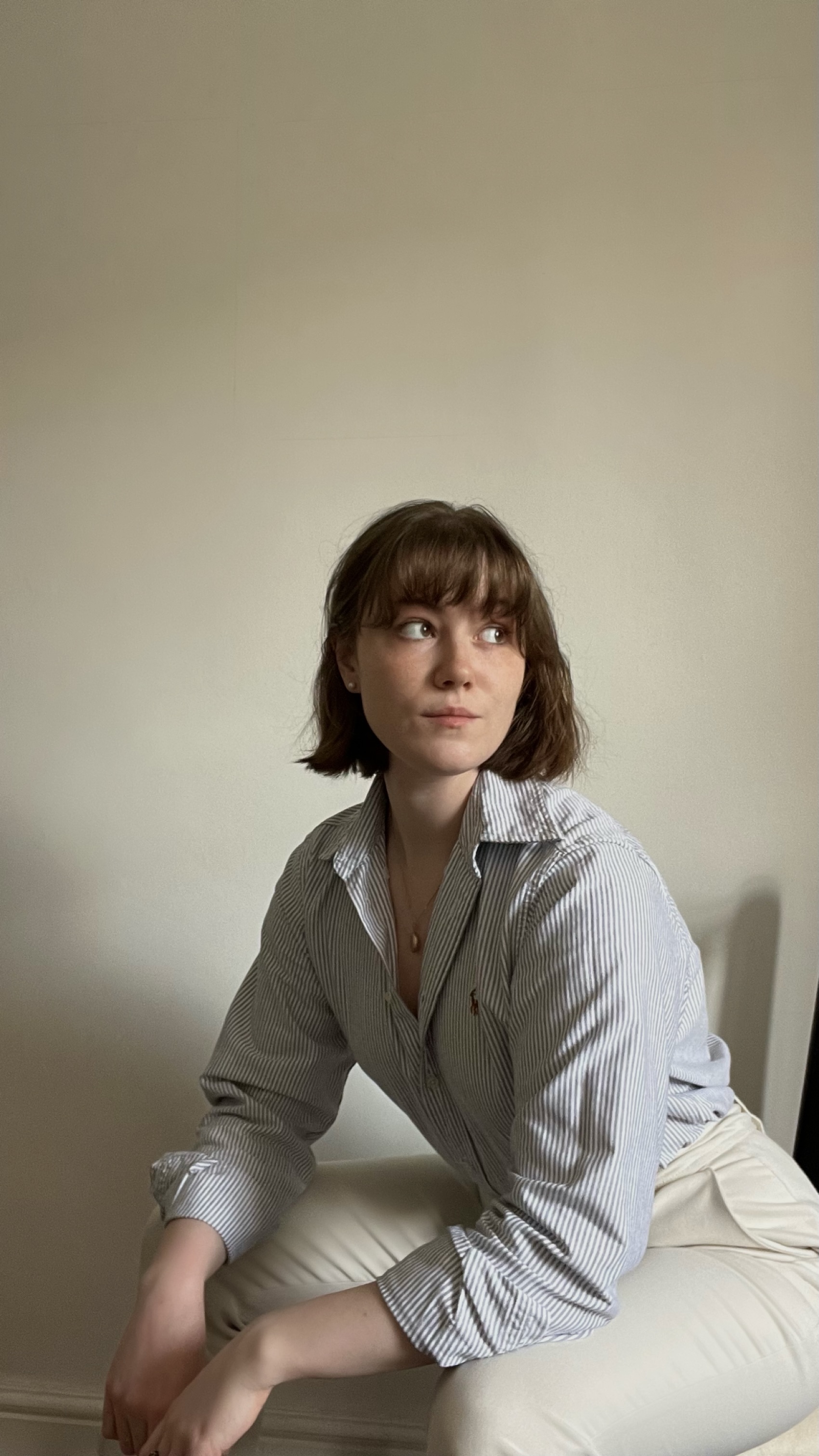 Chiana has been at Homes & Gardens for a year, having started her journey in interior journalism as part of the graduate program. She spends most of her time producing content for the Solved section of the website, helping readers get the most out of their homes through clever decluttering, cleaning, and tidying tips – many of which she tests and reviews herself in her home in Lancaster to ensure they will consistently deliver for her readers and dabbles in the latest design trends. She also has a first-class degree in Literature from Lancaster University.