Christmas dining room ideas - dress your dining table for success this holiday season
From elegant room decor to elaborate table settings, these Christmas dining room ideas will inspire you to celebrate your festive feast in style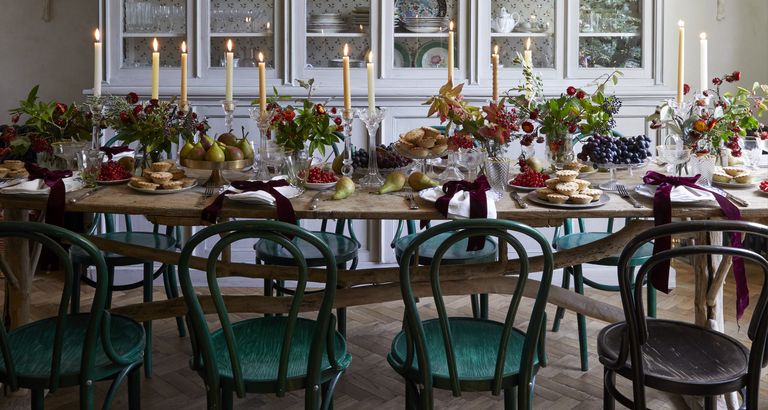 (Image credit: Future/Paul Massey)
Whether you're planning on serving a big feast or will be hosting a small intimate affair, a well-dressed Christmas dining room is more often than not the focal point for everyone's family celebrations.
From hanging fragrant floral wreaths and swags to lighting clusters of colorful candles to add a touch of ceremony, we've gathered a whole host of inspiring ideas and beautiful schemes to help you transform your year-round dining room into a space suitable for celebration this Christmas time.
See more: Dining room ideas – beautiful room schemes for all year around
Christmas dining room ideas
This holiday season, dress your table for success with help from these beautiful dining room schemes
1. Choose a non-traditional color scheme
This rustic yet contemporary table setting in bold primary blues and reds is finished off with handcrafted ceramics and trailing garlands of delicate honesty seed heads, all presided over by a striking chandelier. Traditional touches of green are evident in the emerald colored glassware.
2. Make an intimate setting elegant
Benji Lewis, founder of virtual interior design service, Zoom That Room says: 'Christmas can be stressful for many people, and rather than buying everything new, try to focus on a few key items to ensure that your table is welcoming, elegant and a little bit opulent.'
'I like splashes of gold, paired with chic colors such as blue and ivory. A smart and beautiful table should be packed with your best china and polished glasses, and be ready to welcome everyone to a warm, fun and festive occasion.' he continues. 'Of course, string lights and candles are also a great Christmas addition, bringing twinkling warmth to any room.'
3. Make the feast the focus
Here, in cookery writer Skye McAlpine's Christmas dining room, the table has been set sparsely in a quasi-still life food tableau, allowing for the feast to take centre stage.
Simple glass vases provide the base for an abundance of informal florals and foliage, while matching glass tableware are stacked with food, all finished with oversized velvet ribbons on each place setting. The rest of the room is decorated very minimally to allow the dining table to become the focus.
4. Give your dining room the Midas touch
Create an instantly rich and sumptuous feel to your dining space by draping the table in an oversized tablecloth with layers of trimmings.
Fill a glass cloche with gold baubles and twinkling lights as your centrepiece and echo the gold look on similarly gilded mirrors, candlesticks and curtains.
5. Stick to a calming monochrome scheme
Restraining your color scheme to black and white provides the perfect backdrop for the main event on Christmas Day - the food. Turkey and all the trimmings will take centre stage in your scheme, while swathes of greenery will add depth to the scheme.
Soften walls by painting them in a pale gray and introduce reflective surfaces like mirrors and silver baubles so candlelight is amplified.
6. Create an edible still life display
With all the elaborate table settings, food and decorations on a dining table at Christmas, space is often at a premium. Stretch out onto adjacent surfaces like consoles or sideboards to create a snacking area that can be left long after your meal is over.
Fruit and cheese or fruitcakes and mince pies are all contenders for creating an elegant and edible still life tableau. Use cake stands and glass covers for added height and frame the area by hanging a smart wreath on the wall just above.
7. Choose a simple, unfussy scheme
If you don't have a separate dining room and instead host Christmas in your open plan kitchen diner, often the most effective table dressing is a simple one to ensure it doesn't compete with the rest of the space.
Invest in a beautiful set of dining furniture and let that be the focus. Decorate the table in fragrant springs of eucalyptus with a simple centrepiece of greenery and choose linens in neutral shades.
8. Mix pink and green for a fresh feel
Created by interior designer Kate Guinness, this dining scheme avoids the traditional shades of red, green, gold and silver.
Instead the combination of fresh apple green and pink provide an elegant dining space that can be enjoyed year round, and integrated into each celebration by the addition of seasonal foliage on the table and scattered decorations around the room.
9. Introduce plenty of festive greenery
Create a stunning festive display using the best flowers and foliage the season has to offer. Start with a theme for your Christmas dining table display – perhaps a color of particular type of flower or foliage - eucalyptus, with its green-blue-silvery leaves is the perfect inspiration for a festive color scheme.
If you have a small dining table, place sprigs of evergreen foliage and fresh flowers in miniature bottles and set them in a line in the middle. Finish with delicate glassware, and simple white candles to complete the look.
Take a look at these design Christmas table settings
10. Embrace a soft, neutral palette
The restrained simplicity of a panelled room makes an elegant backdrop for festive dining. Decorate with kraft paper hanging stars and a pine centrepiece to complement the gently muted palette.
11. Try an alternative color combination
This Christmas is bound to be very different from previous years, so why not highlight the contrast by creating a scheme that is bright and bursting with color?
Choose plenty of mismatched prints and mix them up on table linens, cushions or pillows and decorate the table with a centrepiece of colorful blooms and brightly colored candles.
12. Welcome guests with a set menu
Most people prefer to know what's on the menu before they sit down to a meal and while Christmas lunch rarely strays from tradition, every household's take on the meal differs.
If you're fortunately enough to have have guests joining you, a simple chalkboard menu perched on a sideboard will give them all the advance information they need. Drape the menu with some simple greenery and place pre-dinner cocktails or apertifs alongside.
13. Make your table sparkle
Twinkling battery-operated lights are perfect for enhancing this bespoke wreath made using fresh flowers and foliage, and suspended from ribbons above the table.
A second string of fairy lights has been placed inside a gold colored glass vase, turning a simple garland of fresh ivy into a star attraction.
14. Fill your home with festive fragrance
Evocative scents like pine, gingerbread, mulled wine are easily linked with a Christmassy atmosphere.
Have a go at baking a simple wreath made from overlapping gingerbread stars and hang it above a sideboard where you can create a simple mulled wine station for your guests, decorated with fresh pine branches and delicate twinkling lights.
15. Add a feminine touch with delicate, wintery fabric
Elegantly appliqued fabric makes a beautiful tablecloth for special Christmas celebrations and gives the table a almost-magical look.
Pair with a dramatic burnished gold candelabra to create a striking centrepiece and echo the look with simple chair back decorations make from paper baubles and frosted pine cones.
16. Forage for festive decorations
You don't necessarily have to go all out on buying new decorations for your home every year. Sometimes the best accessories are growing in your back yard.
Head outside on Christmas morning and gather up bunches of ivy, pine, grasses... anything that will add a touch of verdant beauty to your table and surrounding surfaces for a fresh take on a festive scheme.
17. Add decorative swags to seating for a fabulous finishing touch
Fresh or faux, nothing says Christmas like a clutch of green branches, a pine cone or two all tied up with a scarlet ribbon.
Make one for each of your dining chairs and secure them to the back of each seat with ribbons or pins. Repeat this look with a matching mantle garland spiked with red blooms or berries and again with another stretching down the centre of your dining table.
18. Decorate with touches of Arctic white
Rich chocolate upholstery and table linen are beautifully offset on this simple Christmas table with brilliant white accents on tableware.
The nature-themed accessories lend a Narnia-esque feel to the space, helped in part by the fresh greenery on the table and the burst of elegant blooms on the mantlepiece.
19. Adorn your table with traditional festive shades
A generous table centrepiece, festooned with colorful baubles and gold ferns, immediately strikes a celebratory 
note. Welcome guests with handmade place cards and crackers that coordinate with your scheme.
20. Rearrange your display storage
Glass-fronted cabinets in dining spaces have everything on show 24-7, so these too need to be considered when decorating the room for Christmas.
Make yours look beautiful as well as useful by rearranging the shelving, bringing favorite, festive pieces to the fore and adding battery-operated tea lights in colored or frosted jars.
21. Create your own color scheme
You don't have to stick to usual Christmas color combinations. Foliage here adds a festive twist, while the mismatched chairs in a vivid emerald green, together with green glass baubles on each place setting give a contemporary spin to the festivities.
22. Stretch out your serving spaces
Commandeering a console table as an extra surface for the cheeseboard and drinks saves space on the dining table and offers an opportunity 
for a beautifully composed presentation. The addition of the tall candles draws your attention the the space, highlighting it for guests and family alike.
23. Play with natural symmetry
By accentuating the natural symmetry of a table and its surroundings, you can create a visually pleasing table setting with the minimum of decor.
Here, three small vases of flowers on the table are flanked with two candelabras and a single chandelier above, all pulling focus into the centre of the table. The simple and minimal table settings feature delicate glassware and plain matching linens to create a chic and elegant spread.
24. Give your festive decor fresh, country feel
Pairing plain wood furniture with white painted wooden pieces is a recipe for country-style success.
Bring in a wash of cocooning color with powder blue walls and floral patterned drapes, echoed on festive table settings and centrepieces for a simple nod to the celebrations.
25. Create an after-dinner treats area
After a huge Christmas feast, finding space for dessert can often be a struggle. This year, why not take a break from the final course, instead leaving a selection of treats out on a sideboard instead - alongside some suitable after-dinner drinks - so guests can help themselves?
Here, a large glass jar of individually wrapped amaretti biscuits and a silver tray of chocolates sit alongside a collection of delicate colored glass decanters and jugs that match the pink-red hues of the decor scheme. Finish off with a single tapered candle in a tall holder.
26. Pick a white Christmas for a Scandi feel
Create chic Nordic style with pale hues, natural textures and charcoal accents. The White Company's Chrissie Rucker says, 'Start with a white cloth and napkins, plus your best glasses and china. I like to mix plain and scented candles, adding vases of snowberries and herbs, such as rosemary.'
27. Let nature feature at the dining table
A large fir wreath given pride of place can be enough for some Christmas decorators.
When dressing the table, stay true to this simple approach with a white linen cloth and napkins and plain china. Or, put wreaths on the back of dining chairs for a true sense of occasion.
28. Entertain in style
Create an at-home bar by throwing a cloth over a console table and displaying glasses, decanters and wine buckets. Add a selection of nuts and crystallised fruit on cake stands for color and contrast.
Additional text by Jennifer Ebert
Hello there, I'm Ginevra Benedetti,
Associate Editor on the Homes Content Team at Future.
I've been fortunate enough to have been writing about interiors for the past 16 years on the majority of Britain's monthly interiors titles, such as Ideal Home, Country Homes & Interiors and Style at Home, as well as Livingetc and of course, Homes & Gardens.
This naturally feeds into writing for wonderful websites like HomesandGardens.com and IdealHome.co.uk.
Over the years, I've interviewed some of the most talented designers in the business and I've pretty much written about every area of the home, from shopping and decorating, appliances and home tech, wallpaper and fabric, kitchens and bathrooms, even extensions and conversions.
I never tire about reading or writing about interiors, from classic timeless designs to innovative smart tech - the subject is always evolving, just as our homes do, year after year.