Christmas dining room decor – 41 ways to create a magical setting
Set the scene for a fabulous festive feast with these inspiring Christmas dining room decor ideas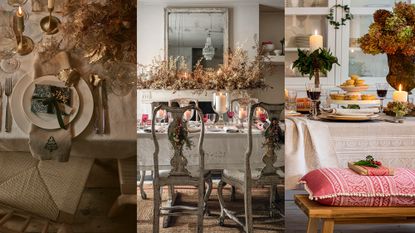 (Image credit: Neptune / Future / Julia Brendel)
Planning beautiful Christmas dining room decor is a fabulous way to make yuletide magical and memorable.
For many, gathering with friends and family for a festive feast is one of the true highlights of the holiday season, and having a cozy, welcoming dining space bedecked with beautiful Christmas table decor and festive flourishes is a key part of setting the scene for celebration and merriment.
Whether you're planning an intimate affair or hosting a large party, to help you set the scene for a fabulous celebration we've rounded up an array of inspiring Christmas dining decor ideas for all tastes, from timeless elegant schemes to playful, merry, and bright.
Christmas dining room decor
There are so many Christmas dining room decor ideas you can use to transform a year-round dining room into a resplendent entertaining space, from simple fresh, fragrant Christmas table centerpiece ideas and lighting clusters of candles, to hanging statement Christmas decor ideas above the table. To whet your appetite for the options available we've rounded up a host of our favorites below.
1. Go for a rustic, natural theme
Take inspiration from nature and create a calm, comforting space by pairing furniture and tableware in natural materials with winter foliage and candlelight. Let texture take the lead and set the scene with a rustic linen tablecloth, then layer with fir and pine Christmas table garland, placemats in woven jute, and wine goblets made from recycled glass, all available at The White Company.
'When decorating I love a combination of natural materials and finishes. From timber, stone, and sisal floors or rugs to touches of greenery that bring hints of the outside world in. And if possible, it is always great to have fresh flowers and a fire,' says Chrissie Rucker, founder of The White Company.
2. Create a sophisticated setting with white and navy
Create a timeless and elegant dining scheme by decorating with blue and white. Set the mood for celebration with walls in a dramatic navy and pair with a crisp white tablecloth, simple white bone china crockery and elegant clear crystal glassware and candlesticks. Keep decorations pared-back with silver tealight holders, a white floral centerpiece and a simple fir Christmas garland idea.
3. Delight guests with a beautiful table gift
Christmas table gift ideas make a lovely surprise when guests take their seats and help spread gift-giving out throughout the day, plus they add a lovely decorative flourish to a place setting.
If your table is fairly pared-back, consider ringing the changes with a patterned gift wrap, as styled in this scheme by Neptune, and think about ways you can tie in the Christmas gift-wrapping ideas with the rest of your tablescape. For example, here each gift is finished with a sprig of foliage-sprayed gold to complement the elegant table centerpiece.
4. Channel a cool Scandinavian theme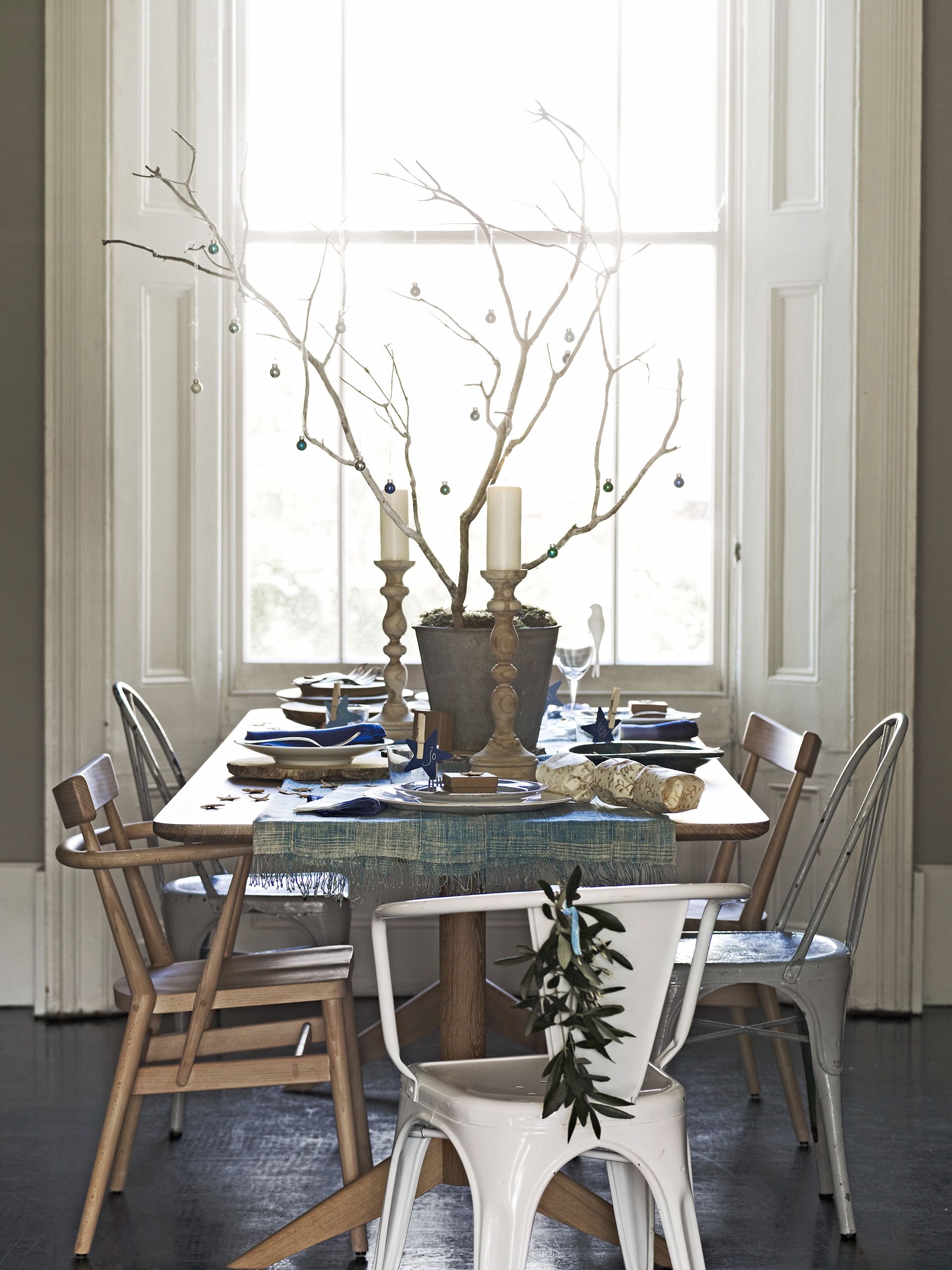 Create a cool Scandi-inspired scheme by trading in classic red and gold for blue, white, and natural wood. Switch a formal tablecloth for a rustic woven runner to expose the wooden table beneath and for a pared-back Christmas table centerpiece display sculptural branches in a rustic pot (filled with sand to keep them in place) and pair them with wooden church-style candles.
'Warm things up with wood grains, add fluffy throws on benches or scatter sumptuous cushions onto your bar stools. Anything that's impossibly soft and tactile will encourage you to cuddle up and relax this festive season,' says Tom Howley, director of Tom Howley Kitchens.
5. Choose a warm berry palette
Warm, welcoming, and cocooning, a red dining room makes a fabulously festive setting for a cozy Christmas celebration and works particularly well when bedecked in a medley of berry and spice shades peppered with metallics. Decorate the table with simple dinnerware and a runner of Christmas foliage along the middle.
If it's not needed for serving then try styling up a sideboard with wrapped gifts and large paper honeycombs. Hanging a rustic sculptural branch above, laden with pretty baubles, makes a beautiful Christmas wall decor idea.
6. Complement a colorful scheme
Dining rooms that are reserved for Christmas and special occasions can be fabulous places to embrace bold dining room color ideas.
Pairing dining chairs in rich berry-toned velvets with peridot green walls, as done here by Oka, is a great way to create a head-turning jewel-toned scheme, plus, upholstered dining chairs will offer wonderful comfort for guests.
When it comes to festive decor, to prevent a vibrant scheme from becoming overwhelming, choose pared-back decorations such as dried oranges and simple bunches of berry-laden foliage. For a nod to the colorful palette try adding bold dinner candles.
7. Create a colorful carnival atmosphere
Take inspiration from fabric designer Molly Mahon and channel a playful yet sustainable approach to Christmas dining room decor by trading in plastic decorations for a room bedecked in colorful paper streamers and paper chains.
This fun, fiesta-style decor idea works wonderfully with a table in folksy block-printed table linen and the paper chains are a great Christmas craft activity to do with children.
When it comes to how to set the perfect Christmas table, there are no rules, it's about creating an environment that is cozy and welcoming full of joy, so don't be afraid to put a twist on Christmas traditions and embrace the colors you love.
8. Create a drinks station
A handy bar cart is brilliant for serving welcome nibbles and drinks to guests, whether it's a glass of mulled wine, a winter cocktail or something sparkly, plus it provides extra storage for large items like ice buckets that can dominate the dining table.
Set on casters, this Coniston trolley from Neptune be easily moved from room to room – why not wheel it into the lounge to serve after-dinner treats and style it up with fairy lights and a scented candle to set the mood?
9. Go for a quiet country look
Create a relaxed farmhouse Christmas look by teaming bench seating and a gingham tablecloth, such as this from Tori Murphy, with a centerpiece of humble clementines, candlelight and paper decorations. Foraged foliage topped with fabric bows makes a cottage core-style alternative to a traditional Christmas wreath.
'Upholstered dining chairs have always been the go-to, but upholstered dining benches are also growing in popularity creating a slightly less formal set-up,' says Amanda Huber, owner of Dining Chair Co. 'Once you've picked the shape and design of the chair or bench itself, you can then get creative and have a little fun with your fabric choices and finishing details.'
10. Set the scene with beautiful table linen
No Christmas table is complete without a beautiful tablecloth, it forms the foundation for your table decorating and brings a sense of occasion to dining. Inspired by traditional Hungarian textiles and featuring playful bird motifs, Julia Brendel's jacquard woven cotton/linen tablecloths and napkins are perfect for bringing an elegant yet folksy feel.
11. Hang your centerpiece from the ceiling
A festive centerpiece is a joyful thing – but not if it gets in the way of you either seeing your guests or being able to reach for the gravy.
'If space is a concern, why not string a centerpiece above the dining space, leaving more room for food, drinks, and party games,' says Claire Hornby, head of creative at Barker & Stonehouse. 'Hanging fresh greenery and twigs accented with glittery baubles and twine will offer a natural twist, whilst a gathering of fairy lights and layered candlelight on the table and chairs will create a soft, cozy glow.'
12. Make your crockery a design feature
Crockery is so much more than functional at Christmas – choosing festively patterned plates and more can do wonders for the design of the entire dining room.
'Lay out your crockery in advance,' advises stylist Kerry Lockwood. 'It may seem unnecessary but laying out your crockery makes a huge difference to the overall impact of your table setting. I like to set my table on Christmas Eve so it's a nice focal point on Christmas morning. Try mixing and matching your crockery to add more interest.'
13. Create mood lighting with candles
'Mood lighting is important,' Jessica Hanley, founder of Piglet In Bed. 'If it is a special occasion, I often opt for candles in the center to create a more festive feeling.'
In this example, tabletop Christmas tree decor is paired with numerous candles for a glowingly festive look.
'Candles are always an essential prop whenever I'm setting my Christmas table to create that soft, cozy glow that will create a magical seasonal ambiance to remember,' says Lockwood. 'In my opinion, you can never have too many candles! There are so many beautiful ways to style them, whether you prefer traditional taper candle stick holders, clusters of dainty tea lights or more dramatic pillar candles in glass vases. Experiment with different layouts until you find a setting that works for your table shape.'
14. Put a twist on traditional color schemes
When working out how to set the perfect Christmas table, ensuring you balance tradition with your own personal taste is key. This rustic yet contemporary table setting in bold primary blues and reds is finished off with handcrafted ceramics and trailing garlands of delicate honesty seed heads, all presided over by a striking chandelier. Traditional touches of green are evident in the emerald glassware.
15. Make an intimate setting elegant
Benji Lewis, founder of virtual interior design service, Zoom That Room says: 'Christmas can be stressful for many people, and rather than buying everything new, try to focus on a few key items to ensure that your table is welcoming, elegant and a little bit opulent.'
'I like splashes of gold, paired with chic colors such as blue and ivory. A smart and beautiful table should be packed with your best china and polished glasses, and be ready to welcome everyone to a warm, fun and festive occasion.' he continues. 'Of course, string lights and candles are also a great Christmas addition, bringing twinkling warmth to any room.'
16. Make the feast the focus
Here, in cookery writer Skye McAlpine's Christmas dining room, the table has been set sparsely in a quasi-still-life food tableau, allowing for the feast to take center stage.
Simple glass vases provide the base for an abundance of informal florals and foliage while matching glass tableware is stacked with food, all finished with oversized velvet ribbons on each place setting. The rest of the room is decorated very minimally to allow the dining table to become the focus.
17. Give your dining room the Midas touch
Create an instantly rich and sumptuous feel to your dining space by draping the table in an oversized tablecloth with layers of trimmings.
Fill a glass cloche with gold baubles and twinkling lights as your centerpiece and echo the gold look on similarly gilded mirrors, candlesticks and curtains.
18. Stick to a calming monochrome scheme
Limiting your color scheme to black and white provides the perfect backdrop for the main event on Christmas Day – the food. Turkey and all the trimmings will take center stage in your scheme, while swathes of greenery will add depth to the scheme.
Soften walls by painting them in a pale gray and introduce reflective surfaces like mirrors and silver baubles so candlelight is amplified.
19. Create an edible still life display
With all the elaborate table settings, food and decorations on a dining table at Christmas, space is often at a premium. Stretch out onto adjacent surfaces like consoles or sideboards to create a snacking area that can be left long after your meal is over.
Fruit and cheese or fruitcakes and mince pies are all contenders for creating an elegant and edible still-life tableau. Use cake stands and glass covers for added height and frame the area by hanging a smart wreath on the wall just above.
20. Choose a simple, unfussy scheme
If you don't have a separate dining room, instead host Christmas in your open-plan kitchen diner, often the most effective table dressing is a simple one to ensure it doesn't compete with the rest of the space.
Invest in a beautiful set of dining furniture and let that be the focus. Decorate the table with fragrant springs of eucalyptus with a simple centerpiece of greenery and choose linens in neutral shades.
21. Mix pink and green for a fresh feel
Created by interior designer Kate Guinness, this dining scheme avoids the traditional shades of red, green, gold and silver.
Instead, the combination of fresh apple green and pink provides an elegant dining space that can be enjoyed year-round. A fresh floral centerpiece is all that's needed to style the space up for the festive season. You could also learn how to fold a Christmas tree napkin to add a subtle yet fun flourish to place settings.
22. Introduce plenty of festive greenery
Create a stunning festive display using the best flowers and Christmas foliage ideas the season has to offer. Start with a theme for your Christmas dining table display – perhaps a color of a particular type of flower or foliage – eucalyptus, with its green-blue-silvery leaves is the perfect inspiration for a festive color scheme.
If you have a small dining table, place sprigs of evergreen foliage and fresh flowers in miniature bottles and set them in a line in the middle. Finish with delicate glassware, and simple white candles to complete the look.
23. Embrace a soft, neutral palette
Christmas decor doesn't need to be overflowing with bright colors. The restrained simplicity of a paneled room makes an elegant backdrop for festive dining. Decorate with kraft paper hanging stars and a simple pine centerpiece to complement the gently muted palette.
24. Try an alternative color combination
For many, Christmas will be very different this year compared to last, so why not highlight the contrast by creating a scheme that is bright and bursting with color?
Choose plenty of mismatched prints and mix them up on table linens, cushions or pillows, choose bold artwork for your wall decor ideas, and decorate the table with a centerpiece of colorful blooms and brightly colored candles.
25. Welcome guests with a set menu
Most people prefer to know what's on the menu before they sit down to a meal and while Christmas lunch rarely strays from tradition, every household's take on the meal differs.
If you have guests joining you, a simple chalkboard menu perched on a sideboard is guaranteed to whet their appetite. Drape the menu with some simple greenery and serve pre-dinner cocktails or aperitifs alongside.
26. Make your table sparkle
Twinkling battery-operated Christmas lights ideas are perfect for enhancing this bespoke wreath made using fresh flowers and foliage, and suspended from ribbons above the table.
The second string of fairy lights has been placed inside a gold-colored glass vase, turning a simple garland of fresh ivy into a star attraction.
27. Fill your home with festive fragrance
Looking for ways to make your home smell nice? Evocative scents like pine, gingerbread, and mulled wine are easily linked with a Christmassy atmosphere.
Have a go at baking a simple wreath made from overlapping gingerbread stars and hang it above a sideboard where you can create a simple mulled wine station for your guests, decorated with fresh pine branches and delicate twinkling lights. Culinary nods are also a great idea for your kitchen Christmas decor ideas too.
28. Add a feminine touch with delicate, wintery fabric
Elegantly appliqued fabric makes a beautiful tablecloth for special Christmas traditions and celebrations and gives the table an almost-magical look.
Pair with a dramatic burnished gold candelabra to create a striking centerpiece and echo the look with simple chair back decorations make from paper baubles and frosted pine cones.
29. Forage for festive decorations
You don't necessarily have to go all out on buying new decorations for your home every year. Sometimes the best accessories are growing in your backyard among your outdoor Christmas decor ideas.
Head outside on Christmas morning and gather up bunches of ivy, pine, grasses... anything that will add a touch of verdant beauty to your table and surrounding surfaces for a fresh take on a festive scheme.
30. Add decorative swags to seating for a fabulous finishing touch
Fresh or faux, nothing says Christmas like a clutch of green branches and pine cone decorations tied up with a scarlet ribbon.
'For a dinner party, weave bright berries or fresh flowers through Christmas wreaths and place them on the backs of chairs or on the dining table for a lovely natural touch that no one will be expecting,' says Sue Jones, co-founder and creative director of Oka.
Make one for each of your dining chairs and secure them to the back of each seat with ribbons or pins. Repeat this look with a matching mantle garland spiked with red blooms or berries and again with another stretching down the center of your dining table.
31. Decorate with touches of Arctic white
Rich chocolate upholstery and table linen are beautifully offset on this simple Christmas table with brilliant white accents on the tableware.
The nature-themed accessories lend a Narnia-esque feel to the space, helped in part by the fresh greenery on the table and the burst of elegant blooms among the Christmas mantel decor ideas.
32. Adorn your table with traditional festive shades
A generous table centerpiece, festooned with colorful baubles and gold ferns, immediately strikes a celebratory note. Welcome guests with handmade place cards and crackers that coordinate with your scheme.
33. Rearrange your display storage
Glass-fronted cabinets in dining spaces have everything on show 24/7, so these too need to be considered when decorating the room for Christmas.
Make yours look beautiful as well as useful by rearranging the shelving, bringing favorite, festive pieces to the fore, and adding battery-operated tea lights in colored or frosted jars.
34. Create your own color scheme
You don't have to stick to usual Christmas color combinations. Foliage here adds a festive twist, while the mismatched chairs in a vivid emerald green, together with green glass baubles on each place setting give a contemporary spin to the festivities.
35. Stretch out your serving spaces
Commandeering a console table from your Christmas hallway decor ideas as an extra surface for the cheeseboard and drinks saves space on the dining table and offers an opportunity for a beautifully composed presentation. The addition of the tall candles draws your attention to the space, highlighting it for guests and family alike.
36. Play with natural symmetry
By accentuating the natural symmetry of a table and its surroundings, you can create a visually pleasing table setting with the minimum of decor.
Here, three small vases of flowers on the table are flanked by two candelabras and a single chandelier above, all pulling focus into the center of the table. The simple and minimal table settings feature delicate glassware and plain matching linens to create a chic and elegant spread.
37. Give your festive decor fresh, country feel