Kitchen Christmas decor ideas – 12 design tips to spruce up your cooking space
In a space increasingly used for entertaining, kitchen Christmas decor ideas are more important than ever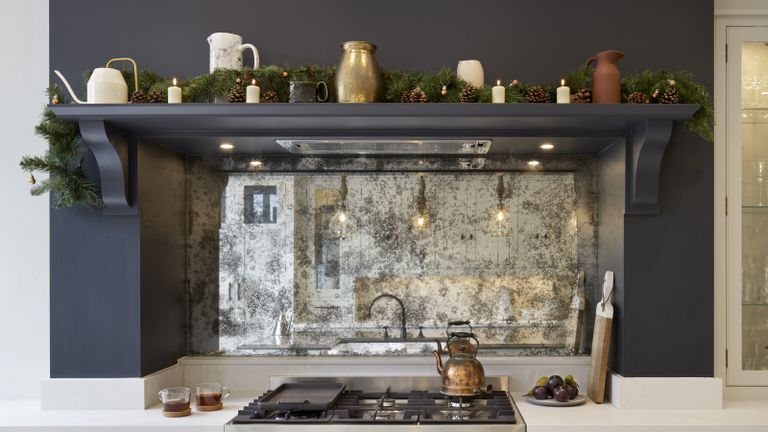 (Image credit: Harvey Jones)
Kitchen Christmas decor ideas are easily overlooked – but as the hardest working room in the house over the holidays, we think it deserves to be shown some love.
As we move to entertaining in our kitchens more and more, the cooking space is becoming an increasingly important area in which to bring out the Christmas decor ideas.
'The heart of the home, the kitchen sees the most foot traffic throughout the day, particularly during the most wonderful time of the year, whether that is for Christmas dinner prep, festive drinks or celebratory meals,' says Melissa Klink, Head of Design at Harvey Jones (opens in new tab). 'No longer serving as just the space to prepare food, the kitchen is where the most fond and meaningful memories can be made.'
Kitchen Christmas decor ideas
From generous garlands draped from the shelving to displaying your holiday crockery, we've put together a host of kitchen Christmas decor ideas to give you some inspiration, and asked the experts for their tips too.
1. Look to nature for decorative inspiration
'I always think it's best to deck your halls from the garden,' says florist Nikki Tibbles of Wild at Heart (opens in new tab). 'Rather than cliched poinsettia, I like a big vase of branches – a mass of holly, lichen, pine or something evergreen – in the entrance hall or on the kitchen table.'
Incorporating winter's natural bounty into your holiday decorations is a tried and tested winner. Choosing individual branches of eucalyptus or other evergreen foliage and arranging them in a relaxed way works well in more contemporary homes, but also adds a modern touch to farmhouse Christmas decor ideas.
2. Set a festive tone with mood lighting
'Get creative with lighting,' suggests Mike Head, Director at Atlas Ceramics (opens in new tab). 'You can now buy adhesive strip LED lights, which are perfect to create atmosphere in your kitchen when you are hosting. You can place them above your hob, or under your cupboards for a cheap alternative to installing downlighters.'
Using lighting to set a festive mood can also be done with fairy lights. Here, strings of lights are weaved around the Christmas mantel decor ideas in a kitchen – alternatively, ball them up into mason jars and intersperse them among your storage jars. 'Because mason jars and small light accents are so popular, you can even consider hanging them up with twine – helping to spread that homespun, Christmassy feeling throughout the entire house,' says Michael Meiser, President at Lumilum (opens in new tab).
3. Drape your kitchen shelves with garlands
Long rows of shelving, the tops of kitchen cupboards, alcoves for stoves and windows looking out onto the garden – there are so many elements of kitchen architecture that are just crying out for a garland to decorate them this holiday season. Learn how to make a Christmas garland yourself for a totally unique addition to your kitchen, or invest in a readymade slug of pine sprigs (artificial or otherwise), dried oranges, pine cones, festive ornaments and more.
4. Cook up some scented magic
'[My] aunt is Swedish and at Christmas she always makes a traditional spicy drink called Glogg,' says Angus Buchanan, Creative Director of Buchanan Studio (opens in new tab). 'It is a type of mulled wine with the addition of ginger, cardamon and bourbon which permeates the house with the most incredible aroma – it's been a staple on our Christmas table for years.'
Why wait until the big day to fill your kitchen with festive smells? Cooking up festive treats will not only taste good, but will scent your kitchen as you await guests. Gingerbread is another winner – here, gingerbread stars have been used to create a culinary wreath for the kitchen.
5. Spruce up a cupboard door with a wreath
Wreaths are not just for your Christmas door decor ideas – nor are they strictly for Christmas wall decor ideas. In the kitchen, think about attaching one to the doors of your cupboards for an unexpected piece of festive detail. If you're lucky enough to have a walk-in pantry, the door to this is also an excellent location for a wreath – perhaps scented with cinnamon and dried oranges to hint at the tasty Christmas treats located inside.
6. Display your festive crockery
Yes, it is absolutely time to get out the nice plates. Bringing out a festive dinner set for Christmas meal is a joy – and while they will eventually end up among your Christmas table ideas on the big day, let them charm your guests in the days prior by putting them on display in the kitchen. The more Christmassy your crockery design, the better an idea this is – this red and green patterned set is dotted with Christmas trees, reindeer and holly, and works as a decoration in and of itself.
7. Get the glow with candles
Christmas is also the optimum time to whip out your best candles. They're a great way to add a sense of drama to a kitchen when it is being used as an entertaining space, or just as a little bit of luxury for yourself while cooking.
'Candles, of course, never fail to please, mixed in displays with pretty, small bud vases which bounce the light beautifully,' says Chrisse Rucker, Founder of The White Company (opens in new tab). 'And don't forget that lovely glass vases can often double up as storm lanterns too when you pop a candle inside. I use lots of scented candles throughout the house.'
8. Create a cozy seating area
During a long day of Christmas cooking, you deserve to give yourself a rest now and then. For those little bits of time in between the next turkey-brining session and blind-baking the mince pies, create a corner of your kitchen dedicated to kicking back. Borrow some pointers from your Christmas living room decor ideas and pile up an armchair with blankets and surround it with candles – place it near the range to ensure a cozy spot for a repose in the days leading up to Christmas.
9. Fill your kitchen with festive prints
Kitchens are filled with more soft furnishings than you might expect – and this means plenty of opportunities to inject a little bit of festive pattern. Swap your tea towels, oven gloves, seat cushions and aprons for seasonal alternatives, looking to Scandi-style for stylish inspiration. Enhance your Christmas window decor ideas by swapping in a blind with a fun festive print, and do the same with your seat cushions if you want to go all out.
10. Set a dazzling dining table
If your kitchen is open plan, you'll likely need to think about your kitchen decorations and Christmas dining room decor all at once. A dazzling dining table is an absolute must for a festive meal, but ensure it ties in well with your decoration scheme at the more functional end of the room. This has been done in this room with the continual use of lush evergreen branches.
'Fresh green foliage makes a beautiful centrepiece, especially when paired with white or cream candles,' says home stylist Kerry Lockwood (opens in new tab), who is partnering with ProCook (opens in new tab) this year. 'Eucalyptus is always a favourite of mine, but you can also add seasonal texture with holly and ivy. It's so simple to style, just ask your florist for around 8 stems of your favourite greenery and carefully arrange down the centre of the table.'
11. Ensure the island is an entertaining center
'With numerous events taking place around the festive season, it is vital that the layout of the kitchen is both functional and allows for socialising,' says Klink. 'Creating a space that is adaptable for all occasions is key, from large family gatherings to smaller intimate meals with a loved one.'
As both Christmas traditions and kitchens modernize, more and more of us find ourselves entertaining in the kitchen at Christmas – with our kitchen island at the heart of the fun.
'A kitchen island is ideal to create a center point in which all the guests can gather and the hosts can entertain. Whether toasting the new year or enjoying delicious canapés, an island is the perfect piece to combine cooking, dining and entertaining in an open-plan space.'
12. Use red for splashes of festive color
Kitchens don't tend to be the most colorful parts of our homes – but Christmas is the perfect time to change that. An instant way to easily inject festive fun into a neutral kitchen is to add details in red – from cookware put on display to bows and flowers. It's an emblem of Christmas that catches the eye instantly, is rarely seen in kitchens and is a great way to signal a sense of magic falling upon the space over the holiday season.
How can I decorate my kitchen for Christmas?
As a highly functional part of the home, any Christmas decor in the kitchen needs to be well planned so as not to interfere with your – occasionally frantic – festive cooking. While there may be oodles of worktop space that can be filled with vases of holly branches and more, you'll have to position these carefully to lesser-used parts of the room. Wall decor like wreaths are great for decor that is easy to maneuver around, while garlands strung along display-focused shelving, interjected with candles is another excellent choice.
What rooms do you decorate for Christmas?
The answer to this is simple – any and as many rooms as you want! While the likes of the living room, the dining room and hallway Christmas decor ideas tend to be the areas that people think of first, there is no reason to stop there. The kitchen deserves some attention, whether it's used as a space for entertaining, or simply to cheer the area for those who are tasked with all the cooking. You can even look to decorate your bedrooms to delight any overnight guests or children, and even the bathroom can benefit from a vase of baubles on the window sill.
Ailis started out at British GQ, where a month of work experience turned into 18 months of working on all sorts of projects, writing about everything from motorsport to interiors, and helping to put together the GQ Food & Drink Awards. She then spent three years at the London Evening Standard, covering restaurants and bars. After a period of freelancing, writing about food, drink and homes for publications including Conde Nast Traveller, Luxury London and Departures, she started at Homes & Gardens as a Digital Writer, allowing her to fully indulge her love of good interior design. She is now a fully fledged food PR but still writes for Homes & Gardens as a contributing editor.