Christmas tabletop tree ideas – 15 beautiful designs that are guaranteed to add festive cheer
Bring a pretty and playful look to your table with the most elegant tabletop trees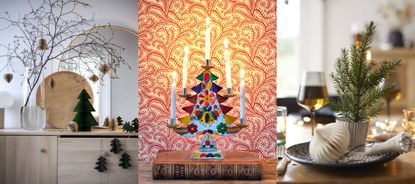 (Image credit: Ikea | Montes & Clark | Future)
Our Christmas tabletop tree ideas can ensure that your whole home, from the living room to the dining room and hallway, is bursting with delightful decoration – as, after all, you can never have too many Christmas trees in your home, right?
One of the easiest ways to make a room feel festive when organizing your Christmas decor ideas is with tabletop Christmas trees.
Ideal if space is limited and you do not have room for a big tree, or for creating a show-stopping tablescape for Christmas table decor ideas, there are so many clever and creative ways to decorate with Christmas tabletop trees.
Whether you introduce a mini tree to your dining table, fill a hallway console with tree greenery, or use fake foliage or paper trees to add a fun touch to a sideboard, you will instantly bring transformative color and festive cheer into your space.
Christmas tabletop tree ideas
Explore our favorite Christmas tabletop tree ideas below so you can find a design that can perfectly integrate with your Christmas decorating ideas.
1. Embrace a sleek, Scandi-inspired look
For a more refined, pared-back look for your Christmas tabletop tree ideas, embrace a stylish, Scandi-inspired look, rich with simple shapes and earthy, muted color palettes.
As shown in this inviting, modern dining room, this tablescape has been beautifully decorated with a mix of ceramics, seasonal decorations, and unique homemade ornaments – a beautiful example of what can be achieved for Christmas table ideas.
The simple, small tabletop trees work perfectly with the relaxed scheme, and elegantly complement the shape of the tall, tapered candles.
2. Choose the 'classic' Christmas colors
A festive palette of red and green is difficult to beat at Christmas for instant Yuletide cheer.
For an easy festive scheme, group together tissue paper trees for a modern-day, woodland forest vibe that will add height to your table at the same time. Offset with white crockery and other table accessories in crimson and emerald for classic Christmas feasting.
'Eco-friendly decorations like these paper trees are designed to be widely recycled or built to last year after year,' says Beth Pickard at Talking Tables.
'These ombre trees are hand-painted and make a timeless addition – or can be recycled once the festivities are over. Following Christmas dinner, they can be placed on a mantelpiece or window sill and work beautifully with traditional or more contemporary festive themes.'
3. Use a colorful Christmas tree candle holder
Handmade Christmas decorations will add a homespun, global mood and help support traditional craftsmanship around the world.
This bright candelabra tin tree is made by a husband and wife team, Montes & Clark, in Mexico, using an age-old craft known as Hojalata, which dates back to the 16th century. Pieces of tin are cut, shaped, and embossed with a pattern and can be painted with bright, primary hues.
'Artisan tabletop decorations harness a warm, eclectic look and, crucially, help support traditional, global crafts from dying out,' adds Jennifer Ebert, digital editor at Homes & Gardens. 'This tin tree is beautiful and has the added benefit of spreading a warm glow across your Christmas table, and would look stunning as a Christmas table centerpiece.'
4. Create a terrarium Christmas tree
Add a natural, earthy touch to festivities by creating your own tabletop, and woodland terrarium – a DIY alternative to a traditional mini conifer.
'You will need a glass terrarium or a large glass vase, peat-free compost, moss, moss branches, pine cones, dried foliage, Christmas tree trimmings, and home decorative items,' explains Claire Bishop, senior houseplant buyer at Dobbies Garden Centres.
'Start by lining your terrarium with peat-free compost and moss, then add in your pine cones and moss branches to create depth within your terrarium. Adding foliage like dried Eucalyptus will give you an extra element of color for an eye-catching display. If you have one, take small trimmings from your real Christmas tree and place them inside your terrarium or vase; you can add other decorative elements like dainty trees to create a mini woodland. Finally, add in some wired lights for a touch of Christmas magic and festive sparkle.'
Remember to place your terrarium out of direct sunlight to ensure the moss doesn't dry out.
5. Decorate with a twig tree
If minimalist or rustic decor is more your style, why not opt for a stripped-back (literally) twig tree for your Christmas tabletop tree ideas?
We love this simple and elegant white twig tree and think that the pretty dove decorations and star string lights add the perfect finishing touch; establishing a more refined and subtle Christmas decoration that feels utterly timeless.
6. Use a mini tree as a table gift
A miniature Christmas tree planted in a tea light holder makes a fabulous Christmas table gift idea.
Keep it as small as possible so it doesn't dwarf the rest of the tableware, and match the tea light holder to the rest of your festive scheme.
7. A small tree looks fabulous on a hallway console
The simplest of Christmas hallway decor ideas, a tabletop Christmas tree is the perfect introduction to a festive event.
'Welcome your guests this Christmas with an entryway display that's full of festive cheer. It might not be obvious to place a small potted tree on your console – but if you get the proportions right it can look perfect. Decorate it with a Christmas tree topper idea and string lights to create a cozy entrance,' says Andrea Childs, editor of Country Homes & Interiors.
8. Use a myriad of shapes and sizes for a tabletop display
'If you're not a fan of tabletop clutter – let's face it, it's hard to find a room with all the festive items that we need for Christmas dinner – then you can make a display on a console table or sideboard instead,' says Lucy Searle, global editor in chief, Homes & Gardens.
'A collection of mini Christmas tree ideas made from different materials will make a beautiful arrangement. Always use an odd number – this is a top stylist's trick – and vary the heights for interest.'
9. For a pared back look use paper trees
Paper decorations have seen a resurgence this year and it's easy to see why. They're more eco than plastic decorations and can be folded back up for storage.
If you love the pared-back Scandi feel for your festive table then use a few of these larger trees along the middle.
10. Make your own 'tree' by decorating a candelabra
Feeling creative? Creating your own mini tabletop Christmas tree is an easy make – and you can match it to your Christmas dining room decor or make it integral to your Christmas table garland ideas too!
Create your own Christmas tabletop tree by covering a candelabra with moss and using trails of ivy wrapped around the stem. Use florist's wire to keep the moss in place and drape the ivy from the candle arms. Finish by lighting the dinner candles and use a selection of tea lights around the bottom to create a warm glow.
11. Use bottle brush trees for your tabletop
'Mix old and new styles by combining bottle brush tabletop trees with more trad elements like a trailing eucalyptus garland down the center of your table. Using green ones will help them to blend in with the rest of a classical elegant scheme and give your table height and interest,' suggests Melanie Griffiths, editor at Period Living.
12. Choose a multifunctional, modern design
'A tabletop Christmas tree doesn't need to be made from the real thing, consider these contemporary tree-shaped metal candle holders as alternative Christmas tree ideas instead – a great look if industrial decor is more your style too.
Light and easy to move about, you can place a pillar candle within each one and use them as arrangement down the center of your festive table,' suggest Jennifer Ebert, Digital Editor at Homes & Gardens.
13. Use tabletop Christmas trees to create a festive scene
'Nothing says Christmas like a beautiful tree, at home I like to incorporate smaller trees around the house, our elegant faux slim trees are perfect for dotting along a console table, they take up little room and need no maintenance but are guaranteed to add an additional festive layer to a hallway or sitting room,' says Suzy Humphreys, founder of Layered Lounge.
'On Christmas Eve we have a house full of guests for drinks and nibbles; I cover our dining table in a big white linen cloth and dot our faux trees and ceramic houses down the center, giving it height and texture with plates of canapés mixed in between, It looks just like a snowy Scandinavian landscape and always proves very popular with the children as well as the adults.
'We usually have lots of family and friends stay during the festive season and creating a comfortable and elegant guest room is very important, as so many of us are so busy at this time of year, I find that adding a couple of our smaller faux trees on the bedside tables or on a mantelpiece adds a pretty festive flourish without taking lots of time out of your day, sometimes the smallest of gestures are the most memorable.'
14. Use ceramic Christmas tabletop trees
'Tabletop trees add instant height and impact to the Christmas dining table. For an alternative look, add a ceramic tree and festive foliage along the center of your place settings,' says George Miller, home designer at Neptune.
We love how these ceramic Christmas trees effortlessly integrate into this kitchen space, adding small but stylish decorative details to the room.
15. Fill a glass tabletop tree with mini decorations and lights
'Whether you are looking for a stunning centerpiece for your table or a space-saving alternative to a traditional tree this year, tabletop Christmas trees are a really great way to do both, while keeping the festive spirit alive – not to mention that they make a wonderful gift to be enjoyed by everyone,' says Jason Bensohn, managing director at One.World.
'Our Belmont Christmas tree jar is one of my favorites this season; completely transparent, it's perfect for adding a personal touch to your tabletop scheme, whether you wish to fill it with poinsettias, ivy and cranberries, baubles and string lights, or Christmas cookies and other festive treats, it's sure to get the conversation going at the table.'
What is a tabletop tree?
A tabletop Christmas tree is a small tree (real, faux, or foraged) that you can set up on your dining table, console, or side table – in fact, any sort of perch or ledge that will take its weight and dimensions.
It might be that you don't have space for a full-size Christmas tree or that you want to create festive cheer throughout every room with a smaller second or third tree, either way, a tabletop tree is an excellent choice.
Tabletop trees can add just as much Christmas magic as larger ones and are easier to set up, decorate and take down. They can be smaller, real firs and spruces or a fabulous looking fake which means no dropped needles to clean up and no watering; they are also often pre-lit which does away with trailing wires and ,search for batteries and plug sockets.
Decorative tabletop trees made from paper, tin, or glass can add masses of extra festive color and sparkle to your Christmas season feasting, mantelpiece or window sill.
How tall should a tabletop Christmas tree be?
The height of a tabletop Christmas tree depends on where you place it. Ideally, a tabletop tree is generally below 3ft high, although larger trees up to 5ft, work well if they sit comfortably against a wall placed on a hallway console, sideboard or buffet.
If you are planning to use your tabletop tree on the Christmas dinner table, guests need to be able to see over the trees, in which case don't choose anything over 10 inches (unless you plan to remove it before everyone sits down to eat).
Consider the widest part of your tabletop tree as well, you don't want a tree that is too wide or skinny for a room. Measure which size of tree will best fit your intended space – there will be many sizes to choose from, so definitely something for every room.
How long do tabletop Christmas trees last?
Real tabletop Christmas trees can last Christmas to Christmas if they are cared for – outdoors – after the festive season. If kept solely indoors, they will last across the festive season, up to six weeks, assuming their soil is kept watered and they aren't too near any sources of heat. That means you can put yours on a table at the beginning of December and it should still look good for New Year's parties.
Sign up to the Homes & Gardens newsletter
Decor Ideas. Project Inspiration. Expert Advice. Delivered to your inbox.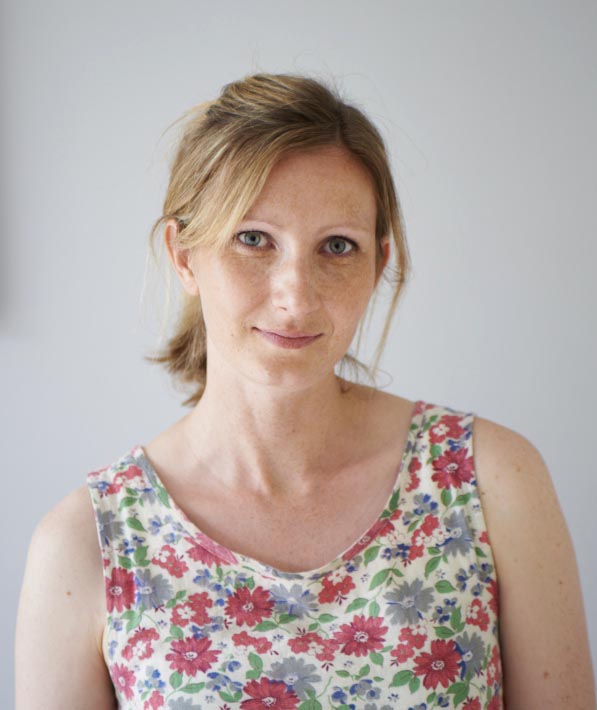 Sophie has been an interior stylist and journalist for over 20 years and has worked for many of the main interior magazines during that time, both in-house and as a freelancer. On the side, as well as being the News Editor for indie magazine, 91, she trained to be a florist in 2019 and launched The Prettiest Posy where she curates beautiful flowers for modern weddings and events. For H&G, she writes features about interior design – and is known for having an eye for a beautiful room.