Christmas garland ideas – 10 fabulously festive ways to decorate
Use these creative Christmas garland ideas to adorn everything from staircases to mantels, and beyond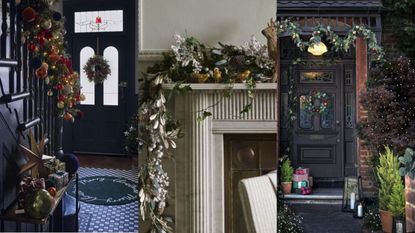 (Image credit: Dunelm / John Lewis / Habitat)
Sign up to the Homes & Gardens newsletter
Decor Ideas. Project Inspiration. Expert Advice. Delivered to your inbox.
Thank you for signing up to Homes & Gardens. You will receive a verification email shortly.
There was a problem. Please refresh the page and try again.
There are so many ways to decorate with Christmas garland ideas, so if you thought they were just for draping over a bannister to make your entryway look invitingly festive, think again.
Here, we show you traditional and new Christmas decor ideas with garlands both simple and intricate, all of them special.
Christmas garland ideas
Fresh Christmas foliage ideas are always our first choice for Christmas garland ideas because of the natural scents they will bring to your home's interior. However, if you don't want to make a garland yourself, faux will do just as well.
'There are so many fantastic faux garlands – Etsy's are my favorites,' says Lucy Searle, Editor in Chief, Homes & Gardens. 'I like to use them and dot a few fresh blooms into them, which can be easily replaced as they die off.'
1. Hang a garland vertically
If you are looking for Christmas door decor ideas, a garland, even down one side of the frame, can make an impact.
'Attach a lush Christmas garland to an upright beam, it will instantly bring the outside in as well as creating a festive feel. Make sure it goes from floor to ceiling for added impact,' says Jennifer Ebert, digital editor, Homes & Gardens.
2. Keep it simple with faux foliage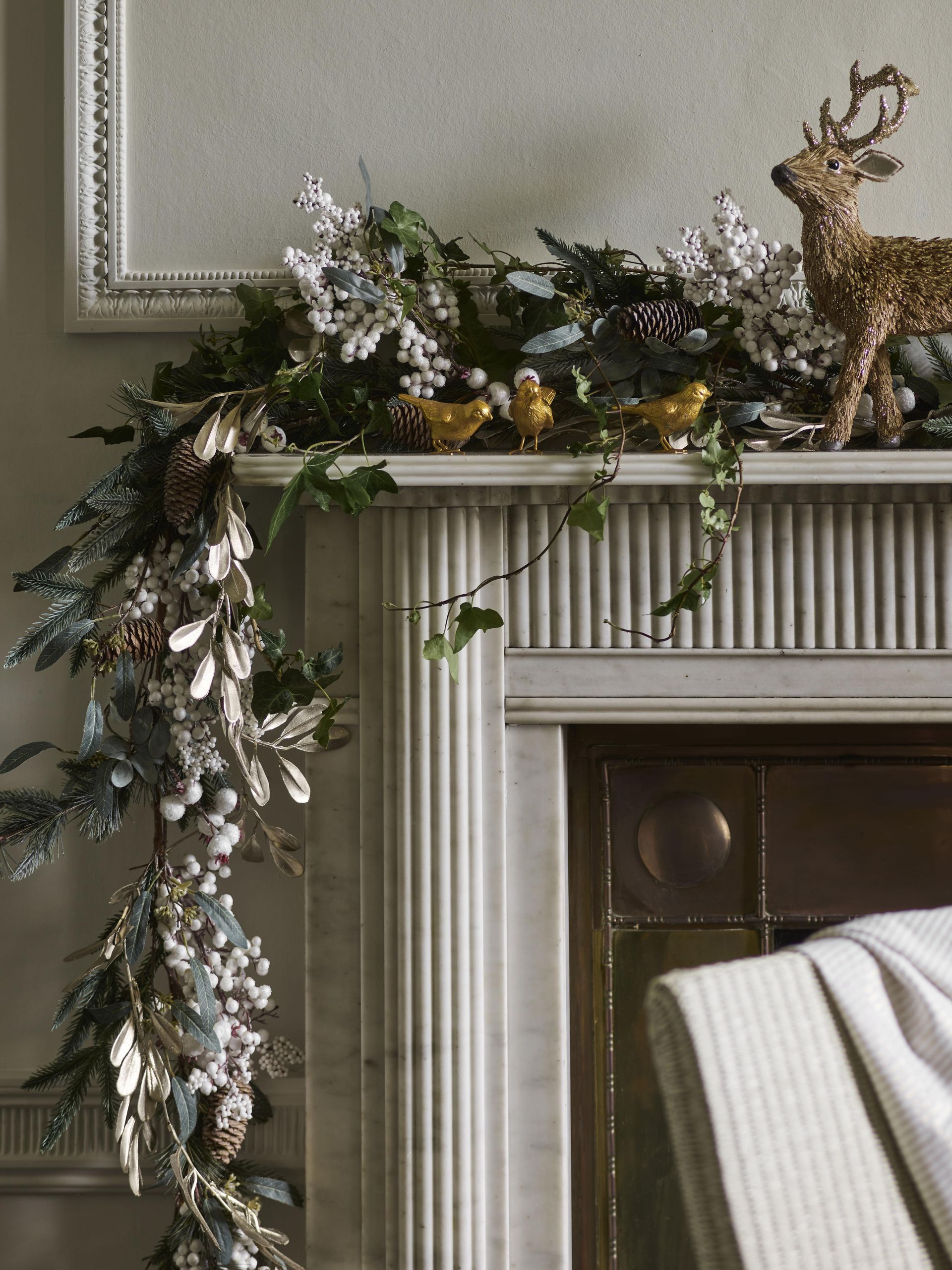 Garlands make for fabulous Christmas mantel decor, and the best are long enough to drape off the edge of the shelf to create a luxurious feel.
'Faux foliage is getting more realistic and the beauty of it is that it can be reused every year. If the conventional holiday colors of red and green aren't your thing, then choose a design that has a more muted palette with white berries, pine cones and ivy,' says Andrea Childs, editor, Country Homes & Interiors.
3. Light up dark corners with a garland intertwined with string lights
Christmas kitchen decor ideas aren't always easy to squeeze into the space since so many of the surfaces are in use. However, you can drape them decoratively over dressers and freestanding pantries, and if you combine them with Christmas lighting ideas, they can make an otherwise unlit corner feel cozy.
'Christmas garlands are a great way to make a home feel extra special for the holidays. As well as mantels and stair rails they look great on window sills, closets and dressers. Mix in some fresh greenery, string lights and lots of layered candlelight,' says Mark Winstanley, chief creative officer at The White Company.
4. Use a garland to create a canopy above a console
Christmas table garland ideas, like those in the kitchen, aren't always practical, especially if the table is narrow. But there is a way to make the table a centerpiece, perhaps in an entryway or dining room, by hanging a garland above it. They make perfect Christmas wall decor ideas, as long as they are just slightly longer than the table they are above. Too short, and they will look out of place.
'A garland really is a staple when it comes to holiday decorating, and the best thing about a faux one is that you can use it year after year. I think they look lovely wrapped around staircase banisters or draped over a mantelpiece, but there are also lots more creative ways you can use them around the house too.
'A garland is the perfect addition to a blank wall in the living room, for example, creating a beautiful festive canopy from which you can layer lots of jewel-toned decorations. I'd use baubles of different sizes and add some fairy lights for a real statement,' says OKA's co-founder, Sue Jones.
5. Decorate your stairs with a bauble packed garland
Of course, Christmas stair decor ideas will probably spring to mind first when you consider where to drape your garland – and they are perfect for making your home feel festive and welcoming.
'What's great about a garland is its versatility, you can keep them super simple or dress them up to suit your color theme. This stunning garland has been woven around the stair rail and adorned with baubles, bows and string lights, creating a true, holiday feel,' says Melanie Griffiths, editor, Period Living.
6. Dress an antique mirror with fresh foliage
Whether you're looking for Christmas living room ideas or even want to create a festive feel for the bathroom, a garland is an easy win draped over a mirror.
'Creating a Christmas garland is very simple and looks impressive whether it be dressing an antique mirror or contemporary staircase. When creating a garland, which will be out of water, choosing hardy ingredients is key – evergreen foliage is a must and there are a few seasonal flowers, like wax flower, that can add delicacy and color,' says Philippa Craddock, founder and creative director of the Philippa Craddock Flower School.
7. Go the extra mile for your guests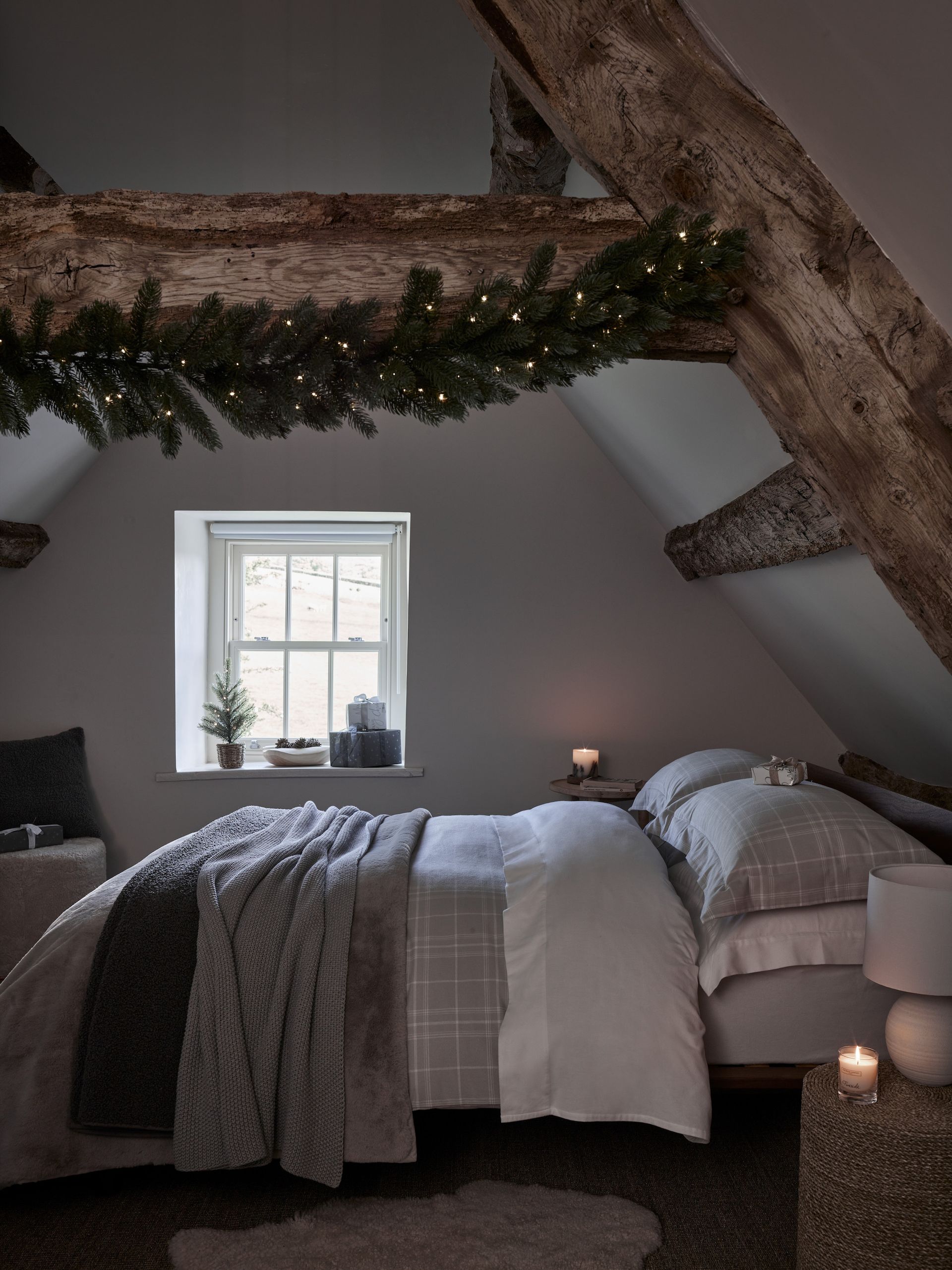 Christmas bedroom decor is a must if you want guests to feel welcome, however minimal.
'A great guest bedroom starts with a really comfy bed, lovely linen and soft pillows. At Christmas time try to get the rooms ready a week before and dress beds with extra cozy throws too. I also love to add a touch of Christmas with a small tree on top of a chest of drawers (pre-lit faux trees are brilliant for this) a couple of Christmas decorations hanging from the closet and a garland or two attached to beams,' says Mark Winstanley, chief creative officer at The White Company.
8. Match your mantel and table garlands
You can take your Christmas fireplace ideas to another level by decorating it with a garland to match others around the house. If you're looking for Christmas dining room ideas, it's the perfect solution.
'Create your own garland with foraged stems of ivy and fir tree. Place along the table center and dot a few pine cone Christmas craft ideas in-between the pieces. Do the same on your mantel so it matches. To finish the look use tea lights and dinner candles to create a lovely festive glow,' says Melanie Griffiths, editor, Period Living.
9. Give your front porch the extra touch
If you love outdoor Christmas decorations or are searching for Christmas porch decor ideas specifically, why not consider a garland draped over the door? It creates the perfect welcome.
'Why have one garland on your front porch when you can have two – and a matching wreath to boot! We love a touch of cohesion and this house has all the holiday vibes. Put a few (fake) presents by the front step and hand some LED lights in your trees and you're all set for welcoming your guests,' says Jennifer Ebert, digital editor, Homes & Gardens.
10. Don't forget to perk up your window sills too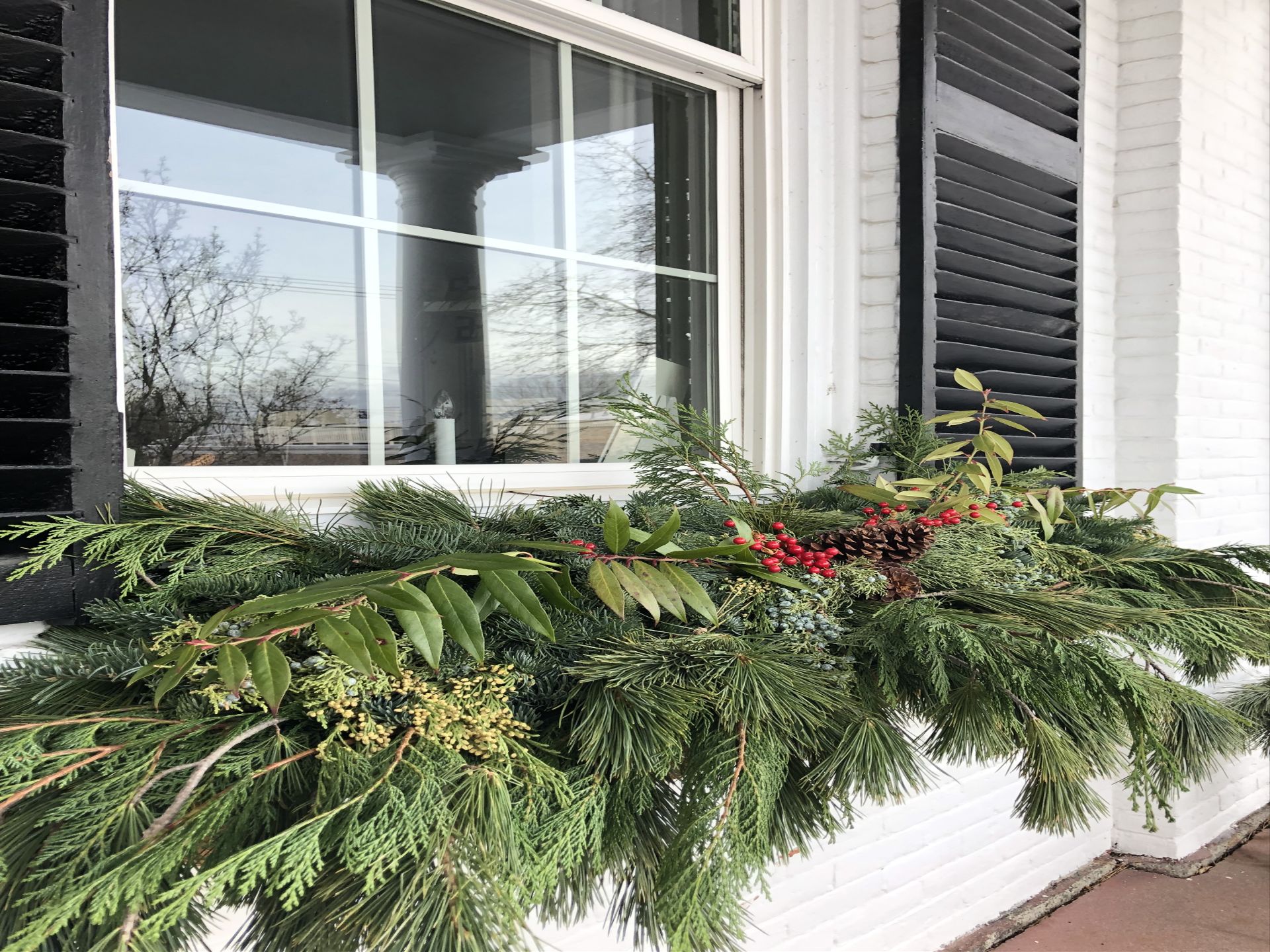 Christmas window decor ideas do double duty because they can be enjoyed from indoors and out.
When it comes to Christmas garlands, 'less is more and fresh is best – we are blessed to live in an environment where we can cut much of what we need right in our backyard. Winterberry is lovely for a pop of red and add in pinecones for texture, ' says Mary Maloney, owner and creative director of Bee's Knees Interior Design.
What do you put in a Christmas garland?
You can put anything in a Christmas garland that can be easily attached, whether that's other fresh, scented foliage, flowers, even mistletoe, or Christmas tree decor ideas, such as baubles, string lights and ribbons. Go glitzy, keep it natural or give it a kiddie-centric theme – it's difficult to go wrong. After all, Christmas really is about going over the top.
How can I make cheap garland look expensive?
Cheap garlands – we like Amazon's Choice because it is faux eucalyptus and not too Christmassy, so can be repurposed throughout the year – can be easily made to look expensive if you twine some real seasonal foliage offcuts along them length of them. Those that aren't going to be brushed against regularly look fabulous decorated with bare twigs sprayed in metallics or festive colors or with dried flowers. Or you can use real flowers for scent or faux flowers for color, too. We love adding pretty ribbons to Christmas garlands, too, and they can be used to attach other decor to the garlands. Wired Christmas ribbon, like this from Amazon, holds its shape best.
Sign up to the Homes & Gardens newsletter
Decor Ideas. Project Inspiration. Expert Advice. Delivered to your inbox.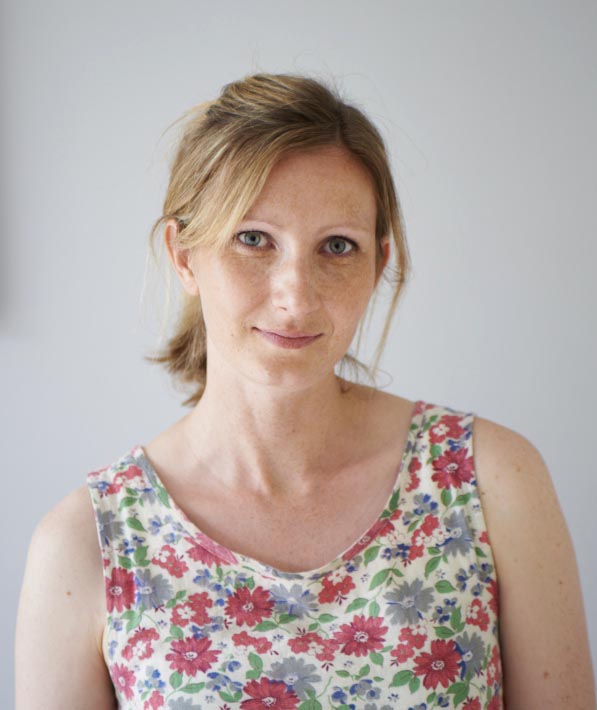 Sophie has been an interior stylist and journalist for over 20 years and has worked for many of the main interior magazines during that time, both in-house and as a freelancer. On the side, as well as being the News Editor for indie magazine, 91, she trained to be a florist in 2019 and launched The Prettiest Posy where she curates beautiful flowers for modern weddings and events. For H&G, she writes features about interior design – and is known for having an eye for a beautiful room.