How to make a Christmas wreath
It's easy to make a Christmas wreath and dress up your home for the holidays in style – here, we show you how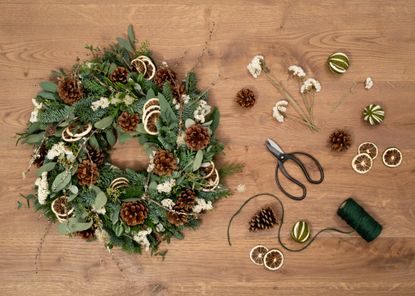 (Image credit: Bloom)
Discover how to make a Christmas wreath yourself and you can bring a unique festive look, wonderful seasonal aromas and a personalized color scheme to your home.
Want to adapt our Christmas wreath ideas to suit your own scheme? This is how, with the help of Larry Walshe, celebrity London florist and founder of Bloom.
How to make a Christmas wreath
Using fresh foliage that thrives even in the depths of a cold winter season is always advisable for your outdoor Christmas decor ideas should.
Before you start, Larry suggests check your door width and gathering the essentials:
'Firstly, check the width of your front door to ensure your wreath is the perfect size – about 13in to 16in is usually more than ample to create a fabulous impact without getting in the way of the function of the door.'
You will need:
Evergreen foliage: spruce, natural greenery, baubles, dried fruits, peacock feathers, natural pinecones, lichen branches
Pine cones, fresh or dried blooms, cinnamon stick bundles, dried fruit etc, as desired
A moss ring or twig base
Gloves (optional)
Ribbon
1. Trim and attach the foliage to the wreath ring
Wearing gloves if you prefer to avoid scratches or possible skin irritation, trim the foliage into manageable lengths of around 6 to 8 inches (15 to 20cm). You can use a single type of foliage or combine different evergreen boughs.
Using bunches of foliage, and starting from the base of the wreath and working in a clockwise direction, attach the clusters to the base with floral wire or twine. Cover the base completely, making sure to fully cover the back if the wreath will be visible from two sides on a glass door panel, for example.
2. Fill the wreath, add decorations
Use an even mix of your spruce and foliage to create a balanced design – the larger the lengths of foliage, the larger the wreath you will create. For a neat and compact look, use shorter pieces. For a wild and more open design, use longer stems.
If there are any gaps, use small bunches of foliage to fill them in. You can also trim any stray foliage to make a neater shape. Flip your wreath over and knot off your twine.
To add other decor such as pine cone decorations, twist the floral wire around them, leaving around 6 inches (15cm) of wire as a stem. Use the stem to attach the decor to the wreath, folding any excess wire so it doesn't protrude.
Review the decor as you work. Aim to create a balanced effect – although you should avoid striving for complete symmetry which will look unnatural.
3. Finish your Christmas wreath
Loop wide ribbon through the wreath to hang it from. Alternatively, you can use monofilament (in other words, fishing line) to hang the wreath. This won't show up like ribbon does, leaving all the focus on the wreath itself.
We haven't done so here, but you can add wreath ribbon ideas now for more decoration, too.
What do you need to make a Christmas wreath?
A Christmas wreath needs a base and a twig version, as we've used, is ideal, but there are other suitable alternatives. Also available are both moss bases and wire forms which are easy to attach foliage to using floral wire.
Alternatively, you could make your own wreath base using branches that are flexible such as willow. Or, rather than buying a wire form, you could fashion your own base using metal wire.
Not a natural material but easy to work with are styrofoam bases, which are widely available. These can be wrapped with ribbon before decor is pinned into place.
Aside from your chosen base, and in most cases floral wire to attach the foliage, have pruning shears to hand to trim the stems you're using, additional decorative elements which can include dried fruit and bundled cinnamon sticks, plus ribbon or monofilament to hang.
And, if you are working with bunches of foliage, it's worth putting on gloves and wearing long sleeves when making a Christmas wreath to protect skin from being scratched or irritated.
How do you make an easy Christmas wreath?
Take inspiration from Christmas foliage ideas for an easy Christmas wreath.
'Gather foliage from the garden,' says Amanda Brame, Director of Horticulture at Petersham Nurseries.
'Everything works, but you can also forage (following the rules) whilst out and about. Group together little bunches of three different seasonal foliage varieties such as oak, hawthorn, and Ivy and wire them onto a ring covered in moss. To decorate add rose hips and other decorative seed heads such as miscanthus grass, crocosmia and nigella by tucking the stems under the wire.'
How do you make a glamorous Christmas wreath?
'For a glamorous Christmas wreath, it's best to work tonally – different textures of the same color work well to add depth and interest whilst ensuring the overall look is tasteful and sophisticated,' says Larry Walshe, celebrity London florist and founder of Bloom.
'For a bolder wreath, consider complementary color schemes; choosing opposing hues from a color wheel will create a little more impact. Think sumptuous golds with deep blues or timeless red and green with woodland inspired browns and balanced with snow inspired whites for an effortless, natural look.
'Consider whether you want to add any other design elements such as baubles. These can create a strong burst of color and impact – perfect if you want your wreath to really make a statement.
'If you're after continuity with your festive decorations, opt for baubles that match the decorations on your tree, but if you're after something a bit more individual, there's nothing stopping you from incorporating a rainbow of different colored baubles in your wreath.
'There is nothing finer than a fresh wreath – fragrant Nordmann Fir Spruce is a popular base for most wreaths. Combine this with Berried Ivy, Conifer and Berried Eucalyptus to help conjure the spirit of the season every time you walk through your door.
'It's Christmas, so don't be shy about making a statement with the finishing touches. Adding a large bow is a lovely way to finish your design – you can either match it to the colors in the wreath or choose a complementary, opposing color for a bigger impact.
'If you don't have any sustainable ribbon or you prefer a more understated design, opt for a classic wreath sans ribbon and let all your wonderful, natural ingredients do the talking.'
How do you make a scented Christmas wreath?
'Dried ingredients are wonderfully textural and can work to enhance a scheme which is both style savvy and creative. Dried fruits are a firm favorite for good reason; the color and the scent add a real punch. Similarly, bundles of cinnamon or bunches of dried lavender are wonderful scented additions. Remember – you're designing with your eyes and your nose,' says Larry.
How do you keep a Christmas wreath from drying out?
A fresh wreath hung on the front door will be slowed in drying out by the cool air outside. If you're hanging a wreath inside your home, avoid placing it near a fire or heating vent, but for a long life, it really should be on the outside of your home. Here, avoid positioning a wreath where it will receive direct sunlight.
It's also important to spritz a wreath with fresh water every two or three days. Aim for the cut ends of the foliage, which are likely hidden on the back of the wreath. Added bonus of spritzing? It will bring out the lovely aroma of the foliage.
Sign up to the Homes & Gardens newsletter
Decor Ideas. Project Inspiration. Expert Advice. Delivered to your inbox.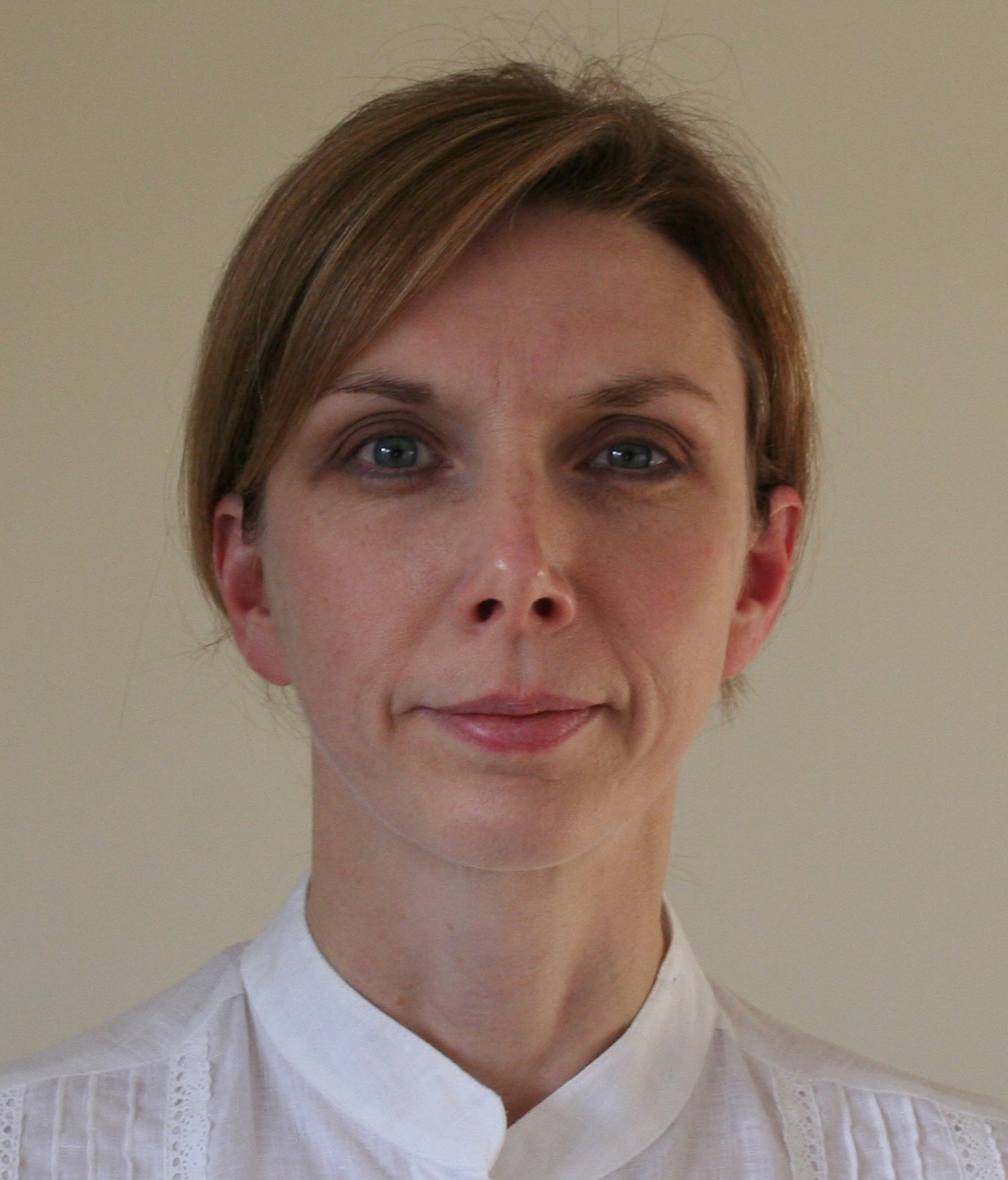 Sarah is a freelance journalist and editor. Previously executive editor of Ideal Home, she's specialized in interiors, property and gardens for over 20 years, and covers interior design, house design, gardens, and cleaning and organizing a home for H&G. She's written for websites, including Houzz, Channel 4's flagship website, 4Homes, and Future's T3; national newspapers, including The Guardian; and magazines including Future's Country Homes & Interiors, Homebuilding & Renovating, Period Living, and Style at Home, as well as House Beautiful, Good Homes, Grand Designs, Homes & Antiques, LandLove and The English Home among others. It's no big surprise that she likes to put what she writes about into practice, and is a serial house renovator.