How to decorate a Christmas tree – our step-by-step guide to festive success
Follow our handy advice and tips on how to decorate a Christmas tree to help you create your very own festive showstopper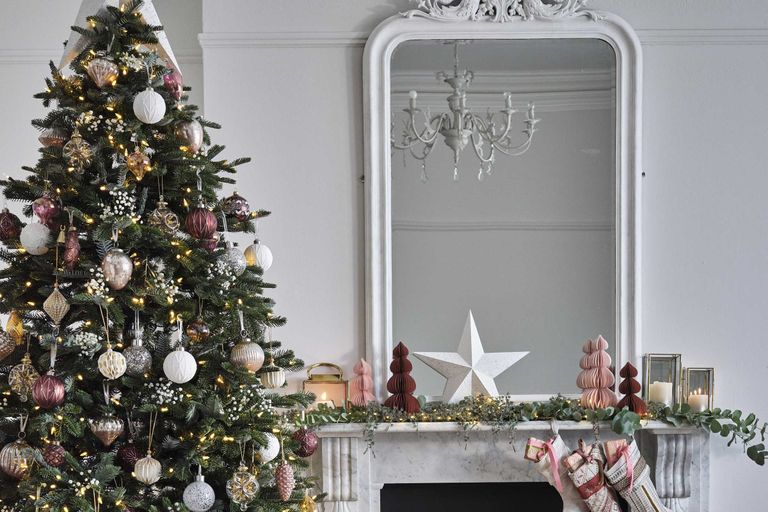 (Image credit: Future)
2020 may be the year of no guarantees, but one thing you can be 100 per cent sure of come December 1 (or even earlier) is that your social media feeds will be flooded with images of beautifully decorated Christmas trees. 
Whether your Christmas tree is up for the whole of advent, or you ramp up the excitement and anticipation levels by holding off until closer to the big day, putting up your tree is a surefire way to welcome Christmas into your home.
So if that perfectly-decorated, Instagram-worthy tree is on your bucket list for this Christmas, follow these stylist-approved steps and tricks to help you make your tree the star of your celebrations.
How to decorate a Christmas tree – a step by step guide
Follow these handy tips on how to get your Christmas tree looking its best for the big day
1. Position your tree
Choose the position of your tree – somewhere where it won't get knocked as people squeeze past, and avoid standing it near direct heat, especially if it's a fresh tree.  
An artificial tree will need putting together (most trees come with branches that are colour-coded or numbered so it's clear what goes where). Once it's built, take your time to fluff the branches, separating each one to add volume and cover as much area as possible. 
The branches are the foundation for your overall scheme, so it pays to put in the effort – keep stepping back to look at the tree as a whole to see if there are any areas you've missed. 
For a fresh tree, set it up securely in a tree stand. You can fluff a real tree, but do it very gently so as not to knock off the needles. You can also trim any stray branches with secateurs or pruners for a neater look.
2. Pop on the lights
If you don't have a pre-lit tree, you'll need to add string lights. First up, plug them in to check they're working – it's much better to find out if they don't work before you've wasted time putting them on the tree, plus it's easier to get the lights properly positioned when they're lit. 
Starting from the top of the tree, wind them around each layer of branches, making sure they're nestled deeply closer to the trunk than the branch tips so the lights peep through. 
Again, keep stepping back to check the positioning of the bulbs – you're aiming for an even distribution of lights across the tree. Use lights with a green cable so that the cable blends in with the tree foliage.
3. Add the tree topper
Forget adding your topper right at the end. If you leave it until the last step when the tree is fully decorated there's a danger you'll knock off precious decorations when you're trying to get it onto the tree. It's much more straightforward to position your topper at this stage. 
A simple star is a classic choice, you may have an heirloom angel that's been part of your tree decorating tradition for years, or you could craft a different topper each Christmas. 
4. Fill with picks and sprays
Think of these as the 'filler' you'd often find in a floral arrangement – picks and sprays will add texture to your tree and fill any spaces between the branches for a fuller, more luxurious look. 
They could be faux or dried flowers, or natural branches sprayed white for a frosty look. 'Try adding some dried flowers to your tree to give that added layer of nature. You could use dried grasses, heather or eucalyptus to lay on the branches of your tree,' suggests Rebecca Stanton, Stylist at Dobbies Garden Centres. 
Dried grasses such as pampas grass have been big news in interiors in 2020, and these would look fantastic for a natural look. 
5. Hang your core baubles
Start hanging your baubles in your chosen base colour (limit the colour scheme to three or four shades max unless you're going for an all-out maximalist look), using larger ones at the bottom and medium sized baubles in the central area and top of the tree. 
Choose baubles in different finishes, such as glittered, matt and shiny to add depth and visual interest to the scheme. These will form the base layer for your showstopper decorations. 
'Carefully place your larger baubles first to ensure your tree feels balanced then work around those to add in smaller baubles,' says Rebecca from Dobbies Garden Centres.
 6. Add your feature decorations 
These extra-special decorations add character and wow to your tree. Whether heirlooms, collectables or homemade ornaments, position the heaviest decorations towards the inside of the tree first, so the weight is supported by the larger branches. 
This step also means you're filling any gaps inside the tree for a more three-dimensional and interesting look.
7. Take time on the finishing touches
Look at your tree from a good distance back so that you can take in any holes, gaps or areas in need of extra twinkle. Smaller decorations such as mini baubles, bells or small hanging stars are the ideal fillers. 
For a sparkly, winter wonderland scheme, glass (or acrylic) icicles on the tips of branches fit the brief perfectly, introducing extra shimmer, and visual interest.
8. Finish with a tree skirt
The tree stand isn't something you want on display, so use a tree skirt to cover it up until it gets hidden behind a stack of beautifully wrapped gifts. It doesn't have to be a readymade product – try disguising the stand with fabric that ties in with your theme such as burlap, linen, faux fur or sheepskin. 
For a smarter look buy a wicker or linen tree skirt that acts like a collar to slot over the stand.  
Alternative Christmas decorating ideas
Try something a little different when decorating your tree or your home this holiday season
Stop at the lights
For a beautiful tree that brings the magic of a tree without the hassle of decorating, stop at lights. 
Whether it's just generously wrapped with simple white string lights, or you go for something more unusual such as festoons or ball lights (try cableandcotton.com for ball lights in your chosen combination of colours), your tree will still wow without you needing to hang lots of decorations.
Make your own decorations
Decorations made from recycled or upcycled materials such as papers or fabrics are big news in 2020, tying in with the drive for sustainable living. Make your own pompoms in varying sizes from old yarn (or make your own t-shirt yarn out of an old garment) to use as tree decorations. 
Another easy, yet effective, decoration is a paper fan, as you can make a number in paper that suits your tree scheme – try old sheet music, vintage book pages, wallpaper offcuts or delicately patterned origami papers. 
Skip a big Christmas tree
'Traditional Christmas trees may not work for every home, especially in a smaller space, but this shouldn't prohibit us from decorating in a festive way,' says Sam  Hood, Creative Director and Head of Buying at Amara.  'Deck out a mantlepiece with tree-like cones and a pine needle garland to bring an essence of the classic fir.' 
Other options include popping some foraged branches into an oversized vase, and decorating with hanging decs. 
There are also lots of alternative trees on the market – look out for wall-hung lights in the shape of a tree, or table-top trees.
Hopefully this guide will have given you plenty of creative ideas and decorative inspiration on how to decorate your Christmas tree this holiday season.
I've been writing for Ideal Home magazine for over 12 years where I started out on the interiors team, looking after the magazine's real homes and makeovers features.
After going freelance following the birth of my twins, I continued to write for Ideal Home, as well as other leading homes titles. In 2011 I set up my own interiors blog, Growing Spaces, to chart my own home renovation projects and makeovers, and I still love creating content for the blog in my spare time.
I rejoined the Ideal Home family a couple of years ago and am currently Editor across Ideal Home and Style at Home.