Christmas tree topper trend – this surprising decoration is this year's most wanted look
Forget an angel or a star, there is a new tree topper in (Christmas) town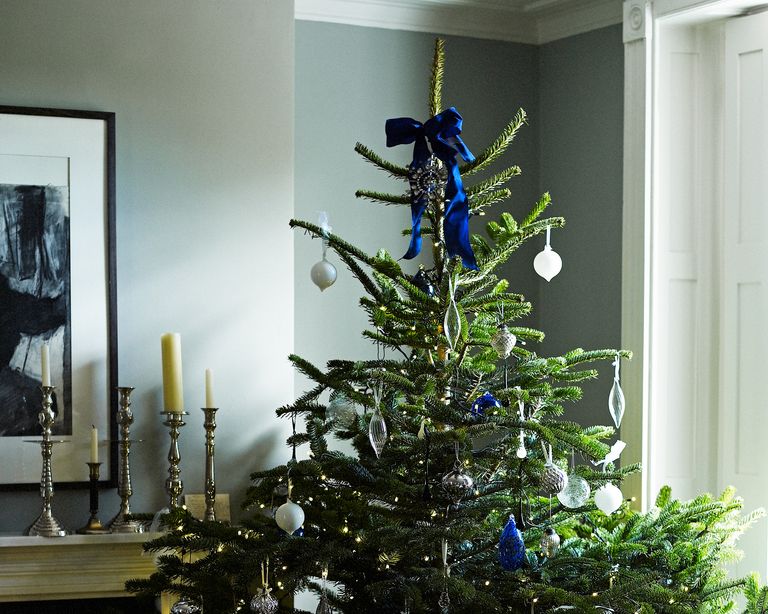 (Image credit: Future / Tom Leighton )
The Christmas tree has, for centuries, stood as a proud centerpiece of the season. It embodies hope for the days ahead – and is the first thing your eyes are instantly drawn to – so it needs to be attractive.
But what is this year's hottest Christmas tree topper? Welcome the bow tree topper trend – 2021's most wanted Christmas tree decoration.
Bow tree toppers started to gather a celebrity fanbase last year adorning the trees of of the super rich and famous. This year the bow has already become a desired Christmas tree trend with bow tree toppers at retailers such as The White Company, Sears and Amazon already selling out way ahead of their star or angel rivals.
See more: Christmas tree trends – top new looks and classic approaches to decorating your tree

What is the most popular tree topper?
Up until now, the angel and star were considered the most popular Christmas tree toppers, which are generally viewed as symbols of Christ's nativity.
Today, one of the most popular Christmas tree decorations is the bow tree topper.
However, this trend is not entirely new. Bow tree toppers were a pretty big deal back in the 90s, and it appears that they have made a huge comeback this year. Unsurprisingly, we are all feeling somewhat nostalgic as we hark back to the glory days of yesteryear.
According to Balsam Hill: 'The tradition of using Christmas tree toppers began in Germany in the 1800s. The Rauschgoldengel, or the tingled angel, was a shiny golden foil angel that became popular during this era.
'The advent of patriotic accents in Great Britain eventually saw flags, such as the Union Jack, making their way to the tops of numerous Christmas trees.'
The topmost ornament of the Christmas tree highlights the pinnacle of this story, and is the reason people continue to choose the best tree toppers to crown their own beloved trees.
How to style the bow tree topper trend?
These large, fashionable bows are easily put together using colorful fabric or ribbon. With their often sturdy and balanced base, these top ornaments are the lightest and easiest ones to place.
And, if you don't fancy using a bow to top your tree, then try these other ways to style the bow tree topper trend...
The best bow tree toppers to shop now
We've curated a selection of our favorite bow tree toppers that you can shop now – while the Christmas sales are still on...
BESTOYARD Christmas Bow – $10.49, Amazon
This pretty plaid bow would make the perfect topper for your traditional Christmas tree. Keep the color palette simple with a classic assortment of red and gold decorations.View Deal
Kabuer Buffalo Plaid Christmas Tree Topper – $13.54, Sears
Break from tradition by opting for this beautiful black-and-white gingham bow tree topper. It will surely be an attention grabber.View Deal
Mesh Bow – $32.99 $23.99 SAVE 27%, Wayfair
Put the finishing touch on top of your Christmas tree with this radiant red sequin bow.
View Deal