How to dry orange slices for Christmas decorations – an expert guide
Adding a fragrant touch to festive decor, knowing how to dry orange slices is a must-add to your repetoire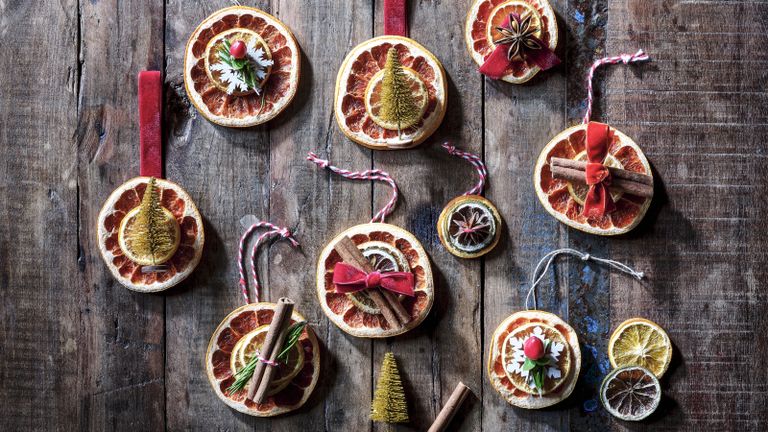 (Image credit: Future)
Learning how to dry orange slices is a skill that can help you add a unique touch to your Christmas decorations – one that doesn't just look great, but smells great too.
Dried orange slices are an enduring favorite among both indoor and outdoor Christmas decor ideas. Their amber hue makes for a beautiful contrast against evergreen foliage, and their bittersweet scent is subtle but endlessly festive, especially when combined with the likes of pine and cinnamon.
How to dry orange slices for Christmas decorations
Not only is drying orange slices a visually impressive addition to your festive decor repertoire, it's a deceptively simple one too. We've put together some expert tips on how to dry orange slices, as well as how to store them and decorate with them.
How do you dry orange slices naturally?
Drying orange slices, to use in your Christmas wreath ideas and beyond, is an easier process than you might think – but be sure to stick to an expert-approved method, because drying them thoroughly is key to long term success.
You can dry them naturally by slicing them into 1cm rounds, patting them dry and leaving them out on a rack in your kitchen to air dry – but this will take several days and results can vary depending on the temperature and humidity of your home.
Using an oven is a quicker and more reliable way to dry citrus fruits. When properly dried, they can be used among your indoor decorations, and even outside in your Christmas door decor ideas. Country Homes & Interiors stylist Sara Bird shared her process with us.
'To dry citrus fruit slices, cut them into 1cm thick rounds. Wash and pat dry, then arrange them on a wire rack on a baking tray,' Bird explains.
'Place in a preheated low temperature oven – around 285 degrees F/140 degrees C/Gas 1 – and bake for around 3 hours, turning them occasionally. The oranges are done when dry and sticky-free.'
How long will dried orange slices last?
The best bit about drying orange slices is that once you've completed a batch, you have yourself a set of Christmas decorations that will last you for many Christmases to come.
If you dry and store your oranges properly, the slices should last for at least two years, and often much longer – perfecting for making a Christmas wreath next year, and the year after that.
How do you preserve dried orange slices?
Storing your orange slices is key to making them last for future years. Firstly, you need to make sure you have dried them thoroughly – if you haven't done so, or store them in a damp or humid space, mold can creep in and ruin them.
Outside of the festive season, store them in an airtight container such as a ziploc bag, a plastic storage box, or a jar with a tightly fitted lid. If you've recently washed your container, ensure it is totally dry before committing your orange slices. Store them well, and you'll have them ready and waiting to combine with fresh Christmas foliage ideas year on year.
Can you dry orange slices for decoration?
Absolutely! Orange slices can be used in all sorts of ways to decorate different parts of your home for Christmas. For a simple use, pierce them on one edge and thread a thin ribbon through the hole, tying it up in a bow to create a Christmas tree decoration.
More adventurous ideas include threading dozens together to create a garland – this is a great addition to your Christmas window decor ideas, as the natural light looks wonderful shining through the translucent fruit, making the slices appear to glow.
An alternative to drying oranges is using a scoring method to inject pretty patternation into a whole fruit. 'To score and decorate citrus fruits, invest in a fruit channel knife to get a neat and consistent finish,' says Bird. 'Carefully score your pattern following our designs. Either leave as they are or decorate with clove studs. To easily add these, pierce the peel with a skewer where required then push in a clove.'
Ailis started out at British GQ, where a month of work experience turned into 18 months of working on all sorts of projects, writing about everything from motorsport to interiors, and helping to put together the GQ Food & Drink Awards. She then spent three years at the London Evening Standard, covering restaurants and bars. After a period of freelancing, writing about food, drink and homes for publications including Conde Nast Traveller, Luxury London and Departures, she started at Homes & Gardens as a Digital Writer, allowing her to fully indulge her love of good interior design. She is now a fully fledged food PR but still writes for Homes & Gardens as a contributing editor.