Instant Vortex Plus 6-in 1 Air Fryer with ClearCook and OdorErase review
The Instant Vortex Plus 6-in 1 Air Fryer with ClearCook and OdorErase claims to eliminate cooking smells, but does it really work? We put it to the test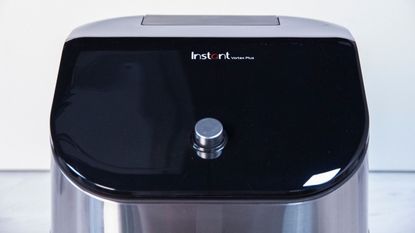 (Image credit: Future)
The Instant Vortex Plus 6-in 1 Air Fryer with ClearCook and OdorErase is the first of its kind to almost entirely eliminate cooking odors, but this is far more than a gimmick. The air fryer is quick, quiet, and has a transparent cooking door that makes it easy to monitor meals.
Reasons to buy
+

Quieter than average

+

Consistent cooking results

+

The OdorErase technology impressed us in testing

+

Made very crispy fries

+

ClearCook drawer for monitoring cooking

+

Pre-heat time included

+

Practical cooking drawer shape
Reasons to avoid
-

Will not go above 400°F

-

Not dishwasher-safe
Why you can trust Homes & Gardens Our expert reviewers spend hours testing and comparing products and services so you can choose the best for you. Find out more about how we test.
The Instant Vortex Plus 6-in 1 Air Fryer with ClearCook and OdorErase is one of the latest launches from Instant Brands. This single-drawer fryer comes with Instant's latest ClearCook technology, which allows you to look inside the air fryer as it cooks, and it also offers an interesting new feature called OdorErase. As you might think, this claims to remove cooking odors when the air fryer gives off steam and at the back of the machine, but does it really work?
We put the Instant Vortex Plus 6 Quart 6-in 1 Air Fryer with ClearCook and OdorErase to the test to see how well it makes fries, cooks bacon and roasts vegetables. We carried out this testing alongside reviews of other air fryers to compare if there was a difference in the odors and the cooking quality of these machines. Here's how it held up against a number of the best air fryers on the market.
Instant Vortex Plus 6-in 1 Air Fryer with ClearCook and OdorErase: specs
Capacity: 6 quart
Cooking modes: Air fry, roast, broil, bake, reheat, and dehydrate
Temperature: 95-400°F
Size: 17.1 x 15 x 13.9 inches
Weight: 16.61 pounds
Cleaning: Nonstick tray and basket, dishwasher-safe insert
Does the Instant Vortex Plus 6-in 1 actually eliminate odor?
As you'll see in the full review below, we put the Instant Vortex Plus 6 Quart 6-in 1 Air Fryer to the test cooking fries, chicken strips, bacon, and roast vegetables. We tested it on the same day as some other air fryers, using the same ingredients, which meant we were able to directly compare to see if the Instant Vortex Plus 6 Quart 6-in 1 Air Fryer gave off any odors during testing.
The air fryer has an insert at the back of the air fryer that claims to remove odors as it cooks. This can be removed and inserted easily for cleaning, and it uses removable filters which need to be replaced. There is no information in the manual on how regularly you need to do this, but according to the website the air fryer will instruct you on when filters need to be replaced, which is roughly 'approximately 900 minutes, or about 45 cooking cycles'.
We will keep this review updated with information on how long this takes. In theory the replacement filters can be bought directly at Instant Brands' site, but they are not yet available for purchase. The brand reports that they'll be in stock soon, but the air fryer does come with two filters included. This is encouraging, because you can find many replacements and added parts for a number of the best Instant Pots on this same site.
So, does it work? We were somewhat surprised to find that it actually does. Even odor-heavy foods such as bacon were not detectible in the air around the air fryer. We got very close when sniff-testing, and everyone agreed that the scents were not detectible.
The one slight exception was when we were roasting vegetables. We noted that the steam leaving out of the back of the air fryer formed a vortex-shape, spiraling into the air before disappearing. Perhaps because we were using the roast setting, or because the food we were cooking had a higher moisture content, we found that a small amount of odor was detectible when standing right next to the air fryer.
Another thing which pleasantly surprised us was the noise level, which was very low for an air fryer. We recorded 64dB, which is quite low for ambient noise, and far lower than the other air fryers we were testing.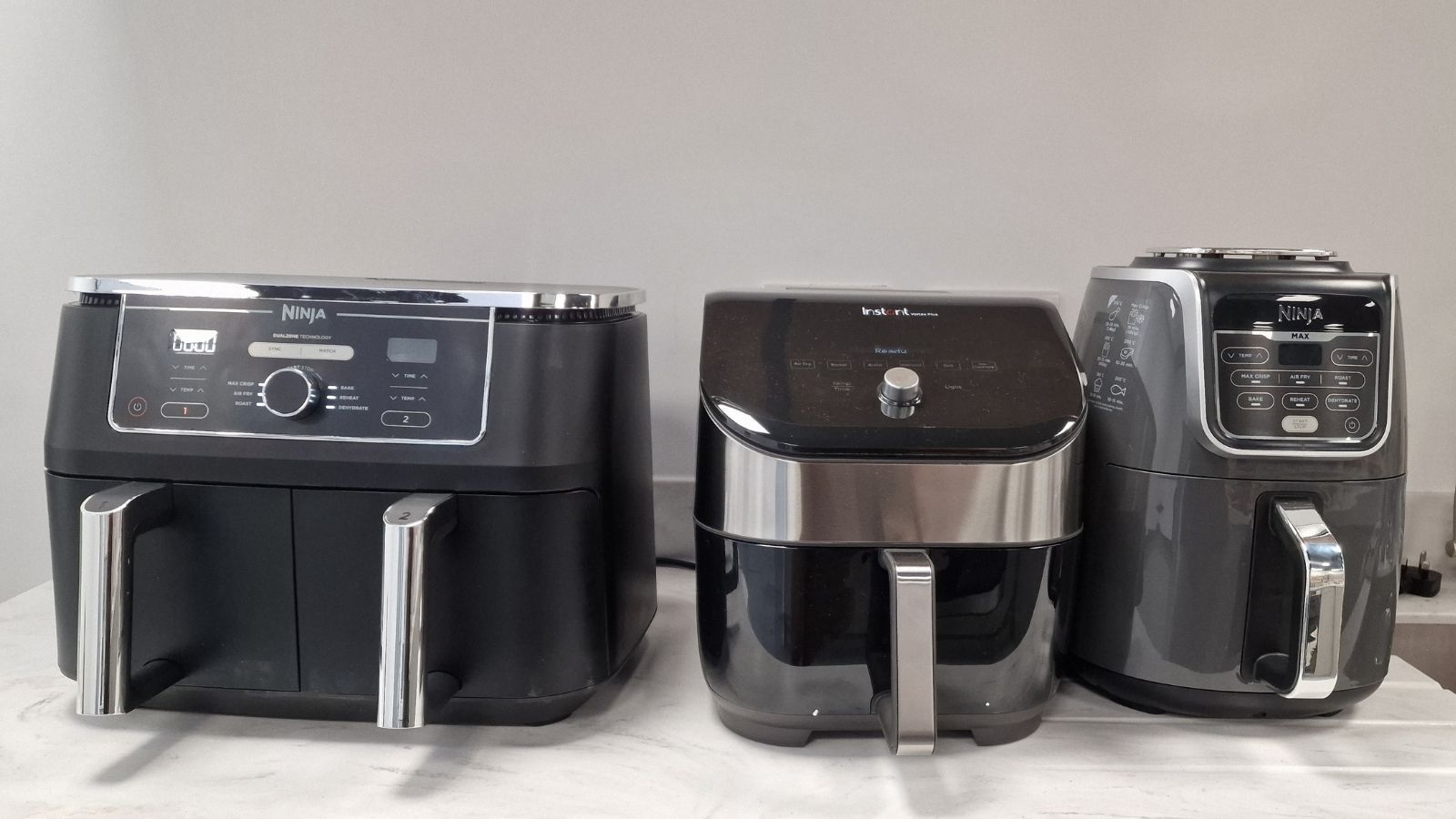 Getting set up with the Instant Vortex Plus
The Instant Vortex Plus 6-in 1 Air Fryer with ClearCook and OdorErase comes in a medium-size box that's well-packed to keep your air fryer safe as it ships. The packaging was not too sustainable, with styrofoam layers at the top and bottom of the fryer that cannot be recycled.
The air fryer comes with the basket in place, and the removable non-stick air fryer insert at the top of the styrofoam packaging.
There is an included instruction manual which is very thorough, and you can take a look online to find recipe suggestions from Instant Brands.
We were struck by the sleek controls on the Instant Vortex Plus, which only illuminate when the air fryer is plugged in. You can control the timings and temperature using a dial on the front of the air fryer, and pressing down on this dial will confirm your choices.
The control panel slopes towards you, which makes it well-suited to under-cabinet use. It is glossy and quite minimal when switched off, but throughout testing we did find that it marked very easily with greasy fingertips.
With this air fryer you get a removable air fryer insert grid which can be lifted and removed using a hook in the center of the grid. The drawer is not quite square, and we found it a little confusing to fit this inside the air fryer on the first use. Once we realised it needed to be turned 90 degrees, this was easy enough.
Another good feature is the ClearCook drawer, which becomes transparent when you illuminate the cooking area using a button on the control panel.
Making fries
The first test of a good air fryer is its ability to make homemade fries. To test this we cut and soaked some potatoes to remove the starchiness, and then dried and tossed them in oil and seasoning.
We cooked 18oz which fitted very well into the six-quart cooking basket and set the air fryer to 360°F for 18 minutes.
This air fryer pre-heats, which is not a feature you'll find with the Ninja air fryers we tested alongside this model. The pre-heat took about a minute and a half, after which the air fryer prompts you to add your food. If you don't want the hassle of pre-heating it and then adding your food, we suspect that adding it in when you set the air fryer up to pre-heat won't make too much of a difference to cooking times.
Another nice feature is that the Instant Vortex Plus 6 Quart 6-in 1 prompts you to shake your food halfway through cooking. While not essential, this does lead to more evenly-cooked food and it's definitely a step worth following when making fries from scratch.
The Instant Vortex Plus 6-in 1 has quite a pleasant notification sound to alert you when the air fryer is ready, when you need to shake, and when your food is finished. That's lucky, because you do hear it three times in the cooking process.
Our finished fries were the crispiest and most evenly-cooked of the three air fryers we were testing simultaneously (the other two were the Ninja DualZone MAX and the Ninja MAX air fryer) but they did take a little longer than the 18 minutes we timed to reach that perfect consistency.
Cooking frozen chicken strips
Any good air fryer should excel at crisping up frozen breaded foods. While an oven can often leave one side charred and the other a little soggy, an air fryer will circulate hot air around the food as it cooks and often significantly reduce the cooking time.
When testing these in the Ninja air fryers we used their Max Crisp mode, which goes up to 460 degrees. The Instant Vortex Plus 6-in 1 doesn't have this mode, so we used the regular air fry setting and turned up the temperature as high as it would go - 400°F.
In the Ninja air fryers the chicken was done after nine minutes, a far cry from the 20-25 minutes the packaging suggested. In the Instant air fryer it took a little more time because the temperature was lower, but after 12 minutes it still came out very evenly cooked and with visible sizzling on the breaded coating.
Although they took an extra three minutes to cook, the consistency of these chicken strips was definitely worth the wait. They were evenly cooked and not dry on the inside.
Cooking bacon
We always cook bacon when testing air fryers. When cooked well the bacon should be crisp and the fat should be rendered, leaving a lot of fat at the base of the air fryer basket.
It can take as little as four minutes to cook bacon in an air fryer, but we set the Instant Vortex Plus to cook for five minutes at 390°F.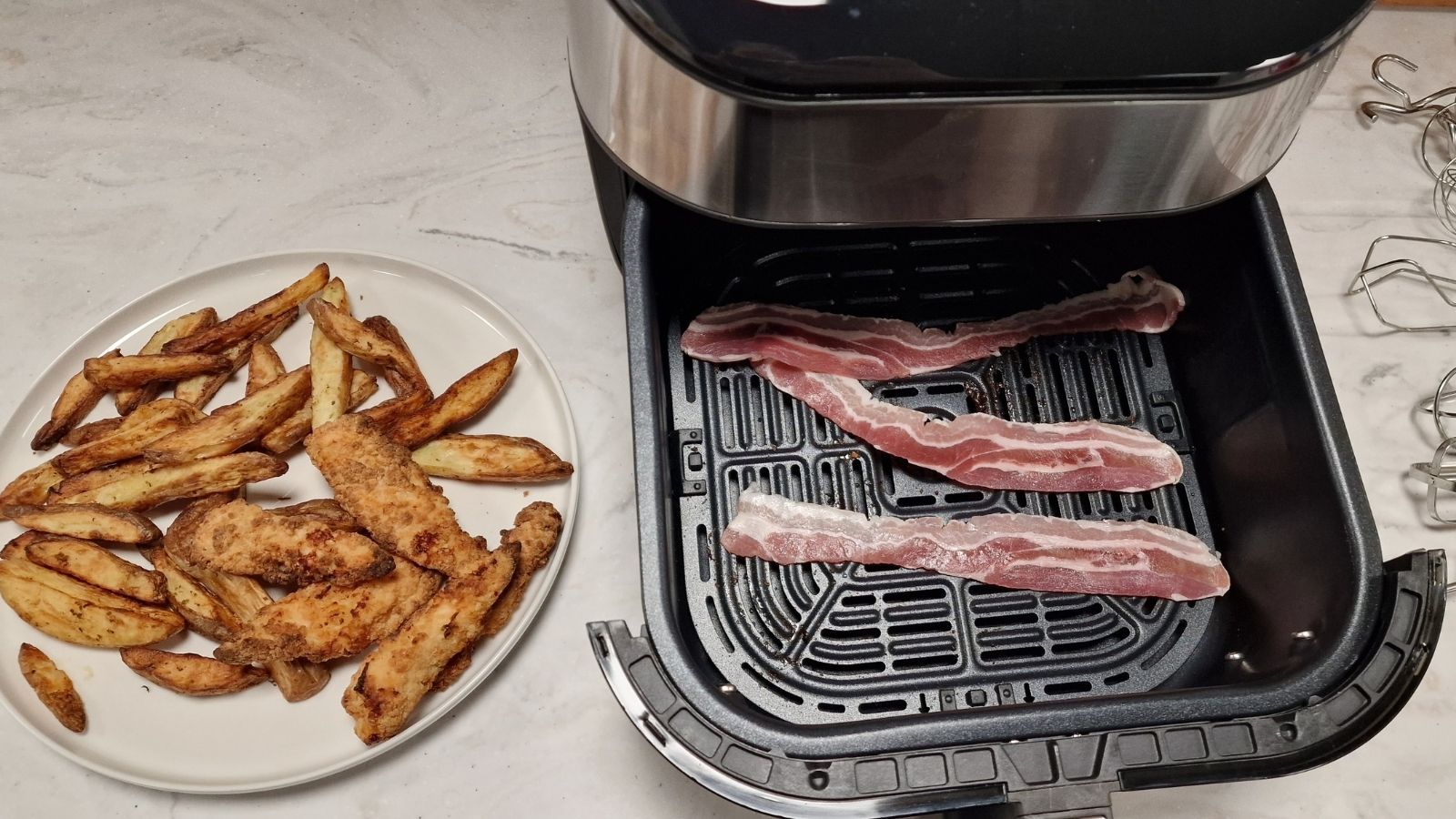 In the other air fryers we tested the bacon was blown around the inside of the cooking area by the powerful convection fan inside the air fryer, but the Instant Vortex Plus did not do this. It left us with sizzling rashers that weren't overcooked, and five minutes was the perfect amount of cooking time.
We did notice during testing that the control panel started to smuge up with our fingertips, and this was a little tricky to buff away. It was particularly noticeable in the glare of the test kitchen lights, but over time we could see this being an issue for those who want to keep their kitchen spotless and smudge-free.
Roasting vegetables
The Instant Vortex Plus 6-in 1 Air Fryer with ClearCook and OdorErase has a roast setting, so we used this to roast a selection of vegetables for 15 minutes at 370°F. Across the range of air fryers we tested this one took a little longer to roast the vegetables how we liked, but we could not fault the even cooking.
We saw a lot of steam leaving the back of the air fryer which was a good sign that it removed a lot of the moisture from the zucchini, which can be a hard vegetable to roast. Overall we were happy with our finished plate of food, but found that the lower maximum temperature meant it cooked more slowly on average than the Ninja air fryers we tested.
Cleaning
Instant instructs you to clean the cooking basket by hand, which is a little disappointing as most air fryer baskets can go through the dishwasher. This is to prevent any water from fogging up the ClearCook window after prolonged use.
The good news is that the air fryer is very easy to clean by hand. Both the insert and the basket are coated with non-stick, which means they mostly wipe clean and then need a little scrubbing with some dish soap and water. We recommend hand-drying, it won't take long.
Should you buy the Instant Vortex Plus 6-in 1 Air Fryer with ClearCook and OdorErase?
So, should you buy the Instant Vortex Plus 6 Quart 6-in 1 Air Fryer with ClearCook and OdorErase? The name may seem unnecessarily long, but it does hold true. Not only were we able to easily look into the cooking chamber as our food cooked, but we also were free from the majority of cooking odors as we tested the air fryer.
What's more, despite it's somewhat low upper temperature limit, the cooking results in this air fryer definitely scored full marks for consistency and great taste. We also enjoyed the reminder to shake your food halfway through cooking, and the sleek control panel which is a lot more stylish than many air fryers on the market.
There are a couple of downsides: first, it can't go through the dishwasher, and second, you will have to keep a stock of replacement filters. If you are not concerned with the OdorErase element of the air fryer, we suggest trying the Instant Vortex Plus 6-quart ClearCook Air Fryer (opens in new tab), which is pretty much the same apart from its lack of OdorErase technology.
About this review, and the reviewer
Millie Fender is our Editor for all things small appliances at Homes & Gardens. She spends a lot of time testing everything from toasters to air fryers in her own apartment and recommending the very best ones to readers.
Millie put this air fryer to the test for a number of weeks to make fries, bacon, and roasted vegetables. She will keep this review updated with any thoughts on how it compares to other models on the market.
Millie Fender is Head of Reviews on the Homes and Gardens Ecommerce team. She specializes in cooking appliances, such as the best kettles, and also reviews outdoor grills and pizza ovens. Millie loves to bake, so she will take any excuse to review stand mixers and other baking essentials. When she's not putting products through their paces in our dedicated testing kitchen, Millie's reviews are conducted at home, meaning she uses these products in her own day-to-day life.