Best toaster oven 2023: countertop ovens tested by expert cooks
You can toast, bake, broil, and cook rotisserie chicken in the best toaster ovens from Ninja, Cuisinart, KitchenAid and more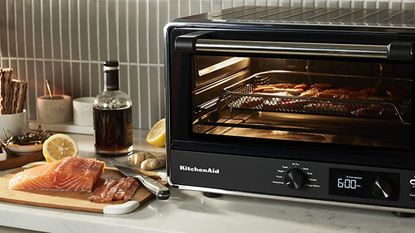 (Image credit: KitchenAid)
Best toaster oven 2023: Jump Menu
If you're just starting out as a home chef, and you want to build some confidence in the kitchen, the best toaster oven could be your ideal companion. One of these multifunctional machines could render your toaster and air fryer obsolete.
A standard toaster oven features fans that circulate hot air throughout the machine for quicker cooking times. Think of it as a countertop convection oven. You can make all sorts in these machines, from roasted vegetables to oven pizzas. An upgraded oven with built-in baskets could give the best air fryer a run for its money.
Some of the best toaster ovens cost hundreds of dollars upfront, which is a lot to spend on a small appliance. That's why it pays to shop the sales. As a shopping writer, I've been keeping up with all the best Cyber Monday home deals. I've seen many of the best toaster ovens selling at deep discounts.
Each of these toaster ovens is tried and tested by a member of our expert team. We've tried all the best models on the market from big-name brands, such as Cuisinart, KitchenAid and Ninja. We've laid out all the pros and cons of each piece to help you find the right fit for your kitchen.
Best toaster oven deals
To get the fairest prices on the best ovens, I recommend reading the whole article. But if you're tight on time and money, you should take advantage of these deep discounts.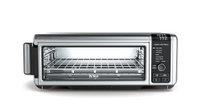 Ninja SP101 Foodi Counter-top Convection Oven | Was $289.99, now $169.99 at Best Buy
If you're working with a smaller countertop, the Ninja Foodi 8-in-1 Digital Air Fry Oven comes with a special space-saving Flip-Up design. It has eight modes in one appliance, offering fantastic value for money.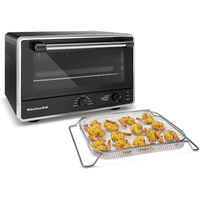 KitchenAid Digital Countertop Oven with Air Fry| was $219.99, now $189.99 at Amazon
The complete kitchen in a countertop oven can dehydrate, proof, air fry, bake, broil, keep warm, and toast six slices with a bagel setting option too. Our favorite part is how it can air fry without having to flip food.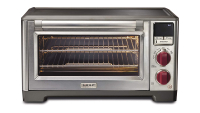 Wolf Gourmet Countertop Oven | was $949.00, now $634.96 at Sur La Table
Our pick for the best premium oven comes with a premium price tag. It's still pretty pricey, but $300 dollars off anything is always worth considering, especially for an oven that expert tester Teri described as the 'benchmark' for toaster ovens.
The quick list
If you want a toaster oven and you want it quickly, here's a short guide to our top picks. You can read more details further down.