Instant Omni Plus Air Fryer Toaster Oven Combo review
The Instant Omni Plus Air Fryer Toaster Oven Combo can toast, air fry, bake, dehydrate, and make rotisserie recipes. Here's how it performed in our kitchen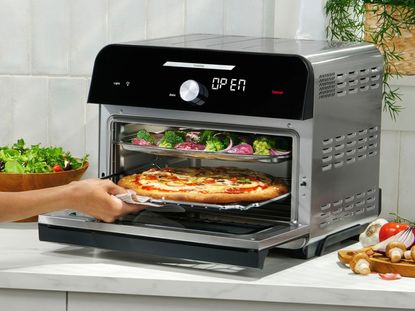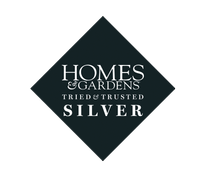 (Image credit: Instant)
The 10-in-1 Instant Omni Plus Air Fryer Toaster Oven is an excellent kitchen companion. It's overall easy to use and cooks up delicious and consistent results, but the appliance runs a little noisy and gets hot.
Reasons to buy
+

Cooks Superb

+

Sleek and easy to use digital interface

+

10 different cooking functions, including rotisserie
Reasons to avoid
-

Pre-heating takes longer than others

-

Kind of noisy

-

Door Pull can be hot to the touch if left on for an extended period of time
You can trust Homes & Gardens. Our expert reviewers spend hours testing and comparing the latest products, helping you choose the best for you. Find out more about how we test.
I live by the belief that a toaster or countertop oven, is among the most versatile kitchen appliances you can own. Whether cooking for one, or as an extra cooking source for preparing sides.
To tell you the truth, I haven't turned on my oven in weeks for cooking dinner or reheating leftovers.
I've found that many toaster ovens have similar features, but they all seem to have that special feature that makes it slightly different from the rest. The Instant Omni® Plus 18L Air Fryer Toaster Oven boasts a number of settings: air fry, broil, bake, roast, dehydrate, reheat, toast, warm, convection, and the ability to make a rotisserie chicken. Pretty neat.
I put it to the test to see if it deserves a place in our guide to the best toaster ovens, and here's how it held up. The verdict: this thing can cook, and fast, but I did notice some pain points that I'll get into further below.
Instant Omni Plus: specs
Model Number: 140-4002-01
Capacity: 19 QT/18L
Cooking modes: Air fry, Broil, Bake, Roast, Dehydrate, Reheat, Rotisserie, Toast, Warm, and Convection
Temperature range: 170°F to 450 °F / 76 to 232 °C
Size: 15.75'' L x 16.54'' W x 13.9'' H
Weight: 25.43 lb. / 11.56 kg.
Power: 1800 watts
Accessories: Enamel baking tray, stainless-steel oven rack, air fry basket, BBQ-style rotisserie spit and forks, and lift tool
Cleaning: All accessories are dishwasher safe, removable crumb rack
Warranty: 1 year
Getting started
The Instant Omni Plus arrives in a massive cardboard box, with the product box inside. After taking a moment to appreciate the "You are the Avocado to my Toast" it was time to dig into the wrapping. The outer flap revealed a product overview and a QR code to download the full manual, or the Instant app for recipe inspo.
The accessories and toaster oven were held securely by styrofoam and wrapped in plastic. The toaster oven also had tape that needed to be peeled off to open the door.
I installed it on the edge of my kitchen island, and reaching the outlet with the cord was a stretch. It advises for a five-inch clearance on all sides and above.
The Instant Omni has a very distinct stainless steel design replete with touch screen controls and oversized LED lights.
Once you plug in, the LED largely displays OFF. The manual instructs you to try a 20-minute "Test Run" to familiarize yourself with the cooking process and confirm the heating elements work.
To take the OFF appliance off standby, you'll press the center knob to turn on the machine; all the cooking options show at the bottom, where you'll tap your selected cooking function. The selected cooking options include Air Fry, Bake, Broil, Reheat, Keep Warm, Toast, Bagel, Dehydrate, and Rotisserie.
To change the temperature and cooking time, you'll tap the respective part of the display, and use the knob to adjust the time and temperature increments. These display large and easy to see in white light against the black display. There are also buttons for the interior light and convection. A progress bar lines the top and lights up according to if the machine is in pre-heating status, cooking, or keeping warm.
The start button initiates cooking, there is a convection button to toggle convection cooking, a rotate button to activate the rotisserie feature, a light switch, and a cancel button. The oven will preheat for most settings, and I did feel like it took more time than other countertop ovens and even the Instant Vortex, which I also use in my kitchen. Once the pre-heat temp has been reached, the countdown timer immediately begins. When you open the door to the oven, the timer and heating element stop until you close the door again.
Little markings on the glass oven door help indicate where to put the accessories including the grill rack and enamel baking tray, that slide right in. There's also a crumb-release tray at the bottom to catch anything that has dripped through.
Cooking technology
The air-fry mode used a metal mesh basket with small feet to keep it elevated atop the enamel baking tray, as opposed to being its own sliding component. This has been a pro and a con for me, as it makes it easy to slide in and out the food in the basket, but it also means an extra tray to clean.
In air-fry mode, the appliance beeps at you to flip food halfway.
Instant uses what it calls EvenCrisp TECHNOLOGY, which drives airflow top down for a perfect golden finish and crispy, tender results.
The oven also uses a golden quartz infrared heating system designed to preheat and cook faster. This means that your food will actually cook quicker than you've previously expected, and can be a bit of a learning curve. The manual suggests adjusting the temperature or cooking time by 25%.
While not as large as your oven, its 18-liter capacity is pretty roomy. It can fit a 12" Pizza, 6 Slices of Bread, and of course, a whole chicken. It's definitely been enough to prepare an entree for my household of three.
Cooking fries
Fries and tater tots are my absolute favorite thing to make in the air fryer, taking half the time they did in the oven, and of course, taking away some of the guilt that comes with deep frying! Several different potato types have made it into this air fryer, and while it becomes a trial and error to figure out the timing to get your perfect crispy fry, once you get the setting rights, it's perfect.
I put some shoestring fries in the air fryer at 400°F/ 204°C for 10 minutes and it was more than enough time to turn these guys extra crispy. Next time, I'll subtract a minute or two to get them that perfect crisp on the outside, and moist on the inside.
"Fried" Chicken
To further show off the air fryer's prowess, of course, I had to try "Fried Chicken," a defacto recipe to make in your air fryer. My recipe used panko crumbs and quickly became perfectly crispy and golden; though a thicker piece did need an extra minute to cook. This recipe does get messy as the bread crumbs had a habit of settling onto the enamel tray below, especially when having to flip each piece halfway. The air fry basket easily fit three pieces of chicken. We were meal prepping, so the 10-minute intervals weren't too much of a pain to do it one more time over.
Cooking turkey bacon
We cook bacon when testing to see how evenly the air fryer cooks, and to test how strong the fan inside the air fryer is. The internal fan in an air fryer can cause it to move around the air fryer tray when cooking, but that was not the case here.
It was one of the first tests we did to kick off our usage, The bacon recipe I chose required 10 minutes at 360°F. It came out perfectly crispy,
Baking Cookies
While taking the time to review the Wolf Gourmet Stand Mixer, I couldn't resist the opportunity to bake some cookies with the Instant Omni also set up on my counter. On the enamel baking sheet, I fit about nine cookies on the plate, first in bake mode, and then air fry ( a happy accident).
In bake mode, the cookies had the perfect crunchy on the outside, and chewy on the inside consistency. When I went to turn it on again for another batch, it automatically resets to air fry, which I forgot to correct before adding the cookies. So, I reduced the time cooked, as the temperature was already higher than needed and it also came out impeccably delicious.
Rotisserie Feature
Well, as a feature on the Instant Omni Plus, now's as good a time as any to see if it's worth forgoing my typical baked chicken recipes for rotisserie chicken. After looking into recipes, I used Instant's recipe recommendation; the hour-long cook time made me realize I'd be saving time and money by simply buying a pre-made one at the store, but if you want to impress your family with a home-made roast, well, let's get looking into the rotisserie feature. I could honestly write a separate story on this adventure, but let's just say, the feature works, but it gets messy.
After seasoning up a four-pound chicken, I managed to maneuver the spit through the cavity of the chicken. Adding in the prongs proved a bit difficult to position them properly through the holes of the spit. It was messy, but finally done.
I carefully lifted the chicken and placed it in the rotisserie catch only to quickly realize the wings and legs were drooping far below, which was touching the heating element and would affect the rotation. My sous chef and I (my mother) scavenged for twine and she came up with metal pins too. We tried pinning and tieing the chicken to condense its size so it would rotate with ease. After re-starting the entire, it fit enough, but once it started rotating, the wings still sort of caught on the heating element, and the pins started to slip out; when the rotator realized it couldn't rotate it fully, it switched to the other side.
Now my instructions made it seem ok to add in the chicken prior to pre-heating, so that's what I did, and for the majority of the pre-heating session, we were trying to get this chicken more condensed. Finally, while the interior oven was already quite messy, and knowing the big mess I will have to clean up after the recipe is done, it was rotating with an acceptable amount of ease. Over the course of 55-minutes, I watched it rotate back and forth, develop a juicy, browned crust, and also create a pool of oil on the drip tray I was dreading to clean up. Still, at the timer's beep, I used the rotisserie lift to safely take it from the oven. After letting it sit to cool, I pulled out all the pins and prongs, and got to carving.
The result, after a lot of hard work: utterly delicious, perfectly juicy, and far superior to any store-bought rotisserie chicken I've tried.
Toasting Capabilties
Ironically, this was the last feature that I tested on this toaster oven. I was too busy getting my reheat game on and trying to reduce my bagel intake.
Instant says the toaster oven can fit up to 6 pieces of bread at a time, but it was a really tight squeeze, and four fit much better. On toasting mode, the display adjusts to show the number of slices, a pre-set countdown timer, and a space to toggle between five toast settings. The photo below shows toasts at levels one, three, and five; the middle setting is the ideal toast spot. Level one didn't have much coloration, leaving the fresh bread nice and crispy. Depending on the placement, such as on the highest burn, it looks like if it was perfectly centered, it would have been a darker crisp.
Depending on toast settings, the timer automatically sets for between three and seven minutes, which was the same as the KitchenAid I tested prior.
Cleaning and maintenance
Instant knows who its audience is, and they want dishwasher-proof parts. but if you're like me, and just automatically wash oversized pieces by hand, the good news is that every piece was pretty easy to clean with soap and water.
The inside of the oven can be wiped down with a damp cloth and some soap. Nothing out of the ordinary.
The hardest item to clean is the mesh air fryer basket with its tiny metal holes. Because it has to be placed on top of the baking sheet when cooking, it made a minimal mess in the oven. A bristle brush will help get any grime out of the crevices as opposed to the sponge.
WIth the accessories, however, I wish there was a place (or bag) to store them, especially with the rotisserie picks, spit and lift, which will likely be used the least out of any pieces. They're also an odd shape, so finding just anywhere to store them when not in use was an exercise. I tend to leave the other pieces on top of the oven when I'm cooking and put them back in the oven when finished.
How does the Instant Omni Plus compare to other toaster ovens?
I've found that most toaster ovens these days built with air fryers have a feature that will set them apart from their competitor, but then they can be more or less the same. The Instant Omni differentiates itself with its large LED touchscreen and rotisserie feature, while the KitchenAid Digital Countertop Oven requires no flipping and has a proof setting. For more examples, Ninja's Foodi Flip Oven is space-saving, while Fotile's ChefCubii added steam capabilities to create a product unlike any other.
Instant Omni Series
The Instant Omni Plus is part of the Omni series, featuring three different toaster oven designs. As the middle option, the Omni Plus has 10 functions, with an RRP of $249.99, and introduced the rotisserie, dehydrate and reheat functions. The original Omni, has regular retail of $199.99 and has seven functions with a slightly different interface. The most advanced model with an RRP of $289.99, the Omni Pro introduces four new features, slow to cook, proof, and split cook, and a built-in temperature probe.
Should you buy the Instant Omni Plus?
Having the chance to tinker with both the Instant Omni Plus Toaster Oven and the Instant Vortex Plus, my heart lies with the Vortex Plus. Of course, if you're after a toaster-oven style air fryer and lured by the ability to make rotisserie chicken at home, well, go ahead, add this right to your cart.
The Rotisserie feature is a unique option, but the verdict is really up to you if it's a feature you'll use. For myself, I found it messier and more time-consuming than just picking up a rotisserie at the grocery store, but, it did come out undeniably superior.
For daily use, the Instant Omni Plus is reliable and cooked food consistently every time. For longer cooking sessions, I did find that I needed to grab an oven mitt just to open the door as the handle got hot. Also, during the cool-down period following an air fry or reheating, the appliance itself was quite grumbly. It might not have bothered me so much if I wasn't staying in the kitchen eating what had just been prepped.
About this review, and the reviewer
Jaclyn is the US eCommerce editor across the homes titles at Future, including Homes & Gardens, where she specializes in a variety of topics ranging from vacuums to mattresses. She spends her days tracking the latest buzzworthy releases and testing a variety of products to determine whether they are worth bringing into your home. Jaclyn doesn't consider herself much of a cooking-from-scratch kind of girl, but frequently advocates for the ease and versatility of a toaster oven in the kitchen, especially when it comes to preparing Trader Joes frozen meals and reheating leftovers. All reviews are based on the real-life experience of using these products at home.
Jaclyn put this Instant toaster oven to the test for a number of weeks, and made various entrees and sides. Her favorite, and most constant use was for easy reheating. Instant graciously provided us with this model for this review, and as we continue to use it, will update our thoughts overtime.
Sign up to the Homes & Gardens newsletter
Decor Ideas. Project Inspiration. Expert Advice. Delivered to your inbox.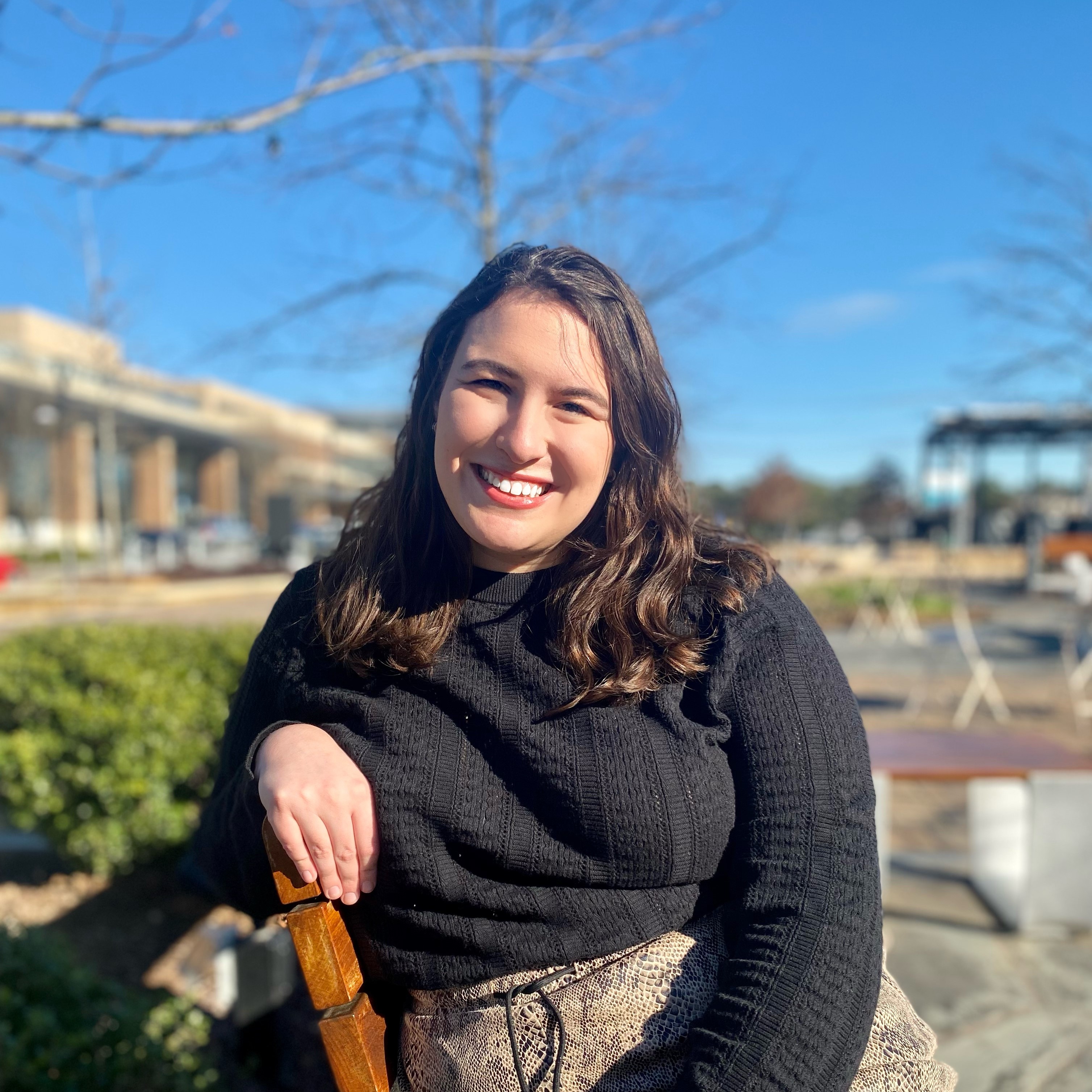 Jaclyn is H&G's eCommerce editor and oversees all things shopping. She's also a bonafide sleep expert, and previously managed all sleep content on Homes & Gardens and Real Homes– in fact, she has passed our five-step certification process to become a verified customer advisor on mattresses. She regularly scouts out the best of the best for buying guides to help you fill your home with only the best. She joined the team in January 2021. She has previously worked with Apartment Therapy, The Kitchn, The Spruce, The Spruce Eats, and MyDomaine. When Jaclyn's not working, she loves browsing real estate listings, unwinding with a chilled glass of Rosé, and entertaining her Cavapoo, Reese.