KitchenAid Digital Countertop Oven with Air Fry review: a complete kitchen in one
The mighty KitchenAid Digital Countertop Oven with Air Fry is the ultimate kitchen sidekick... you may even reach for it more than your oven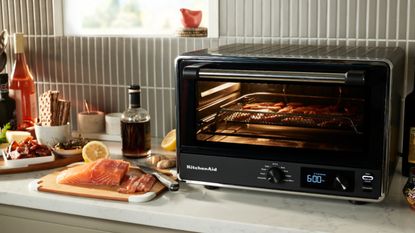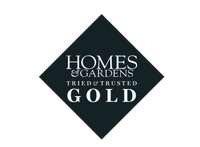 (Image credit: KitchenAid)
The KitchenAid Countertop Oven with Air Fry is an elegant-looking appliance, with ample cooking capacity, that delivers consistent results, and is a true stand-out with its convenient no flip 360° Air Fry System.
Reasons to buy
+

Monitor food as it cooks

+

9 cooking modes: Dehydrate, Proof, Bagel, Toast, Air Fry, Bake, Broil, Air Fry, and Keep Warm

+

No flip air fryer

+

Sleek interface with not too many buttons

+

Large capacity

+

Very Versatile
Reasons to avoid
-

Interior can get messy when air frying

-

Exterior Hot to the touch

-

Ending timer is not very loud
You can trust Homes & Gardens. Our expert reviewers spend hours testing and comparing the latest products, helping you choose the best for you. Find out more about how we test.
I've long been an advocate for a good toaster oven, so I was excited to try out the KitchenAid Digital Countertop Oven with Air Fry and see where it could find a place in my kitchen. Would one larger small appliance reduce the clutter of multiple small appliances taking up valuable counter real estate? Well, the KitchenAid CounterTop Oven stops short of brewing my coffee and whipping up smoothies, but it did knock my toaster (and previous air fryer) off into storage.
I actually own a KitchenAid oven, now it's going on 15 years old, and I think the cooking performance is on par with its full-size counterpart. They also boast similar stylings, which is a bonus when you want everything to look cohesive.
The design is minimal and subtle, available simply in a black matte with a contrasting stainless steel handle going the length of the oven. The handle remains cool to the touch, but the sides of the oven do get very hot, which is something active households with small kitchen helpers may want to take note of. The bright LED display is easy to read, as well as easy to toggle back and forth between remaining cooking time and minutes. Temperature can be adjusted in increments of 5°F and time by minutes.
I put it to the test to see if it deserves a place in our guide to the best toaster ovens, and here's how it held up.
KitchenAid Digital Countertop Oven with Air Fry: specs
Model Number: KCO124BM
Capacity: 21L
Cooking modes: Dehydrate, Proof, Bagel, Toast, Air Fry, Bake, Broil, Air Fry, and Keep Warm
Temperature range: 80°F-450°F
Size: 16" x 17" x 11.3"
Weight: 21 pounds
Power: 1800 watts
Cleaning: Nonstick and dishwasher-safe baskets and inserts
Cord length: 2.6ft
Warranty: 1 year
Getting started
The KitchenAid Digital Countertop Oven arrived in a large box. It was secured with styrofoam and wrapped in a protective layer of plastic. The sides were taped shut to keep everything stable.
Once you lift out the oven, you'll notice the accessory that it comes with a number of accessories including a metal mesh air fryer basket, 9x13-inch baking pan with broiling rack, removable metal drip, and crumb tray, and a removable metal rack.
The manual instructions were pretty minimal, but they do offer a reference of ideal temperature and cooking time for a variety of foods that you may make in one of the best air fryers.
KitchenAid suggests a five-inch clearance on either side for proper ventilation. I installed it on the edge of my kitchen island, and reaching the outlet with the cord was a stretch.
When it's time to start cooking, you'll turn the dial to your desired setting. You'll find settings including Air Fry, Bake, Broil, Reheat, Keep Warm, Toast, Bagel, Dehydrate, and Proof. The addition of a Proofing function is a nice feature for bakers, and something that's not as common of a feature in similar products.
Depending on the setting, you'll be prompted to adjust your desired temperature with the black dial next to the digital screen, and press it to toggle back and forth between time. On toast and bagel settings, you'll use the knob to designate the desired toast level (between 1 and 8) and the number of pieces you're making (up to 6). The manual did not clarify which parts of the toaster would heat up if it were one or six slices of bread, so I simply put all 6. The more pieces of bread, as well as the higher the setting, the longer it takes to toast.
The start button initiates cooking, there is a convection button to toggle convection cooking and a cancel button. The oven will preheat for most settings, and takes less than five minutes; once the pre-heat temp has been reached, the countdown timer immediately begins. The inside light stays on during the entirety of cooking, allowing you to watch your food crisp, or keep an eye on your recipe. This feature can not be switched off. The machine itself also runs pretty quietly, even on air fry, it's not intrusive.
In air-fry mode, the 360° Air Fry System means that you don't have to rotate your food halfway through, and all sides will crisp up just the way you want it. The Double Convection Bake design can also cook chicken up to 20% faster than the Dual Convection Bake when compared to the bake setting for a 3 lb. chicken.
While not as large as your oven, this countertop oven is still large capacity with the capacity to fit a 9"x13" sheet cake or one-pan dinner, 12-inch pizza pan, or up to 2 full-size chickens (3.4 lbs each).
You'll want to keep track of the cooking, however, as the finishing chime is not very loud, so if you're playing music or in the midst of a conversation while cooking, you could miss it. Of course, others may prefer the unobtrusive sound.
Cooking fries
When it comes to an air fryer, perhaps the most obvious food you'll want to try out are fries. Deep fryer fries are so satisfying, but high in oil and fat, while baking just seems to take forever.
Not with the air fryer. Whipping up some steak fries (pretty much the thickest you could try) were ready within 15 minutes. We placed a single layer of fries at 370°F/ 187°C for 14 minutes, though the thicker fries got crispier at the 17-minute mark. I wish they got a little browner, but I likely would have needed more olive oil.
I've also tried this recipe similarly with frozen tater tots, and less than 10 minutes later I find myself with the perfect crispy on the outside, soft on the inside puff. To be honest, I'm a much bigger fan of tater tots at home.
"Fried" Chicken
Another must-try, air fryer fried chicken of course. I made a guilt-free version that called for crushed Ritz crackers. This was one of the first recipes I tried making in the air fryer. After about 10 minutes, the fried chicken was crispy and golden. The frying basket was also large enough to accommodate three pieces of chicken breasts and some thighs, enough to feed my household.
However, clean-up was definitely one of the most involved with this recipe as crushed crumbs fell through the mesh, and settled onto the toaster oven window and roof when pulled from the oven. The crushed bits inevitably ended up in little nook and cranny of the machine.
Air frying roasted vegetables
While the toaster oven comes with modes that can both bake and air fry, air frying is a much quicker method. I chose to air fry for about 12 minutes, compared to the 20 to 25 it would typically take me to roast veggies in an oven. The zucchini could likely have been cooked a few minutes longer, but the broccoli and cauliflower were perfectly charred.
Roasting veggies is considered a good test of evenness. The zucchini could likely have been cooked a few minutes longer, but the broccoli and cauliflower were perfectly charred. This is definitely due to the varying moisture levels of the vegetables.
Cooking turkey bacon
We cook bacon when testing to see how evenly the air fryer cooks, and to test how strong the fan inside the air fryer is. The internal fan in an air fryer can cause it to move around the air fryer tray when cooking, but that was not the case here.
The bacon recipe I chose required 10 minutes at 360°F. I actually flipped one halfway through to see if there would be any discernible difference in how the two cooked. There were none. Both pieces came out perfectly crispy, with a little bit of chewiness in the middle. I placed them on a paper towel once completed to gauge if any greasiness remained, and the paper towel remained spotless.
Baking Cookies
While I definitely leaned into the air fryer function for testing, the option to have traditional oven settings like bake and broil is always a good option. To gauge how well the toaster oven-baked, I used some ready-to-bake sugar cookie dough. The recipe called to be made at 350 for 10-15 minutes.
At first, after 12 minutes they looked too raw, but I let them sit for another 3 minutes, and after cooling they were that perfect consistency of crisp on the outside, and chewy in the center. The baking prowess was consistent across the entire oven, though it did take typically require the longer time recommendation to be finished.
Toasting Capabilties
After all, this is a toaster oven.
I've trialed bagels, frozen waffles, and burger buns as well as your standard sandwich rbead. The toaster oven can fit up to 6 pieces of bread at a time. While you have settings to choose whether you're toasting one or six pieces of toast, it was hard to gauge where the hot spots were, besides leaving the toast number on six. The drawback to this is that it made the toast time longer. Depending on toast settings, the timer automatically sets for between three and seven minutes, which is longer than a conventional toaster, or at least my own.
Common to most toaster oven designs, only one side will actually get those grill lines, making it perfect for a bagel, but less "even" on bread. In the following photos, I toasted whole wheat bread at levels 2,4,6, and 8. Levels two and four toasted pretty evenly on the bottom side closest to the heating element, with unexpected black lines really popping through on the second to lowest settings. The parts not directly over the heating element didn't toast as dark either. Six toasted as expected, while eight was almost overkill in the toaster, which came out smoking. It was also much more charred on the bottom than the top.
Cleaning
The essential addition of a metal crumb tray and a non-stick interior makes it easier to catch the inevitable droppings from toasts and clean up any sticky bits.
Whatever drips down from the air fryer basket, was a bit of a different story. However, when air frying, say breaded chicken, the little panko crumbs inevitably made it to the bottom of the oven and led to some extra clean-up. I also found that many recipes I came across recommended spraying the air fryer basket or even the food. However, since the basket is mesh, it's bound to seep through no matter where you spray or drizzle oil, such as on a countertop, or over the sink. Your best bet here is to toss ingredients beforehand if any oil is recommended to add. Adding aluminum foil to the basket would seem to block the idea of the any-angle air fryer.
All the parts are dishwasher safe, but it's no hassle to wash by hand, as well.
Should you buy the KitchenAid Digital Countertop Oven with Air Fry
It almost seems unfair to categorize the KitchenAid Digital Countertop Oven with Air Fry among our roundup of the top toaster ovens, because in full transparency, this Countertop Oven could replace your own oven for feeding small households. Couple in that it multipurpose as a toaster, air fryer, dehydrator, and a proofing setting too, that's a number of appliances you've knocked off your counter.
The KitchenAid Countertop Oven with Air Fry is an elegant-looking appliance, with ample cooking space, that delivers consistent results. While a standard countertop option is also available, the Air Fry features are the real stand-out here, and the difference is simply $20.
Like any new kitchen appliance, calculating the right amount of time to cook to a recipe can feel like a bit of trial and error. And that was certainly the case as I acclimated to my new countertop appliance -- from figuring out the right placement for toast to getting the right temperature and timing for fries. Patience here, but once you nail it, you may just find yourself abandoning the full-size convection oven. Mine personally hasn't seen much use since I set up the countertop oven.
About this review, and the reviewer
Jaclyn is the US eCommerce editor across the homes titles at Future, including Homes & Gardens, where she specializes in a variety of topics ranging from vacuums to mattresses. She spends her days tracking the latest buzzworthy releases and testing a variety of products to determine whether they are worth bringing into your home. All reviews are based on real-life experience of using these products at home.
Jaclyn put this KitchenAid to the test for a number of weeks, and made various entrees and sides. KitchenAid graciously provided us with this model for this review, and as we continue to use it, will update our thoughts overtime.
Sign up to the Homes & Gardens newsletter
Decor Ideas. Project Inspiration. Expert Advice. Delivered to your inbox.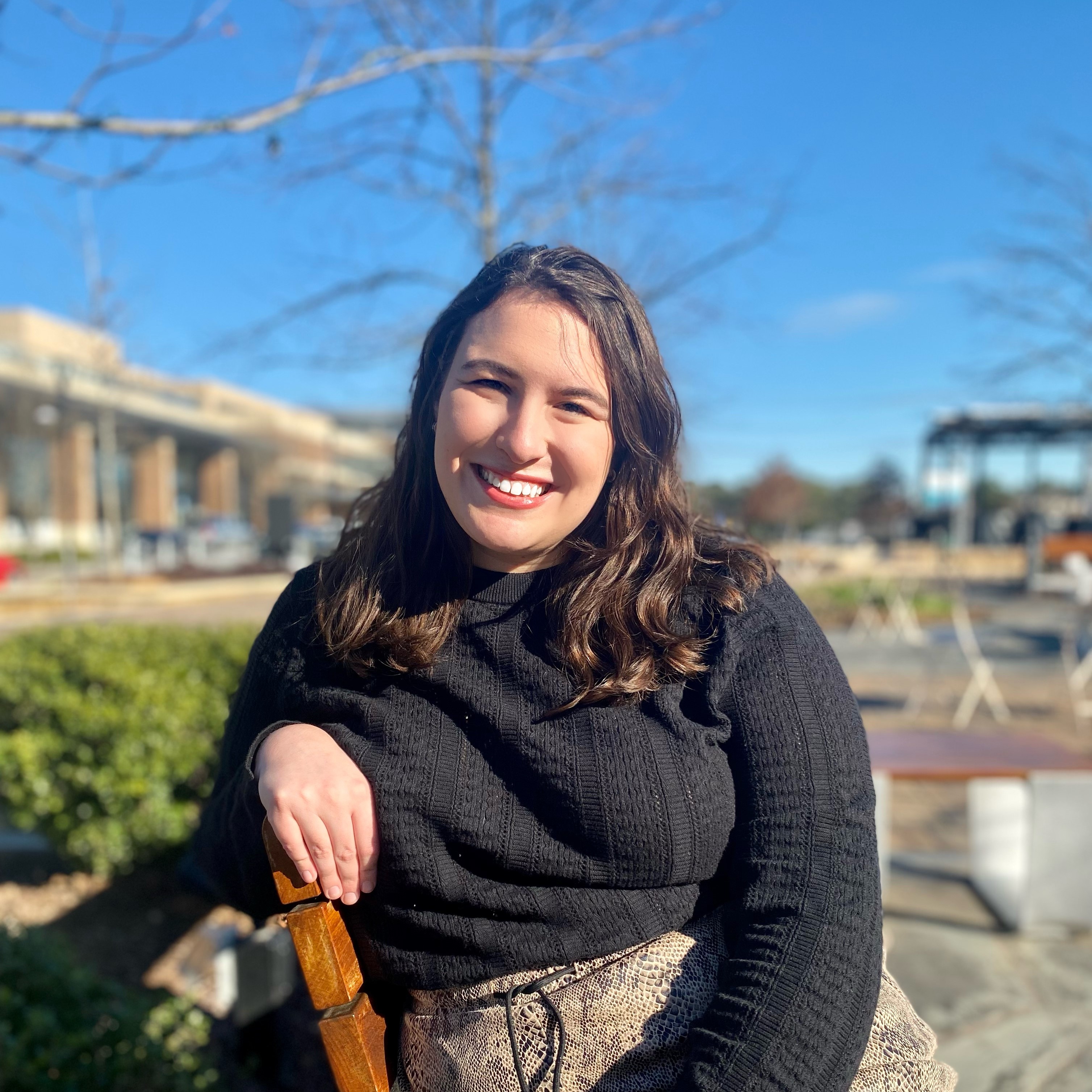 Jaclyn is H&G's eCommerce editor and oversees all things shopping. She's also a bonafide sleep expert, and previously managed all sleep content on Homes & Gardens and Real Homes– in fact, she has passed our five-step certification process to become a verified customer advisor on mattresses. She regularly scouts out the best of the best for buying guides to help you fill your home with only the best. She joined the team in January 2021. She has previously worked with Apartment Therapy, The Kitchn, The Spruce, The Spruce Eats, and MyDomaine. When Jaclyn's not working, she loves browsing real estate listings, unwinding with a chilled glass of Rosé, and entertaining her Cavapoo, Reese.