8 DIY Christmas decor ideas – for elegant, handmade holiday displays every year
Our DIY Christmas decor ideas can help you add a more unique festive touch to your home for the holidays – but don't worry, these Christmas crafts are still wonderfully chic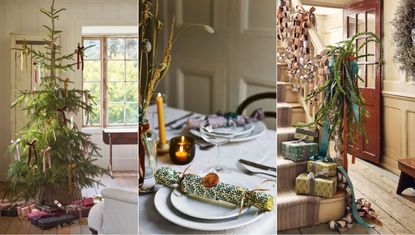 (Image credit: Rowen & Wren | Jeska Hearne | Simon Bevan Ltd.)
There is no better way to get into the festive spirit than by embracing DIY Christmas decor.
Handmade Christmas decor ideas, such as beautifully crafted wreaths, garlands, and tree decorations, can make your festive decor feel that little bit more special and unique – and, of course, Christmas crafts can be a fun activity to enjoy with all the family in the lead up to the big day.
Our collection of DIY Christmas decor ideas has something for everyone, no matter your style – or your crafting ability.
Embrace a creative and crafty Christmas with DIY Christmas decor
'The journey to the festive season is the best bit for me, time spent crafting, decorating and listening to festive tunes is a great way to make good use of the dull days and dark evenings,' says designer, Sam Duffy of PaperSam.
Whether you're hunting for more sustainable Christmas decorations, or are looking for a fun Christmas craft to enjoy with all the family, embrace your creative side and add a more unique decorative touch to your home for the holidays with DIY Christmas decor.
1. Make a Christmas wreath
A timeless Christmas tradition that many of us use for outdoor Christmas decor, embrace the beauty of seasonal foliage and flowers, and learn how to make a Christmas wreath.
Whether you gather sprigs of holly, fern, bracken and spruce from your yard and garden, or go to your local florist or garden center and buy cuttings of eucalyptus, poinsettia or dried flowers, a homemade Christmas wreath is guaranteed to add an inviting natural accent to your space.
For a more rustic look, Homes & Gardens' gardening expert and floral designer, Rachel Bull, shares her step by steps on how to make a bracken wreath. She says of the design, 'These types of wreaths are super versatile, they can not only hang on front doors, they work indoors placed above a mantel, or as a statement wall decoration in an entryway. During my time as a professional floral designer, these kinds of natural, dried wreaths became hugely popular with clients.'
Rachel is a gardening writer, flower grower and floral designer. Her journalism career began 15 years ago on Country Living magazine, sparking a love of container gardening and wild planting. After more than a decade writing for and editing a range of consumer, business and special interest titles, Rachel became editor of floral art magazine The Flower Arranger. She then trained and worked as a floral designer and stylist in London for six years, and has created floral installations at many iconic London venues including Kew Gardens and the Barbican.
2. Create a Christmas garland
To accompany your homemade wreath, gather extra flowers and foliage at the same time to make your very own Christmas garland, too. For a coordinated look, hang your wreath on the wall above your fireplace and use your garland for Christmas mantel decor.
As well as learning how to make a Christmas garland from gathered foliage, there are many other hand-made garland ideas you can embrace. From paper garlands to hand-made dried orange garlands and tinsel garlands, these hand-made decorations are perfect for decorating fireplaces, window and door frames, staircases and more.
3. Make a reusable Christmas cracker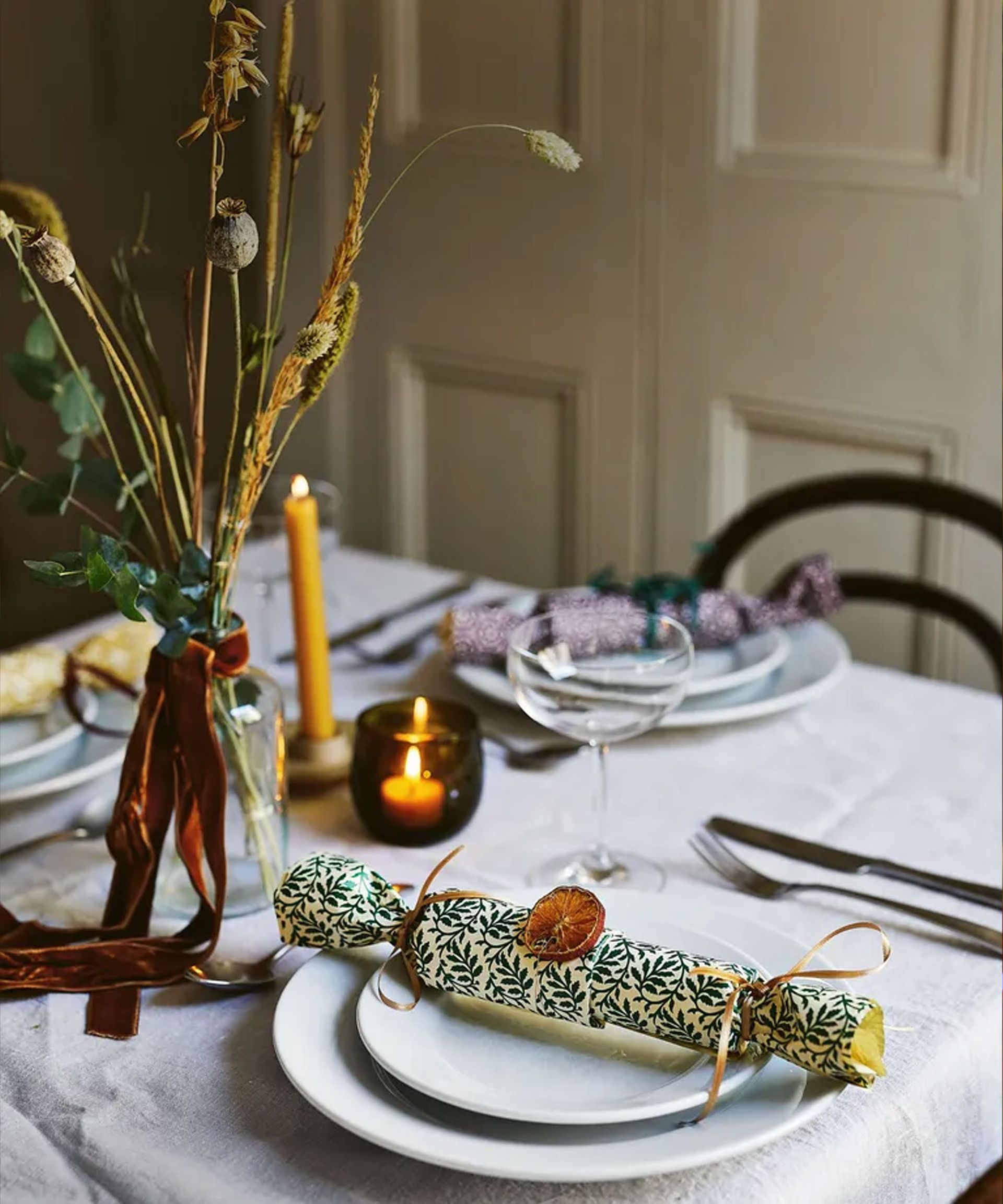 Christmas crackers may be a British tradition, but they would make a fun, and surprising, addition to an American dining table come the holiday season.
Handmade, reusable crackers are not only environmentally friendly, they make for fabulous decorations for Christmas table decor ideas also.
Here, Angela Maynard, author of The Art of Gifting Naturally, has made beautiful reusable crackers from pieces of patterned fabric, elegantly decorated with ribbon and dried orange slices. When making your crackers, one of the most fun parts is that you have control of what goes inside. From hand-written jokes to small Christmas table gifts and chocolates, a handmade cracker can make your Christmas tablescape feel more unique and catered to your guests.
Explore Angela's step-by-step in her dedicated feature, how to make reusable crackers.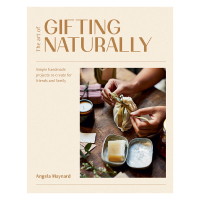 The Art of Gifting Naturally by Angela Maynard | View at Target
'I'd always loved making gifts as a child and always paid particular attention to wrapping them beautifully, even having wrapping competitions with my sister at Xmas! With my childhood self in mind, I decided to spend some time playing with natural, recycled, and sustainable materials, devising a collection of practical projects that would be easy to make at home. My book ' The Art of Gifting Naturally' is the result of these ideas and experimentations.'
Angela Maynard is the author of The Art of Gifting Naturally and Modern Dry Flowers. A dried flower florist and indoor plant specialist, she is also the founder of London-based independent plant and homeware store, Botany.
4. Craft decorations for your Christmas tree
A Christmas tradition for many is hanging old, handmade decorations on the Christmas tree – even if they are placed out of view towards the back! But why not fully embrace this tradition and make a new hand-made ornament design every year; enriching your tree with a hand-made touch and reminders of Christmases past?
From making Christmas tree ornaments out of air-drying clay, like this clay from Amazon and cookie cutters, like this set from Target, to dried orange decorations and Christmas tree ribbon ideas, embrace a hand-crafted look for your Christmas tree theme this year.
5. Get creative with pine cones
Synonymous with seasonal decor, never underestimate the decorative potential of a pretty pinecone.
From making pine cone wreaths to using pine cones to create hanging ornaments, table decorations and more, there are an array of different pine cone Christmas craft ideas to choose from.
We love this Christmas table centerpiece idea using cozy candles, pinecone decorations and foraged foliage, perfect for a more rustic, natural look.
6. Make paper decorations
Paper decorations are one of the easiest DIY Christmas decor ideas to embrace in the home. From pretty paper snowflakes used for Christmas window decor, explore how to make paper snowflakes in our dedicated guide, to paper chains, we love these scalloped paper chains from Meri Meri, and hanging paper ornaments for your tree, it doesn't get more traditional than crafting with paper.
7. Make your own Christmas candles
We think, the more candles you have in your home at Christmas, the better. One of the most versatile interior decorations, candles can infuse a room with beautiful fragrance, helping your home smell good for Christmas, provide warm, cozy lighting, and of course, bring stylish decoration to a space – what's not to love?
As well as adorning your home with the best candles, why not try making beeswax candles, too? We think they make for a lovely Christmas gift.
Stylist and crafting expert, Sara Bird says, 'It's so simple to make your very own beeswax candles – one of the best candles to burn, all you need is a few shop-bought craft basics. For a festive look, simply tie a ribbon around the candles and add a few springs of foliage or flowers, just remove before lighting for safe candle burning.'
Angela Maynard also shares her tips in her how to make candles guide for making beeswax-dipped candles.
Creative Director, stylist, speaker, published author of books Home for the Soul and Gardens for the Soul and Style Editor at Future, Sara has been creating commercial and editorial images and content for favorite interiors and lifestyle brands for over 25 years, including Country Homes, Ideal Home and Homes & Gardens.
8. Create your own advent calendar
What's better than a sustainable advent calendar and a Christmas decoration all rolled into one?
Making a reusable advent calendar is not only good for the environment, many designs can work as versatile decorations too, acting as more unique Christmas garlands.
Whether you create an advent calendar similar to Angela Maynard's above using string and cotton bags or hang small, wrapped gifts from an existing Christmas garland on a mantel or wall, a handmade advent calendar allows you to curate a special collection of gifts for your loved ones; making the advent tradition and countdown to Christmas feel more unique and personal.
FAQs
How to make a simple Christmas decorations?
DIY Christmas decor ideas are incredibly simple to make and often can be made using existing materials and craft supplies that many of us will already have in our homes.
From paper and ribbon decorations to embracing nature's bounty and using foraged foliage and flowers for beautiful wreaths, garlands and more, the most traditional of Christmas decorations are often very simple in design – and do not have to cost the earth.
---
A final DIY Christmas decor idea that makes the most out of the existing greenery in your home, is adorning your houseplants with festive decorations.
From giant monstera plants that feature festive baubles to fiddle-leaf fig trees decorated with tinsel and string lights, these natural accents provide the perfect platform to display a whole host of festive decor – and it's a super easy and quick way to make any room in the home with houseplants feel festive.
For more inspiration, explore our dedicated feature, how to decorate houseplants for Christmas.
Sign up to the Homes & Gardens newsletter
Decor Ideas. Project Inspiration. Expert Advice. Delivered to your inbox.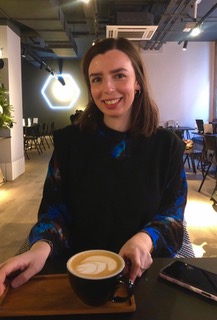 Zara joined Homes & Gardens in February 2022 as a Content Editor. After studying English Literature at University, she worked as an Ecommerce Website Editor, Content Writer and Buying Intern at multiple independent businesses within the luxury retail and lifestyle sectors. Her role at Homes & Gardens unites her love, experience and passion for the world of design and desire to create inspiring written content. She enjoys nothing more than discovering new trends, brands and products, whether that be in fashion, interior design or lifestyle.