How to make a pine cone wreath
Make a pine cone wreath for your door this Christmas and give your holiday decor a woodland theme. Florist Judith Blacklock shares her step-by-step instructions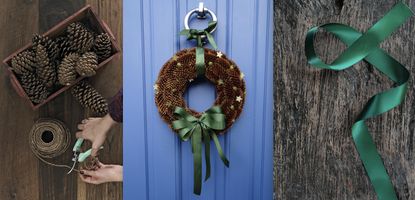 (Image credit: Future)
Want to know how to make a pine cone wreath? Pine cones may be associated with Christmas but this woodland-inspired wreath will take you from fall to spring – simply change up the trimmings for a new look each season.
However, pine cone wreaths are one of our favorite Christmas decorating ideas – the natural, rustic textures are charming, and perfect for any setting.
Floral designer and flower school founder Judith Blacklock (opens in new tab) takes you through the process of making a pine cone wreath, from picking the perfect pine cone to the ultimate ribbon bow.
How to make a pine cone wreath
When it comes to outdoor Christmas decor ideas, you can see how making a pine cone wreath is the perfect Christmas door decorating idea. Or, if you want a change from the usual Christmas wreath ideas, leave the foliage for your mantel and opt for a pine cone wreath for indoors instead. Add ribbons, festive decorations and lights to give it a festive touch.
And if you don't want to leave your pine cones their natural brown color, paint them white, silver or gold, and tip the ends in eco-friendly glitter.
If you have any left over, there are lots of other pine cone craft ideas to bring a rustic, homemade touch to your decor, from floating branches and chandeliers, to simple table displays and elegant garlands to wrap your stairs or porch. Below, though, we show you how to make a pine cone wreath.
Your ingredients may differ, depending on how you want to decorate your pine cone wreath, but this is what you'll need to have for Judith Blacklock's design.
You will need:
Long fir cones; these are Picea abies
Polystyrene ring in a size to suit
Hot glue gun and glue
Small amount of garden moss
Artificial berries and gold painted wooden stars (optional)
About 2.5m satin ribbon in a color of choice
Florists' stub wire
1. Prepare your pine cones
Place the cones in a dry area and allow them to dry out. This prevents any sap being released from the cones that might stain your surfaces.
Give the pine cones a shake and remove any dirt with a toothbrush.
You can paint or add glitter to your pine cones at this stage if you want a more 'dressed' design.
2. Begin to glue on your cones and decorations
Hot glue the cones to the ring in circles, starting from the outer perimeter. The cones should be butted up nose to tail as they have a distinctive top and bottom. Sometimes you may need to cut a cone in half to fit a gap. As long as it is facing the same way as the others it will blend in well.
Glue small pieces of green garden moss between the gaps (make sure it is dry).
Add the artificial berries and wooden stars using dabs of hot glue.
3. Tie on your ribbon
Create a hanging with a length of satin ribbon.
Make a figure of eight bow or use one that is ready made.
To make the figure of eight bow, take a length of ribbon about 1m long.
Find the central point and bring the ends over, across the center. Take a length of medium-gauge florists' wire and wrap it around the center.
Secondary loops can be made by having a longer length of ribbon and by making extra loops into the center.
4. Display your pine cone wreath
Display your pine cone wreath from your door, a gate, or hang it on the wall.
If you like, you can change the trimmings with the season – choose orange ribbon in and add dried flowers or orange pom poms in the fall; or switch to pink and fresh green tones in the spring.
Andrea has been immersed in the world of homes, interiors and lifestyle since her first job in journalism, on Ideal Home. She went from women's magazine Options to Frank. From there it was on to the launch of Red magazine, where she stayed for 10 years and became Assistant Editor. She then shifted into freelancing, and spent 14 years writing for everyone from The Telegraph to The Sunday Times, Livingetc, Stylist and Woman & Home. She was then offered the job as Editor on Country Homes & Interiors, and now combines that role with writing for sister title homesandgardens.com.