These are the Christmas decor trends that interior designers are using in their own homes this year
Looking for holiday decor inspiration? We asked designers what festive trends they are embracing in their own homes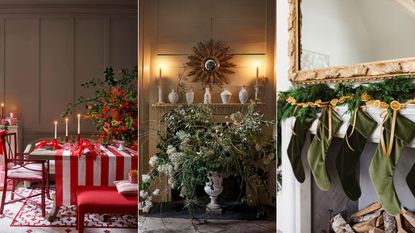 (Image credit: Future/Marie Flanigan Interiors )
While I am very much of the opinion that Christmas decor should be a personal thing, something that invokes nostalgia and reflects your style, I do love to see what inventive Christmas trends pop up every year. I see these trends as a nice way to update what I do year on year, some stick and become part of my tradition and some don't.
There are so many lovely Christmas decor ideas and trends I have seen so far this year and I love the fact that nostalgic, traditional-style decorations are at the forefront. But I have also noticed the 'quiet luxury' trend that's been going strong all year is having a festive overhaul for the holidays, and foliage is being used more than ever to adorn any and every surface in the home.
I spoke with interior designers to find out what Christmas design trends they will be following this year to inspire you to try something a little different.
5 designer-approved festive trends to try this year
The Christmas decor trends you choose to take on each year will of course come down to your personal style and how you like your home to look over the holidays. And as with any interior design trend, the trick is to bring these trends into your home in a way that works with the decor you currently have. So rather than completely overhauling your Holiday decor so it just fits with one trend that's big this year, designers recommend just being influenced by them and making them work with what you already do year after year.
And if you are looking for inspiration for what trends to embrace this year, these are the styles designers are bringing into their homes.
1. Adding pops of color with seasonal fruits
'I think the infusion of organic elements, like citrus, in Christmas décor is one of my favorite trends,' says designer Marie Flanigan. 'I love the pop of color that orange adds against the greenery. The holidays are always a beautiful time to celebrate nature and when I can add other beautiful touches whether it's cranberries or even seasonal flowers, it's my preferred way to decorate for the season.'
You can buy bags of dried orange super cheap on Amazon but for a DIY Christmas decor idea, try making them yourself. Just slice up your fruit and lay them on a lined baking tray. Pop them in the oven at 275º F (140ºC, gas mark 1) and bake for around 2 hours. I did this last year with both apples and oranges and it worked a treat, and made for a nice festive activity too.
Marie Flanigan is an award-winning interior designer whose passion and achievements in design have positioned her as one of the nation's best. As a classically trained and practiced architect, Marie unlocks a unique level of depth through her mutual consideration of interior and structure; her homes revealing the magic that transpires when each is made to augment the other.
2. Using taper candles to create a stand out display
'I'm going to be decorating at least one of my eight Victorian mantles with a multitude of cone-shaped taper candles in varying colors and sizes. Sprinkled amongst some boxwood greenery, this could also be a fresh take on the traditional advent wreath.' suggests Bethany Adams.
Candles make for wonderful Holiday decor, adding a cozy glow to any room. And you can make them work with whatever style Christmas decor you go for. I love Bethany's idea of creating a colorful display with lots of taper candles, but choose white candles and you can adapt the look to suit a more minimalist Christmas too.
Bethany Adams is an interior designer, a member of ASID (American society of Interior Designers), AIA (American Institute of Architects), and a certified interior designer with the Kentucky Board of Architecture. Bethany holds a B.F.A.. in interior design from Harrington College of Design in addition to a B.A. she earned from Georgetown University.
3. Experimenting with a jewel toned color scheme
Jewel tones are a huge color trend right now, but they really do come into their own at Christmas. Rich reds and greens may be the traditional scheme but this year there's a trend for adding in touches of deep blue and warm yellow too.
'I love that people are playing more with non-traditional color palettes. This year I'm going for more blues, greens, mustards, and burgundys. It's the perfect way to really show your personality!' explains designer Emily Henderson.
Emily Henderson is Emily Henderson is a stylist, interior designer, HGTV host, and founder of Emily Henderson Design which she's been running for over a decade. Emily provides us with style inspiration every day over on her Instagram, and her blog is a great source of ideas for DIYs and making the most of your space.
4. Going rustic with Scandi-inspired decor
'I'm not sure this counts as 'trend' because it's honestly so timeless, but the Scandinavian Christmas look is definitely on the rise for the holiday season this year. Expect to see plenty of light wood candleholders, organically inspired wreaths, understated garlands of wooden beads and winterberries, and traditional Scandinavian folk art motifs.' says Kathy Kuo.
This is such a classic approach to Christmas decor, and the Scandi trend does come back year after year. It's a super easy one to implement too as, as Kathy says, is all about the festive foliage. The more rustic the better. Get out in nature and see what evergreen you can salvage, and you can always mix it in with some faux greenery too if it needs a little help to look fuller.
Kathy Kuo is a celebrated interior designer and international guru within the home and lifestyle space. She has 20+ years of experience in the design industry.
5. Bringing the quiet luxury trend into holiday decor
The quiet luxury trend that's been going on since the start of the year is still here for the holiday season. It's all about subtle, warm color schemes, lots of candles, and soft lighting to create spaces that feel soft and magical.
'I like to keep it quite quiet, and very twinkly. I layer on elegant vintage-style glass and lots of magical candlelight. Use lamps, wall lights and lanterns rather than downlights, these work beautifully and add real coziness and fairy lights are particularly magical!' explains Chrissie Rucker, founder of The White Company.
'I love having the house full and filling it with freshly cut greenery and lots of scented candlelight you can never have too many candles - they always make a space so much more inviting. And create such a magical atmosphere.'
'My foundation is always plenty of seasonal greenery – faux and real, in mantelpieces, windowsills (layer in some storm lanterns with candles), banisters and more. If you can wind in fairy lights (battery operated are a great option here) and then I add a few pinecones or tree decorations.'