How to make reusable crackers – for a special and sustainable decoration
Learn how to make reusable crackers for a more meaningful and unique addition to your Christmas table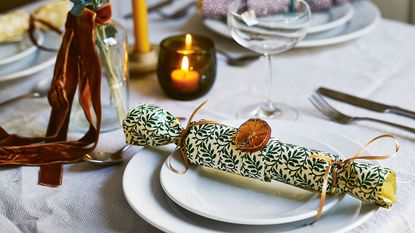 (Image credit: Future)
For a simple craft project to enjoy over the holiday season, explore our guide on how to make reusable crackers.
A very British tradition, crackers are festive table decorations used at Christmas. Often crafted from paper and cardboard, crackers are designed to be pulled open, making a snapping sound, to then reveal a small gift, a piece of paper containing a joke or fun fact, and a colorful paper hat to be worn whilst you tuck into your Christmas dinner. Even though many crackers are crafted from recyclable materials, a huge amount of plastic waste is still caused by Christmas crackers each year, leading to many of us to look into alternative and more eco-friendly options for this Christmas tradition.
Reusable crackers are not only better for the environment, but they also offer a chance to spend time creating and crafting in the lead-up to Christmas and can make your Christmas table decor ideas really stand out from the crowd with a more unique, personal touch. Below, Angela Maynard, author of The Art of Gifting Naturally, shares her step by steps for learning how to make reusable crackers.
You will need
For 8 crackers:
How to make
Step 1.
Cut one of the toilet roll tubes lengthways and overlap one edge on top of the other, securing with brown tape.
Step 2.
Roll the modified and intact toilet roll tube into your chosen paper or fabric. You should have approximately 1-1.5 cm overlap at one end to fold into the toilet roll tube. If you're using fabric you will need to glue the fabric in place.
Step 3.
Bunch the paper together at the other end of the toilet roll tube. If you're using fabric or a less rigid paper, you will need to secure the gathered end with a string or ribbon.
Step 4.
Wrap a treat in recycled paper or put it in a handmade pouch. Then place it inside the modified toilet roll tube, along with a handwritten joke, if you wish to include one. Then slide the toilet roll tube inside the intact one.
Step 5.
Tie a ribbon or some brown string at the center of the cracker and add a sprig of festive foliage or a dried flower.
And there you have it, a beautiful, totally unique Christmas cracker that can be used and enjoyed for many Christmases to come.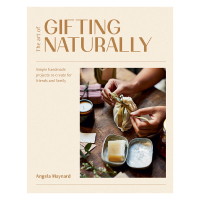 The Art of Gifting Naturally by Angela Maynard | Simple, Handmade Projects to Create for Friends and Family
'I'd always loved making gifts as a child and always paid particular attention to wrapping them beautifully, even having wrapping competitions with my sister at Xmas! With my childhood self in mind, I decided to spend some time playing with natural, recycled, and sustainable materials, devising a collection of practical projects that would be easy to make at home. My book ' The Art of Gifting Naturally' is the result of these ideas and experimentations.'
What can you put in reusable crackers?
Traditionally, crackers contain a paper hat, a small piece of paper containing a joke or fun fact, and a small toy.
The beauty of homemade, reusable crackers is that you can fill them with whatever you want! From sweet treats to stationary to joke gifts, it is a chance to create a fun memory and gift a small token, just like Christmas table gift ideas, to your friends and family.
Some things to put in a reusable cracker include:
Chocolates
Candy
Homemade crafts
Small decorative ornaments
Jewelry
Beauty products
Vouchers
Stationary
Jo Bailey has been Deputy Editor of Homes & Gardens since late 2021, overseeing all features for the print edition. Previously, she worked as the News & Shopping Editor across H&G and Livingetc - one of Future Plc's sister brands - this is where she learnt to discover the best news stories, latest trends and honed her understanding of Homes and Gardens' over 100-year-old brand.
Before joining Future Plc, she worked as an interior stylist for over ten years, specialising in commercial photo shoots for luxury clients such as; Design Centre Chelsea Harbour, The Romo Group, Christopher Farr Cloth and Heal's. She has worked closely with Homes & Gardens and Livingetc for over a decade, having styled and produced editorial shoots and events for both titles over the years.