Christmas styling – 10 easy ways to get your home ready for the festive season
Experts share their quick and easy Christmas styling tips for cozy and magical space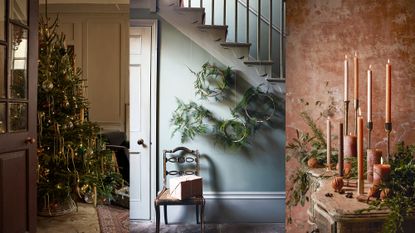 (Image credit: Neptune / Future)
These Christmas styling ideas are perfect for those looking to make their home beautiful for Christmas with little time to play with.
'However prepared you might be for the arrival of friends and family for Christmas, it's so often the case that you wish you'd had time to make a few extra tweaks and finishing touches,' says Birdie Fortescue, founder of the eponymous interiors brand.
Luckily there are some simple things you can do that will make a big impact, and very often less can mean more. To help you style your home for the festive season we asked the experts for their last-minute tips and failsafe styling tips.
Christmas styling
These simple and quick Christmas styling tips prove there's no need to go all-out with elaborate Christmas decor ideas when it comes to making your home feel cozy and festive.
1. Festoon with foliage
From creating mantel decor ideas to tying on the backs of dining chairs, decorating with winter foliage is hugely versatile and an easy win when it comes to last-minute decorating, in fact, most of the interior designers we spoke to said it's their go-to and that you can never have too much at Christmas time.
'Christmas decorations are one of the very few things that the more-is-more rule applies to! But maximalism doesn't have to be tacky – using lots of natural materials and earthy tones keeps Christmas styling gentle and timeless,' says Birdie Fortescue. 'If your main entertaining space feels a little bare then take note of any surface that could be draped with a simple Christmas garland. Deep picture frames, mantlepieces, and sideboards can all look lovely decorated with simple arrangements of ivy, spruce, eucalyptus, or holly.'
'Always forage for winter foliage and flowers - not only will this save you money, but using real foliage you've collected can then be composted once done,' adds Emma Deterding, founder and creative director at Kelling Designs.
'Another great thing to do is to collect pine cones and similar natural bits over the season. They keep perfectly and will be ideal for turning into your own pine cone decorations to use around the home, be them candle holders, tree decorations, or hanging pine cone garland,' says Emma Deterding.
2. Make a versatile garland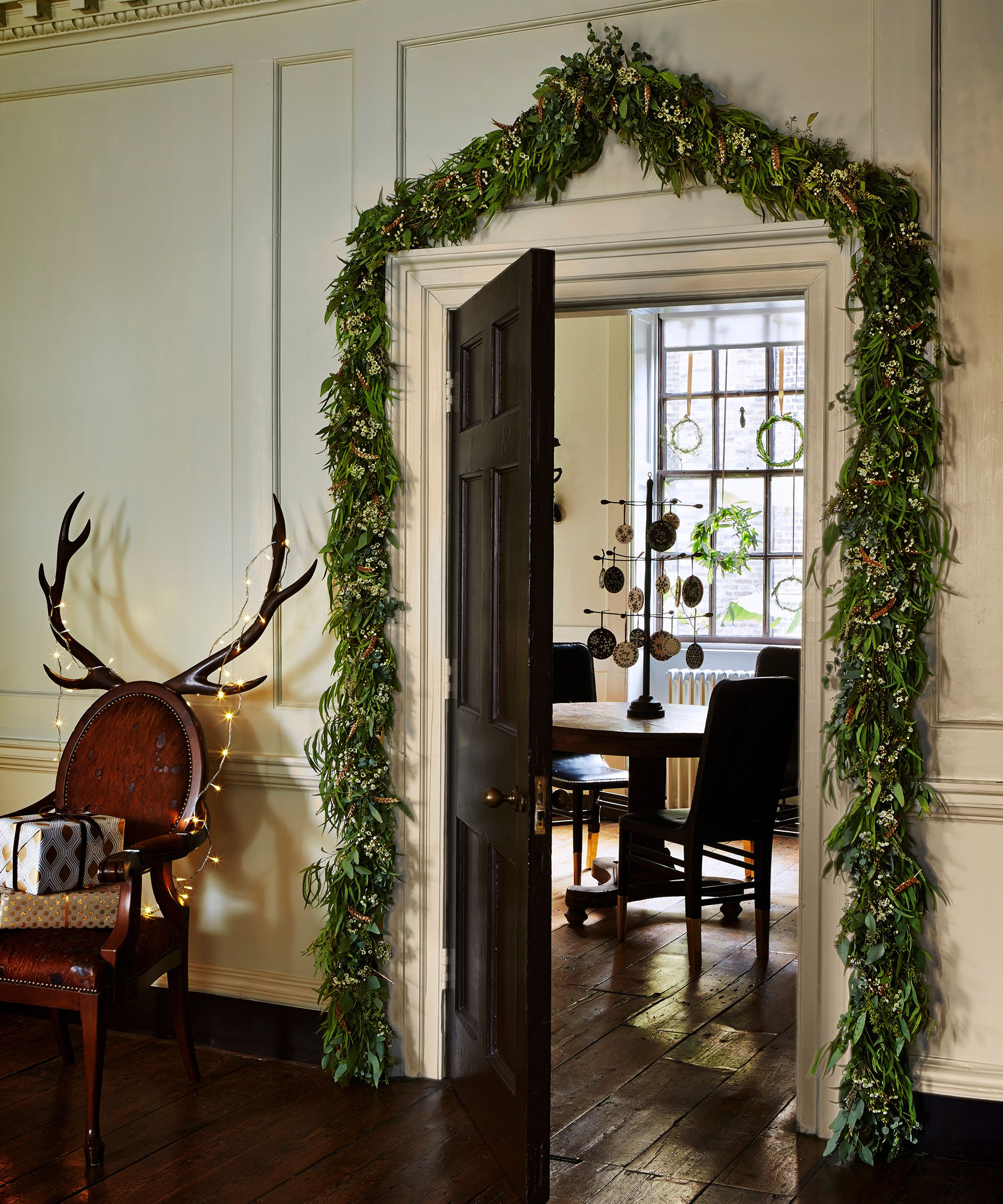 When it comes to decorating with foliage there often isn't even any need to pre-arrange your Christmas foliage, 'simply raid your garden or nearest hedgerow and lay branches in situ. Working from the middle outwards is generally best and means that the delicate fronds drape attractively over the ends or edges of your surface,' says Birdie Fortescue.
However, learning how to make a Christmas garland can be a good place to start as they can be used for so many things from Christmas table centerpiece ideas to around doorframes, plus, while they may take a little time to create, if kept well misted they can last and also be used for your New Year decorating. Depending on the look or theme you are trying to create garlands can be embellished with all sorts of things, from special baubles to pine cone decorations, plus these can be switched up between events to give your garland a new look.
3. Keep it simple
You don't need lots of sparkle, glitter and color to create a festive feel, making use of what you've got and a little Christmas foliage can make for clever, quirky displays. Here swirling asparagus ferns around wooden embroidery hoops are a fanciful take on the traditional Christmas wreath.
4. Dress a show-stopping tree
A beautifully decorated tree is the focal point of Christmas living room ideas. This stunning tree by Neptune proves how limiting the palette to muted, earthy tones and taking a less-is-more approach can look beautifully elegant and sophisticated. A curated selection of baubles, warm string lights and simple Christmas tree ribbons help achieve the pared-back look.
When decorating a tree, 'try to pick a theme and avoid putting everything and the kitchen sink on it,' says Emma Deterding, founder and creative director at Kelling Designs.
'Always layer your tree, starting from the inside and working your way out. The lights should go on first, opting for the warm white lights and feeding them into the branches. Wrap the base of your tree with a pretty fabric and tie ribbon bows on the tree if you would rather not use baubles or hanging ornaments. We have a family tradition of collecting a different bauble every year which has in turn grown our collection, so we use this year after year, adding a new bauble each time.
'Remember, if you're using a real tree, try and opt for a potted one that can be planted out to be more sustainable. And if not, then be sure to recycle your tree properly.'
5. If in doubt, add candles
For a pared-back and quiet celebration, candles are all you need. Line them along a mantelpiece or use them alongside decorations to style a lovely vignette suggests Olivia Alers-Hankey, founder of Candle Flair.
'I like to place candles near mirrors and antiqued mirrored ornaments to create little vignettes around the home. Window sills are another ideal spot for creating a little vignette – simply place a group of three or five (preferably odd numbers) candlesticks with candles, using different silhouettes and colors, and pair them with festive decorations such as baubles or your favorite Christmas ornaments.'
'To keep the look classic, play with shades of red, white and green and add hints of gold for a truly traditional feel. If you want a more modern approach to your decor, then use a muted palette of warm neutrals and earthy tones, and use pinecones and foliage to bring in a touch of nature. For a truly fun and eclectic feel, mix candles in bold colors and use glass decorations in bright colors to create a unique and statement decorative accent.'
6. Style a Christmas window
For a beautiful Christmas window idea to spark joy with passers-by try simply hanging oversized baubles from ribbons.
'Add a touch of drama to your décor with our shimmering oversized baubles. Complete with their own plush ribbon, they look most impactful when styled in a group. Tie a couple to the window, hang over mirrors, or combine them with a garland across a sideboard. In a beautiful, mirrored finish, they're an elegant addition that will really bring any festive scheme to life,' says Chrissie Rucker, founder of The White Company.
7. Style up a console table with plants and bulbs
Styling up a console or entry table with potted bulbs is a beautiful and fragrant Christmas hallway idea that will set the tone for celebration as soon as guests enter your home. Plus, potting up bulbs is something you can easily do in advance – be sure to check out our guide to how to force bulbs for Christmas.
'If you have lots of baubles left over once you've finished decorating the Christmas tree then use them to adorn cut branches arranged in big vases or antique vessels. You could even stud branches in amongst potted Christmas plants and flowers. Winter-flowering plants are very useful for adding color to bare surfaces and can even be moved from room to room,' says Birdie Fortescue.
If you're stretched for time there's no need to use bulbs, you could just spruce up winter house plants for a natural, festive look.
'If you have potted plants, then placing them into nice containers is a great way to add another decorative flourish. Put some moss around the base and incorporate candles, foliage and other decorative items to create little festive vignettes around the home,' says Emma Deterding. If you don't have a lot of house plants, then you can often buy them inexpensively from car boots, Etsy or supermarkets too. What's great is that they're fairly easy to look after and can become part of your overall decor all-year-round!
8. Create a quick hallway garland
Christmas stair decor ideas, such as a natural garland for a banister are guaranteed to bring wow-factor and are easier to create than they look. There's no need to pre-made a garland, you can simply wind through branches for a rustic look suggests Birdie Fortescue.
'Work from the top down securing branches as you go with garden twine or florist's wire. Mix your greenery for a full look and make sure to incorporate delicate fronds of ivy or a similar trailing plant to keep the final effect loose and organic. For a final festive flourish twist fairy lights through your garland.'
9. Restyle your living space to feel extra cozy
Simply updating cushions and throws is a great way to make entertaining spaces feel more cozy and welcoming. 'Nine times out of 10, you can massively improve Christmas styling by focusing on soft furnishings and lighting. Introducing some plump new cushions to your sofa and armchairs is one of the easiest and quickest ways to give a room a totally different look,' says Birdie Fortescue.
'It's all too easy to get used to your scheme and not notice that fabrics are looking a little tired or inners are as good as flat so a few new additions can inject new life in a matter of moments. Choose two or three colors from your scheme and then choose cushions in different textures based on these tones.
'A failsafe arrangement on a big sofa is to use large, plain cushions at the back and then stack forward with slightly smaller square and rectangular cushions at the front,' explains Birdie. 'Aim for asymmetry but balance and don't be afraid to mix patterns. Armchairs are easy to restyle – simply choose a square cushion that fits comfortably between the arms and use a rectangular cushion in front for ultimate comfort.'
'Finally, if your main sitting area feels a bit cold and uninviting, then introduce some soft lighting. A well-chosen table lamp or two will cast a warm light that also helps to zone your space. What might have been a dark and unused corner could then become a cozy nook for your guests.'
10. Give your guest bedrooms some attention
Consider making quick updates to guest bedrooms so that they are cozy and welcoming for Christmas visitors. 'With limited time, focus on making the bed as stylish and comfortable as possible, starting with a well-made blank canvas and a generous stack of pillows on each side,' says Birdie Fortescue. 'For ultimate layering, start to style a bed with a bedspread that covers the entire bed, then add a coordinating throw at the foot and two pairs of cushions that will sit up against the stacked pillows.
'Use a combination of plains and patterns and don't shy away from a mix of textures and designs. Square or rectangular cushions work well on beds and can even be mixed together so take your pick!'
'A cozy rug at the side of the bed is a simple Christmas styling touch that makes such a difference to your guests' experience. Sheep's skin or sheep's wool are both lovely on bare feet and are perfect textures for winter.
Small finishing touches in a bedroom make a real difference and make it feel extra special adds Chrissie Rucker of the White Company. 'I love to have some flowers from the garden or a pure white orchid. A bedroom should smell lovely too, scent diffusers are fantastic for this as you can easily control the scent level by adjusting how many reeds you use.' For a festive feel try a winter-spiced scent and instead of garden flowers try decorating a window sill or chest of drawers with seasonal potted cyclamen.
What are the trends for Christmas 2022?
This year we're seeing lots of Christmas trends, from the all-out maximalist decor that embraces color and pattern, to enduring simple Scandi looks. The biggest trend, which sees no sign of abating, is the shift towards sustainable decorating that celebrates nature and natural materials.
However, when it comes to Christmas decor, many interior designers agree that the key is to decorate with the things you love. As well as creating a cozy and warm welcome for guests, Christmas decor is a chance to treat them to a sense of your personal style.
'Ultimately, it's about choosing decorations, ornaments, and accents in colors, styles and materials that you truly love. Ignore the trends and create your own Christmas look that you can keep adding to year after year,' says Emma Deterding, founder and creative director at Kelling Designs.
Sign up to the Homes & Gardens newsletter
Decor Ideas. Project Inspiration. Expert Advice. Delivered to your inbox.
Pippa is Content Editor on Homes & Gardens online contributing to Period Living and Country Homes & Interiors print issues. A graduate of Art History and formerly Style Editor at Period Living, she is passionate about architecture, creating decorating content, interior styling and writing about craft and historic homes. She enjoys searching out beautiful images and the latest trends to share with the Homes & Gardens audience. A keen gardener, when she's not writing you'll find her growing flowers on her village allotment for styling projects.