How to make a poinsettia wreath – a step-by-step guide
Find out how to make a poinsettia wreath with a potted plant for striking Christmas style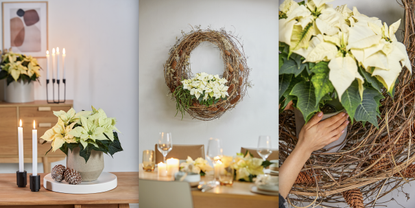 (Image credit: Stars for Europe)
A poinsettia wreath is an eye-catching option with its extravagant blooms. This design is made with a living potted plant that shows off both the bold shapely flowers and the attractive foliage.
It's ideal as a Christmas wreath with either traditional red blooms or creamy flowers that give it a fresh modern twist. But it doesn't have to be reserved for the holiday season. The clever pocket design of this wreath allows you to swap in a plant with different blooms around the year.
This poinsettia wreath is easy to make by following the simple steps below.
How to make a poinsettia wreath for every season
There's a great choice of varieties when it comes to choosing the best poinsettia for Christmas with flowers in the customary brilliant red but also a range of pink shades, yellow, or white.
Using poinsettias in a wreath as wall decor will keep them out of the reach of your animal companions, which will allay your concerns about whether poinsettias are poisonous to cats and dogs.
Following poinsettia care tips will keep the plant thriving but as your poinsettia wreath flowers begin to fade, you can have a new houseplant ready to revive your display. Think spring bulbs such as crocus, hyacinth and narcissus. In summer, try miniature azaleas or dwarf roses. Fall heralds amaryllis, jasmine and aechmea, while the holiday season is made for poinsettia and Christmas foliage.
If you can't find flowering houseplants, or you want to create a more evergreen display, consider a fern, trailing ivy, or satin pothos.
You will need:
Although it looks impressive, you don't need many materials to make this living poinsettia wreath:
You will need:
• A potted poinsettia
• Metal wreath ring
• Wild clematis vine
• Pine cones
• Florist's wire
• Paper-covered binding wire
• A drill with hook attachment
1. Make your twig wreath
With the help of the drill and hook attachment, attach vines to the metal ring with twists of binding wire.
Gradually weave in more and more vines until the bottom half of the wreath is wide enough to fit a planter inside. The top half of the wreath may be much narrower.
2. Add the pine cones
Pine cone craft ideas are full of natural texture and interest, and this wreath is no exception.
Attach the pine cones to the clematis vine wreath with paper-covered binding wire. Arrange them more densely at the bottom, with the pine cones thinning towards the top of the wreath. You could also add in everlasting flowers here for extra decorative detail.
Hang the wreath on the wall.
3. Put the plant into the wreath
Gently place the poinsettia and planter into the densely woven vine wreath. You'll need to check the soil around the plant once a week or so to see if it needs watering.
4. Add the finishing touches
Step back and take a look at your poinsettia wreath. You may want to add some small additional plants and foliage to conceal the plant's pot. Choose trailing greenery that will spill over the living wreath to create a professional finish.
Update your design as the seasons change, or to celebrate holidays such as Easter with living spring wreath.
How do you cut a poinsettia for arrangements?
Cut a poinsettia for arrangements by cutting the stem to the length required. However, there is an extra step in the process compared to the usual process when cutting flowers.
'Dip the cut end in warm, around 140°F (60ºC), water for a few seconds, then immediately in cold water,' says Melanie Griffiths, editor of Period Living.
You'll also need to replace the water in the vase in which they're arranged every few days.
How long do poinsettias last as cut flowers?
Poinsettias last for around two weeks as cut flowers. If you want beautiful blooms for longer, opt for a poinsettia plant rather than a cut flower arrangement. If the plant is properly cared for, the flowers can last for around four to six weeks, so it'll look good for the whole holiday season.
The plant can be kept alive after blooming, of course. Trim its stem as well as pruning old leaves and flowers. Be sure to fertilize it once a month in the non-blooming period, water from time to time, and keep it at a temperature of 59 to 72°F (15 to 22ºC)
Andrea has been immersed in the world of homes, interiors and lifestyle since her first job in journalism, on Ideal Home. She went from women's magazine Options to Frank. From there it was on to the launch of Red magazine, where she stayed for 10 years and became Assistant Editor. She then shifted into freelancing, and spent 14 years writing for everyone from The Telegraph to The Sunday Times, Livingetc, Stylist and Woman & Home. She was then offered the job as Editor on Country Homes & Interiors, and now combines that role with writing for sister title homesandgardens.com.