How to make a poinsettia wreath – an easy DIY tutorial
This living poinsettia wreath can be updated with seasonal blooms for a striking wall decoration at any time of year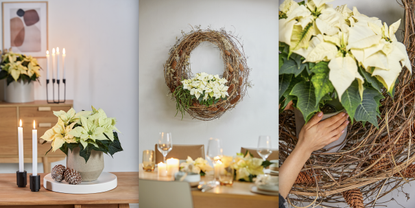 (Image credit: Stars for Europe)
Casual, contemporary but incredibly chic, a poinsettia wreath will bring style and color to your home all year round. Crafted from clematis vine and with a 'pocket' for a pot plant that can be swapped in as the seasons turn, it's an ever-changing addition to your decor.
For the holiday season, opt for a Christmas wreath – made using poinsettias – but update the look by using a bare vine frame and flowers in a creamy shade, rather than traditional red.
How to make a poinsettia wreath for every season
As your poinsettia wreath flowers begin to fade, you can have a new houseplant ready to revive your display. Think spring bulbs such as crocus, hyacinth and narcissus. In summer, try miniature azaleas or dwarf roses. Fall heralds amaryllis, jasmine and aechmea, while the holiday season is made for poinsettia and Christmas foliage.
If you can't find flowering houseplants, or you want to create a more evergreen display, consider a fern, trailing ivy, or satin pothos.
You will need:
Although it looks impressive, you don't need many materials to make this living poinsettia wreath:
You will need:
• A potted poinsettia
• Metal wreath ring
• Wild clematis vine
• Pine cones
• Florist's wire
• Paper-covered binding wire
• A drill with hook attachment
1. Make your twig wreath
With the help of the drill and hook attachment, attach vines to the metal ring with twists of binding wire.
Gradually weave in more and more vines until the bottom half of the wreath is wide enough to fit a planter inside. The top half of the wreath may be much narrower.
2. Add the pine cones
Pine cone craft ideas are full of natural texture and interest, and this wreath is no exception.
Attach the pine cones to the clematis vine wreath with paper-covered binding wire. Arrange them more densely at the bottom, with the pine cones thinning towards the top of the wreath. You could also add in everlasting flowers here for extra decorative detail.
Hang the wreath on the wall.
3. Put the plant into the wreath
Gently place the poinsettia and planter into the densely woven vine wreath. You'll need to check the soil around the plant once a week or so to see if it needs watering.
4. Add the finishing touches
Step back and take a look at your poinsettia wreath. You may want to add some small additional plants and foliage to conceal the plant's pot. Choose trailing greenery that will spill over the living wreath to create a professional finish.
Update your design as the seasons change, or to celebrate holidays such as Easter with living spring wreath.