Are poinsettias poisonous to cats and dogs?
Is your Christmas poinsettia poisonous to cats and dogs? Experts settle the matter once and for all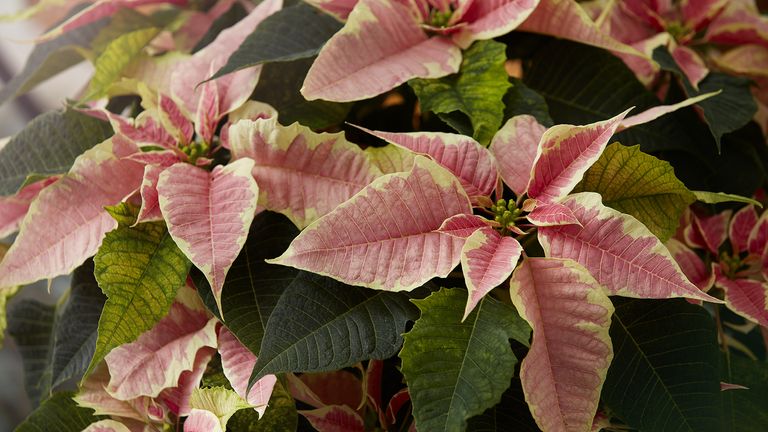 (Image credit: Stars for Europe)
If you have pets then you may wonder – are poinsettias poisonous to cats and dogs?
One of the best winter house plants, poinsettias are an icon of the holiday season, and are often given as gifts.
There are so many wonderful poinsettias for Christmas to choose from, and you can even make a poinsettia wreath.
However, the last thing you want is to gift or display this beautiful plant and risk it harming pets.
So, we put this important question to those in the know, to find out once and for all if you need to worry.
Are poinsettias poisonous to cats and dogs? The experts answer
The consensus is that poinsettias are not poisonous to cats or dogs – or at least not to a concerning degree.
'Many people still think that poinsettias are poisonous to cats, dogs and people, but they are definitely not, as proven in many tests,' says Gail Pabst from the National Garden Bureau (opens in new tab), a leading authority on horticultural matters.
That sounds like good news for poinsettia lovers. But just to be certain, we also asked Jim Faust, associate professor of floriculture physiology at Clemson University (opens in new tab), South Carolina, who has been studying poinsettias for nearly four decades:
'No, poinsettias are not poisonous to cats, dogs or humans,' he says. 'I've eaten a few – they don't taste great.'
However, founder of Houseplant Authority (opens in new tab) Naomi Robinson warns that ingesting poinsettias may cause mild side effects to some pets.
'Poinsettias are slightly toxic to cats and dogs, so if your pet ingests some of this plant, you may see some effects such as drooling, vomiting or diarrhea,' she says.
'Their milky sap can also lead to some irritation if it touches your pet's skin or eyes. But given that the effects of ingestion or exposure are usually not severe, it's rare for your cat or dog to require a visit to the vet unless these issues persist.'
So while it's safe to keep a poinsettia, if your cat or dog is partial to munching on plants then it's wise to position it out of reach.
Now all you need to worry about is how to care for a poinsettia.
How poisonous is a poinsettia?
A poinsettia is not very poisonous at all.
'Although other members of the spurge family (Euphorbiaceae) have highly toxic sap, the poinsettia's own toxicity is quite mild,' says gardening expert Mick Lavelle.
'To put this in context, an average eight year-old child would have to eat around 500 leaves to accumulate harmful levels of these toxins.'
As editor of Period Living, Britain's best-selling period homes magazine, Melanie loves the charm of older properties. I live in a rural village just outside the Cotswolds in England, so am lucky to be surrounded by beautiful homes and countryside, where I enjoy exploring. Having worked in the industry for almost two decades, Melanie is interested in all aspects of homes and gardens. Her previous roles include working on Real Homes and Homebuilding & Renovating, and she has also contributed to Gardening Etc. She has an English degree and has also studied interior design. Melanie frequently writes for Homes & Gardens about property restoration and gardening.