12 winter decor ideas – simple ways to get your home ready for hibernation season
It's time to cozy up your spaces with our winter decor ideas – from sheepskins to seasonal foliage, we've got you covered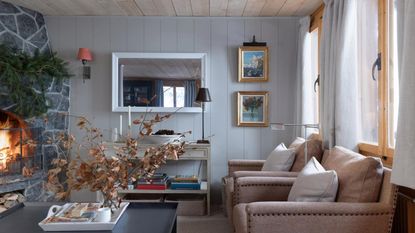 (Image credit: Sims Hilditch)
It's time to batten down the hatches and get into hibernation mode, the darker evenings are here to stay so let's embrace the season and settle in for the next few months.
We've got some fabulous winter decor ideas that will help to set the scene and create a cozy feel in your home. It's important to make each room feel warm and inviting, from the hallway to bedrooms and home offices. There are plenty of lovely (and easy) winter decorating ideas you can adopt – add extra tactile layers, change your accessories, bring in plenty more soft and you could even paint a wall or two in a warming shade if you want to make a real impact.
We've also asked designers for their tips on how to give a home an update for the change in seasons. Nothing major here, just small switches you can make in a few hours to get rooms feeling extra cozy and inviting.
Winter decor ideas that will Instantly create a cozy feel
'When it comes to getting our homes ready for the winter season, we often give lots of attention to bedrooms and living rooms as that's where we spend the most time snuggling up with our favorite book or film,' says Sue Jones, OKA's co-founder and creative director.
Chunky knit throws, heavyweight quilts on the bed and irresistible faux fur and sheepskins are all simple updates that will help you to embrace this hibernation season.
1. Swap out your summer drapes
'Changing your drapes seasonally, from printed linen in summer to a rich wool in winter, is an easy way to not only look cozy, but feel cozy too, as thick wool is fantastically practical for keeping out any winter drafts,' says Stefan Ormenisan, founder and creative director of MindTheGap.
Print and decorating with pattern is a great way to add color to a new season, and we agree with Stefan regarding swapping out your drapes, pack away your summer designs, and embrace winter instead. Stefan continues:
'Here in Transylvania, traditional countryside homes are dressed with jubilantly embroidered textiles to soften wooden furniture, and trimmed, tasseled lamps to brighten the dark winter nights, and in winter this layering of accessories is added to with homely throws, tactile bench pillows and rich woven wool drapes. Adding pillows in boucle, wool and embroidery in a host of traditional tartans and pictorial prints is a wonderful way of layering pattern and color to create a truly inviting interior.'
2. Choose a cozy neutral wall color
Whilst some might not want to start painting walls simply because the season has changed, there is a strong case for going deeper and earthy with your schemes since these shades are a huge color trend right now.
If you fancy the idea of dabbling in more wintery shades remember you can just paint one wall, it will be enough to create a difference and won't take long either. If you pick a lighter shade it will be easier to paint over if you decide to upgrade again later in the year.
'To create the ultimate cozy bedroom, try using a soft plaster pink paint on the walls – it feels like a new neutral, but it's warmer than grey and more interesting than beige. For easy updates, consider investing in accessories such as velvet cushions and printed bed throws in rich chocolate, cinnamon and burnt orange tones. I feel this palette will work well against the soft pink and add warmth to the bedroom as we hunker down and head towards winter,' says international interior designer, Matthew Williamson.
Matthew Williamson is an award-winning British interior designer, known predominantly for his unique and unrivalled use of pattern and color. Having begun his illustrious career in fashion under his namesake brand over 20 years ago, Matthew has drawn on his decades of experience and pivoted seamlessly into the world of interior design. He now develops several homeware collections to sit his growing residential and commercial interior design portfolio. His latest achievements are the launch of his first interiors book, Living Bright, a personal guide to embracing color, and the Design Kitchen, a newly designed space for the Design Museum in Kensington, London.
3. Huddle around the fire
Simple but effective, change up your living room layout so the fireplace becomes the focal point. A combination of a couch and two armchairs will work well, with a coffee table in the middle.
There's nothing more relaxing than sitting in a cozy chair with a hot drink listening to the crackle of logs is there? Guy Daltry, head of product at Garden Trading agrees:
'Winter is all about cozying up at home, and making the most of the longer evenings to spend precious time curled up in front of a roaring fire. Bundle blankets onto your chosen seating and recline with a good book prepped and primed for hibernation season.'
Another great top tip is to add some subtle decoration, this beaded garland works all year round but add in a couple of leaves from a brisk walk and it's suddenly ideal for fall and winter.
4. Use warming metallics
'As winter's chill sets in, preparing your home for hibernation season begins with the bedroom,' advises Mara Rypacek Miller, managing director at Industville.
It's important to get your metallic choice right, nickel will give a colder effect, so brass or copper will work best, Mara adds:
'To cocoon yourself in comfort and warmth, soft brass bedroom wall lights and candles on the bedside table are the perfect duo. The soft glow of brass wall lights casts a gentle radiance, infusing your space with an inviting ambiance. Meanwhile, the flickering candlelight on the bedside table adds a touch of romance and relaxation.
In this sanctuary, soft textiles, plush blankets, and deep, earthy tones create a haven of coziness. The combination of brass accents and candlelight in your bedroom transforms it into a serene retreat, where you can escape the winter's grasp and embrace the snug embrace of hibernation season.'
5. Layer up all the textures
'The first thing I think of when adding coziness to a space is layering,' explains Reena Simon, from Hygge for Home. I love playing with different textures and contrasting them against one another. Pick a centerpiece in your room, for example, the couch in your living room, and experiment with fabrics like boucles, woven knits, exposed hems, and distressed linen and layer them on top of one another with throws and couch pillows.
Another way to add coziness to your home is through lighting. Warm light immediately adds depth to your space and is particularly important in the colder months. You can layer your lighting by adding a statement pendant and then choosing a table or floor lamp to complement the design scheme. An important tip to remember is to choose warm light globes, there is nothing worse than white light when trying to create a cozy ambiance.'
6. Add subtle decor to unexpected places
The heart of the home especially at this time of year, but often not a place we think of adding winter decor ideas to. Simple touches like a trio of candlesticks with candles that match your cabinetry and bunches of sweet-smelling eucalyptus can be all that's needed. Helen Parker, creative director at deVOL adds:
'A small richly colored kitchen can be the most alluring of spaces, holding a certain charm and beauty that is hard to achieve in a large space. Small means intimate, it means cozy and glamorous and petite, these all conjure up something quite special and not a feature to be disappointed by.'
Helen is the Creative Director at deVOL, a leading kitchen design company that mixes classic and contemporary. Helen has been creative director at the company since 2011, passionate about the signature understated approach deVOL takes to designing kitchens.
7. Add warming accents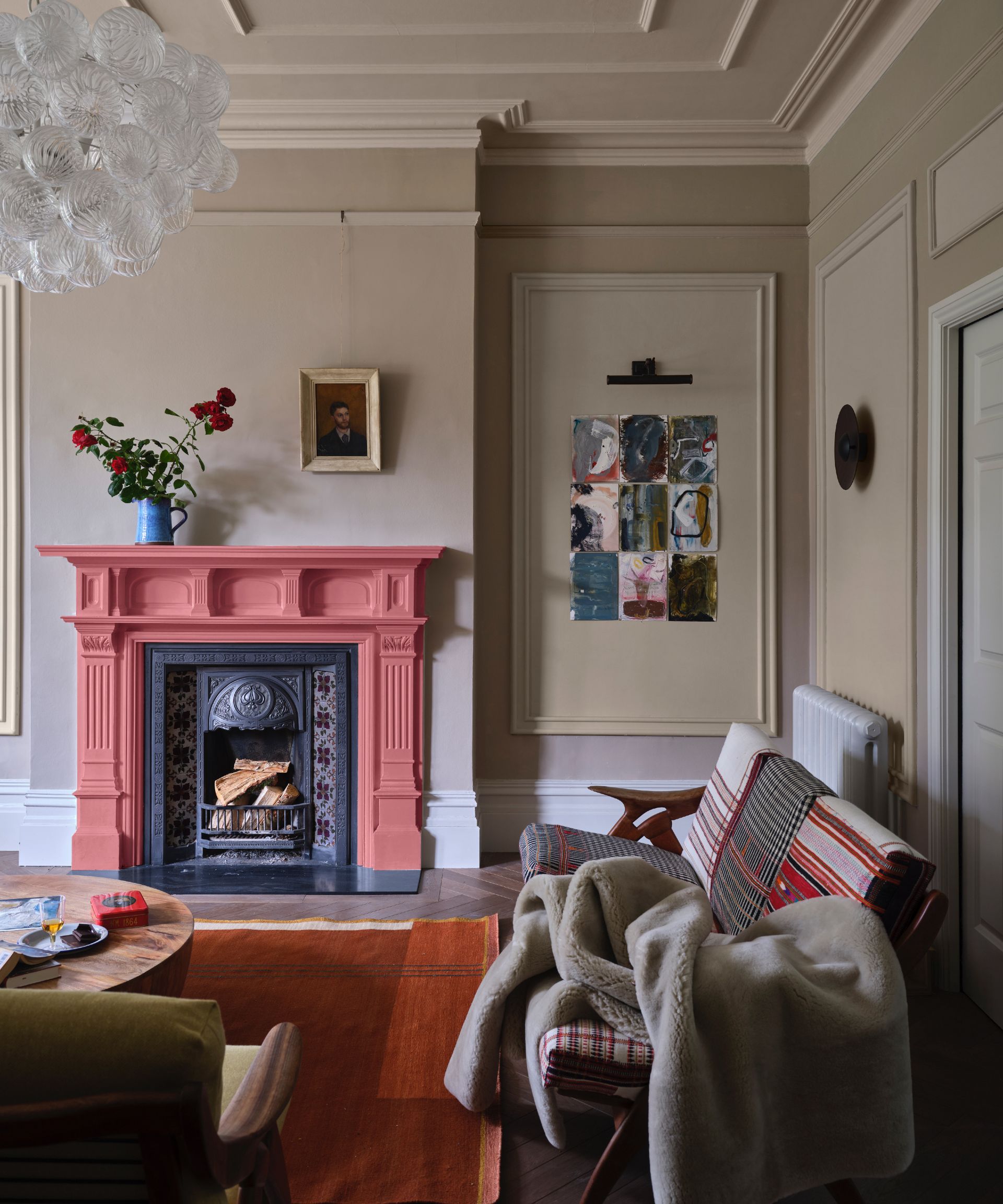 'As the nights draw in, we tend to spend more time indoors with shared conviviality around the kitchen table or snuggled under blankets on a squidgy sofa watching favorite movies so it's important the rooms we live in soothe us and help us decompress from our day to day,' says Patrick O'Donnell, brand ambassador at Farrow & Ball.
Elegant and earthy tones like Stirabout create a cocooning feel that looks fabulous against flickering candlelight in the evenings. Why not paint the fireplace in a color that complements to perk up your space? This warming Red Earth is just the ticket and will look great in spring as the days get longer.
8. Bring in seasonal colors from outside
'One of my favorite things to really welcome in hibernation season is to bring the colors we see outdoors inside,' says Sue Jones, co-founder and creative director of OKA.
'It's an easy way to instantly make your home feel more seasonal, and it just takes a few berries, eucalyptus stems and pine branches arranged in vases and planters to do the trick. The great thing about using faux stems is that you can use them again and again every year for an easy switch over. Don't be afraid to add in real foliage too.'
The beauty of this winter decor idea is that the colors will change as the months pass, it will start with rich oranges, deep reds, and yellows and change to evergreens like ivy and pine fir as we get nearer to the festive season.
9. Invest in oversized rugs
We say go as big as you can with your choice of rug, no matter what the time of year, however in the winter it's especially important. Look for large designs that only allow about one foot of floor to be seen around the edges. It's a fabulous way to add color and pattern whilst keeping draughts at bay. You can also layer rugs for extra decoration.
'If you have a hard floor or even a beautiful wall-to-wall, then it's easy to add an extra layer of warmth and coziness underfoot with a soft wool rug. Wool is proven to be one of the most sustainable and simplest ways to insulate homes and keep you warm and snug for longer. An easy winter warmer,' advises Lorna Haigh creative director at Alternative Flooring.
10. Forage for winter scents
One of our favorite winter decor ideas is to forage for pine fir branches or similar to use to style a mantle. You can't beat that heady scent that conjures up the impending festive spirit.
Christina Bull, project lead at Sims Hilditch agrees,' 'Changing the fragrance in your home during the winter season is a wonderful way to create a warm and inviting atmosphere in any space. We particularly love the cozy notes of amber and fig during this time of year. You can also enhance the fall atmosphere of the space by introducing more seasonal foliage and draping additional throws over the backs of armchairs or sofas.'
11. Embrace faux fur and soft knits
There's nothing more soothing than stroking tactile materials like velvet and sheepskins, plus they also add much needed warmth as the temperature drops! Color is important too, opt for darker, earthy shades.
'Embrace cozy textures like faux fur throws and soft knit blankets. Elevate the cozy atmosphere by layering plush rugs for added warmth,' suggests Ginger Curtis, CEO and founder of Urbanology Designs.
'Infuse your space with a palette of deep caramel, rich greens, and soothing neutrals, creating an inviting ambiance. Let the gentle glow of candles and soft lighting wrap your room in a warm embrace.'
Meet Ginger Curtis, a design visionary renowned for her transformative approach to creating spaces that elevate modern living. In 2015, she founded Urbanology Designs, an award-winning design firm, following an inspiring triumph over an 18-month battle with cancer. This life-altering journey revealed to her the incredible influence of neuroaesthetics on our well-being.
Rooted in simplicity and elevated by extraordinary beauty, interiors by Dallas-based Urbanology Designs bring organic luxury to life. Their soft, modern approach allows clients to relax in the warmth of a comfortable and crafted home. Their design-forward sensibility looks beyond today's times, trends, and whims to create homes with longevity and intention.
FAQs
How do I decorate my house for winter?
'Warm whites can mimic snow while fluffy wool and bouclé blankets offer a nice texture and cozy warmth for winter. Tartan plaids create a classically seasonal feel and patchwork quilts can introduce a unique sense of color, texture, and personality,' advises Regan Baker, founder of Regan Baker Design.
'A collection of candles of a same or similar small size offers a visually pleasing sense of repetition, while twinkle lights can be shaped into a unique art object or nest to highlight more personal objects that showcase your personality with more sparkle.'
Sign up to the Homes & Gardens newsletter
Decor Ideas. Project Inspiration. Expert Advice. Delivered to your inbox.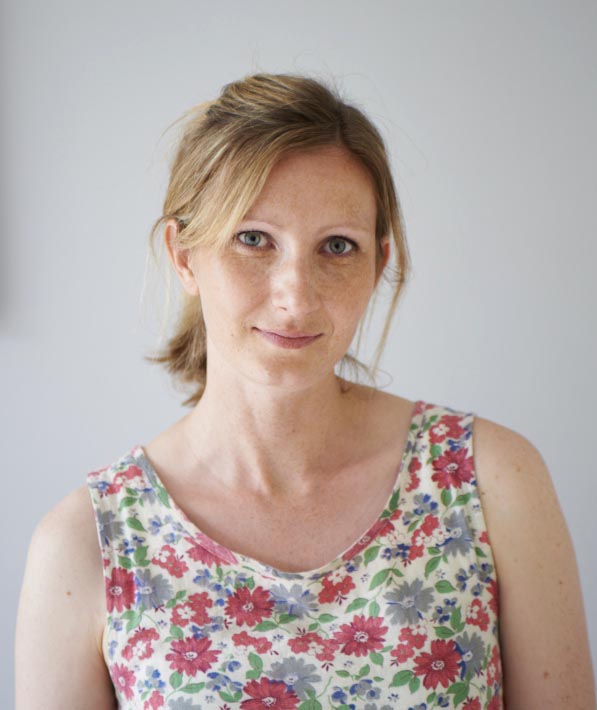 Sophie has been an interior stylist and journalist for over 20 years and has worked for many of the main interior magazines during that time, both in-house and as a freelancer. On the side, as well as being the News Editor for indie magazine, 91, she trained to be a florist in 2019 and launched The Prettiest Posy where she curates beautiful flowers for modern weddings and events. For H&G, she writes features about interior design – and is known for having an eye for a beautiful room.