West Elm's Christmas collection has launched – these are the most beautiful buys to shop right now
West Elm are renowned for their stylish homeware, so it will come as no surprise that their holiday shop is filled with plenty of elegant seasonal decor – take a look at our favorite finds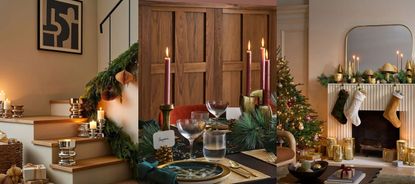 (Image credit: West Elm)
In our opinion, it's never too early to start thinking about Christmas, and West Elm's Christmas collection has definitely got us feeling festive.
From gorgeous seasonal tableware to traditional wreaths, garlands, and stockings, no matter the theme or style of your Christmas decor ideas, West Elm's Christmas collection definitely has something for everyone.
To help you start off your holiday shopping in style, we've rounded up our favorite pieces from the West Elm holiday shop. Whether you're simply looking for some beautiful inspiration to get you in holiday spirit, or are on the hunt for some special festive gifts, explore our favorite finds from the West Elm's Christmas collection below.
It's time to start shopping for the Holidays with West Elm's Christmas collection
West Elm has an extensive offering of seasonal decor this year, so to make things a little easier for you, we've organized our best buys into six simple categories. From tree ornaments and decorative accents to stockings, wreaths and garlands, these are our product highlights.
Tree ornaments and decorations
It seems Christmas ornament ideas and Christmas tree themes become bigger and better each year, and many of our favorite retailers have definitely stepped up their game when it comes to more creative and unique ornaments.
Our favorite ornament designs from West Elm highlight a wonderful mix of both understated, and elegant ornaments, with a playful collection of fun, novelty designs, so no matter which style you prefer, there will be an ornament to suit.
Decorative accents
Christmas is the best time to embrace fun, festive decor all over the home, so as well as plenty of decorated Christmas trees, you will also need a whole host of decorative accents to spread festive cheer throughout your space.
From striking candleholders to cozy cushion covers and golden mushroom ornaments (yes, you have read that right), these decorations are perfect for use for Christmas mantel decor, Christmas window decor, Christmas table decor, and, pretty much, for adorning any other surface in the home.
Trees
As beautiful and traditional as real Christmas trees are, sometimes they are simply not the most practical option for Christmas tree ideas in the modern home. Luckily, there are so many wonderful faux styles to shop from. Included in our highlights, are trees that can spruce up both the inside and outside of your space for the holidays.
Pre-Lit Faux Blue Spruce Tree w/ Burlap Base
We love these adorable faux Spruce Trees, and think they're perfect for dressing up an entryway or living room.
Monaco Pine Green Christmas Tree
This Monaco Pine Green Christmas Tree features twinkling lights, and can work wonderfully as the central Christmas tree in your home.
Vancouver Green Pine Porch Set
This Vancouver Green Pine Porch Set comprises of four trees, a wreath and a garland – shop for all of your Christmas porch decor in one!
Stockings
Stockings do not have to be kept away until Christmas Eve, they make for wonderful decorations on a mantel or staircase in the lead-up to Christmas too. We love that our stocking selections from West Elm have the option of being personalized, making them feel even more special and unique.
These cozy velvet stockings are available in a palette of classic Christmas colors, and can even be personalized, making for a perfect gift. Pair with one of West Elm's innovative stocking holders.
Chunky Bauble Knit Stockings
We love tactile texture of this Chunky Bauble Knit Stocking, guaranteed to add cozy character to wherever it is placed. The design can also be personalized.
Dinnerware and table accessories
For many of us, the festive season is centered around hosting and entertaining with friends and family, and creating a stand-out festive tablescape through stylish tableware and table accessories will only help to make your space feel more special and stylish for the season – and, of course, it will definitely impress your guests.