14 front door color ideas that will boost your home's curb appeal
Enhance the entrance to your home with our inspiring collection of front door color ideas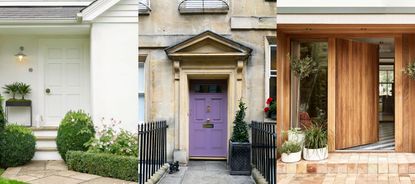 (Image credit: Sadolin | Victory Colors | Urban Front)
Wanting to create the perfect first impression for your home? Look no further than our list of front door color ideas; exploring everything from timeless favorites to more impactful, contemporary shades.
Complementing front door ideas is important, but so, too, is the note the color will strike, be it cheerful and welcoming or more formal and classic. The best front door color ideas can refresh the exterior of a home, catch the eye from the street for all the right reasons, and might even increase a home's value.
Whether you make a statement with a bright pink door or opt for more classic black or white, your front door is a chance to truly express your style – and let people know what they can expect for the design of the inside of your home.
Our 14 favorite front door color ideas
Victoria Yardley, managing director of Victory Colours, says, 'the front door is often the first glimpse visitors get into the home, so create one that showcases your personality and interior flair.'
When planning your front door color ideas, always bear in mind that your front door design will affect which front door paint ideas suit, as well as the period of your home and the color of paintwork visible from the street and your front porch ideas.
So, whether you've been exploring our front door colors to avoid and now need insight on what works well, instead, or feel like your front door simply needs a refresh, be inspired by our collection of colorful ideas.
1. Create a colorful contrast
A front door is a great place to really be bold with color and to create a stylish element of contrast with the style of your home's exterior.
Melissa Holt from Cabana Rehab Interiors says, 'typically we recommend contrasting the front door color to the body of the home to create a focal point and add curb appeal. If your house is darker then a lighter color adds interest, whether that is paint or a lighter wood stain. A lighter color house can carry the visual weight of a darker door while maintaining a welcoming feel.'
As shown here, the bright purple door establishes an elegant juxtaposition with the natural stonework and traditional style of the property, making for an eye-catching use of color and a stylish mix of the old and new.
2. Establish a theme
If you're wanting to create a more cohesive and unified look for your front door color ideas, be inspired by the colors used for your window treatment ideas.
This front door, painted a simple, light gray, perfectly coordinates with the palette of blues and greens used across the window blinds, creating a colorful and characterful entrance into the home. With matching fabric used on the outdoor cushion, we love the inviting, indoor-outdoor feel that is created, and how the front door works in harmony with the entrance design.
3. Take the lead from your house color
Coordinating your front door color ideas with the color of your home's exterior can be a great option for both traditional and modern properties, and can establish a clean and coordinated look.
As shown above, the white front door works perfectly with this classic property, with the front door perfectly in keeping with the more traditional architecture.
4. Showcase the timeless beauty of nature
Color palettes rooted in nature, from mossy greens to sky blues and buttery yellows, are renowned to make us feel more grounded and calm – and they can blend in beautifully with an outdoor space, too, so are wonderful options to consider for your front door color ideas.
But why not take this celebration of the outdoors to the next level and choose a natural, wooden front door where the timeless beauty of nature can speak for itself?
This warming, wooden door design by Urban Front shown above, works in unison with the coordinating wooden front porch ideas – a great look to consider for porch ceiling ideas, establishing a timeless and rustic look rich in natural material.
5. Go for natural tones with blues and greens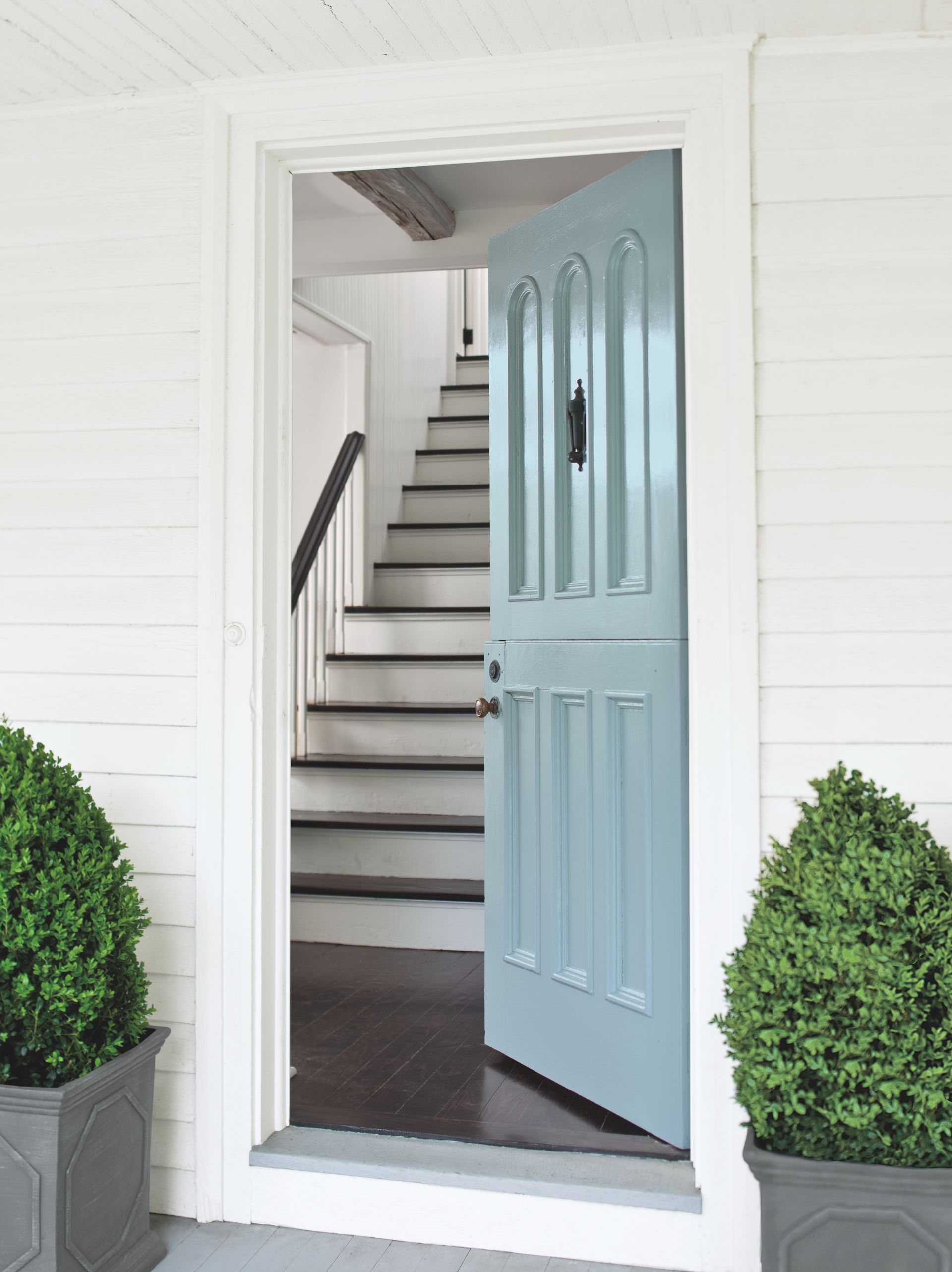 Allow nature to be a guide and put front door color ideas in shades of blue or green at the top of your list of preferences. Either will blend beautifully with foliage alongside the front door or in nearby borders for a harmonious look.
Muted shades like this blue or nature-inspired greens are a perfect partner to traditional homes, too, ensuring the front door is attention-grabbing but sympathetic to the architecture.
6. Refresh in a day with white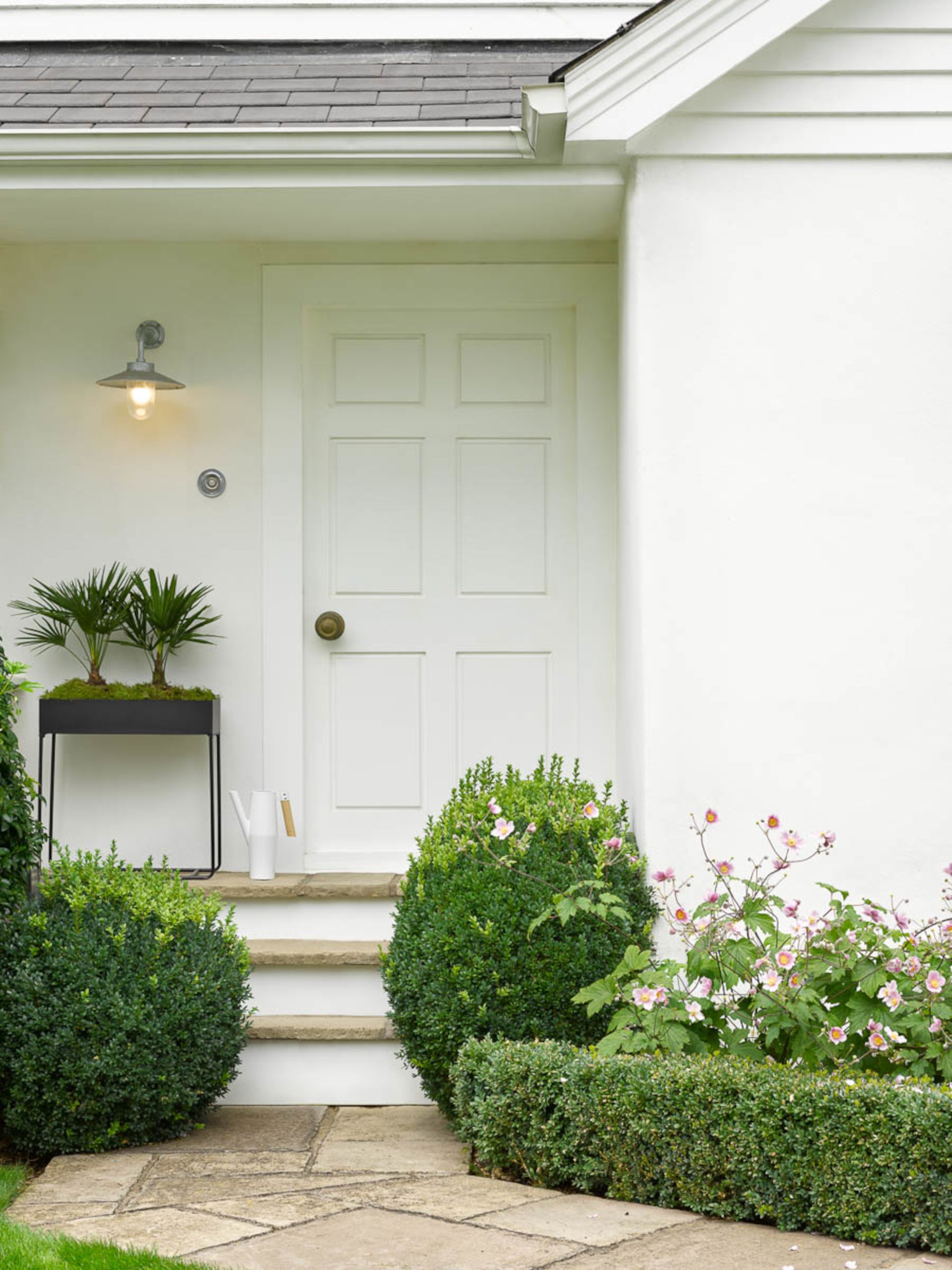 Painting the front door is one of the speediest ways to boost a home's curb appeal. 'It's a one-day project that can make a world of difference to the appearance of your home,' says Matthew Brown, Sadolin, and Sandtex technical consultant.
'As the first thing people see when visiting your home, the color and look of your front door really should be a considered choice. Taking note of the style of the door, along with the trim and siding that frames it can change the whole look of the exterior.'
For a smart but subtle entrance, follow this home's lead with the door painted to match the façade. Bear in mind that cleaning a front door is a more regular task the lighter the front door paint color.
7. Follow color principles
The traditional practice of Feng Shui could assist in selecting a front door color. 'For Feng Shui front door colors, the front door plays a major role in welcoming positive energy into the house,' says practitioner Eddie Tee of Fengshuied!
'When we are going for more striking colors, there is a concept of colors that can be applied to choosing one based on the sector where the front door is located within the property or the direction it is facing. This can be generally broken down to the guide below:
North – blue
South – red
East – green
West – white
Northeast – brown
Northwest – white
Southeast – green
Southwest – brown
'This concept is centered around avoiding an energy clash with the nature of energy entering via a specific direction. However, it should be noted that in modern times where the shape of houses is getting more creative, this concept is no longer as widely practiced as decades ago.
A more straightforward way of choosing? 'It can also be said that in Chinese culture, red front doors are generally considered as auspicious,' says Eddie. 'They bring good luck and abundance.'
For further inspiration, explore the other colors people paint their front doors for good luck.
8. Let color bloom with floral-inspired shades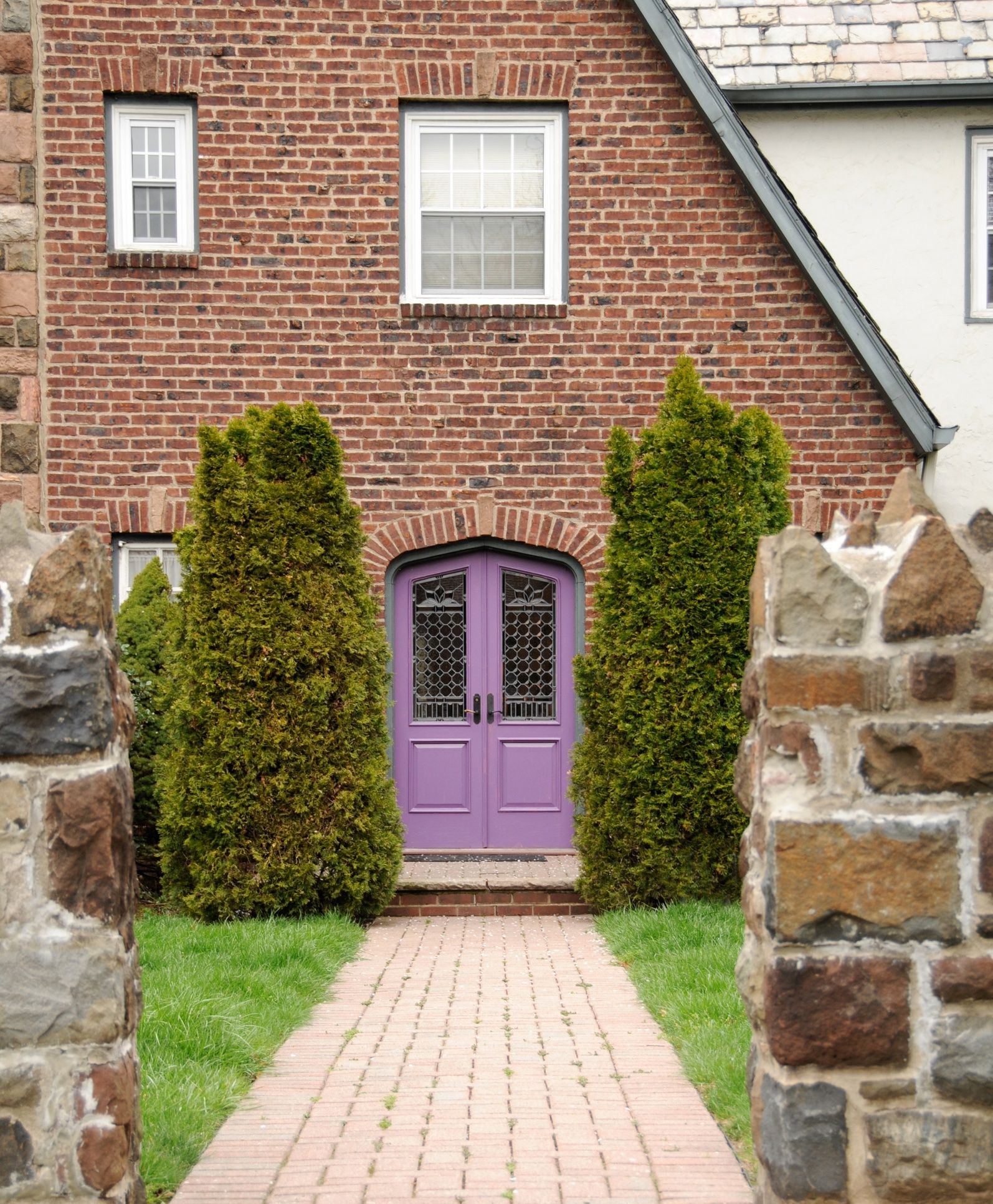 For a truly cohesive front yard or for cottage front door ideas, choose a front door color that picks up one of the hues from among the planting's palette.
For this home, it's a delicate lavender shade that will echo the wisteria that grows around it once it's in bloom.
Likewise, flowers in hot shades can be combined with front door color ideas in red or orange and borders of sunny blooms with a yellow door.
9. Highlight a door's detail with front door paint colors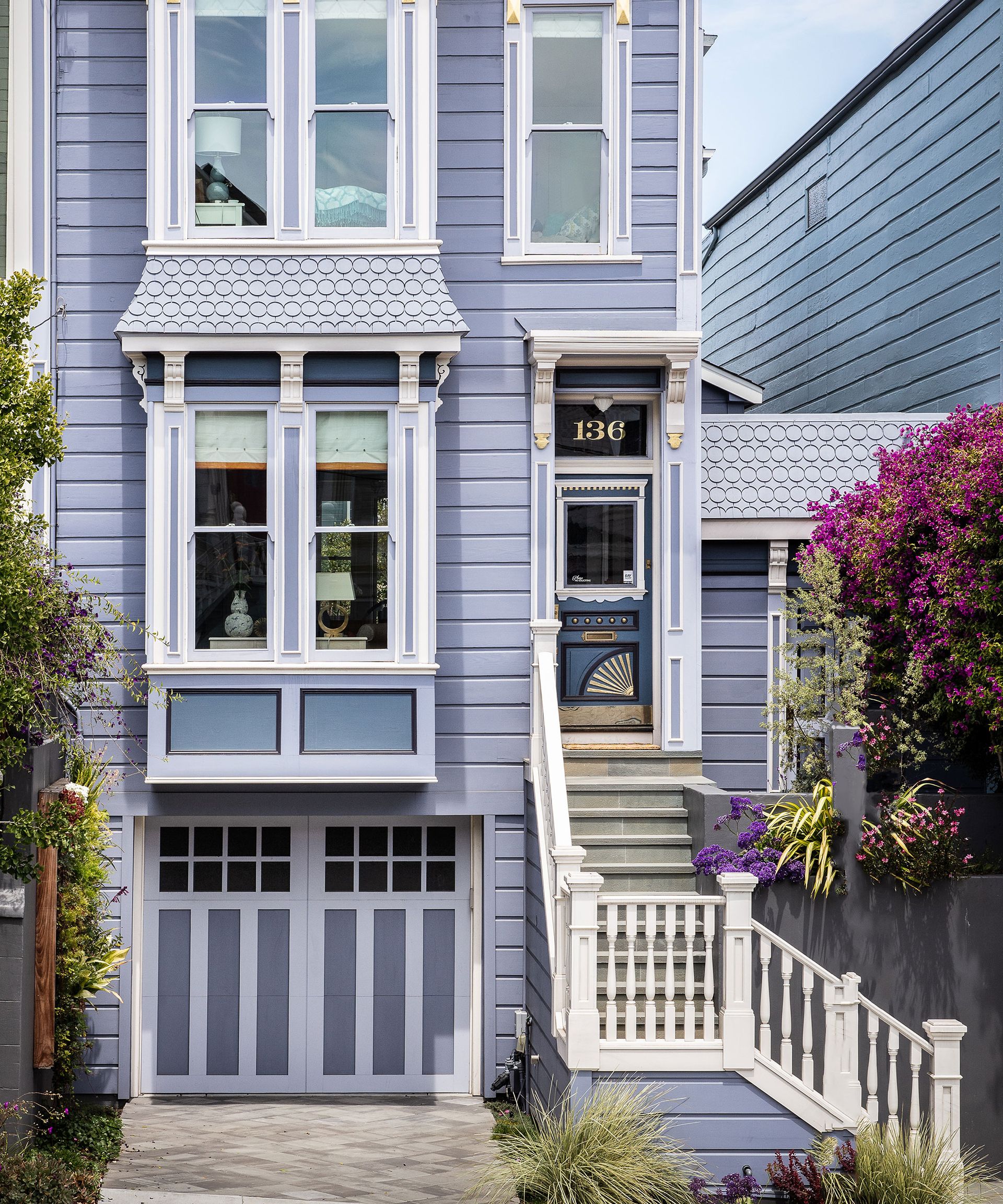 There's no rule that says you have to paint a paneled front door in a single color, and if you want to emphasize its detail, there's nothing better than choosing a selection of hues for the task.
The key to success? Pick harmonious colors to use on the different elements of the design, and repeat shades from windows and siding, too, to pull the look together and make a striking impression on the street.
10. Smarten up with black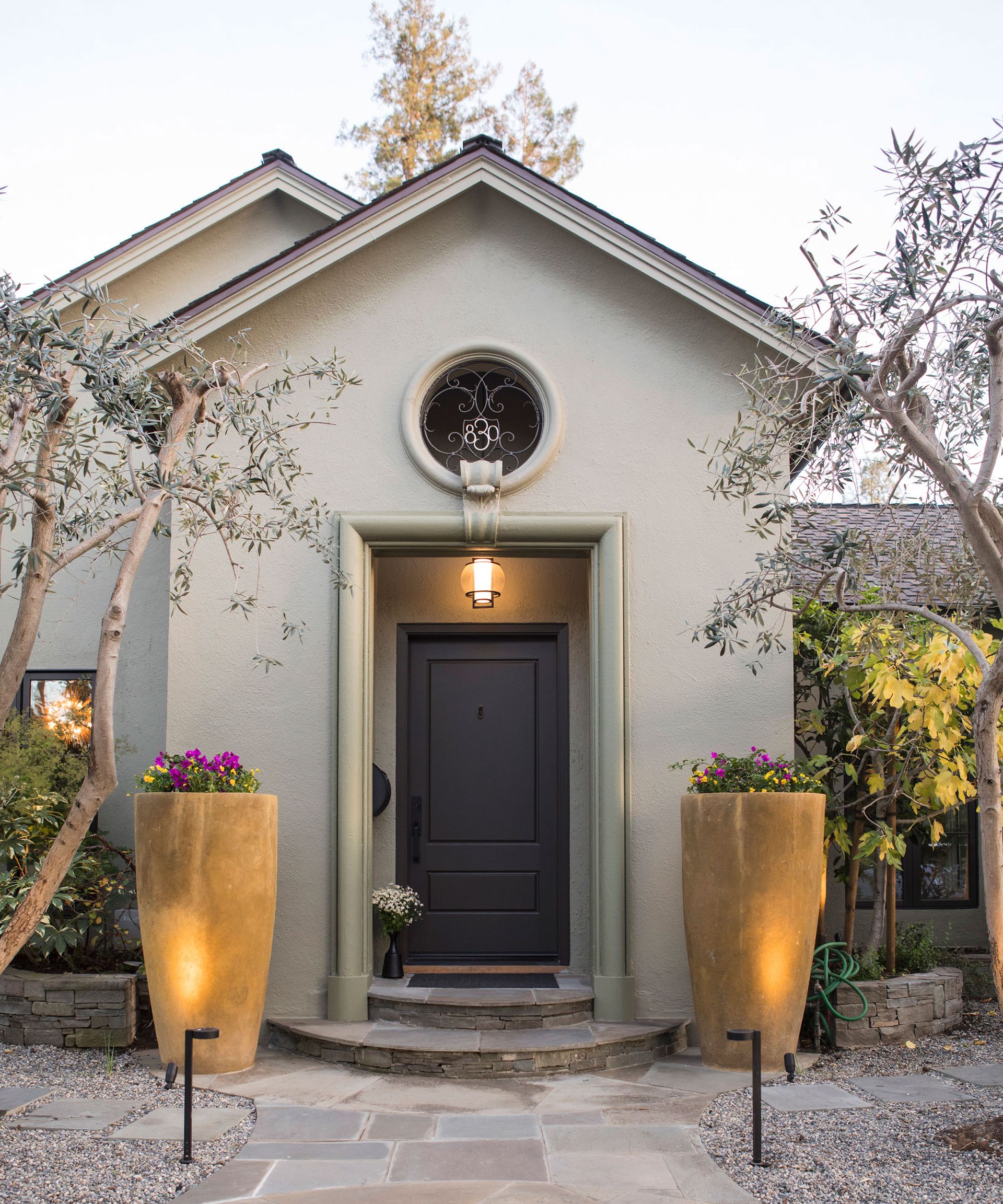 For classic good looks, black is a winning choice for a front door color. 'A glossy black front door is always in style,' says certified color expert and interior decorator Pattie Kelly of Inspired Home Interiors. Black can be a natural partner to more traditional style homes, and it's a shade that will pop, making the front door a focal point.
But if a bolder hue is your instinct, don't be afraid. 'A colorful front door is a fantastic way to make a statement and add some punch to your front porch,' Pattie continues. 'The most important thing is to choose a color that you love so you smile every time you come home.'
11. Finish a double door
Double front doors are an imposing feature in their own right, so a quieter finish can be the perfect choice for a home with one of these. A white like this is a timeless choice, and although the paint finish will need to be renewed over time due to the effects of the sun and weather, it won't go out of style.
When selecting any color for a front door, be aware that if you live in a community with a homeowners' association (HOA), there may be rules on front door finishes. 'Double check with your HOA in case some colors aren't permitted,' says Pattie Kelly.
12. Go for gray for a contemporary front door color
For a front door color that stands out from an exterior in white, beige, or cream, consider gray. It's a more contemporary choice than black or navy, but is equally handsome, and eminently suitable for a classic paneled door design.
A gray door can also prove easier to keep clean than black and navy as mid to lighter tones won't make any dust or dirt that adheres to the door's surface as obvious.
13. Choose a front door color with staying power
Whichever hue is selected from among the range of front door color ideas, it's important to bear maintenance in mind. 'You do want to think about how much sun the door gets, so west and south-facing doors can fade quickly due to the amount of direct sunlight,' says interior designer and color expert Jennifer Guerin, owner of JG Color Studios.
'Stay within naturally pigmented hues that won't fade as fast as the more synthetic bold tones that will need a constant touch up. Using a high-quality paint, such as Fine Paints of Europe gloss, which has longer staying power, or Benjamin Moore's Aura Exterior Paint, also known for its protective quality that lasts for years even with high sun volume.'
14. Select a different color for the front door's interior
Don't forget that the color you pick for the exterior of your front door doesn't have to be repeated on the interior side. You may want to pick a more light-reflective shade for inside, especially if the door is solid, features stained glass, or has minimal glazing, as this will help brighten up an entranceway short on daylight – also a great choice for when exploring, what colors brighten up an entryway.
A different color for the interior can also link the door to the rest of the hallway ideas or entryway ideas, as well as to the palette picked throughout the home.
What are popular front door colors?
It is no surprise that black reigns as one of the most popular front door colors, closely followed by other classic shades such as white and gray.
However, the latest interior design trends and color trends are seeing a brave and bold resurgence of embracing color in the home, and what better way to make your home feel more uplifting and welcoming than a colorful front door?
We also continue to be inspired by the beauty of the natural world that surrounds us, with blues and greens another popular choice for front door color ideas.
What color door increases home value?
'Finishes that are neutral in color can increase home value simply by the way they attract a larger audience,' says Yoselin Castro, senior interior designer at Mackenzie Collier Interiors.
'Homes painted in colors like black or white make it easier for people to see themselves in the space and personalize it with their own style, as it's almost like working with a blank canvas. This is true with front door colors too – while it may only cost you a few hundred dollars to change the color of your door if you're trying to sell a home, it's better to keep it safe and opt for neutral exterior paint colors.'
For further insight, explore which front door color adds value to a house.
Sign up to the Homes & Gardens newsletter
Decor Ideas. Project Inspiration. Expert Advice. Delivered to your inbox.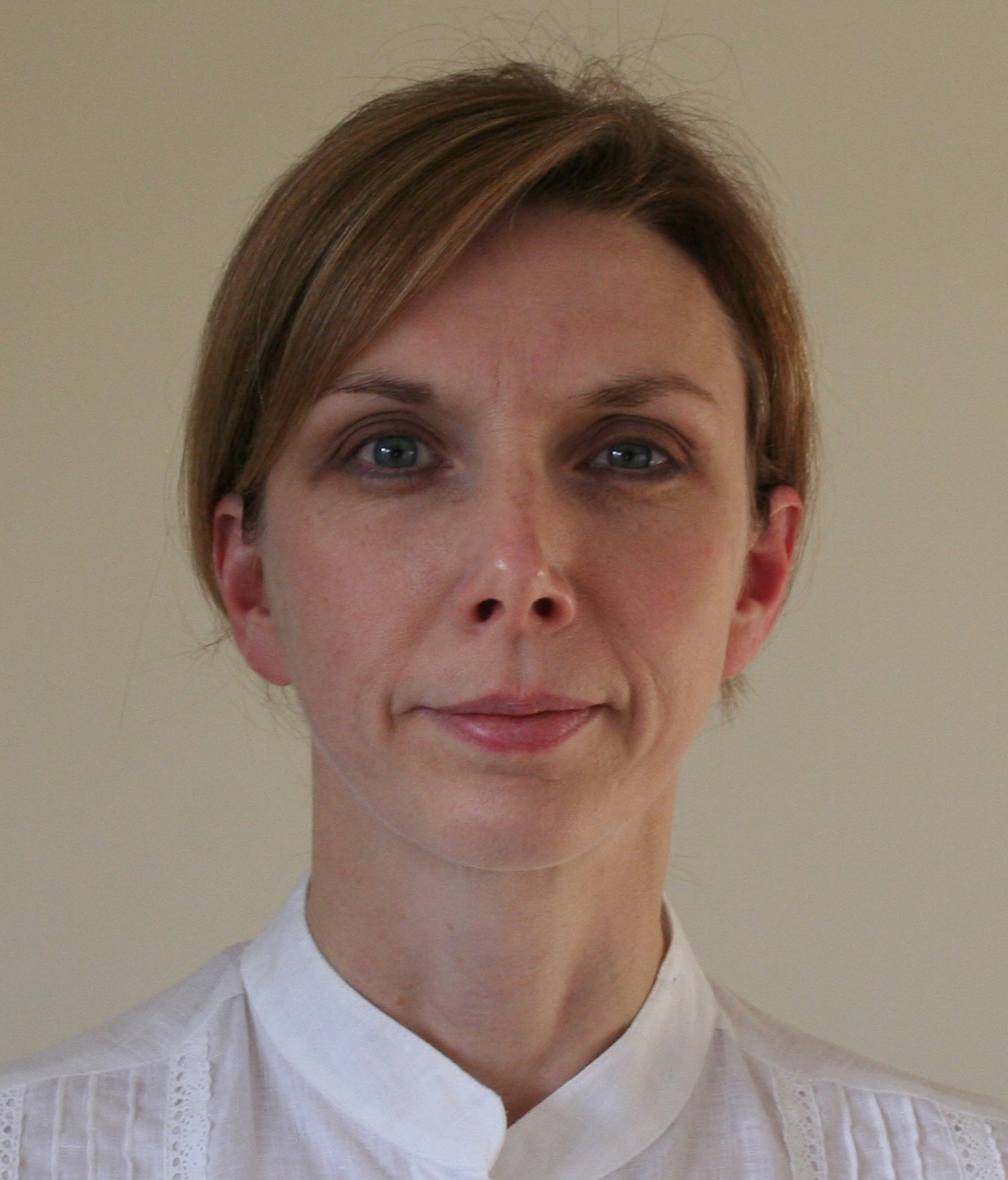 Sarah is a freelance journalist and editor. Previously executive editor of Ideal Home, she's specialized in interiors, property and gardens for over 20 years, and covers interior design, house design, gardens, and cleaning and organizing a home for H&G. She's written for websites, including Houzz, Channel 4's flagship website, 4Homes, and Future's T3; national newspapers, including The Guardian; and magazines including Future's Country Homes & Interiors, Homebuilding & Renovating, Period Living, and Style at Home, as well as House Beautiful, Good Homes, Grand Designs, Homes & Antiques, LandLove and The English Home among others. It's no big surprise that she likes to put what she writes about into practice, and is a serial house renovator.