This front door color will add the most value to your home
You'll be surprised how much the right color door will add when you sell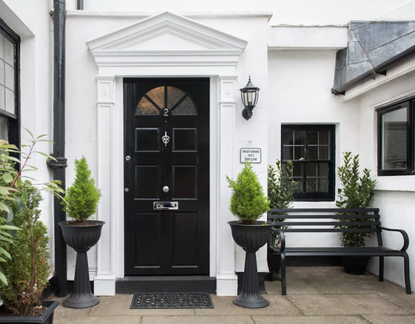 (Image credit: Future/Photography: Tom St Aubyn)
Your front door is an essential element of your home's design, but did you know that choosing your front door color wisely will actually add value to your home? Of course, front doors are part of a home's curb appeal, which in itself is hugely important for selling a house at the best possible price. However, it turns out that buyers are discerning when it comes to the exact color – and will pay more if it matches their preferences.
See: Front door ideas – colors, materials and looks for exterior doors for the perfect entrance
What is the best color for a front door to add value?
And the color that adds the most value to a home is… black. Not only is this color the most searched-for on Google this year, but it also will add $6,271 to the resale value of your home, according to Zillow (opens in new tab).
If in doubt about the correct shade and paint finish, go for the glossiest, blackest paint you can find for the most refined look. If you prefer a matt finish, your best bet is a very dark charcoal color rather than black – it will look better, and the Zillow paint color analysis shows that it has the same value-adding potential.
There's also indication that dark home facades in general are becoming more popular. 'We see a lot of dark colors, so I think darker on the outside is the trend right now – dark with white trim,' real estate agent Pamela Knapp told Homelight (opens in new tab).
However, you do need to be careful that the color scheme matches other homes in the neighborhood, especially if you live somewhere with heritage style homes.
What if I don't like black?
Fortunately, black is not the only value-adding color, so if black is not your thing, there is a couple of other failsafe choices that appeal to buyers. A bright color that contrasts with a neutral exterior – from buttery yellow to brick red – is recommended by real estate agents to enhance curb appeal, and can easily be changed if the buyer doesn't like the color.
If you live in a red brick house that's already quite bright, consider a subdued or powdery shade like teal or powder blue.
Ready for a new door? Choose a steel one
If your door has seen better days, you may be better off replacing it altogether, with a steel one. Replacing your old door for a new steel door will cost you in the region of $1,500 but can recoup 91% of its value at resale.
Anna Cottrell is Consumer Editor across Future Plc Home titles. She has a background in academic research and is the author of London Writing of the 1930s. She writes about interior design, property, and gardening .On H&G, she specializes in writing about property – buying, selling, renting, mortgages – sustainability and eco issues.