Experts reveal that this front door color will add the most value to your home
Looking for the perfect color for your front door? Find out which color can enhance the value of your home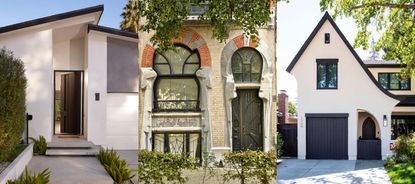 (Image credit: Lucie Ayres 22 Interiors, photography by Noah Webb | Emily Kates, Vivian Johnson Photography)
Sign up to the Homes & Gardens newsletter
Decor Ideas. Project Inspiration. Expert Advice. Delivered to your inbox.
Thank you for signing up to Homes & Gardens. You will receive a verification email shortly.
There was a problem. Please refresh the page and try again.
Your front door is an essential element of your home's design, but did you know that choosing your front door color wisely will actually help to add value to your home?
Of course, front door color ideas are part of a home's curb appeal, which in itself is hugely important for selling a house at the best possible price.
However, it turns out that buyers are discerning when it comes to the exact color – and will pay more if it matches their preferences.
What is the best color for a front door to add value?
With so much to consider for your front door ideas, from shape to style and material, let us help you make things easier when it comes to choosing the right color, by presenting to you the front door color will add the most value to your home.
And the color that adds the most value to a home is… black!
A classic and truly enduring shade, black is one of the most popular color choices for a front door, and according to Zillow, having a black front door can add $6,271 to the resale value of your home.
If in doubt about the correct shade and paint finish, go for the glossiest, blackest paint you can find for the most refined and elegant look.
If you prefer a matte finish, your best bet is a very dark charcoal color rather than black – it will look beautifully sleek and modern – and the Zillow paint color analysis shows that it has the same value-adding potential.
There's also an indication that dark home facades in general are becoming more popular. 'We see a lot of dark colors, so I think darker on the outside is the trend right now – dark with white trim,' real estate agent Pamela Knapp told Homelight.
Whenever decorating the exterior of your home, always check the local decorating regulations in your neighborhood – especially if you live somewhere with more traditional, heritage-style homes.
What if I don't like black?
Of course, black is not for everyone, and this color may not work with the style of your home, so fortunately, black is not the only value-adding color.
A bright color that contrasts with a neutral exterior – from buttery yellow to brick red – is recommended by real estate agents to enhance curb appeal, and can easily be changed if the buyer doesn't like the color – see our analysis on should your front door be lighter or darker than your house, for further insight.
If you live in a red brick house that's already quite bright, consider a subdued or powdery shade like teal or powder blue.
Remember, if your front door is primed in the right way, you should be able to learn how to paint a front door and, if you so wish, make frequent refreshes with paint, depending on the season or your desire to try out a new color.
What are popular front door colors for 2023?
As we have explored, a black front door is utterly timeless and can coordinate with homes of all styles, making it an enduringly popular choice for a front door.
However, 2023 color trends are favoring color palettes that are rooted in nature, from olive greens, earthy pinks and deep blues, and opting for a color like this will not only create a stylish harmony and connection with the design of the inside of your home, it will beautifully complement the colors of nature that surround your home outdoors.
However, 2023 is definitely the year to be unashamedly big and bold with color for interior design trends, so why not take this style to the exterior of your home, and make a colorful statement with a bright and impactful front door color; a great way to give people an impression of the colorful design that can be found on the inside of your home, too.
Kerry Sherin, consumer advocate at Ownerly says, 'when selecting colors, look for colors you see in nature (green, blue, brown), or the classics (black, white, or gray). If your house is very neutral, a bold pop of color is a good choice to provide contrast as well. Certain colors will also invoke feelings, for example, red is a popular color for feng-shui front door colors as it represents good luck and protection, with blue inspiring feelings of energy.'
How do you modernize a front door?
From a fresh coat of paint, to enhance your front door window with beautiful window treatments, there are many simple changes you can make to modernize your front door.
If your door has seen better days, you may be better off replacing it altogether – see our guidance on, how much is a new front door, and replacing your old door for a new steel door will cost you in the region of $1,500 but can recoup 91% of its value at resale.
If you do not want to replace your door with a brand new one, other changes you can make to modernize it include updating your door's hardware, from new door numbers, knockers and letter boxes.
Sign up to the Homes & Gardens newsletter
Decor Ideas. Project Inspiration. Expert Advice. Delivered to your inbox.
Anna K. Cottrell is now a freelance writer, having previously been a Content Editor for Future's homes titles. She writes about interior design, property, and gardening. On H&G, she specialized in writing about property – buying, selling, renting – sustainability and eco issues.