These are the only colors you should be painting your backyard fence – if you want to add value to your home
White fences? So done. These are the colors you should be painting your fence according to experts...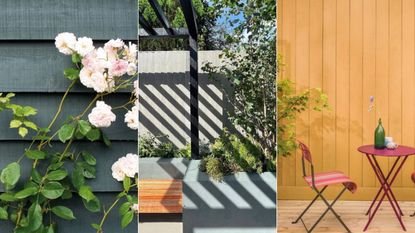 (Image credit: Farrow & Ball)
Sign up to the Homes & Gardens newsletter
Decor Ideas. Project Inspiration. Expert Advice. Delivered to your inbox.
Thank you for signing up to Homes & Gardens. You will receive a verification email shortly.
There was a problem. Please refresh the page and try again.
We put so much thought and effort into choosing the colors inside our homes, ordering swatch after swatch to work out what shade works best in the space. And yet when it comes to external aesthetics, the same thought doesn't always apply. Fence colors are probably something you think very little about. It's likely you have inherited the color of your current fence and just slap on a new coat of the same boring variation of brown, or (frankly impractical) brilliant white and that's the job done.
But a tired-looking fence, in a bland or wrong color, can bring down the whole look of your home and it can even devalue it. So we say pay your fence some attention. It's a really simple switch, and usually a weekend DIY job you can do yourself to really update your home's exterior.
We asked color and paint experts what are the current best colors for a garden fence if you want to add style (and potentially value) to your home.
The best colors for a garden fence
1. Soft greys
Darker colors are perfect fence colors for a small garden. Deeper hues are far more likely to blend more effortlessly into the garden and help blur the edges so the space appears larger. They are also great shades for making the greenery in your garden a really focus – black is not the easiest color for our eyes to register, we almost see through it, hence why it's a great color for blurring boundaries and highlighting planting.
Now, black in a garden can appear a little harsh as it's not a color you find a lot in nature, but you can still get that contemporary, space-expanding effect using the right shade of grey. Pick a more natural-looking grey, by that we mean, soft shades with green or brown undertones. Avoid anything too blue and steely.
'As a less extreme option to black, I use a dark grey in exterior fences which is an emotional, thought-provoking color that exudes modernity and class. It can look super sophisticated and evoke drama, so it's perfect for someone who wants to go bold with their design and add contrast as the green of the landscaping will pop,' explains designer Julia Dempster.
2. Rich rusty reds
Mediterranean gardens are always apparent in garden trends year after year, we can not get enough of those sunny spaces. A recurring color in these warmer climes is terracotta – weathered pots, plastered walls, tiled floors, you know the vibe. So create that look with your fence color. Rusty, warm reds create just enough contrast with greenery that you notice it as a backdrop, but due to the very natural shade, it doesn't look stark or out of place. Plus you get that red plaster vibe without having to actually plaster one of your garden walls.
'For something a little more urban, add a splash of equatorial warmth with spice tones – this will lend itself rather beautifully to container gardens. Red Earth in Exterior Eggshell is your friend here and will deliver a warm glow even on the gloomiest of days,' recommends Patrick O'Donnell of Farrow & Ball.
3. Deep natural blues
You'll notice a recurring theme here, the best fence colors tend to be on the natural side. Colors that dissolve into the surrounding space rather than dominate focus, and a soft, deep blue is perfect for doing just that. They also have the pre-mentioned benefit of making a small garden look bigger.
'The best way to deal with a rather mundane fence is to paint it dark,' suggests Patrick O'Donnell of Farrow & Ball. 'As well as looking rather smart, it helps it disappear and becomes a very flattering backdrop to planting. Smart options here would be Inchyra Blue, which has an empathetic slither of green through it, to the moodier but rather chic options of Railings or Off Black– all in Exterior Eggshell. Avoid a shiny finish as you want the color to 'retreat'.'
Helen Shaw of Benjamin Moore agrees that 'Opting for rich, darker shades such as navy blue and forest green, not only add a touch of drama and luxury but on a practical note, show less wear and tear.'
4. Soft subtle greens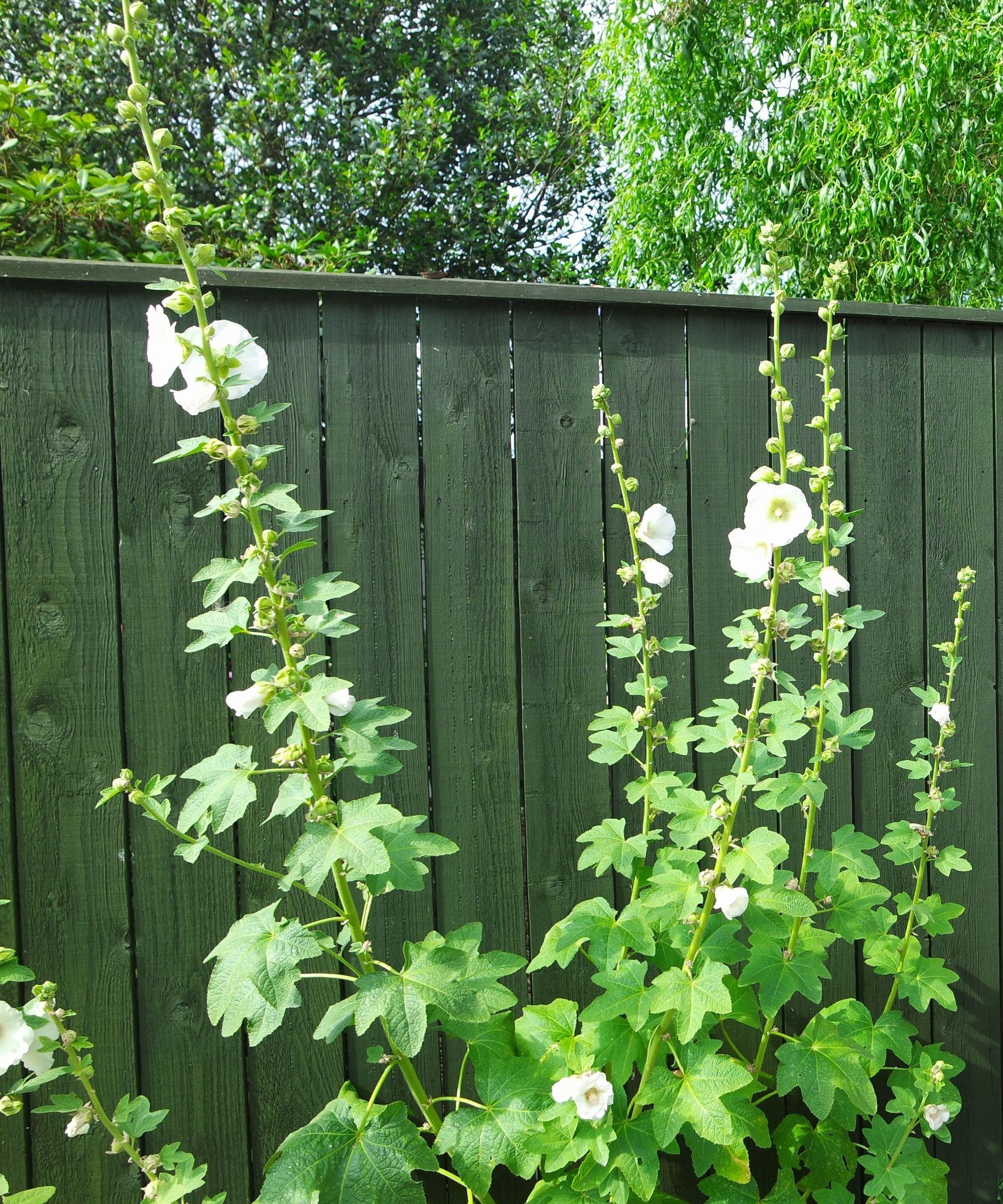 The key to a green fence is picking the right green. The draw of a green fence is that they can so easily blend into foliage, however, if you pick the wrong tone of green, you can get this awful, unnatural clash. So order swatches and find one that complements your planting. We'd recommend going for a soft, subtle sage green that creates a tonal effect with the other greens, rather than looking like it's trying too hard to match the same shade as the plants around it.
'Painting your fence makes for a practical and decorative way of updating your exterior and picking the right color is key,' says Helen Shaw. 'If you prefer a subtle and chic aesthetic consider a tonal scheme by drawing from colors apparent in the natural world. Blue and green are examples of such colors that are versatile yet stylish. As the two colors most regularly seen in nature, they require our eyes to do little, to no, adjusting, which is perfect for creating a feeling of harmony and elegance throughout the space.'
FAQs
What are the worst paint for a garden fence?
Fence colors to avoid are anything that creates a real clash and colors that you rarely find in nature. Black can be a very harsh color in a garden and usually only works in a very minimalist, contemporary spaces. Vivid primary colors like yellow and red do risk dominating and being over-stimulating in a place that you probably want to feel calming and serene. Stick with more muted versions of colors – sage greens, soft navy blues, muted reds, and yellows.
What fence color makes a garden look brighter?
Pale, pastel hues are perfect colors for making a garden look brighter. Skip the more saccharine hues like pink and lilac, but do try out soft sky blues and really pale sage greens. These shades are natural enough to be at home in a garden but will give a space a lift. Of course, white in the right space can brighten a garden too – just soften the potential starkness slightly with climbing plants.
Sign up to the Homes & Gardens newsletter
Decor Ideas. Project Inspiration. Expert Advice. Delivered to your inbox.