30 garden trends for a glorious green space in 2023
As our connection with the natural world ever-evolves and deepens, see how you can make the most out of your outside space with our top garden trends for 2023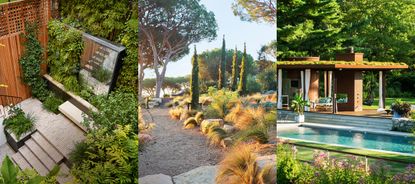 (Image credit: Alister Thorpe | Gavin McWilliam | Stimson)
Sign up to the Homes & Gardens newsletter
Decor Ideas. Project Inspiration. Expert Advice. Delivered to your inbox.
Thank you for signing up to Homes & Gardens. You will receive a verification email shortly.
There was a problem. Please refresh the page and try again.
For many of us, our backyards and gardens are just as important as the interior designs of our homes, and the latest garden trends for 2023 can provide some beautiful, blooming inspiration and fresh ideas for your outside spaces.
Inspiring garden ideas and backyard ideas not only allow us to celebrate the beauty of the natural world with our own unique design, but they are also a stylish extension of our home, and a chance to create another 'room' in which we can relax and entertain.
With beautiful looks from winners of the Society of Garden Designers Awards, to expert insight from designers and gardeners in the know, our collection of the upcoming favored garden trends celebrates both enduring garden ideas and innovative new styles, planting ideas, materials, and more that are set to flourish in 2023.
Transform your outside space with the latest garden trends for 2023
Whether you have a small garden, are researching sustainable garden ideas, or want to create the ultimate entertaining garden, our list of the favored garden trends for 2023 will no doubt leave you with a collection of inspiring new ideas for your outdoor space.
1. Be at one with nature
Outdoor spaces have always been seen as extensions of our homes, incorporating areas for relaxation, entertainment and dining.
'I believe in the ethos that gardens are for people, for family and pleasure,' says garden designer Matthew Childs MSGD. 'Married with that should be a palette that allows us to 'sit in among plants and feel connected with nature; a harmonious balance between hard landscaping elements and more naturalistic planting'.
Matthew was a double winner for the Medium Residential Landscapes & Gardens and Judges' awards for his Heathside pool garden, which shows that a design with the needs of people at its heart can also still meet the needs of wildlife.
2. Sculptural steps
By challenging typical approaches to the design of a suburban sloped garden with a dynamic solution, using bespoke concrete cuboid steps, Tom Massey MSGD demonstrates the trend for contrasting industrial-style hard landscaping with the softening effect of lush planting.
'The result is an immersive sanctuary with functional and practical designed elements alongside a sense of adventure and fun,' he explains. 'The sculptural steps lead through a sloped bank of green planting and cascading concrete and Corten steel water features, encouraging the user to slow down and engage with their surroundings.'
3. An urban oasis
Invoke a feeling of immersion and seclusion in a city garden by dispensing with a lawn and instead filling the space with dense planting, creating a sense of an urban forest, where planting plays a dominant role in comparison with hard landscaping.
Winning both the Garden Jewel and Planting Design awards for his sustainable and biodiverse garden design for a terraced house in London, Stefano Marinaz MSGD used lush, generous planting, resulting in 'something that could have been designed by nature itself'.
Easy to replicate, the idea uses clever layering, interesting textures and minimal colors, combining the dense foliage of an upper canopy using the likes of tree ferns and maple trees with prolific underplanting of a range of seasonal and evergreen choices.
'The simplicity of the design is able to evoke a sense of discovery,' Stefano says. To get the full effect of immersion 'it's important to green up the garden perimeters, too, so that it's hard to tell where the property ends'
4. Create organic barriers
Using planting to form natural barriers to noise and pollution is an increasing trend in garden design.
In his design for The Lodge in London, Harry Holding tackled the need to reduce pollution and noise, as well as provide privacy from an adjacent busy road, through a mix of yew hedging, pleached trees and colorful perennial meadow planting. The planting provides a striking and beautiful contrast with the surrounding urban landscape and also helps to create wildlife corridors and increase biodiversity, while for the owner it offers calm spaces where they can be immersed in nature and unwind after a busy day.
'In this changing world, I hope projects like this will inspire designers to go bold with planting and put nature first,' Harry says.
5. Naturalistic planting
A new aesthetic of naturalistic planting compositions with a simplicity of design inspired by the surrounding landscape is emerging – creating garden retreats that look and feel completely at home in their environment.
With the challenges of climate change, there is an increasing need to select resilient plants suited to the soil, aspect, site and climatic conditions, which will also increase biodiversity.
In their design for Golfe Leste in Portugal, which won the International Residential Landscapes & Gardens award, design duo Gavin McWilliam MSGD and Andrew Wilson FSGD's choice of dry gravel naturalistic planting, inspired by the local native landscapes and habitats, turns its back on the high input, water-thirsty gardens that are typical of the surrounding area.
6. Wildlife friendly
Concerns about the environmental impact of gardening are leading to more sustainable design choices.
Winner of the Design for the Environment award, Kristina Clode demonstrates numerous ways in which you can create a garden that can benefit the planet. In her wildlife-friendly eco-house garden, every aspect has been designed with the environment in mind, including using local and natural hard landscaping materials; pollinator-friendly planting; creating diverse habitats with a drought-tolerant gravel garden, perennial wildflower meadow, and pond and bog areas to encourage biodiversity; areas for composting and rainwater harvesting, and an edible garden.
'Such gardens are achievable for everyone, regardless of garden size or budget; it just takes good design and willingness and steadfastness to stick to the environmentally friendly ethos in all aspects,' she explains
7. Think vertically
Embracing vertical garden ideas and using every surface for growing and maximizing the use of space is gaining momentum in small space gardens, in particular. Dramatic vertical planting, with differing textures and movement, can transform a small courtyard garden, providing an oasis of calm and well-being.
In their design of a tiny Kensington courtyard, which won the Hardscape Design award, Gavin McWilliam MSGD and Andrew Wilson FSGD combined a coherent treatment of paving and boundaries with lush and varied vertical planting for greater impact.
'The introduction of vertical planting significantly increases the species number and diversity over what can be achieved on ground level,' they explain. 'Another idea was to introduce a large antique distressed mirror, which helps to open up the space, reflecting light back in.'
8. Plant ornamental edibles
With the continuing rise of the grow-your-own movement, gardeners are now exploring ways to combine vegetables, fruit and herbs among flowers in mixed planting schemes that are both practical and pretty.
In her garden designed for RHS Wisley, which won the UK Commercial or Community Landscapes & Gardens award as well the People's Choice award, Ann-Marie Powell MSGD demonstrates how 'beautiful, interesting and inviting productive growing and mixed communities of plants can be, and the holistic benefits – in terms of wellbeing, health and environment – of productive food growing in all its forms'.
Ideas include selecting crops as much for their taste as their ornamental properties for year-round interest; planting organically shaped beds; festooning pergolas with flowering edible climbers and using raised beds to elevate the enjoyment of more unusual edibles. 'Whether you garden on a balcony, in a city garden or large country estate, there is the inspiration for how you can develop a plot-to-plate experience.'
9. Create an outdoor living room
From sunroom ideas to outdoor living room ideas and more, establishing an effortless flow between indoors and outdoors has been an important feature in both interior design and garden design over the last few years, and transporting the comfort that you would find in a living room to your outside space is key for 2023.
Juliette Thomas, founder & director of Juliettes Interiors says, 'there has been a distinct demand for high-end interiors that match the inside of our homes, as consumers are keen to decorate every inch of their home to make it feel as luxurious as possible. Gardens are very much an extension of our home so it's vital that they are set up for friends and family – just as your living room would be. From outdoor rugs and side tables to comfy sofas and armchairs, opt for pieces made from the finest luxury materials to create the perfect outdoor setting.'
10. Establish lighting focal points
Although often not on the top of the to-do list when planning a garden, choosing the right lighting can have a huge effect on how you use the space. Whether it's purposeful task lighting in your outdoor kitchen or for setting the mood for your outdoor dining ideas when dining alfresco, your garden lighting ideas can be both practical and beautifully decorative.
British gardening presenter, landscape designer and writer, Mark Lane says, 'garden lighting continues to grow in popularity and the lit garden sculpture will be big for 2023. Use it as a focal point, nestled in hedging and used for a sense of surprise, or use it to draw the eye to something else either within the garden or outside. Focusing your attention on such a lit piece of sculpture will make you more aware of the now, absorbed in that moment, in that act of mindfulness.'
11. Introduce a Mediterranean flavor to your backyard
Kristina Clode believes that all gardens, present and future, need to be designed to cope with increasingly wet winters and hot, dry summers. 'We need to think of climate change and whether your tree will still thrive in 50 years' time,' she says. Her Mediterranean garden idea is to look to other climates for her plant choices.
'I am interested in using hardier trees from the Mediterranean region that are close relatives of our native trees.' She also expects to use more Mediterranean shrubs together with succulents, grasses and perennials. Kristina has previously won a double award in the Design for the Environment and the Judges' Award categories for her entry, Sedlescombe School Sensory Garden.
12. The garden lawn will be a thing of the past
Looking to the future, Sara Jane Rothwell MSGD feels that lawn edging ideas will soon be giving way to a more naturalistic style of planting.
'Planting wise, clients are veering towards more naturalist styles, and are starting to understand that a large lawn is higher maintenance than large planting and garden edging ideas, and isn't so good for the environment, providing very little wildlife habitat and requiring pesticides and weekly mowing to keep it looking smart.'
As well as winning the Medium Residential Landscapes & Gardens and Planting Design categories in previous years, Cholmeley Crescent – designed by Sara Jane – was also voted by the judges as the Grand Award Winner of this year's SGD Awards.
13. Look to geometric forms
Looking forward to new and emerging trends, Tony Woods MSGD of the Garden Club London reflects, 'one of the biggest trends that I have seen is the use of geometric form used in paving, furniture and layouts. I think this stems from more natural forms and materials being used in both interior and exterior design and the trend is translating into off-the-shelf products including furniture and planters.'
14. Engage the sense with elemental features
New kid on the block Sheila Jack believes that next year we'll be going beyond aesthetics and functionality in outdoor living areas.
'Our outdoor living experience should be one that truly engages all our senses. I'll be looking to add elemental features that will stimulate all the senses – sound and reflective qualities of water; warmth, aroma and flickering light of beautiful outdoor fireplace ideas; textural materials and aromatic planting.'
The Meadow Garden, an urban courtyard garden idea, won her the Fresh Designer award at the SGD Awards. It shows how a diminutive, rather neglected plot with both privacy and boundary issues could be transformed into an elegant retreat with precision-cut concrete and meadow chic planting.
15. Oak will be a key material
Ann-Marie Powell tips oak as being the material du jour. 'From sustainably managed woodlands, oak is a warm, naturally durable material that can be used for such a huge range of garden applications – deck ideas, furniture, pergola ideas, planters – while also providing a link to materials used inside a client's home.'
Ann-Marie and her team took home the International or UK Commercial Landscapes & Gardens award for their work on Sopwell House Cottonmill Spa Gardens. 'I wanted to create a commercial contemporary, classic garden which was detail- and experience-driven, where our natural inspirations still shone through to exude character, warmth and soul.'
16. Stay true to your surroundings
Chloe Humphreys MSGD told us, 'our advice in design would be to fully research and understand the materials from the local area and allow these to form the basis of your design response. We tend to feel these limitations result in better, more considered designs and it is a challenge we always find exciting.'
This also usually ensures a reduced carbon footprint for your projects, as well as making gardens feel well-rooted to the conditions of the surrounding environment. Chloe was the winner of the International Residential Landscapes & Gardens award with her design The House in the Wild – Falkenberg. Due to the remote location of the site, her ethos sought to solve problems with local solutions.
17. Explore flood prevention options
'It is imperative that every garden designer should consider the adoption of nature-based solutions as a minimum baseline to address future climate change,' says Edward Freeman MSGD.
'While color and material trends come and go, the must-haves we really need are flourishing ecosystems, healthy people and a resilient planet.' Flood prevention was particularly prevalent in the scheme of Edward's design Christchurch Gardens, the winner of the International or UK Communal Landscapes & Gardens award.
'The design employs a SuDS (sustainable drainage system) that aims to retain 100% of water runoff on site. Permeable resin-bound gravel was used for new paths adjacent to trees to allow percolation of water and allow air to the roots, while bespoke natural stone paving patterns direct surface water to flow into subterranean drainage diffusion units to capture rainwater and release it slowly into the ground below.'
18. Build a split level backyard
Having a garden set over more than one level can give so much more than a single plane.
'Urban gardens almost inevitably have a change in level,' says London-based garden designer Butter Wakefield and there's hardly a garden she designs which doesn't include a set of steps. Different levels help to zone areas and present a wonderful opportunity to play around with materials.
Meanwhile, Francesca Langlea of Langlea Design explains that terracing is the optimum way to deal with a change in level. 'With terracing, we can make usable, level spaces as opposed to impractical sloping ground.
19. Devise a multi-functional space
Just as today's homes now have to have multi-functions, so are our gardens being pushed to the limit.
'With people relying on their homes as an office, then an outdoor space for connecting with nature and entertaining friends and family safely is essential,' says Isabelle Palmer of The Balcony Gardener.
Homeowners now want to invest time and money into cultivating their outdoor spaces – large or small – into a functional and beautiful enhancement of their homes. For those that have the space, swimming pool ideas are high on the agenda for next summer, as are fully equipped garden buildings.
20. Plant flowers for pollinators
Garden designer, Butter Wakefield always considers nature when selecting plants, and explains how Salvias can be a great choice.
'They need minimal TLC, they flower for a long time and are an absolute haven for pollinators, protecting declining bee species.'
'It's all about plants for pollinators. I concentrate on what the bees will benefit from early-flowering, nectar-rich bulbs and perennials, such as crocus, Geranium phaeum and Helleborus niger; there's often a shortage of food for pollinators early in the year,' she says.
'I carry this through to late-flowering Aster novae-angliae 'Helen Picton' and Dahlia 'Blue Bayou', which bloom to the end of November or the first hard frost.'
21. Use bricks and mortar
Designer Henrietta Murray-Wicks is a fan of brick in the garden, in particular a herringbone pattern.
'I tend to use bricks with a stone border so it gives the effect of a rug on a floor, anchoring the space and any furniture placed on it. The bricks can also help accent certain features and give a real sense of movement within a garden while still using the same material palette overall.'
Butter Wakefield also says, 'recently, we completed a project in north London where we ran bricks from the garden into the house. Not having some form of pattern at ground level is a missed opportunity to create interest, particularly in a small space.'
22. Grow your own
No longer the preserve of larger gardens, vegetable garden ideas are now appearing in nearly every style of outdoor space. Whether this is a cottage walled garden or simple vegetable garden container ideas for a balcony garden, the grow-your-own trend is on a strong upward trajectory.
With people wanting to find more reasons to spend time outdoors and in their garden, it's not only about easy fixes – which is why growing plants from seed has taken an upsurge this year and is set to continue into 2023, too. The pandemic has clearly changed our way of thinking, our approach and priorities.
For Tom Barry of Hartley Botanic, which sells a range of greenhouses and gardening accessories, it has been decades since he has seen such an interest in people becoming more self-sufficient. 'Being able to produce food taps into the most basic of human needs and ultimately, for many of us, 'growing our own' is the right choice for our health and well-being.'
23. Think big
'I always encourage people to think big in their garden,' says award-winning landscape and garden design consultant Michael John McGarr. 'Or even to think tall.
All garden design needs some larger scale trees or shrubs to create grandeur and visual impact – even in a small backyard. As long as you choose the appropriate species and variety of a tree, do not be scared to think big! While grand topiary is an art of our garden history – a move away from the traditional plants used to achieve this is a necessity in a changing climate.
In a recent scheme we have exchanged Italian cypress for fastigiate beech trees to create a grand avenue of trees. By doing this we can create grandeur and scale, but with the added benefits for wildlife of native plants and trees.'
24. Take a less is more approach to garden design
James Smith MSGD, Design Director at Bowles & Wyer, thinks the philosophy of 'less is more' will become more prominent, saying: 'I really want to focus on creating more pared back design schemes, but with high attention to detail and finishing.'
Tracy McQue MSGD of Tracy McQue Gardens shares this philosophy, saying: 'I'm looking forward to planting multiple grasses and a simple palette of perennials to make the lightest of design touches to a very rural project I am working on in Scotland. It's important that my design ties in with the extended and wild landscape.'
25. Beautify with a romantic plot
Over the last few years, we have spent more time at home than ever before, meaning the search for style inspiration for outdoor living has never been greater.
Chelsea Gold Medal winning design duo Harris Bugg says, 'making spaces work harder for longer seasonal use is the current garden trend and that goes hand in hand with the planting and how we keep visual interest going through the seasons.
The garden now needs to be multipurpose, with a space for entertaining and relaxing. And it has to look good too. The 2023 garden will see a surge in ceramics, colored glass, local materials and granite. It's all about materials that can be natural, artisan and practical at the same time. The planting spotlight is on successional designs that provide color and interest all year round.'
26. Let pattern and texture take center stage
Mirroring 2023 interior design trends, pattern and texture will be creeping back into our gardens this year.
'Cold minimalism is beginning to look pretty tired now,' says Jane Brockbank 'and it also begs the question – "how does this contribute to the wildlife locally and in the garden?"' Jane brings pattern and texture into her designs by creating faceted planting zones and by blurring the line between the hard landscaped and soft planting areas in the garden, using gravel planting to create the transition between the two.
Mandy Buckland of Greencube Landscapes thinks the trend for creating an outdoor room will live on and we will move away from regular formatted paving. She says, 'there are lots of outdoor ceramic tiles on the market now. We are installing them as garden 'rugs' or design features within landscaped areas to create pattern, contrast and textural changes. It is much the same decorating a dining and living room in the house.'
27. Incorporate curvilinear forms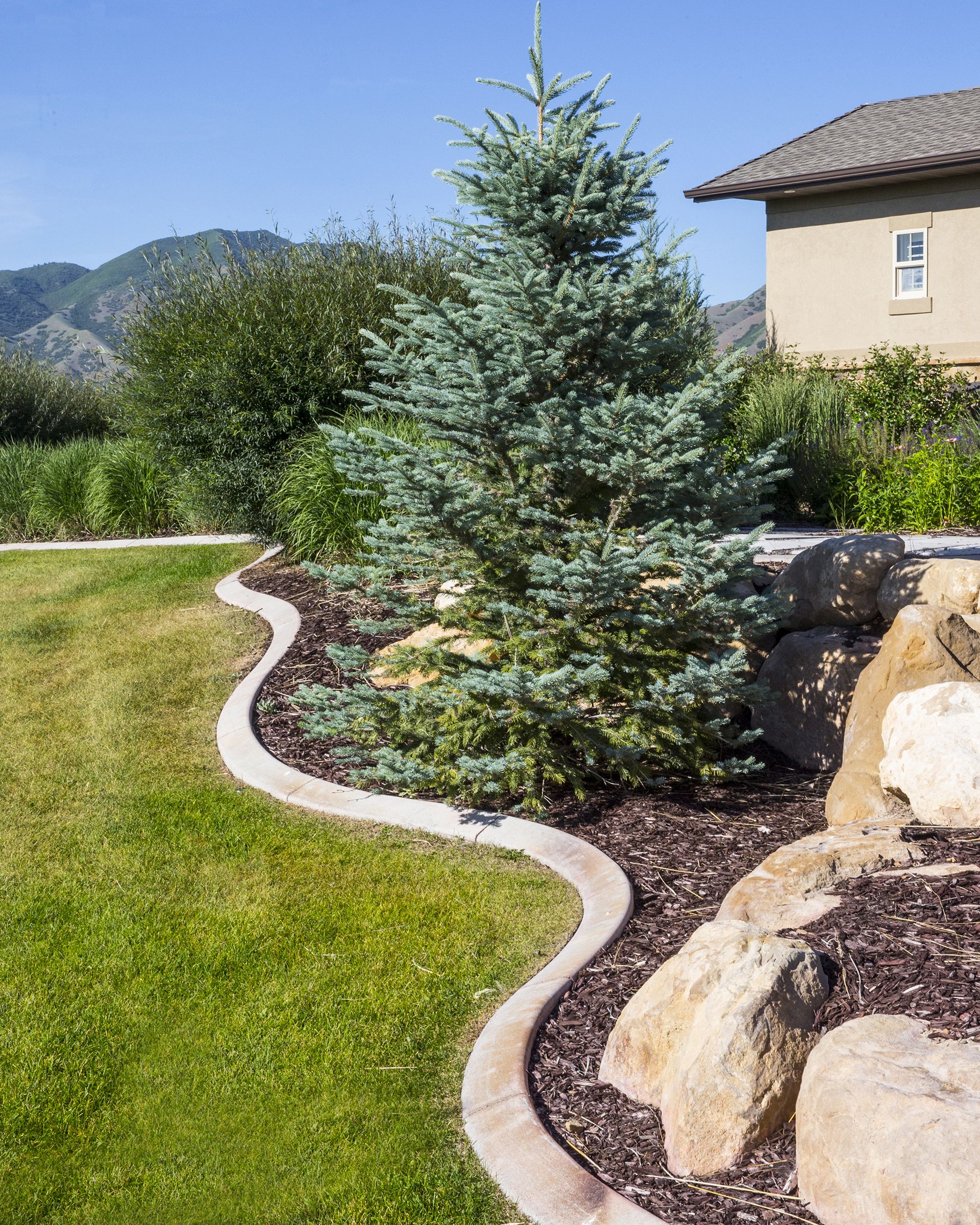 Curvaceous, free-flowing forms, across furniture lighting, architecture and accessories, is a huge interior design trend for 2023, and after almost a decade of symmetrically ordered urban gardens, Mark Laurence thinks we'll see this trend evolve in our backyards and gardens, too.
'There will be a turning away from the linear, contemporary town garden to something wilder and more curvilinear. Curvilinear forms appear more natural in a garden environment and they connect us back to the flow of natural forms in the landscape.' A distinctive move away from the style of crisp, linear raised beds set against horizontal timber trellis that we have become so familiar with.
Following a similar path, James Smith of Bowles & Wyer has been experimenting with sculptural wall claddings in wood, metals and stone in organic, naturalistic patterns. He says, 'I think wall claddings will gain momentum in 2023. They are perfect for maximizing vertical surfaces in tight city gardens.'
28. Embrace the render revival
'Look out for Monocouche renders in 2023,' says Mark Laurence. These renders are a rare application in garden design, having been used predominantly by the housebuilding industry.
Mark says, 'monocouche renders are low maintenance, weather resistant and hard wearing plus they have great texture but they need professional application. A different look can be achieved with conventional render using mineral pigments (which are applied whilst the render is still green) and layered on in color washes and absorbed into the surface, keeping the render breathable. I think the red or yellow ochres tones work very well in a garden setting.'
29. Cherish outdoor play with family and friends
'Young families want to encourage their children to get outdoors, prizing them away from laptops, tablets and TV's,' say Mandy Buckland of Greencube. 'We have been asked to integrate outdoor play in many of our gardens in recent months and have been incorporating blackboards, sand pits, hammocks, balance beams, climbing frames and even mini wildlife garden pond ideas. We design them so that they are integral to the garden layout, repeating the material and use or color.'
James Smith of Bowles & Wyer agrees, adding, 'gardens will increasingly become important for families, to connect at social gatherings and for mental health – a welcome antidote to technology and screens.'
For more inspiration, explore our collection of ideas for gardening with children.
30. Go for greenhouse living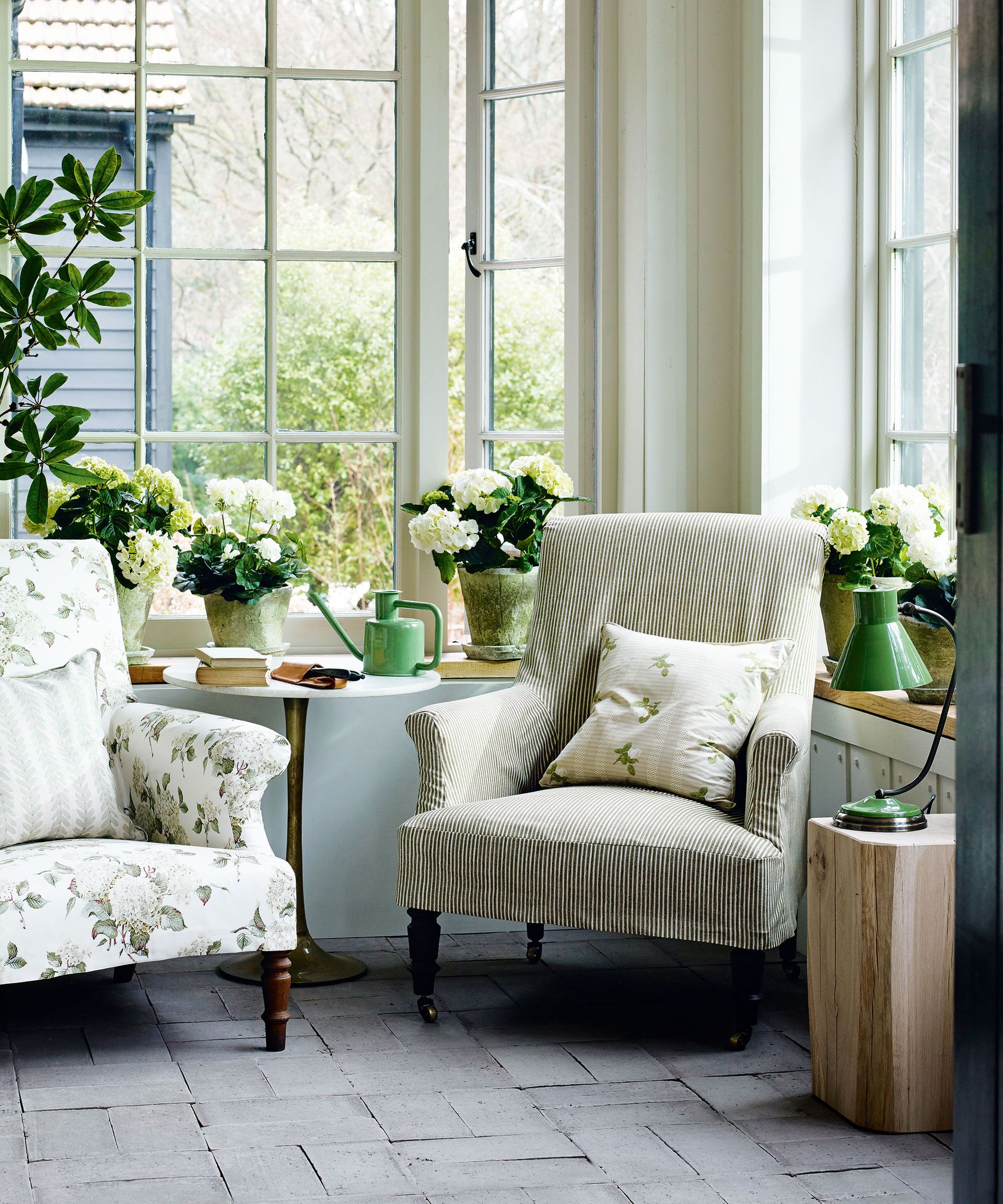 A trend for larger greenhouse ideas and glasshouses has been influenced by the fact that we are increasingly using our greenhouses for both horticultural requirements and other 'lifestyle' uses.
'The vast majority of our customers are using their greenhouses for horticultural reasons, as you would expect – for growing edibles, raising seedlings, etc,' says Tom Barry, managing director of Hartley Botanic.
'However, many customers, who are still serious gardeners, are using their greenhouses in a more multifaceted way. We do see customers introducing living, relaxation, dining and lifestyle elements into their greenhouse use. Most commonly however, we are seeing a trend for greenhouses to be used for al fresco dining and as a space for morning and evening relaxation.'
The burgeoning greenhouse market amongst families with young children will continue to grow, driven by concerns around air miles, food provenance and organic production – along with the educational benefit of teaching kids about food.
How do I update my garden?
The key trends we have explored in this piece can provide you with a whole host of new ideas for your outside space.
From beautiful, big projects where you transform your garden layout through clever zoning ideas, to smaller updates through planting in containers and pots, your garden can be easily updated, no matter your budget or the size of your space.
A great way to update your garden and make it feel more comfortable and look luxurious, is to bring elements of the inside, outside. From garden rugs, to beautiful outdoor furniture and accessories, blurring the boundaries between these spaces will only make for a more inviting outdoor space that you can enjoy spending time in.
For further inspiration, explore, how do I add luxury to my backyard?
Sign up to the Homes & Gardens newsletter
Decor Ideas. Project Inspiration. Expert Advice. Delivered to your inbox.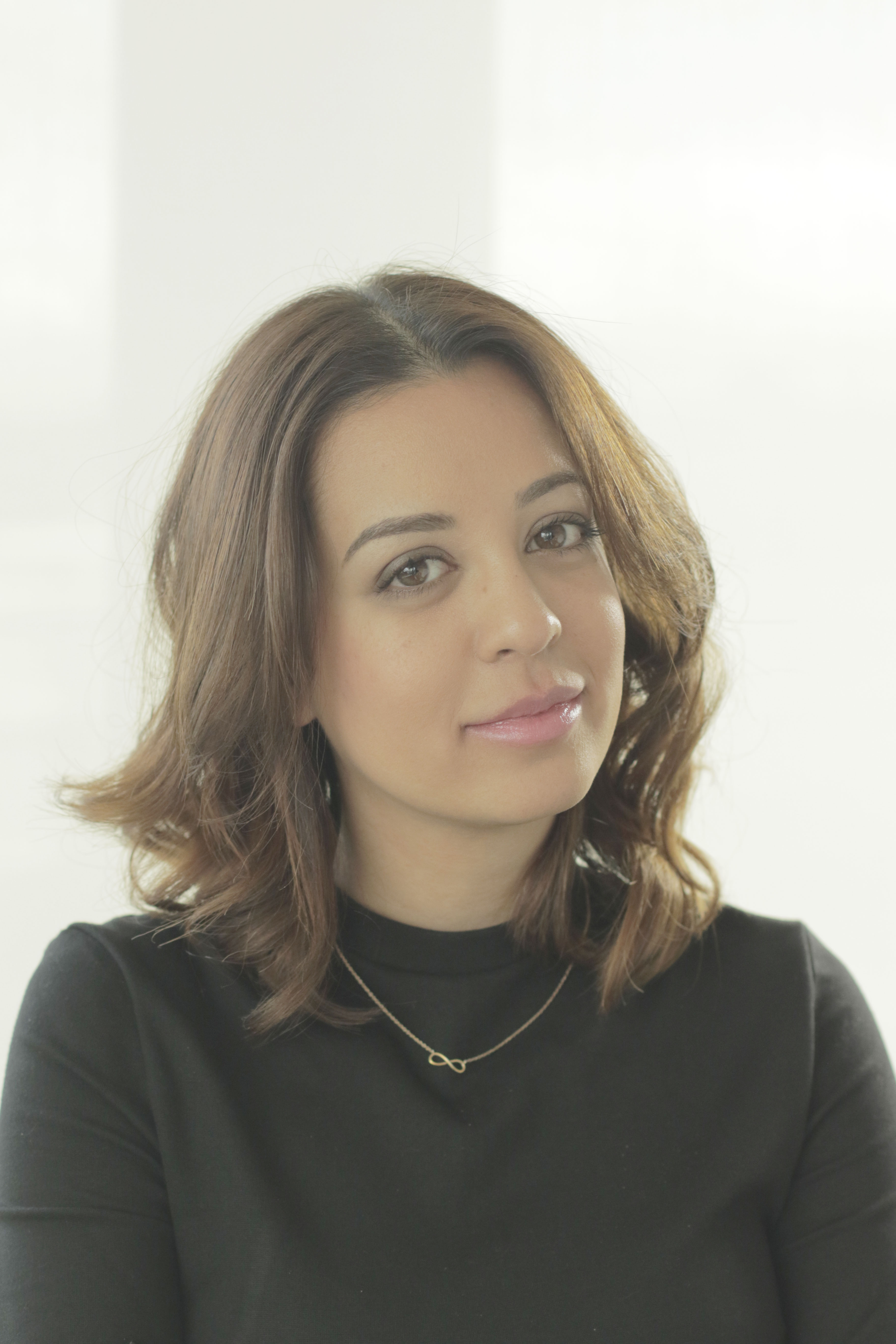 Jennifer is the Digital Editor at Homes & Gardens. Having worked in the interiors industry for a number of years, spanning many publications, she now hones her digital prowess on the 'best interiors website' in the world. Multi-skilled, Jennifer has worked in PR and marketing, and the occasional dabble in the social media, commercial and e-commerce space. Over the years, she has written about every area of the home, from compiling design houses from some of the best interior designers in the world to sourcing celebrity homes, reviewing appliances and even the odd news story or two.