Garden trends 2021 – all the latest looks and new ways to garden
Wild flowers, neutral colors, multi levels, the birds and the bees… we spoke to some of our go-to experts to find out how they see gardens shaping up in 2021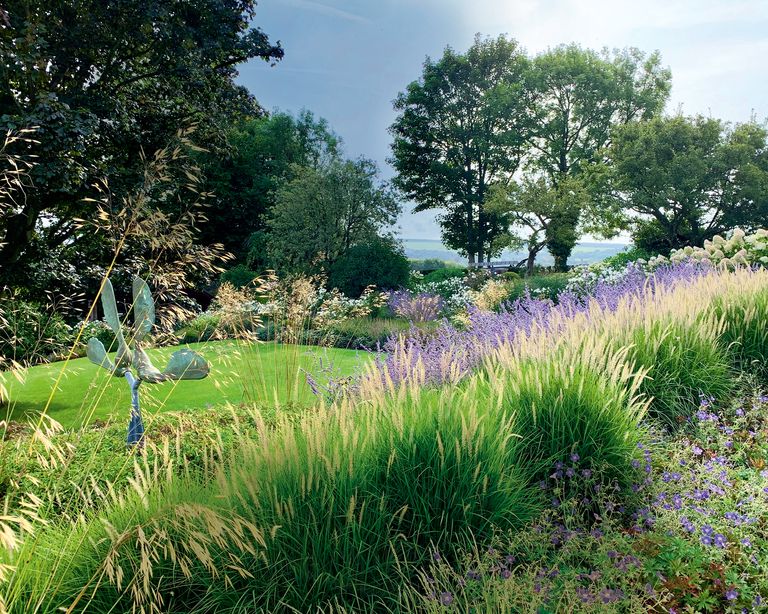 (Image credit: The garden at Blue Door designed by Acres Wild)
By Jennifer Ebert published
As spring is just around the corner, garden trends – from the new design styles and ideas for our outdoor spaces to how we approach gardening itself – begin to bloom. And, with the likelihood that we will be using our gardens more in 2021 than we ever have before, we're ready to turn our back yards into stylish extensions of our homes – another 'room' we can enjoy and relax in.
The top garden trends 2021
These are the top garden trends for 2021 to steer you in the right direction.
1. Enhancing nature
Our gardens have long been our havens, but without a doubt 2020 placed greater emphasis than ever before on the restorative effect of nature and outdoor space.
Looking forward to 2021, high on designers' wish lists are plants that create a haven for birds and bees. This plays to the trend called 'rewilding', in which land is returned in varying scales to natural habitats that can provide water, food and shelter to all creatures great and small.
Debbie Roberts of Acres Wild suspects that green structure rather than hard landscaping is becoming more important, together with a softer, more natural look.
This is demonstrated here in the garden at Blue Doors Lodge in West Sussex, which she created with her partner Ian Smith, its relaxed style blending beautifully with the surrounding landscape.
See more: Rewilding: 10 ways to rewild your garden
2. Blank canvas
Bold brights and statement shades are out. The outdoor materials palette for 2021 is, in essence, neutral.
These tones soothe the senses and are the ideal canvas on which to build your planting, allowing your chosen flowers and foliage to sing out.
Garden designer Eve Hacking of Belderbos Landscapes says that neutral tones for hard landscaping are useful in an urban setting where gardens are often shaded by other buildings, as they help to lighten the space.
Neutrals are also a preference for garden designer Charlotte Rowe. She is not keen on any color apart from that of the plants themselves, so tends to use a limited palette of greys, taupes and creams for hard landscaping.
3. Split levels
Having a garden set over more than one level can give so much more than a single plane.
'Urban gardens almost inevitably have a change in level,' says London-based garden designer Butter Wakefield and there's hardly a garden she designs which doesn't include a set of steps.
Different levels help to zone areas and present a wonderful opportunity to play around with materials. Steps leading to terraces create focal points and a sense of journey and discovery, according to Butter. Planting also lends itself to split levels. Having built-in beds at different heights ensures that planting can be designed to fill every line of vision.
Meanwhile, Francesca Langlea of Langlea Design explains that terracing is the optimum way to deal with a change in level. 'With terracing, we can make usable, level spaces as opposed to impractical sloping ground.
The key is to create the most spacious terraces possible while maintaining a balance between the cut and fill of the existing land.'
4. Multi-function
Just as today's homes now have to have multi functions, so are our gardens being pushed to the limit.
'With people relying on their homes as an office, then an outdoor space for connecting with nature and entertaining friends and family safely is essential,' says Isabelle Palmer of The Balcony Gardener.
Homeowners now want to invest time and money into cultivating their outdoor spaces – large or small – into a functional and beautiful enhancement of their homes. For those that have the space, swimming pools are high on the agenda for next summer, as are fully equipped garden buildings.
5. Flowers for pollinators
Creating a garden for the senses is important for plantswoman Sarah Raven, and she's tipped salvias to continue in their popularity. '
They need minimal TLC, they flower for a long time and are an absolute haven for pollinators, protecting declining bee species.' Garden designer Butter Wakefield always considers nature when selecting plants.
'It's all about the pollinators. I concentrate on what the bees will benefit from: early-flowering, nectar-rich bulbs and perennials, such as crocus, Geranium phaeum and Helleborus niger; there's often a shortage of food for pollinators early in the year,' she says.
'I carry this through to late-flowering Aster novae-angliae 'Helen Picton' and Dahlia 'Blue Bayou', which bloom to the end of November or the first hard frost.'
6. Bricks and mortar
Designer Henrietta Murray-Wicks is a fan of brick in the garden, in particular a herringbone pattern.
'I tend to use bricks with a stone border so it gives the effect of a rug on a floor, anchoring the space and any furniture placed on it. The bricks can also help accent certain features and give a real sense of movement within a garden while still using the same material palette overall.'
Butter Wakefield finds it dull to have rows upon rows of paving and prefers to introduce smaller units. She loves Vande Moortel Belgian bricks, which are particularly slender and create beautiful designs. 'They have a charming way about them and lend themselves to lots of different patterns,' says Butter.
'Recently, we completed a project in north London where we ran these bricks from the garden into the house. Not having some form of pattern at ground level is a missed opportunity to create interest, particularly in a small space.'
7. Grow your own
No longer the preserve of larger gardens, vegetable plots are now appearing in nearly every style of outdoor space. Whether this is a cottage walled kitchen garden or simple herbs growing in pots on an urban balcony, the grow-your-own trend is on a strong upward trajectory.
With people wanting to find more reasons to spend time outdoors and in their garden, it's not only about easy fixes – which is why growing plants from seed has taken an upsurge this year and is set to continue into 2021, too. The pandemic has clearly changed our way of thinking, our approach and priorities.
For Tom Barry of Hartley Botanic, which sells a range of greenhouses and gardening accessories, it has been decades since he has seen such an interest in people becoming more self-sufficient. Being able to produce food taps into the most basic of human needs and ultimately, for many of us, 'growing our own' is the right choice for our health and well-being.
8. Think big
'I always encourage people to think big in their garden,' says award-winning landscape and garden design consultant Michael John McGarr. 'Or even to think tall.'
All garden design needs some larger scale trees or shrubs to create grandeur and visual impact – even in a small garden. As long as you choose the appropriate species and variety of a tree, do not be scared to think big!
While grand topiary is an art of our garden history – a move away from the traditional plants used to achieve this is a necessity in a changing climate.
In a recent scheme we have exchanged Italian cypress for fastigiate beech trees to create a grand avenue of trees. By doing this we can create grandeur and scale, but with the added benefits for wildlife of native plants and trees.
9. Belgian design
Belgian design style, often described as luxurious simplicity, is expected to come to the fore in 2021.
Mia Witham of Mia Witham Garden Design says: 'I am seeing some great garden products coming out of Belgium, which are typically high-end and have great form.
'I particularly love the beautiful clay pots by Atelier Vierkant, the woven fibre fencing and screens produced by Forest Avenue and the striking garden lights by Wever & Ducre. I'll be using a lot more of them in 2021.'
10. Less is more
James Smith MSGD, Design Director at Bowles & Wyer, thinks the philosophy of 'less is more' will become more prominent, saying: 'I really want to focus on creating more pared back design schemes, but with high attention to detail and finishing.'
Tracy McQue MSGD of Tracy McQue Gardens shares this philosophy, saying: 'I'm looking forward to planting multiple grasses and a simple palette of perennials to make the lightest of design touches to a very rural project I am working on in Scotland. It's important that my design ties in with the extended and wild landscape.'
11. Romantic plots
With more people using foraged food for cooking, Mia Witham thinks that edible forests could become the new vegetable garden. She says: 'I'm currently designing an edible forest for a chef in Suffolk. It is carefully designed, semi-wild ecosystem of plants organised in layers with trees making up the canopy layer, shrubs providing a middle layer and perennial plants covering the ground. It's an exciting concept and unlike a traditional vegetable plot where annual plants are mainly grown, edible forests require minimum input for maximum output.'
Libby Russell MSGD of Mazzullo + Russell agrees, saying: 'Productive gardens are still very much on trend'. Libby, with her design partner Emma Mazzullo MSGD, mixes fruit and vegetables together with cut flowers to give a romantic flavour to their productive gardens. 'As long as there is a very clear underlying design in the garden you can overlay so many layers, provided they create beauty and romance' says Libby, who sees romantic gardens having a revival in 2021.
12. Re-purpose and recycle
Tracy McQue thinks there will more of a spotlight on repurposing of existing materials and recycling garden materials where possible. Mark Laurence MSGD whose consultancy creates adaptive landscape for a changing world, echoes this saying 'repurposed items give a garden an individual look', like this heating coil repurposed into a water feature.
13. Planting for birds
Creating sustainable, wildlife-friendly and beautiful spaces needs to be at the forefront of everything we do no matter what size or location of the gardens we are designing, says Tracy McQue. She believes that the materials and plants we include, where we source them from and how we re-use elements already in the garden are becoming more vital considerations.
Jane Brockbank MSGD of Jane Brockbank Gardens shares this ideal, saying: 'People are much more interested in making gardens that are good for wildlife. Awareness of the climate crisis and the loss of bio-diversity has grown enormously, even over the last year, and we are all taking our gardens far more seriously in regards to the important part they can play.'
Libby Russell of Mazzullo + Russell echoes this, saying: 'Our planting is evolving to use many more 'wild' plants that are great for bees, birds, pollinators and invertebrates but without losing glamour or impact. Single roses, species plants, seed heads and grasses are all valuable.'
Mandy Buckland MSGD of Greencube says she is incorporating 'meadow areas, native hedging, gaps in fences for hedgehog movement and of course nectar rich planting'. While Tracy McQue advises that water features are integral to the wildlife-friendly spaces, and ideas such as bee-friendly boundary hedges are simple to incorporate into any garden.
See more: Monty Don's bird feeding tips – get wildlife through the winter
14. The patterned garden
Pattern and texture will be creeping back into our gardens in 2021. 'Cold minimalism is beginning to look pretty tired now,' says Jane Brockbank 'and it also begs the question – "how does this contribute to the wildlife locally and in the garden?"' Jane brings pattern and texture into her designs by creating faceted planting zones and by blurring the line between the hard landscaped and soft planting areas in the garden, using gravel planting to create the transition between the two.
Mandy Buckland of Greencube Landscapes thinks the trend for creating an outdoor room will live on and we will move away from regular formatted paving. She says: 'There are lots of outdoor ceramic tiles on the market now. We are installing them as garden 'rugs' or design features within landscaped areas to create pattern, contrast and textural changes. It is much the same decorating a dining and living room in the house.'
15. Curvilinear forms
After almost a decade of symmetrically ordered urban gardens, Mark Laurence thinks we'll see 'a turning away from the linear, contemporary town garden to something wilder and more curvilinear.' Mark says: "Curvilinear forms appear more natural in a garden environment and they connect us back to the flow of natural forms in the landscape." It's a distinctive move aways from the style of crisp, linear raised beds set against horizontal timber trellis that we have become so familiar with.
Following a similar path, James Smith of Bowles & Wyer has been experimenting with sculptural wall claddings in wood, metals and stone in organic, naturalistic patterns. He says: 'I think wall claddings will gain momentum in 2021. They are perfect for maximising vertical surfaces in tight city gardens.'
16. Render revival
'Look out for Monocouche renders in 2021,' says Mark Laurence. These renders are a rare application in garden design, having been used predominantly by the housebuilding industry.
Mark says: 'Monocouche renders are low maintenance, weather resistant and hard wearing plus they have great texture but they need professional application. A different look can be achieved with conventional render using mineral pigments (which are applied whilst the render is still green) and layered on in color washes and absorbed into the surface, keeping the render breathable. I think the red or yellow ochres tones work very well in a garden setting.'
17. Outdoor play
'Young families want to encourage their children to get outdoors, prizing them away from laptops, tablets and TV's,' say Mandy Buckland of Greencube. 'We have been asked to integrate outdoor play in many of our gardens in recent months and have been incorporating blackboards, sand pits, hammocks, balance beams, climbing frames and even mini wildlife ponds. We design them so that they are integral to the garden layout, repeating the material and use or color.'
James Smith of Bowles & Wyer agrees, adding: 'Gardens will increasingly become important for families, to connect at social gatherings and for mental health – a welcome antidote to technology and screens.'
18. Ways with wood
'It's not a new material but I think there will be a focus back on using timber next year,' says Tracy McQue. 'In the past it has been viewed as a material to use at ground level or for basic fences, but there are many elements in the garden that clever design can incorporate timber into. We use a local Scottish wood supplier when we can and I love the possibilities it gives us when we're creating a new garden.'
Mandy Buckland of Greencube agrees, adding: 'There appears to be a continuing rise in popularity of charred timber for decking and the use of Shou Sugi Ban - the ancient Japanese wood burning technique.'
18. Greenhouses for living
A trend for larger greenhouses and glasshouses has been influenced by the fact that we are increasingly using our greenhouses for both horticultural requirements and other 'lifestyle' uses.
'The vast majority of our customers are using their greenhouses for horticultural reasons, as you would expect – for growing edibles, raising seedlings, etc,' says Tom Barry, managing director of Hartley Botanic.
'However, many customers, who are still serious gardeners, are using their greenhouses in a more multifaceted way. We do see customers introducing living, relaxation, dining and lifestyle elements into their greenhouse use. Most commonly however, we are seeing a trend for greenhouses to be used for al fresco dining and as a space for morning and evening relaxation.'
The burgeoning greenhouse market amongst families with young children will continue to grow, driven by concerns around air miles, food provenance and organic production – along with the educational benefit of teaching kids about food.
Jennifer is the Digital Editor at Homes & Gardens. Having worked in the interiors industry for a number of years, spanning many publications, she now hones her digital prowess on the 'best interiors website' in the world. Multi-skilled, Jennifer has worked in PR and marketing, and the occasional dabble in the social media, commercial and e-commerce space.
Over the years, she has written about every area of the home, from compiling design houses from some of the best interior designers in the world to sourcing celebrity homes, reviewing appliances and even the odd news story or two.