What colors brighten up an entryway? 5 shades that will bring light and life to your space
Interior designers and industry experts share the best colors for creating a bright, welcoming entryway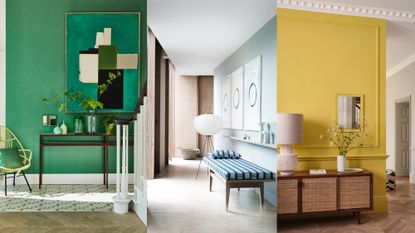 (Image credit: James Hare / Future / Paper & Paint Library)
Using color in an entryway is a quick and easy way to transform the look and feel of the space. As the first room guests see on entering your home, it's important that the entryway feels inviting while also reflecting your personal style. What color you choose for entryway walls can play a huge part in this, but with so many shades to choose from it can be a daunting decision to make.
As small, narrow spaces often receive little light, entryways can have a tendency to feel dark and dingy. If that's the case in your home and you're planning on redecorating, then knowing what colors brighten up an entryway can be really handy.
To help get to the bottom of this design debate we asked the experts for their advice on choosing wall colors when designing an entryway and have rounded up an array of ideas and tips below to get you inspired.
What colors brighten up an entryway?
While dark colors can be wonderfully dramatic and bring a cozy, cocooning feel to interiors, when it comes to what colors brighten up an entryway, generally lighter and bolder colors are your go-to. White and neutrals are practical choices for reflecting light and maximizing the feeling of space in small entryways, however, if you love color then hallways and entrances can be a wonderful place to experiment with vibrant shades, say the experts.
'Entryways are great spaces to introduce color if you want to keep the rest of the house more neutral; people won't linger in those spaces for long but the color will have a strong impact as they arrive,' explains Clara Ewart, head of design a Kitesgrove.
'If your entrance lacks natural light, a sage green hue or neutral shades with undertones of orange and yellow will instantly brighten up your space. Combine these welcoming wall colors with accent lighting and a statement mirror to reflect the light,' adds Sam Hood, co-founder of Amara.
However, while bold colors can be alluring, Susan Deliss suggests, 'not to go for the brightest color on the card – unless you are somewhere with brilliant sunlight like India, it's best to tone the color down a bit,' explains the interior designer.
To help you decide on your decor we asked the experts for their favorite entryway paint ideas for brightening a space – below we've shared the top five.
1. Play it safe with white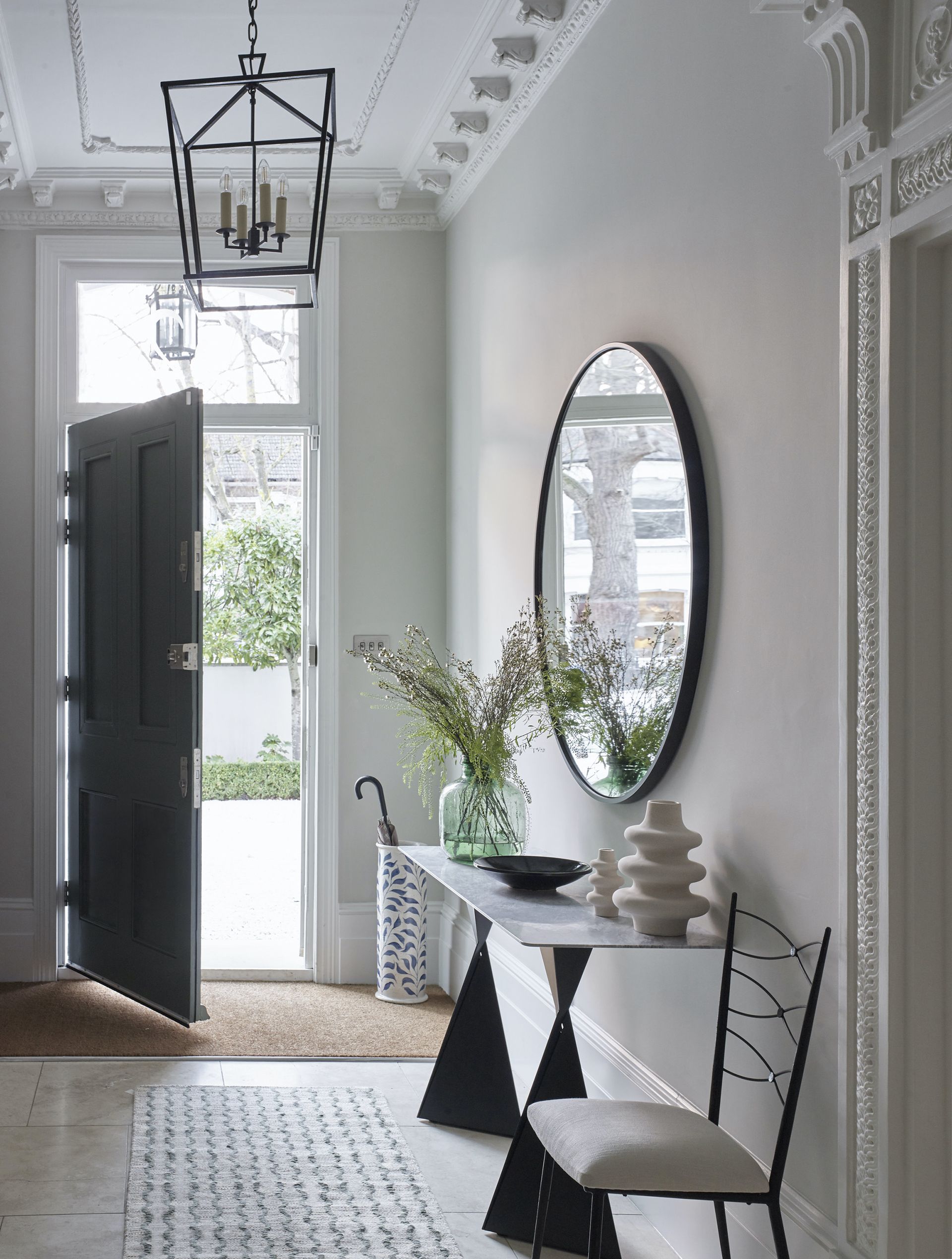 Most interior designers agree that decorating with white is a failsafe way to make small hallways feel lighter, brighter, and larger.
'An entryway is the first part of your home that anyone will see when they enter, so it's important to make sure it's a true reflection of your personality and style. To keep a brighter feel, opt for neutral tones on the walls as they'll keep the entrance fresh and use a large hallway mirror to help reflect light whilst giving the illusion of space,' suggests Emma Deterding, founder and creative director, Kelling Designs.
However, while it may sound like an easy solution, finding the right white or neutral shade can be a challenge, the key, says Dominic Myland, director of Mylands, is to think about the light and orientation of the space. 'Shades of white can range enormously, from a bright, brilliant white to a warmer shade with hints of yellow or orange, and so choosing the right white is an important decision. South-facing rooms with plenty of light can take cooler whites with their undertones of blue or green, but we recommend warmer whites for darker, north-facing rooms. We always advise testing paint choices in situ first to see how they appear in different lights throughout the day.'
2. Soften the space with warm neutrals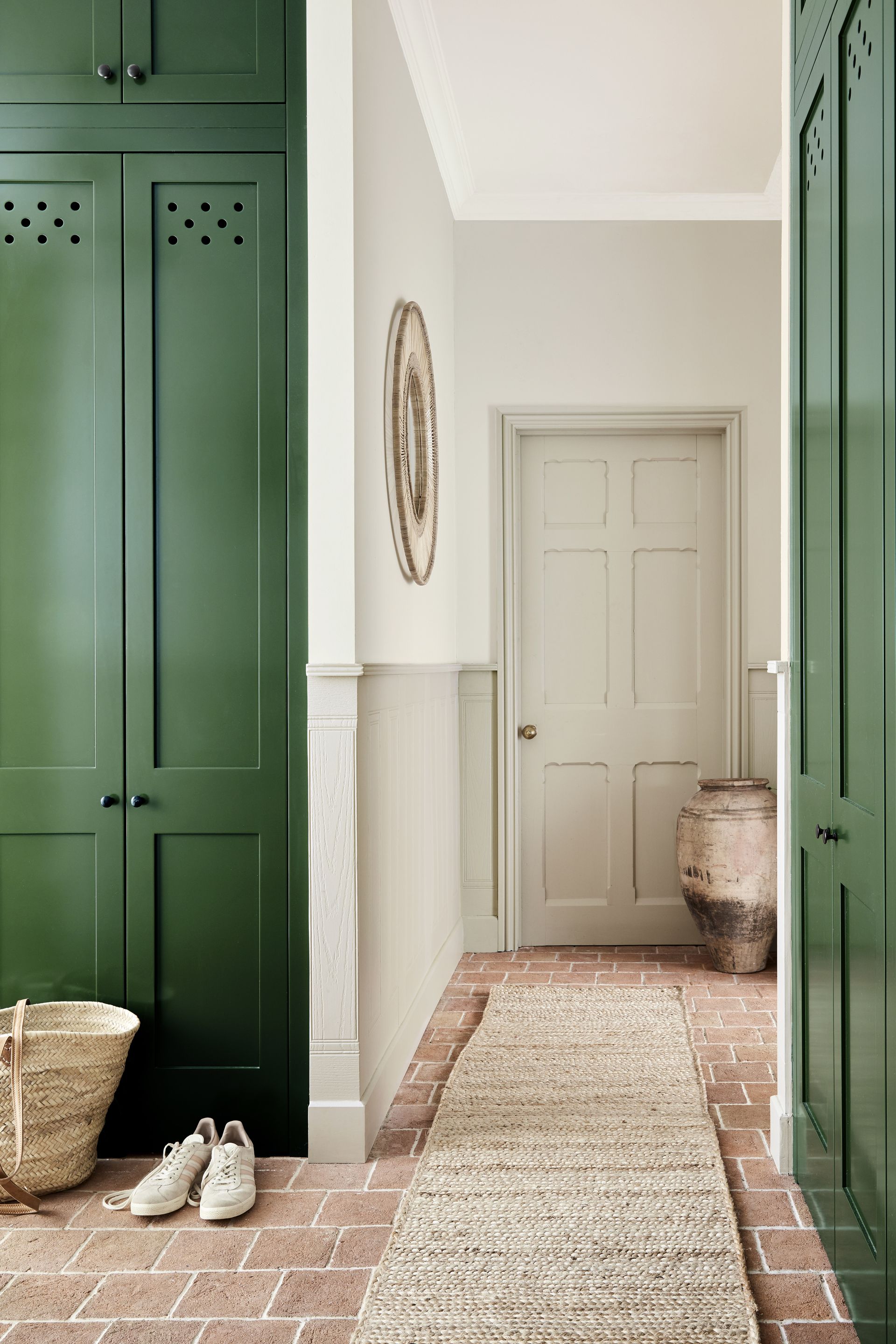 Cool-toned whites and greys can leave entryways feeling cold, instead, 'for an uplifting but calming scheme, consider warmer, earthier neutrals paired with deeper hues to create a contemporary look,' suggests Ruth Mottershead, creative director at Little Greene.
Neutrals can also have a tendency to leave spaces feeling flat and lifeless, to remedy this consider using a series of subtly different shades to bring texture and life to the look.
'A simple trick for a color combination is to use a darker and a lighter version of the same hue on the walls and woodwork or cabinetry in a room; it brings visual interest but is really easy to work with and gives an overall cohesive feel,' says Clara Ewart, head of design at Kitesgrove.
3. Try a sunshine yellow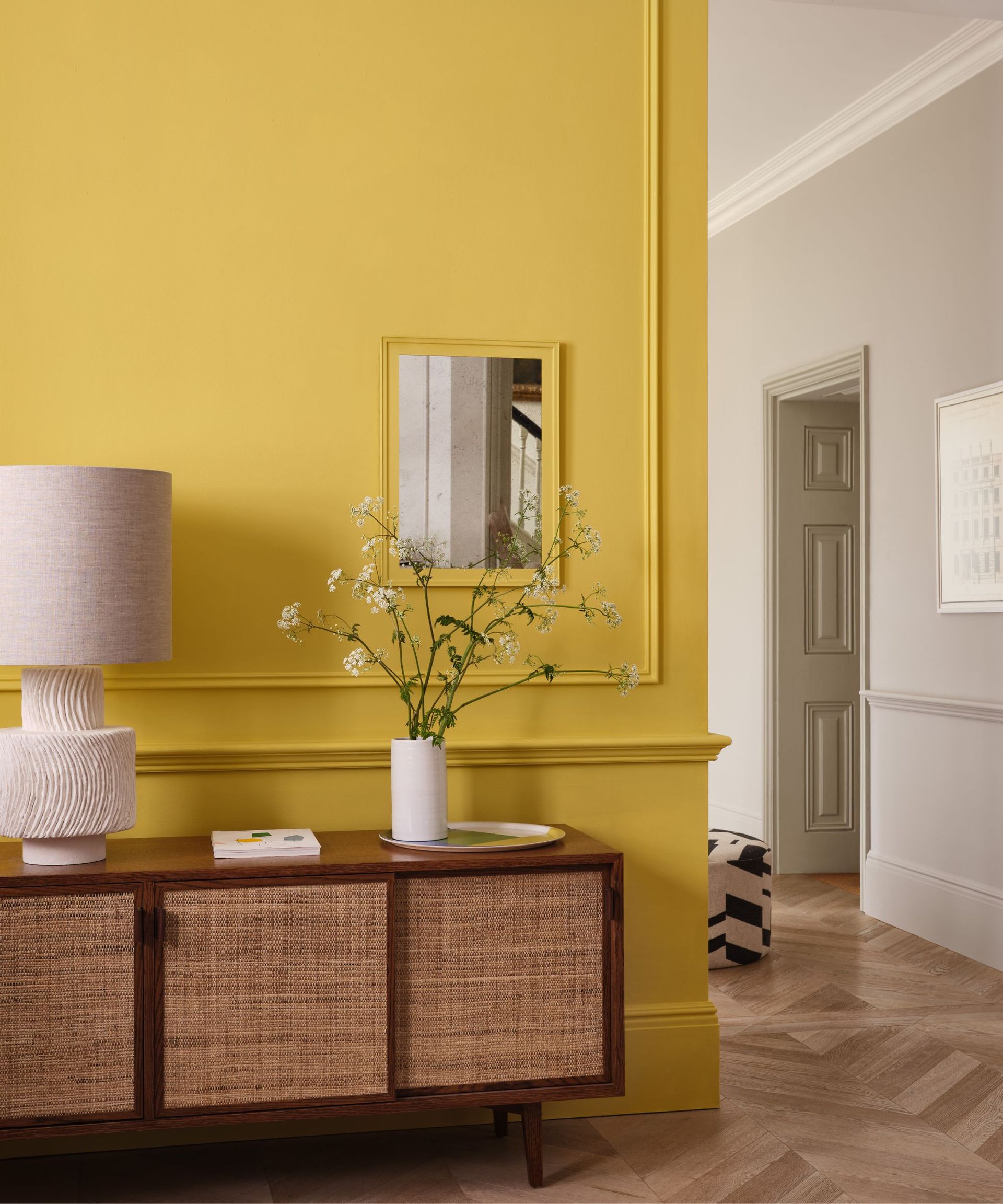 If you're looking to make a cheerful first impression, you can't go wrong with yellow hallway ideas. 'Yellow is a brilliant color for a hall, making the entrance to your home feel instantly fresh and uplifting,' says Caroline Milns, founder of interior design studio Zulufish.
But with so many different shades of yellow, which to choose? 'Yellow is not as easy to use in home interiors as it appears. Everyone refers to yellow as the cheeriest color in the spectrum and yet it can be overwhelming if the shade isn't exactly right,' says Simon Temprell, interior design manager of Neptune. 'Yellow with a green undertone is best kept too bright, south-facing rooms as it will turn slightly bilious in a shadowy corner and because of that it is important to recognize how it registers at all times of the day before you commit. Softer, buttery yellows are more calming and easier on the eye.'
New from Paper & Paint Library, Brimstone, above, is a strong mid-yellow guaranteed to inject life and energy. 'A single expanse of 'Brimstone', a sensational, modern, mid-strength yellow, in an otherwise neutral interior will transform the atmosphere of a space, evoking happiness and a sense of positivity, and creating a joyful welcome,' says Andy Greenall, creative director Paint & Paper Library.

4. Choose a versatile green
Hugely versatile and synonymous with nature, green is a fabulous choice for an entryway that can bring a burst of vitality or a soothing feel depending on the shade you choose. Put a spring in your step with a fresh apple or botanical leafy shade, or keep things calm with sage green. Light green tones with a hint of yellow like Little Greene's Edith's Eye or Pale Lime will give the space subtle warmth.
'Green is very much the color of nature and especially of spring but it's also a very peaceful and welcoming color so works well in an entrance, the first part of the house visitors see when they arrive,' says Saffron Hare, creative director of James Hare.
'Using a bold shade will give a green hallway richness and is a very smart contrast to white paintwork. If there's room for a chair in the entryway then stronger, richer colors can be added with cushions, lampshades, or a dramatic artwork on the wall.'
'We love taking inspiration from nature and often use greens and blues as the basis of our schemes for an inviting space, and always try to bring the outdoors in with plants and an array of natural materials. Green shades are wonderful to work with, they are almost as versatile as neutrals,' says Clara Ewart, Kitesgrove's head of design.
5. Bring warmth with orange
If you love color but are cautious about using it then the entryway is a fabulous place to experiment with bolder hues as it's a connecting space in which we don't spend long periods of time. A warm and energizing shade, we're seeing orange used more and more in interior design and it works particularly well to make a statement in a hallway or entrance. If decorating with orange wall-to-wall is too much, consider keeping walls muted and adding a vibrant rug and stair runner instead.
'Following the trend for interiors to be all shades of sophisticated neutrals, interior designers are now beginning to inject color and a statement of individuality into their schemes. Bold bright colors such as orange are particularly popular for previously uninteresting areas. The entryway is the perfect place to make a dramatic opening statement,' says Andy Guard, creative director, Roger Oates Design.
'As a transient area, the entrance is a great place to be more adventurous with color, pattern and texture. A bold, bright flatweave wool runner adds instant impact creating a warm and inviting first impression, taking color up through the heart of the home. Orange works perfectly against a bright white background or dark, sophisticated grey to create a bright pop of color in otherwise forgotten or uninteresting spaces.'
What colour should I paint my entrance hall?
Deciding what color to paint an entrance hall can be tricky as the options are endless, but as the room people first see on entering your home it's important to consider it carefully. 'Hallways and stairs are fantastic spaces to create a first impression for guests, but also the first area you enter when returning home, so consider how you want your home to make you feel; calm and cocooned or cheerful and vibrant? Consider the views into the hallway or onto your stairs from other rooms, how much do you see, how will the design you choose flow into the other rooms?' suggests Ruth Mottershead, creative director of Little Greene.
When choosing paint colors it's a good idea to consider the amount of light received and the orientation of the space. If your entryway is small and receives little light that whites, neutrals, and paler shades are best for making spaces feel brighter and bigger.
However, that's not to say you can't use dark and vivid shades, these can really make a statement in an entryway. Deep, rich shades can be a wonderful way to create a cozy, cocooning feel, plus, when used over all surfaces, they can actually distract from the small size of the space.
'By enveloping a small space in a color, the focus shifts from noticing the size of that space to just appreciating the shades that surround us. Color drenching, especially when using darker brave colors, works best in small spaces like a hallway, landing a small bedroom, or bathroom,' says Justyna Korczynska, senior designer at Crown.
Sign up to the Homes & Gardens newsletter
Decor Ideas. Project Inspiration. Expert Advice. Delivered to your inbox.
Pippa is Content Editor on Homes & Gardens online contributing to Period Living and Country Homes & Interiors print issues. A graduate of Art History and formerly Style Editor at Period Living, she is passionate about architecture, creating decorating content, interior styling and writing about craft and historic homes. She enjoys searching out beautiful images and the latest trends to share with the Homes & Gardens audience. A keen gardener, when she's not writing you'll find her growing flowers on her village allotment for styling projects.