How to make a front door look more expensive – 5 statement upgrades for a quick-fix
We asked the experts how to give your home's frontage a stylish upgrade...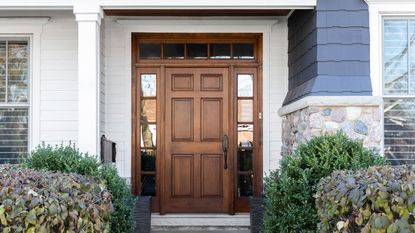 (Image credit: Getty images / Joe Hendrickson)
Sign up to the Homes & Gardens newsletter
Decor Ideas. Project Inspiration. Expert Advice. Delivered to your inbox.
Thank you for signing up to Homes & Gardens. You will receive a verification email shortly.
There was a problem. Please refresh the page and try again.
Your front door says a lot about your home. Your guests see it, neighbors see it, strangers see it and you see it – multiple times a day. This overexposure does mean you can become a bit blind to your front door and the area surrounding it, it's not a space you actually spend any time so it's understandable that you would start to ignore its aesthetics.
However, giving your front door a new lease of life is a really easy upgrade that can transform the look of your frontage and even add value to your home. Whether you are after a whole new setup or just want to upgrade want you do have, we have plenty of advice from the experts on what materials, colors, hardware, and plants to choose in order to make your front door design look more chic and expensive.
How to make a front door look more expensive
1. Update the color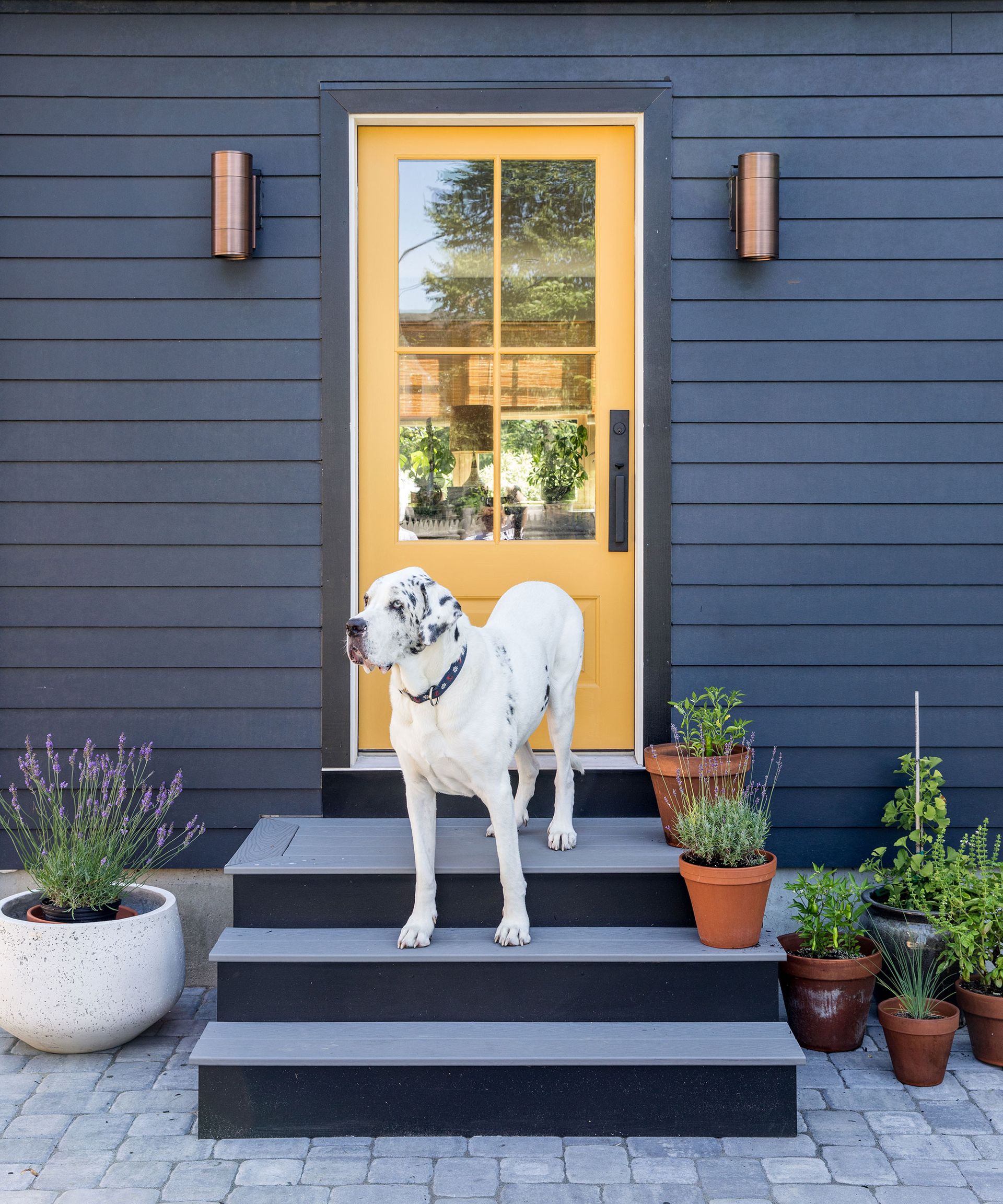 The easiest way to make a front door look more expensive is to give it a new coat of paint and a new color too. The color you choose for your door is a big deal, it sets the tone for your home and reflects what's going on in the rooms behind. It's not necessarily a color you need to play it safe with, if bright colors are your vibe, then go for it, but do consider the style of your home and the surroundings.
'We all think of quite sober colors when considering something that looks sophisticated or expensive, like dark greens and perennial blacks. Rather than choosing a reliable black as your dark color of choice, consider an elegant deep brown as an option. Something like Tanner's Brown will look reliably stylish and gives you great flexibility whether your house is stucco, red brick, or stone,' suggests Patrick O'Donnell of Farrow & Ball.
Designer Julia Dempster agrees: 'Black as a front door color makes a bold statement while at the same time remaining a neutral background for other exterior décor. Black is the perfect backdrop and remains timeless. People are trending toward lighter exterior color schemes, so having a black front door adds a dramatic moment without being too overwhelming or clashing with anything else going on in your exterior. Painting your front door is a great way to add personality or pop of color to your home without having to undergo a complete exterior renovation.'
'But don't overlook something unexpected too,' says Patrick. And we agree, a front door can be a place to have fun with color. It's a fairly low commitment, painting a front door, and you can switch it if you want to go with a bold or trending color that might not have the longevity of a more sensible shade. Yellows, pinks, reds, bold blues, and greens can all work wonderfully as front door colors.
'One thing that will really help is to paint the architrave around the front door too, rather than leaving it white which so many of us do. This will help give a better proportion to the scale of your door,' adds Patrick.
Elizabeth Assaf, a designer at Urban Front makes the key point when painting a front door. 'Avoid painting over existing paint without properly preparing the door first, this goes for solid wood bases too – as the only way for a door to look its best is if it's been primed properly first (fully sanded and a base coat used).'
2. Switch out your hardware
Another easy switch is to change out your front door's hardware – the knob, knocker, letterbox, etc. It can be a really inexpensive way to make a front door look more expensive.
'Use accessories that are solid stainless steel, solid bronze or brass which are classic in design,' suggests designer Elizabeth Assaf. 'Pick the right design for the period of the door – knob for Victorian and pull for contemporary – understated is better than having something too elaborate or fancy.'
'Do make sure accessories all work well together and are of the same color and material, including letter plate, doorbell, and lighting. Make sure the size of handles aren't too big for the door so that it doesn't look commercial and out of place,' she adds.
In terms of material, we'd recommend brass, nickel, or coated stainless steel for the best-looking and longest hardware. Avoid really shiny metallics, and use the colors of your door to influence the type of metal you go for. As a general rule of thumb, warmer colors work better with gold and brass hardware, whereas cooler colors pair better with silver. However, brass hardware can look gorgeous with blues and deeper shades so experiment with the combinations.
And while it may not be about aesthetics, ensuring your door works well is important too. 'Make sure all door furniture is of good quality including hinges and locks not just the door handles. Locks like fingerprint entry, and fob entry also elevates a door – including 5POINT locking. Of course, locks aren't just about how they look though and need to be of the correct materials and make sure they meet the correct security testing,' adds Elizabeth.
3. Add some subtle illumination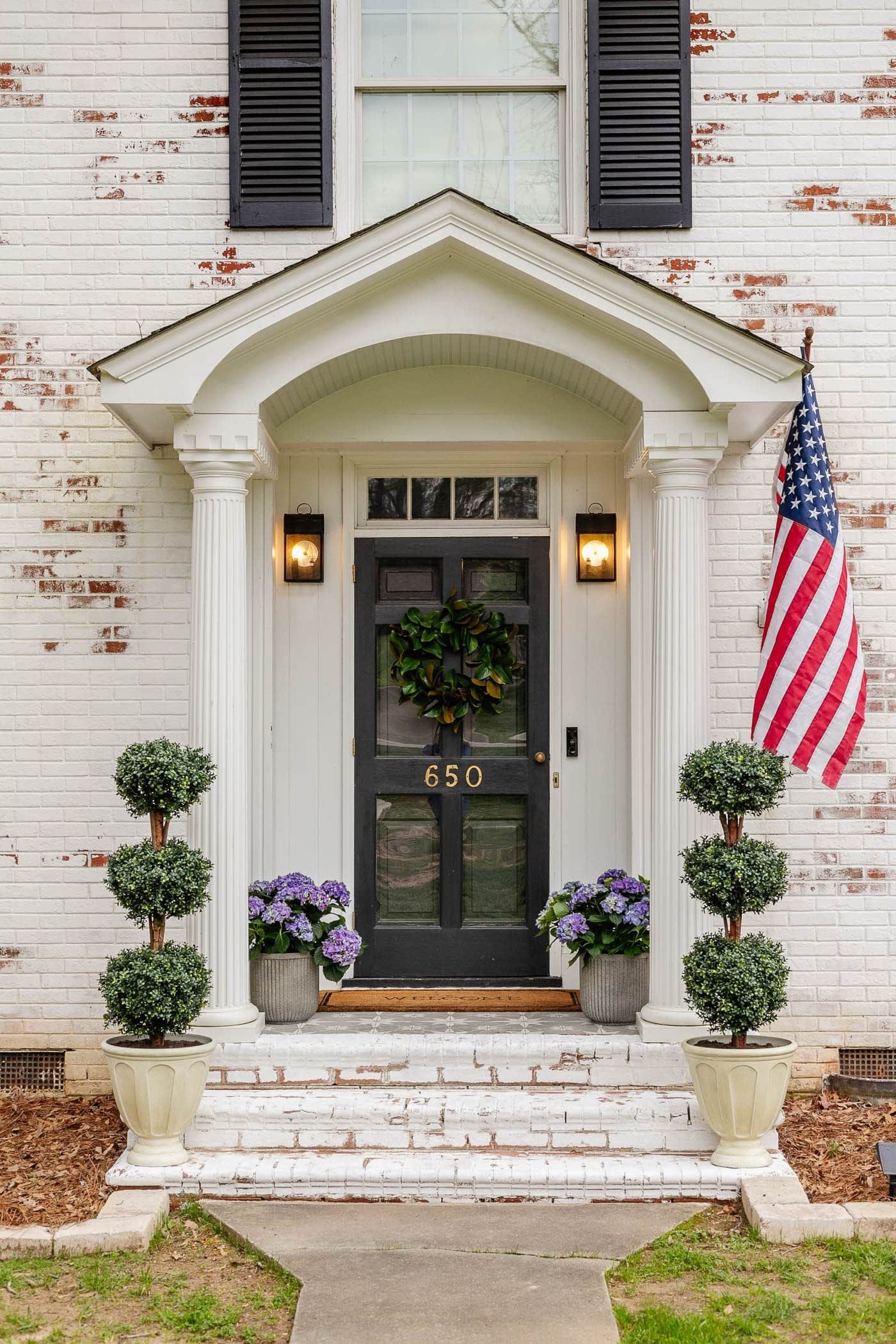 'First impressions count. A decorative wall light sets the scene and should be selected in the style of the house,' says Luke Thomas, design director at John Cullen Lighting. 'Sometimes an up/down light gives a more architectural effect as it conceals the light source. Whichever solution, these outdoor lighting elements are best dimmed and combined with some other concealed architectural lighting features such as uplights to the door surrounds or floor washers to skim light over steps.'
'Consider giving a wash of light onto the façade as well as this gives the appearance that the wall light is doing the work but creates a softer look with the surrounding surfaces also being lit.'
'If you have plants on either side of the door, consider lighting them with spike lights within the planters to provide a focus on the foliage and a welcoming approach. Alternatively, place the lighting behind the planting framing the door, and place the planting in a dramatic silhouette,' suggests Luke.
4.Soften the step with planting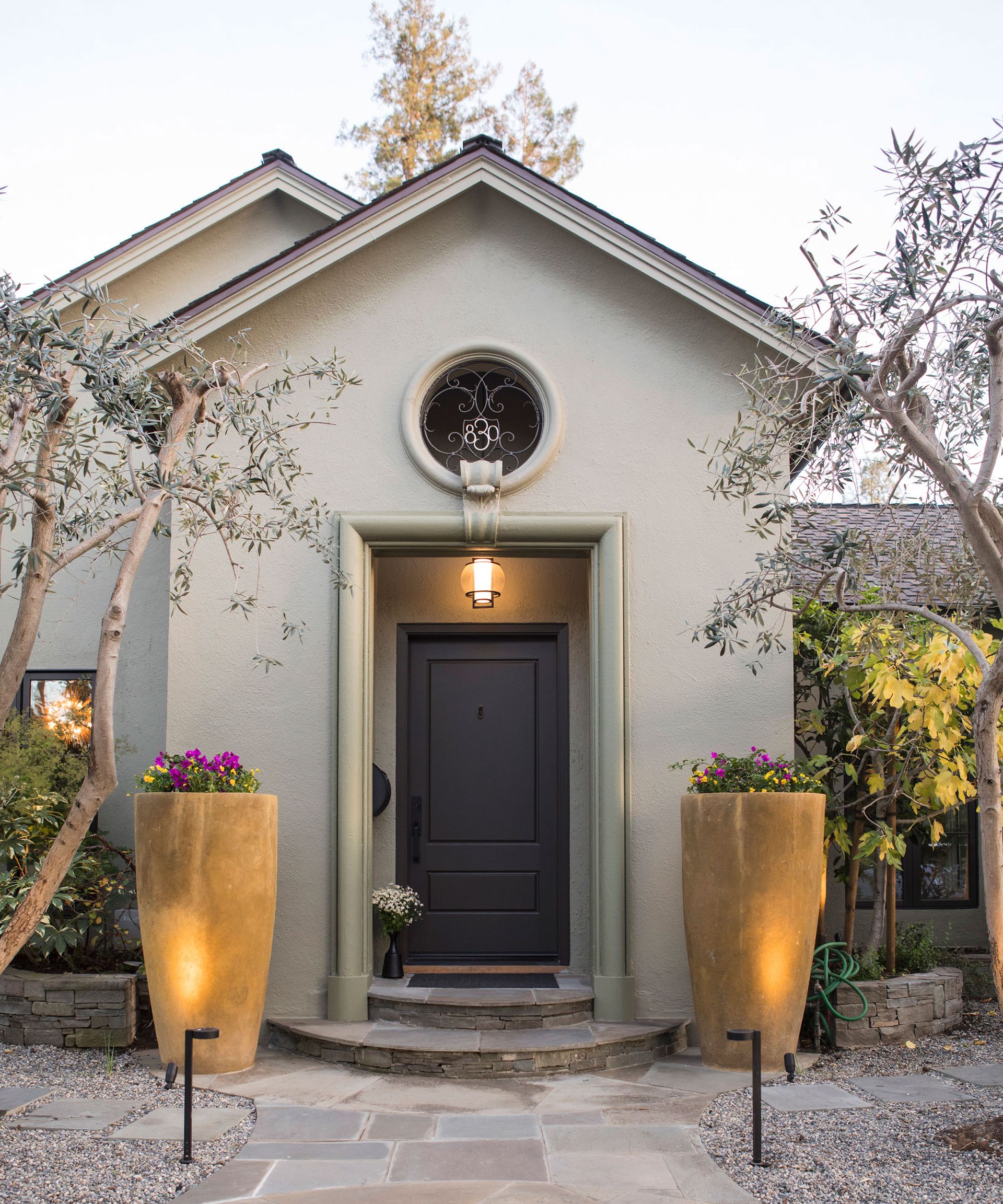 'Plants are a perfect way to elevate the entrance of your home, they can add softness, shape, color, and scent,' suggests Jemma Charman, co-founder of Green Rooms. 'A combination of pots or an array of plants within larger containers is a great front door planting idea, adding interest and height.'
'For a contemporary, urban jungle feel, fill a container filled with lush green foliage. Fatsia, Hostas, Ferns, and Heuchera will look eye-catching against a brick, white, or dark frontage. Lavender is an ever-popular choice for sunny doorways, with blue to purple flowers and iconic scent, it is very attractive to pollinators. Not only will it look good, but it will also be doing good too.'
'An option for year-round interest and color is a Nandina, with delicate red-orange leaves and berries later in the year. This evergreen will also be happy in a pot.
As with all plants in pots, make sure the pot or container has drainage holes and water frequently, especially throughout spring and summer,' suggests Jemma.

5. Pick the perfect material for a new door
'Making a front door look more expensive does depend heavily on the accessories and the actual material,' says Elizabeth Assaf. So if you inherited your door, or it's been there for decades and is beyond the help of a quick glow-up with paint or new hardware, it might be time to just replace it.
A new door is an investment, but think how much air time it gets in your home. It's an update you will definitely notice and therefore go for the best quality you can afford because a cheap door will instantly bring down the whole look of your home.
'Avoid fake wood veneers, UPVC that is trying to be another material like aluminum. Using anything in a natural material like oak elevates an entrance and although expensive does look the part. Even oak doors that are too uniform can cheapen the look of a front door, so the more grain and natural the look the more expensive it looks,' adds Elizabeth.
FAQs
What is the best front door color?
This depends on the style of your home. If you want a classic look, darker hues like black, forest green, navy blue, and charcoal grey are always going to work. And they look great with any style of home too. However, don't be afraid to go bold either – pinks and reds are really popular door colors if you want it to be more of a feature. We would just say, let the surroundings influence your decisions and the era of your home too – what features do your door and doorway have, and what's going on colorwise in the areas around your entrance?
How can you make a front door look more modern?
If you don't want to replace your door in its entirety, the best way to make it look more modern is to paint. Give it a fresh coat to update the color and make it look smarter. You can also change out the hardware with more sleek and contemporary designs and add pots and planting that suit a more minimalist, modern look.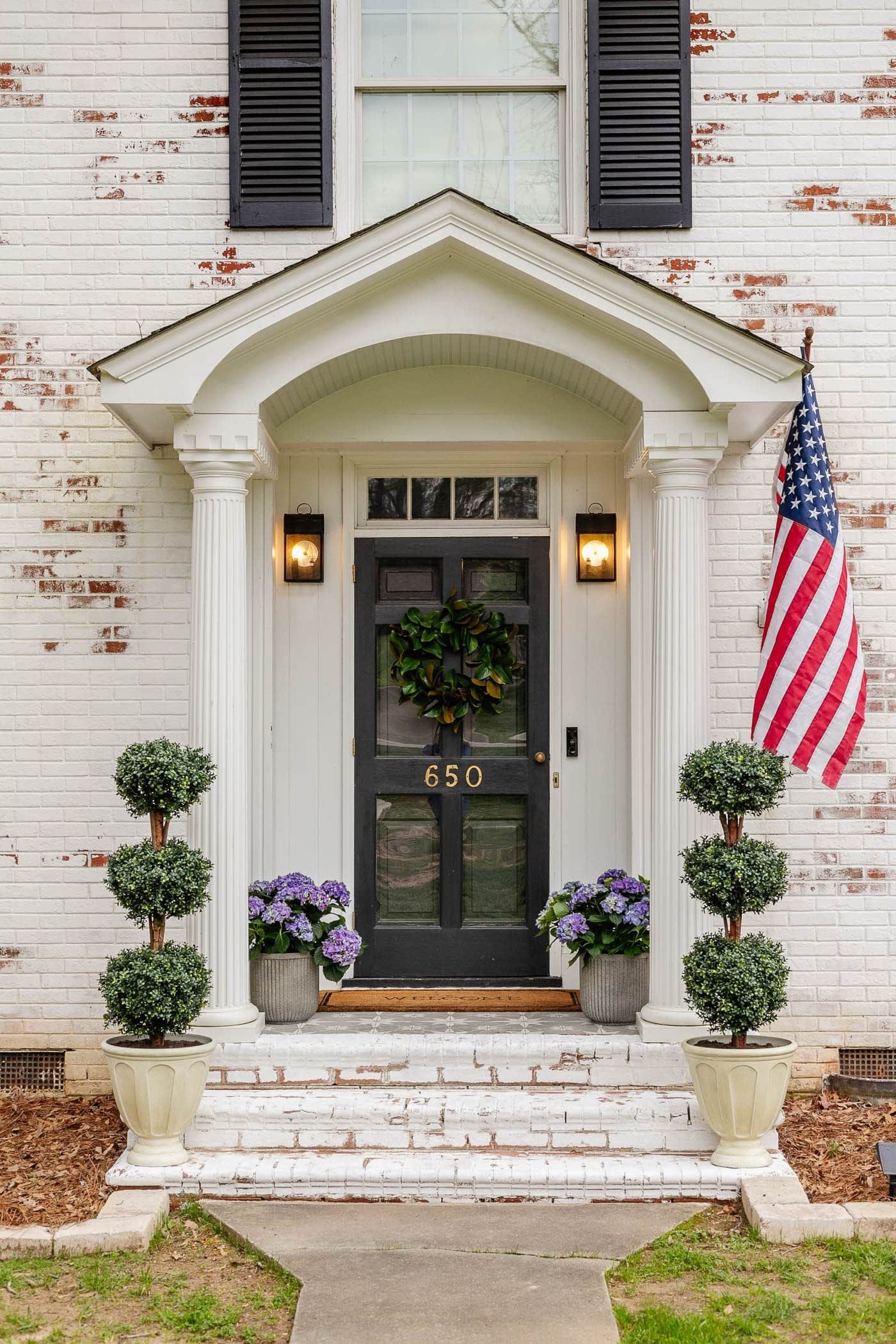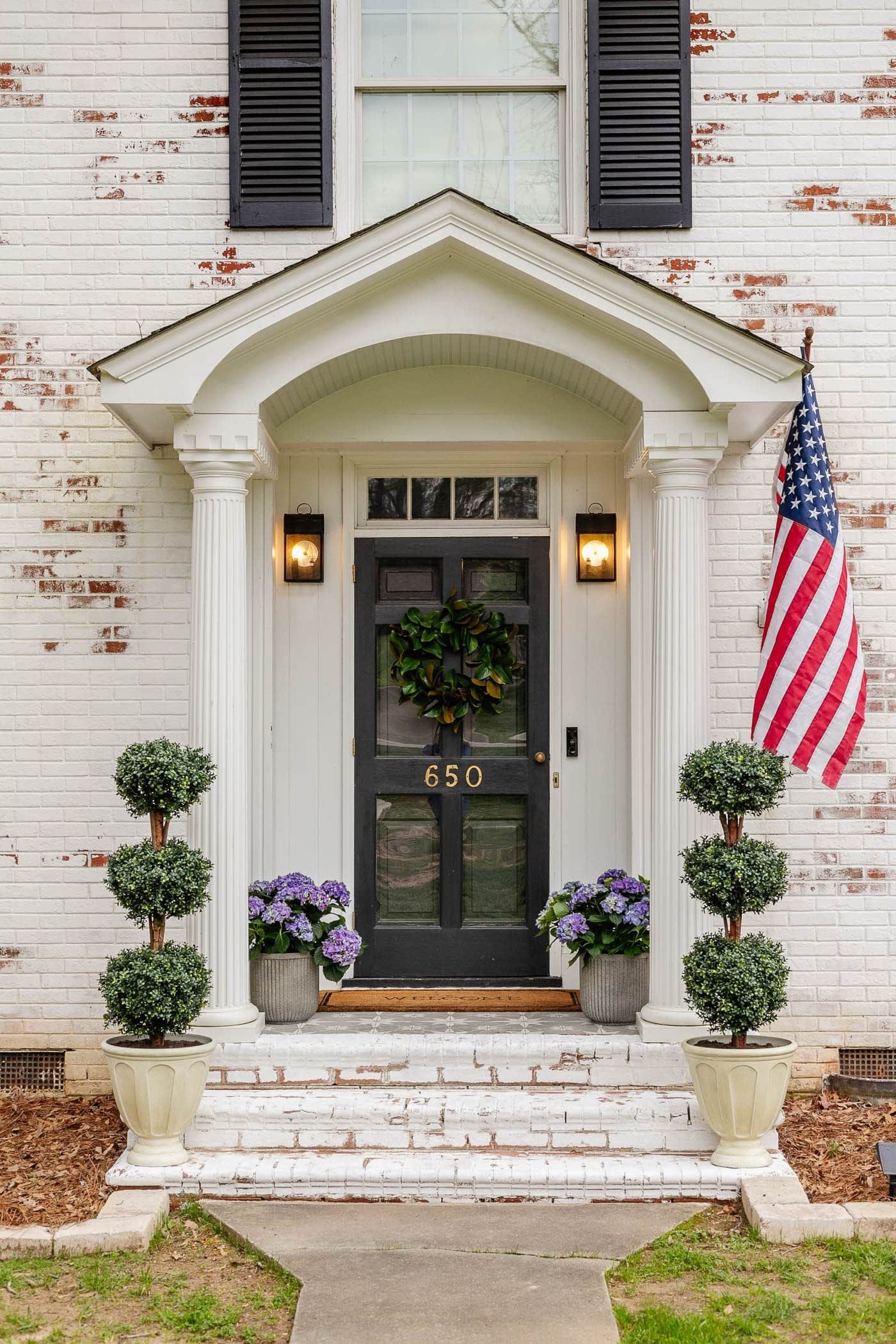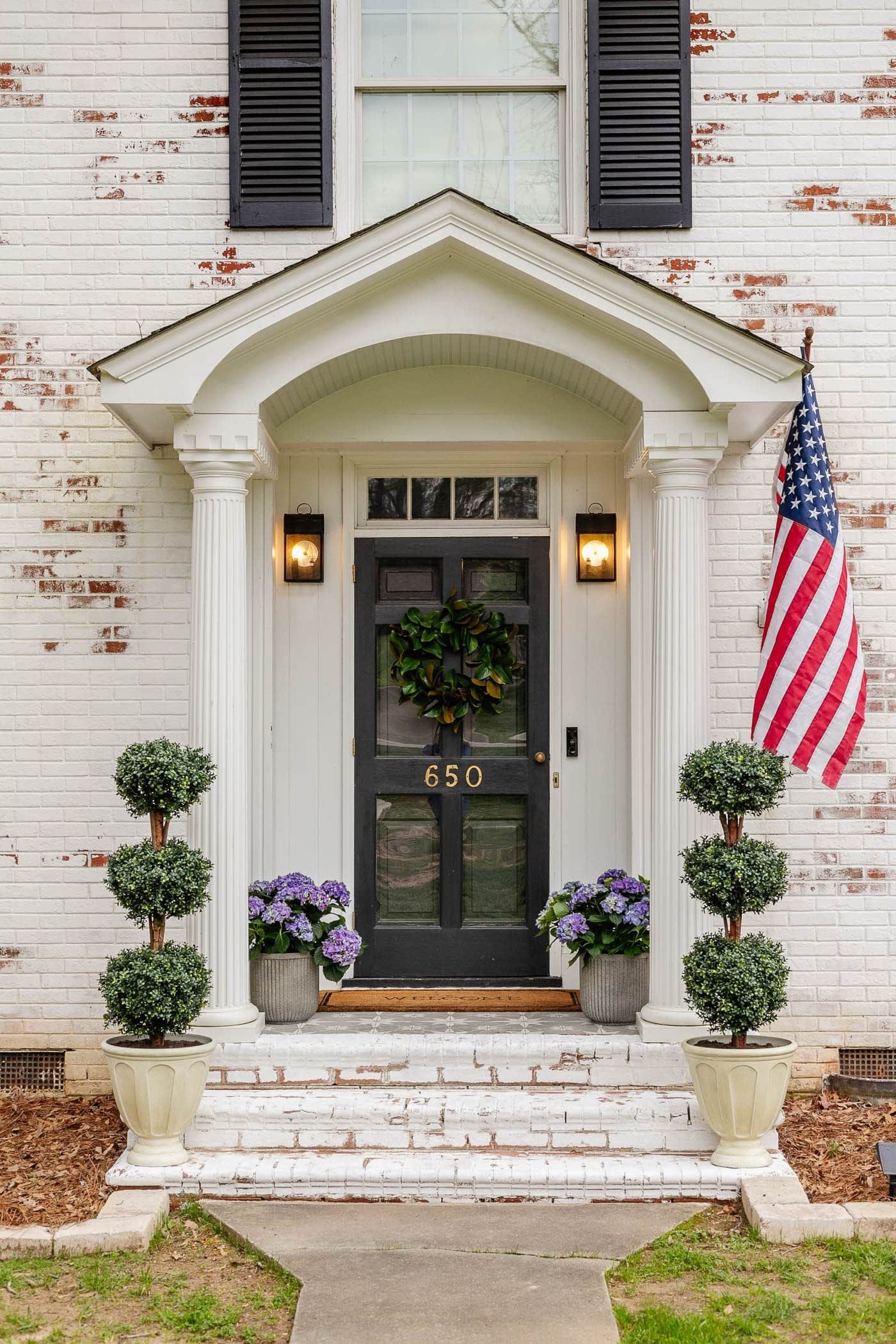 Sign up to the Homes & Gardens newsletter
Decor Ideas. Project Inspiration. Expert Advice. Delivered to your inbox.