10 front door plants that will add a decorative touch to your home's entrance
The joy of these front door plants is that they're multi-tasking and work equally well in planters, hanging baskets or borders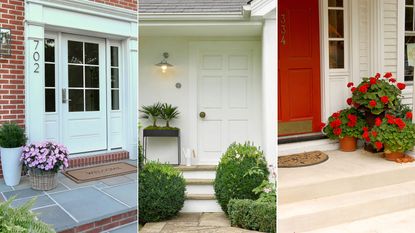 (Image credit: Alamy Stock Photo)
Sign up to the Homes & Gardens newsletter
Decor Ideas. Project Inspiration. Expert Advice. Delivered to your inbox.
Thank you for signing up to Homes & Gardens. You will receive a verification email shortly.
There was a problem. Please refresh the page and try again.
Boosting curb appeal has never been easier than with these front door plants that will transform the entrance to your home. A fast planting refresh is quick to get done yet will create the most stylish welcome to your home.
Your front door is on display 24/7 so it makes sense to enhance it in the best possible way. Add pops of gorgeous color with containers of flowering plants, smartly clipped evergreens in stylish planters, cascading hanging baskets, and fragrant path edging leading up to the door.
Whether you're looking for modern ideas for a contemporary home or something more traditional, these plants will set off your front yard landscaping to perfection.
10 ways to dress up your front door with plants
Selecting the right plants for your front door area can transform it into a welcoming and charming space. Use plants to add pops of vibrant color, texture and scent, either in containers, planted in the garden or displayed on your front porch.
1. Geraniums
Best for: Containers, hanging baskets, window boxes
Type: Perennial (if overwintered), annual
Hardiness: USDA 10,11
Also known as pelargoniums, these are one of the best front door plants as they look good for months and don't need a lot of attention. All you need to do is find out how to deadhead geraniums to keep the show going.
'These are my go-to plants for containers and hanging baskets,' says gardening expert Amelia Haslehurt, co-founder of Locally Grown Gardens. 'Their clustered blooms, which can range from vibrant reds and pinks to more subtle whites and pastels, add a lively pop of color to any space.'
Geraniums are hardy and adaptable, making them a good choice for any beginner gardener. They can handle full sun to partial shade, and once established, they're considered to be a fairly drought-tolerant plant too. These perennials are also known for their long-lasting flowers too, blooming from spring right through to fall, providing a constant source of vibrancy and color to your porch.
Find out how to overwinter geraniums and they will come back the following year too.
Plant enthusiast Amelia was inspired to start Locally Grown Gardens after becoming fed up with store bought produce filled with pesticides and chemicals. She wanted to create an online space where others could share in her passion for gardening and home-grown produce.
2. Petunias
Best for: Containers, hanging baskets, window boxes, borders
Type: Annual, perennial
Hardiness: USDA 10, 11
Another popular choice are pretty petunias, especially the trailing varieties that will tumble from a hanging basket or window box to make a really attractive feature. They are one of the best plants for hanging baskets if you're considering what to display on your porch.
'With their wide range of colors and long blooming seasons, versatile petunias are perfect for creating eye-catching displays,' says plant expert Gene Caballero, co-founder of GreenPal.
They will thrive in containers, hanging baskets, and also as border plants. Remember to deadhead petunias regularly to keep more flowers coming.
Whether you prefer soft pastels or bold, vibrant hues, petunias will add a cheerful and lively ambiance to your front entrance adds Gene. Plus, they are relatively low-maintenance and can tolerate various sunlight conditions, making them an excellent choice for different areas of your outdoor space.
Gene Caballero grew up living in South America and Middle Tennessee. He has a MBA in Finance and worked as a corporate sales coach for a Fortune 50 company. Gene has worked in the landscaping industry for over 25 years.
3. Pansies
Best for: Containers, window boxes
Type: Perennial, annual, biennial
Hardiness: USDA 7-11
Pansies are a fantastic addition to your collection of front door plants because they're incredibly versatile, making them excellent for container gardening, window boxes and hanging baskets.
'What sets pansies apart is their extensive color palette – you can find them in almost every shade, from whites and yellows to purples and even black,' says Amelia Haslehurt. 'Some varieties even have a "face", a darker center that provides a stunning contrast to their vividly colored petals.'

Their delicate, velvety petals may seem fragile, but don't let that fool you. 'Pansies are incredibly hardy and can thrive in a variety of climates, even cooler ones,' says Amelia. 'They prefer cooler weather, which makes them an excellent choice for early spring and fall when many other plants aren't in bloom yet.'

If you choose a fragrant variety, you'll also enjoy a subtle and sweet aroma to welcome you home.
4. Wintergreen boxwood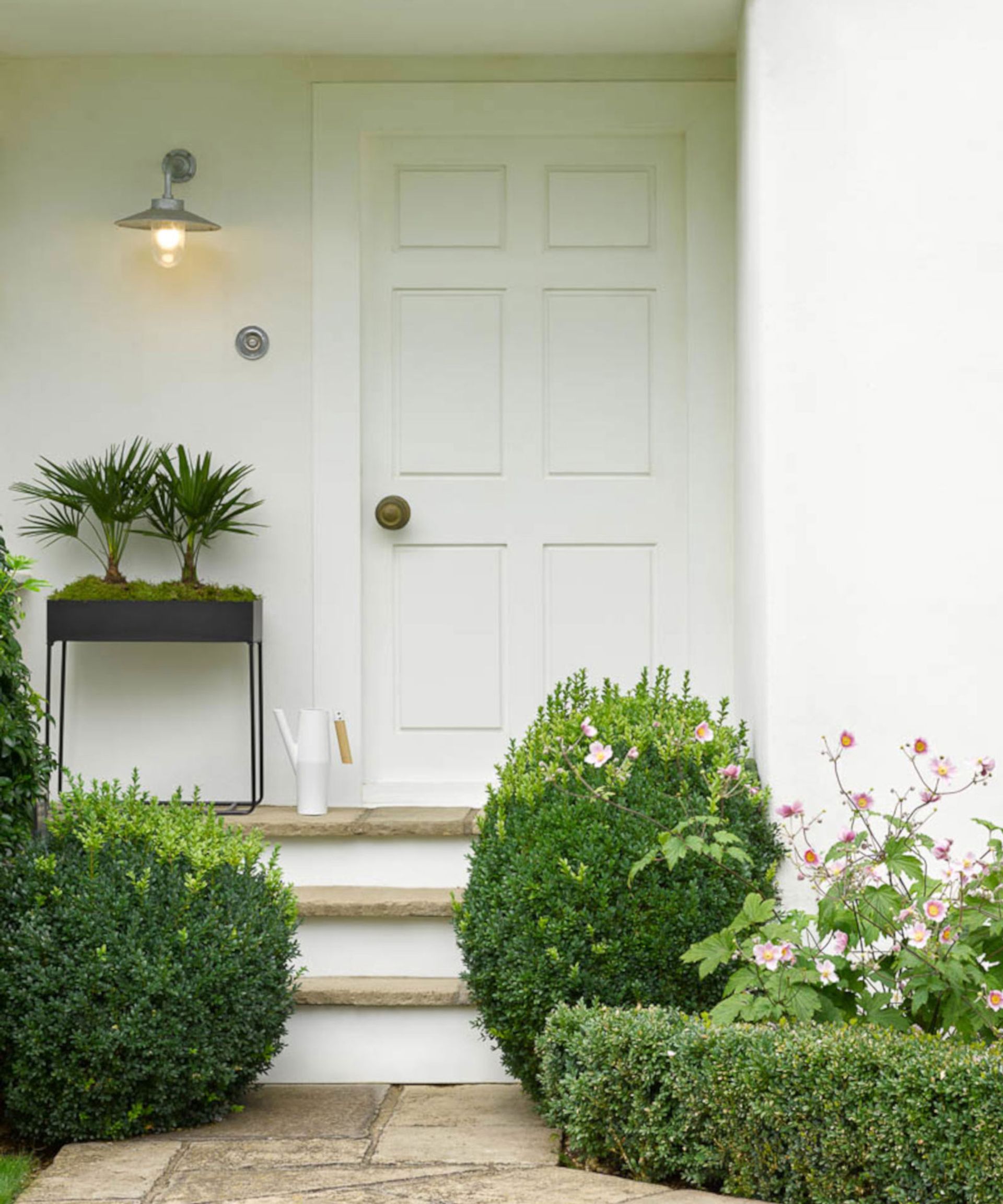 Best for: Containers, borders, clipped topiary including low hedges
Type: Evergreen shrub
Hardiness: USDA 5-9
If you like the look of evergreens around your front door there is one shrub that experts choose time and again. Clipped boxwood is one of the best shrubs for the front of the house and looks smart planted up in containers or clipped into low hedges to delineate borders around your entrance.
'A standout favorite for front door greenery that I recommend is the boxwood shrub,' says Kerry Sherin, gardening expert at Ownerly. 'This evergreen shrub is a robust choice for a container or lining a path. It's hardy in many climates and doesn't require much water, thriving in well-drained soil with partial to full sun exposure. Its compact, dense foliage keeps its shape throughout the year, making it a great low-maintenance option.' By trimming boxwood bushes at the right time of year, you can keep your plants looking their best.
Horticulturalist and nursery owner Tammy Sons agrees that's it's a good choice and suggests using it under windows around your front door area too. 'Wintergreen boxwood doesn't grow over 38 inches and they don't require pruning. They are excellent for under window landscaping, especially as they stay lush and green year round.'

The enduring popularity of this shrub combined with its versatility makes it an excellent choice for tasteful, year-round curb appeal. For a look like the one in our picture, try Winter Gem boxwood available from Nature Hills, which grows well in full sun or part shade.
5. Lavender
Best for: Containers, window boxes, lining paths, borders
Type: Herbaceous perennial
Hardiness: USDA 3-9
When choosing your front door plants try to select resilient plants that bring beauty and life to your front yard year after year. Lavender should be on your list as it provides an additional sensory layer with its delightful fragrance that will transform your entire front door area.
'This fragrant perennial is another favorite of mine, as it's incredibly hardy and reliable,' says Amelia Haslehurt. 'Lavender has beautiful gray-green foliage with vibrant purple flowers that not only add color to your front garden but also a lovely, calming aroma.'
It's also a plant that's as useful as it is beautiful. Lavender is drought-tolerant and attracts pollinators, making it environmentally beneficial too. Plant lavender in full sun, and it will reward you with continuous blooms throughout the summer.
6. Hostas
Best for: Containers, lining paths, borders
Type: Herbaceous perennial
Hardiness: USDA 5a-9a
'Hosta, also known as plantain lily, is a perennial that I hold dear for its low maintenance and hardy nature,' says plant expert Violet Joy, founder of Greeny Thumbs. 'This plant thrives in shaded spaces, making it an excellent choice for front door areas that may not receive full sunlight.'
Hostas come in a variety of sizes, colors, and leaf textures, offering a delightful visual treat. Their lush foliage creates a welcoming ambiance, and while they may not flower throughout the year, their leaves provide a green backdrop that complements any home exterior. Find out how to grow hostas in pots or plant them in the ground. Either way they will look great.
'Hosta are not just my favorites, they're crowd-pleasers too,' adds Violet. 'They offer a balance of visual appeal, hardiness, and low maintenance, making them ideal choices for next to your front door.'
7. Miscanthus
Best for: Containers, lining paths, borders
Type: Ornamental grass
Hardiness: USDA 5-9
'When it comes to the best front door plants, favorites of mine are ornamental grasses, particularly the Miscanthus variety,' says Gene Caballero. 'These grasses bring texture, movement, and a touch of elegance to container gardens, hanging baskets, and border plants.'
With their feathery plumes and gracefully arching foliage, Miscanthus creates a soft and airy backdrop for other flowering plants. They add depth and interest to the overall composition, and their rustling sound in the breeze creates a relaxing and soothing atmosphere. Ornamental grasses are also relatively low-maintenance, requiring minimal watering and pruning, making them a practical choice too.
'In my opinion, these plants are excellent options for lining a front yard walkway because they offer versatility, visual appeal, and easy care,' says Gene. 'By incorporating ornamental grasses for texture and movement, you can create stunning compositions that enhance the curb appeal of your home.'
We love the look of this easy care Little Zebra maiden grass, available from Nature Hills. It works equally well in a deep container or planted in the ground.
8. Chrysanthemums
Best for: Containers, window boxes, borders
Type: Herbaceous perennial
Hardiness: USDA 3-9
'Chrysanthemums are one of the best front door plants because they make a statement,' says Dale Williams, owner of Bloom'd Florist. 'Chrysanthemums come in a wide range of sizes, styles, and colors, so depending on your taste, they can produce a big appearance or a simple yet elegant aesthetic.'
Chrysanthemums are a great choice for the front of your home because they are also said to bring luck and abundance.
It's important to find out how to grow chysanthemums. Dale points out they enjoy the sun, so need extra care and attention, but under the appropriate circumstances, they will repay you with lovely blossoms. 'Regular fertilization and uniform moisture maintenance will encourage good flowering. Put them somewhere with lots of sunlight and keep an eye out for pests and diseases. '
9. Cypress tree
Best for: Containers, borders
Type: Evergreen tree
Hardiness: USDA 7-10
Versatile cypress is one of the best evergreen shrubs for the porch. It can be grown as an ornamental tree in a container or in the ground, and is a smart addition to the porch area. Another great thing about cypress trees is that they don't need a lot of fuss and attention, so they're a low-maintenance tree for your front yard. All they will require is a yearly trim to keep them in shape.
'Potted cypress trees are a really great option if you want a uniform look,' says interior designer and lifestyle alchemist Chantelle Malarkey. 'You can also trim and design them in a specific shape which is visually interesting and makes your front porch look really nice. They are great for having multiples because you can easily control and maintain its shape.'
If you're interested in topiary ideas to smarten up your front door area cypress trees are the perfect choice.
Hailing from Minnesota, Chantelle now lives in sunny San Diego with her husband, Brian, son Hunter, and twins, Miles and Sailor. Plus Stella and Scout, two of the cutest Weimaraners around. Chantelle has a passion for all things pretty, whether it's gorgeous food (easy to come by when you're married to a chef) or a perfect bouquet of peonies.
10. Succulents
Best for: Containers, borders
Type: Succulents
Hardiness: can be grown outside in frost free areas (USDA Zone 10+). In colder zones, they can be grown in containers and moved inside for the winter.
If you live in an area that is affected by drought and want a water-wise garden, succulents are one of the best additions to style up the area around your front door or on your porch. If you cultivate succulents indoors it might be time to move them outside for the summer season.
Aeoniums, agaves and aloes are all great choices, either planted up in container displays or in the ground if you live in a mild climate where they will thrive year round.
'I love low-maintenance succulents for a modern look,' says Chantelle Malarkey. 'These are especially cool looking in concrete planters. This is a look that is a good fit with the aesthetic of contemporary homes.'
---
Chantelle Malarkey has one final tip that works well for creating interest next to your front door. Give some of your favorite indoor plants a summer vacation outdoors, as they will thrive on your porch and welcome the fresh air.
'Indoor plants like pothos, coleus and jade plants look great as containers on your porch,' says Chantelle. 'Just make sure to give them regular watering. Plants that can thrive in low light or shade are best in case your porch is shaded for part of the day.'
Sign up to the Homes & Gardens newsletter
Decor Ideas. Project Inspiration. Expert Advice. Delivered to your inbox.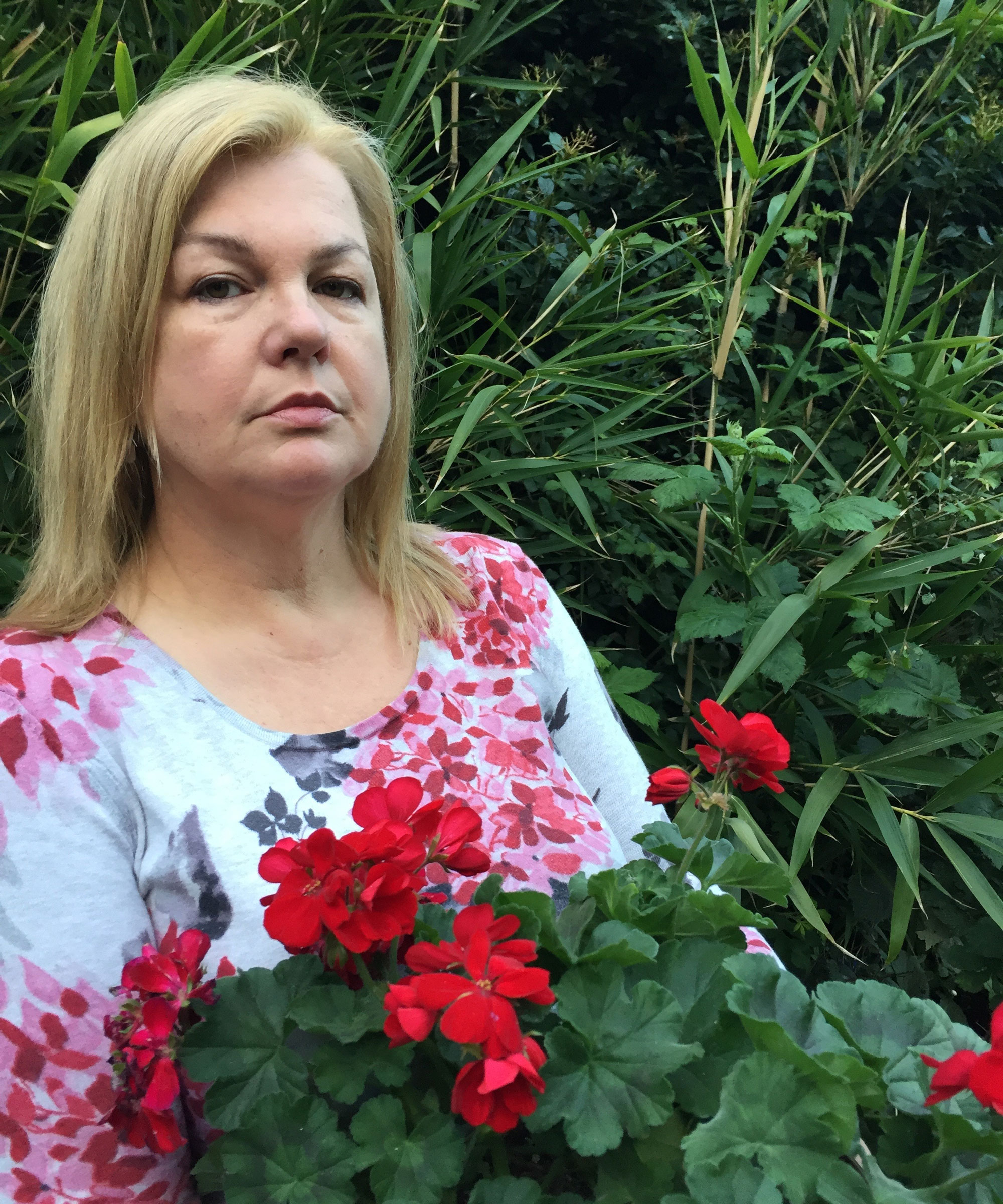 Lifestyle journalist Sarah Wilson has been writing about gardens since 2015. As well as homesandgardens.com she's written for Gardeningetc.com, Livingetc.com, Easy Gardens and Modern Gardens magazines. Her first job on glossy magazines was at Elle, during which time a visit to the legendary La Colombe d'Or in St-Paul-de-Vence led to an interest in all things gardening. Later as lifestyle editor at Country Homes & Interiors magazine the real pull was the run of captivating country gardens that were featured.