Hostas care and growing guide – get the most out of these leafy beauties
With bold and beautiful foliage from spring until fall, these lush, easy care plants are a great addition to any garden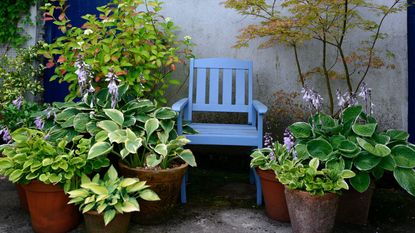 (Image credit: RM Floral/Alamy Stock Photo)
A large container of leafy hostas makes a welcome addition to any patio or other seating area. Alternatively if you learn how to grow hostas in the ground their heart-shaped leaves will add structure, fill in gaps and give a lush, almost tropical, feel to flower beds.
There are so many different types of hostas to choose from. In addition to the ribbed glossy green leaves of popular hostas such as 'Devon Green' and 'Halcyon', there is also a whole range of different colors, shapes and sizes to choose featuring more unusual gray-blue, yellow and gold foliage, some with a contrasting splash in the center of the leaf or edging them. Another bonus is that once all the leaves have unfurled, elegant spikes of white, mauve or purple flowers emerge from the foliage. Occasionally these are scented.
As well as being easy to grow and low maintenance, hostas are one of the best shade plants around. This long lasting perennial grows back year after year too.
Hostas: key facts
Plant type: Hardy perennials
Mature size: Up to 3-4ft depending on variety
Soil type: Fertile soils including heavy clay, improved with garden compost
Soil PH: 6.5–7.5, slightly acidic to slightly alkaline
Time of year to plant: Spring, fall
Flowering time: Spring, summer, fall
Flower color: Purple, mauve, pink, white
Hardiness zones: USDA 3-9
Scientific name: Hosta
Common name: Plantain lily
Getting started
'These leafy beauties are like the little black dress of the shade garden. They are versatile, stylish, and effortlessly elegant,' says David Andre, gardening guru and founder of Los Angeles based Sproutedhome.com. 'With their wide range of colors, textures, and sizes, hostas are perfect for adding visual interest to any shaded areas in your yard.' They're one of the best container plants for shade and can also work as an excellent ground cover plant.
If you're wondering about when to plant hostas, the answer is that spring is a great time of year to do this as it's usually just before your plants start pushing up new shoots. Planting hostas should only be done once the ground has thawed.
If you miss this slot, fall is the next best time to plant hostas, as soon as the weather starts to cool down. But this needs to be done at least a month before the first frost so be sure to allow enough time for your new hosta to settle in.
In fact, hostas can be planted at any time of year as long as the soil is not frozen, waterlogged or parched.
David is founder of Sprouted Home based in Los Angeles, CA, a passionate team of green-thumbed experts and home enthusiasts is dedicated to bringing you inspiring ideas, practical tips, and the latest trends to transform your living spaces into your personal sanctuary. He believes a thriving garden is the perfect recipe for a happier, healthier life.
How to plant hostas
Dig over the spot in your yard that you've earmarked for your hostas, and add garden compost or your favorite soil improver.
'These plants prefer soil that is rich in organic matter and moist but well-drained,' says Itamar Ben Dor, founder of Green Life . 'They also benefit from occasional fertilization with a balanced, slow-release fertilizer.'
If you're planting several hostas they should be a good couple of feet apart to allow them to spread as these clump-forming plants grow from rhizomes that send out roots underground, so they don't appreciate being cramped. Hostas are tolerant of most types of well-draining soil.
Plant each hosta so that the crown is just below the soil surface, at the same depth they were in their container. The same advice applies if you are growing hostas in pots too. Water in well with a liquid feed. The roots will put on a spurt as they take nutrients from the soil and will settle easily into their new space, quickly unfurling masses of new leaves.
Where to plant hostas
Hostas are an excellent choice for shady gardens due to their lush foliage and various colors and sizes. 'These perennials are low-maintenance, tolerate various soil types, and thrive in partial to full shade,' says gardening expert Tony O'Neill, creator of Simplify Gardening. 'Hostas are perfect for adding texture and visual interest.'
Although hostas are the stars of the shade garden and the ideal position for them tends to be dappled shade, they do well almost anywhere in your yard as long as they're not exposed to harsh sun, which will cause their leaves to turn brown and crinkly on the tips as they don't like hot, dry conditions.
They need moisture to thrive so keep an eye on the soil and check for signs that it's drying out. If you're growing them in containers you need to be especially careful, as the soil in pots dries out more quickly. But don't let it put you off as potted up hostas will thrive in large planters as part of your container gardening ideas. Move the container into place before filling with compost and planting up.
If you choose yellow and green variegated varieties of hosta they will need sunlight to develop their color, so it's always worthwhile checking the requirements of each individual hosta you have chosen in terms of the best location for them.
'In general, hostas with thin leaves, especially if they have white margins, are the most likely to be damaged by sun, and those with thick foliage tend to be more resistant,' say the experts at the American Horticultural Society.
Tony's love for nature and helping others become great gardeners is what drives him. Growing up, his grandfather instilled in him a love for gardening and much of what he knows today was learned from him. Tony went to horticultural college, providing him with a great foundation, but he believes that nature is the best teacher. As well as setting up Simply Gardening, Tony has had two books published, Composting Masterclass and Your First Vegetable Garden, and is currently working on his third, The Science of Sustainable Gardening, due out in early 2024.
Care tips
It's natural you'll want to find out if you should cut back hostas in the fall, as the foliage and flowering stalks start to die back at this time of year and can end up looking unsightly. It's a good idea to cut the plants down to the ground in fall to prevent pests or diseases breeding in the decaying foliage. Another benefit of this approach is that pests like slugs won't be able to make a home there.
It's also important to find out how to winterize hostas once you've cut them back. They are hardy plants but in cooler climates it's beneficial to add a layer of dry mulch over to insulate them if you're growing them in the ground.
If you're planning on leaving your hostas in pots outdoors it's best to bury them in the garden and cover with mulch if you live in an extremely cold climate. Alternatively move them to a covered frost-free space such as a garage or other protected spot near the house.
Every few years, it's also worth dividing hostas to stop them getting too congested. It's a great way of getting lots of new plants for your garden too.
Common pests and how to deal with them
There are two main problem pests that will happily live in your clumps of hostas and nibble away leaving holes in the leaves. These are slugs and snails. Both can quickly cause a great deal of damage that sees your plants going from glorious leafy splendor to shredded in a very short space of time, sometimes even overnight.
There are several things you can do to keep these hosta-eating pests at bay. 'Look for slug-resistant varieties of hosta like 'Blue Mouse Ears' or 'Halcyon' to keep your hostas looking their best,' says David Andre. You can find both 'Blue Mouse Ears' and 'Halcyon' at Nature Hills.
Alternatively look into slug control methods such as a barrier mesh like this Copper Stopper from Amazon, or a porcelain pest controller like this one, also from Amazon.
---
You can't beat hostas if you want to fill out flower beds with lots of leafy foliage or create eye-catching planters for the patio.
If slugs are an issue in your area and it puts you off the idea of growing hostas try out some alternative slug repellent plants instead.
Lifestyle journalist Sarah Wilson has been writing about gardens since 2015. As well as homesandgardens.com she's written for Gardeningetc.com, Livingetc.com, Easy Gardens and Modern Gardens magazines. Her first job on glossy magazines was at Elle, during which time a visit to the legendary La Colombe d'Or in St-Paul-de-Vence led to an interest in all things gardening. Later as lifestyle editor at Country Homes & Interiors magazine the real pull was the run of captivating country gardens that were featured.