Best container plants for shade – 8 pretty choices to lift a dark spot with foliage and flowers
Even if your garden is long on shade, it doesn't have to be short on color with these bright and beautiful container planting choices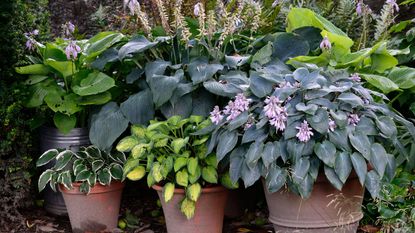 (Image credit: RM Floral/Alamy Stock Photo)
Make the most of shady outside spaces by choosing container plants that will thrive in these conditions. If you're looking for ideas on arranging pots in the shade of a tall tree, nearby building, dense shrubby hedge, or overhanging balcony, there are plenty of container plants to choose from that will grow happy and healthy.
There are lots of positives when planting up containers with the best shade plants. They need less watering and deadheading, and provide a refuge from bright light and heat for insects and pollinators. They also tend to make longer lasting displays as part of your container gardening ideas as they're not exposed to harsh sunlight and increased transpiration (water loss).
Many plants have the ability to thrive happily in shade, and will bring dark corners to life with a pop of color or some lush and leafy foliage, so take your pick from our expert suggestions.
8 of the best container plants for shade
The plants for pots in our expert selection here will tolerate shade for most of the daylight hours, but they still need some filtered sunlight to thrive, such as you would find under the canopy of tall trees.
1. Hostas
Hostas are a great choice for shaded container gardens due to their lush foliage and various colors and sizes. A selection of shade loving hostas planted in pots adds long-lasting interest to your yard, and the lush foliage makes a very restful combination to transform a dark corner or shady gap in your planting.
'Hostas are a popular container plant for shady areas,' says Sara Lundberg, owner of Bloom & Haul, a seed company based in the Pacific Northwest. 'They are hardy and come in a variety of colors and leaf sizes, making them a versatile addition to any container. They prefer moist, well-draining soil and can tolerate some sun, but they thrive in partial to full shade.'
As well as the showy palm-like leaves of the standard green hostas such as 'Halcyon', available from Nature Hills, a range of more unusual colors is available too, from purple to blue, yellow to variegated.
Sara heads up the seed company Bloom & Haul, which is based in the Stafford Hamlet area of Oregon, surrounded by Pacific Northwest farmland and wine country. Their passion for gardening and growing their own food was recognized when they won five blue ribbons at the 2022 Oregon State Fair.
2. Impatiens
Impatiens are known for their vibrant and long lasting blooms that easily brighten up a shady patio or gloomy corner of the yard. This shade-loving plant is versatile, and it will thrive planted up in containers.
Use Impatiens on its own as the focal point in an outdoor planter to make a bold statement, or use it as a filler to add a pop of color with other shade-loving container plants. Impatiens will flourish and look stunning in a container as long as the conditions are right.
'Impatiens are a great choice for growing in containers in shady areas,' says Zahid Adnan, plant expert and the founder of The Plant Bible. 'These plants produce bright and colorful blooms that can last all season long. They prefer moist soil and can tolerate partial to full shade.'
Impatiens are available in a variety of colors, including pink, red, orange, and white, making them an attractive addition to any container garden.
3. Hydrangeas
It's a safe bet to choose light shade for hydrangeas planted up in containers as overall they tend to prefer these conditions, mainly because they will wilt if it's too hot in summer when temperatures soar.
Hydrangeas are one of the best shrubs for shade, and there are more and more varieties being sold specifically for containers. The smaller and more compact varieties do well in a container, such as this hot pink 'Summer Crush' hydrangea from Amazon.
Choose a pot that is at least 45cm in diameter and use good quality potting compost with organic matter mixed in. Water hydrangeas regularly to ensure the compost doesn't dry out, and feed regularly throughout spring and summer for a long-lasting display.
4. Ferns
Garden ferns are one of the most popular shade plants for containers, especially if you choose evergreen options that will add structure and interest in winter months too. Most ferns grow well in pots as they have shallow roots.
'Ferns, such as the Boston Fern or Maidenhair Fern, thrive in the cool and moist conditions of a shaded container garden,' says Ben McInerney, director of homegardenguides.com. 'They also add a touch of lushness and greenery to any space. However, ferns can be sensitive to dry conditions, so be sure to keep the soil consistently moist and avoid over-watering to prevent root rotting.'
Play around with ideas for a combination of different ferns with contrasting foliage planted up in one large pot for a winner in a shady corner. For a great container filler plant try Dragontail Fern (Asplenium x 'ebenoides') with its long, narrow and spikey fronds as your go-to, such as this Dragontail Fern from Nature Hills.
'Ferns grow in the wild under the shaded canopy of forest trees which makes them perfect for the shadiest corners of any landscape or home garden,' says Nathan Heinrich of Nathan Heinrich Design. 'While some ferns die back in winter, there are plenty that are green year-round. Some of my personal favorite varieties are sword ferns, foxtail ferns, and bird nest ferns.'
One of Nathan's first jobs, while attending college for Horticulture and Landscape Architecture, was at a local family-owned garden center. Over the next several years while earning his college degrees, Nathan worked at wholesale nurseries, further expanding his knowledge and experience with plants.
In his final position before starting his own company, Nathan was the propagation manager for one of California's largest nurseries where he oversaw the design and construction of commercial greenhouses and the propagation of millions of seedlings plants each year. For the next 12 years, Nathan and his team designed events in San Francisco, Los Angeles, Chicago, New York and internationally before eventually relocating full-time to New York.
5. Heuchera (Coral Bells)
Fabulous, easy to grow, and shade tolerant, heuchera varieties are one of the best choices for containers in gardens that don't get much sun. There are dozens of varieties of these beauties (also known as coral bells) to choose from in all colors. Then there are the spikes of tiny, bell-shaped flowers to enjoy too.
'Heuchera is a fantastic choice for container gardens in the shade,' says plant expert Emily Hoffman of Yourhomeandliving.com. 'With their stunning foliage in an array of colors like deep burgundy, chartreuse, and silver, they add a touch of vibrancy to any shaded space. These low-maintenance perennials are not only easy to grow, but their striking appearance also makes them an eye-catching focal point.'
Heuchera come in all shades of red, pink and purple with varieties like this 'Plum Pudding' variety from Amazon, as well as lime green, amber and cinnamon so you are spoiled for choice.
'Primo Pretty Pistachio' is my favorite heuchera,' says Ivo Iv, founder of Decor Home Ideas. 'I'm a big fan of this hardy perennial, not only for its medium-pink flowers but also for its adaptability to part or full shade. I've planted this in a cozy nook on my patio, and it always brightens up the area.'
6. Coleus
Coleus plants are durable and easy to grow outside in containers, in addition to being popular houseplants. These vibrant shade-lovers, also known as painted or flame nettle, can really lift a gloomy spot in your yard.
The new, bigger, sun-loving varieties of coleus have revolutionized container gardening. Try Coleus Sky Fire 'Coleus hybrid' (available from Nature Hills), with dazzling purple and scarlet foliage, and ruffled lime green edges that will pop in a shady part of the yard.
'Coleus is one of the most versatile container plants for shade,' says Janet Loughrey of Garden Design, a former Oregon State University Master Gardener and member of the Garden Writer's Association of America. 'This versatile annual can be planted in containers by itself or alongside other plants with similar growing needs. It offers months of continuous color from planting until the first hard frost.'
7. Begonias
A display of begonias potted up in containers will positively shine out from deep shade. The trick to making these plants look contemporary is not using them en masse but instead dotting them amongst leafy foliage to add a color pop.
'A great option for adding color and texture to a shady container garden is the colorful and low-maintenance begonia,' says Ben McInerney. 'Begonias come in a variety of colors and sizes, making them a versatile choice for container gardening. They prefer shade or partial shade and are well-suited for container gardening due to their shallow root systems.' They also require little maintenance and can be easily propagated from cuttings.
'There are different types including wax begonias, tuberous begonias, angel wing begonias and fancy leaf begonias,' adds Janet Loughrey. 'Begonias come in upright or trailing forms, and all of them thrive in containers either by themselves or in combination with other shade-loving plants.'
8. Lily of the valley
Shade garden favorite lily of the valley is the perfect solution for areas that receive very little sunlight. The wonderfully fragrant nodding flowers on delicate upright stems look fabulous planted up in a container as part of your spring planter ideas.
'Personally, one of my favorite plants to grow in partial shade or dappled shade is lily of the valley,' says Travis Turgeon, plant expert at Potted Exotics. 'When grown in partial or dappled shade, they bloom with tons of beautiful white bell-shaped flowers, and they release a wonderful fragrance that adds to any garden aesthetic. These will even grow and bloom in full shade conditions.'
While they aren't in bloom, their foliage remains a deep green, so it's an elegant choice throughout the growing season. 'They are hardy in USDA zones 3-9, but will tolerate conditions on the shoulder of each zone,' adds Travis. 'On top of it all, lily of the valley is one of the easiest garden plants to care for, without a doubt.'
---
As these choices prove, it's not just flowers for pots in full sun that can introduce plenty of color and vibrancy to your yard. These shade-loving container plants can be just as effective as their sun-loving cousins, brightening up your outdoor space in perhaps more unexpected ways.
Going for the right plant for the right place is key, however. Avoid a costly container gardening mistake by ensuring your plant of choice can cope with shady conditions if you're placing it in a spot that doesn't get much sun.
Sign up to the Homes & Gardens newsletter
Decor Ideas. Project Inspiration. Expert Advice. Delivered to your inbox.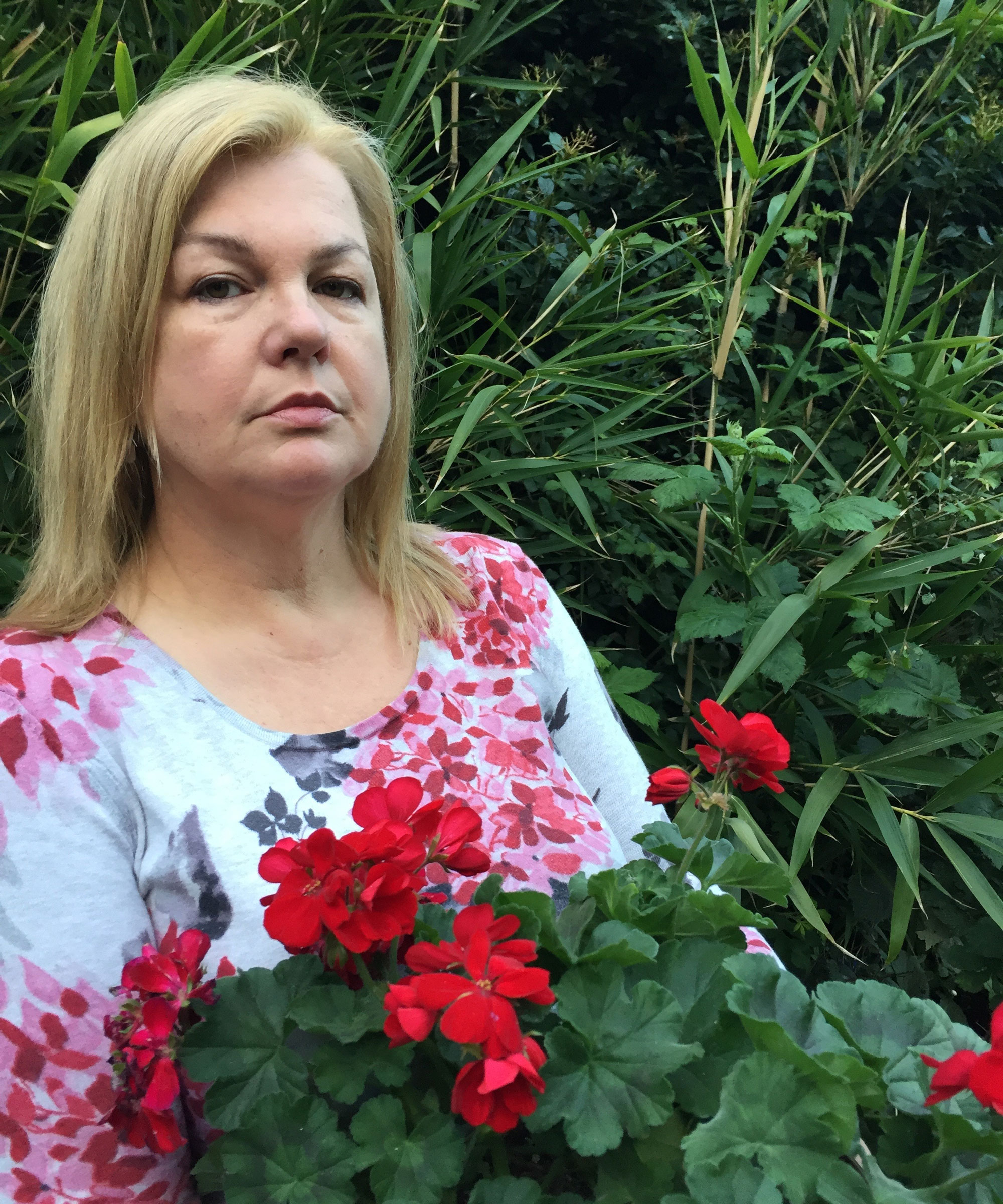 Lifestyle journalist Sarah Wilson has been writing about flowers, plants, and garden design and trends since 2015. Having already studied introductory garden and landscape design as well as a course in floristry she is currently adding to her list of qualifications with an RHS Level 2 course in the Principles of Plant Growth and Development. In addition to homesandgardens.com and livingetc.com she's written for gardeningetc.com, Modern Gardens and Country Homes & Interiors magazines.