Watering hydrangeas – expert tips on how and when to hydrate these backyard shrubs
Whether you're growing them in pots or borders, keep your hydrangeas flourishing with these expert tips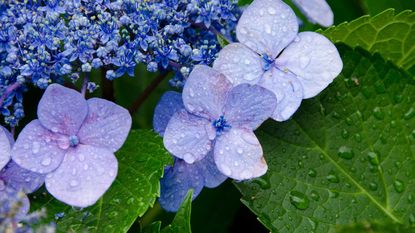 (Image credit: Cindy Hopkins / Alamy Stock Photo)
Q: I have recently bought three hydrangeas for my backyard. I plan to keep one in a pot on my patio, while the other two will be planted at the back of a large border. Do you have any tips on the best way to water them, to ensure that they thrive?
A: Hydrangeas are a brilliant backyard shrub, offering beautiful, long-lasting blooms throughout the summer and into fall. While looking after them is relatively simple, getting the moisture levels is crucial. If the soil is too dry, the foliage can quickly wilt and their floral display will dwindle.
Watering hydrangeas that are planted in the ground
'Hydrangeas are moisture lovers and luxuriate in a damp spot,' says gardening expert John Negus. However, avoid swampy areas that are prone to waterlogging. A position that's also relatively sheltered can help protect hydrangeas from drying winds.
'Ideally, before planting, work in moisture-retentive well-rotted garden compost or old, crumbly manure,' he adds – this will help to prevent the soil from drying out. Soak your hydrangea in water to hydrate the roots before planting it in the ground, then water copiously. Water frequently for several weeks afterward, to help the plant establish well. Mulching can also help to keep the roots moist.
Mature plants also need their moisture levels boosted during the growing season, especially in periods of drought. Check with your fingertip to see if the soil feels dry – if it does, it's time to water. Around once to three times a week should do the job.
When watering hydrangeas, direct your watering can or hose towards the base of the plant, rather than at the leaves – the latter can encourage powdery mildew. Remember, too, that it's always best to water plants early in the morning. Watering later in the day, when the sun is higher in the sky, can cause faster evaporation.
'Where soils are drier, try the North American H. arborescens, usually represented by cultivar "Annabelle" [available at Nature Hills],' suggests gardening expert Anne Swithinbank. 'Large, spherical ivory-colored flower heads open from fresh green buds in summer on plants to 8ft tall.'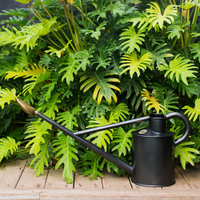 Haws Professional Long Reach Watering Can | $148-$178 from Terrain
Water your shrubs in style with this steel, rust-resistant watering can made in England. There are two colors and two sizes available.
John has been a garden journalist for over 50 years and regularly answers readers' questions in Amateur Gardening magazine. He has also written four books and has delivered many talks over the years on horticulture.
Having trained at Kew Gardens in London and worked in parks department nurseries and as Glasshouse Supervisor at RHS Wisley, Anne has been a freelance horticulturist since 1986. Anne writes for Amateur Gardening magazine in the UK and has been a panelist on BBC Radio 4's Gardeners' Question Time for 27 years.
Watering hydrangeas in pots
'Loam-based composts hold on to moisture better than peat-based types, but all potted plants will need watering regularly unless it rains a lot every day,' says John. This is because their roots are constrained and more shallow, and their compost is covered by foliage, which blocks the rain, he explains. So, keep an eye on your potted hydrangeas – especially during hot weather.
When the soil feels dry, deeply water the compost all around the plant for an even saturation, allowing it to drain out of the bottom. Raising your pots up onto pot feet, such as these non-slip UFelice pot risers from Amazon, will prevent excess water from accumulating, which can cause root rot. Fertilizing hydrangeas in containers is also a good idea, as nutrients are quickly depleted in potting compost.
Moving the pots to a shadier spot in high temperatures can help to prevent them from drying out, advises the Royal Horticultural Society.
FAQs
Do you need to water hydrangeas in winter?
Although hydrangeas are dormant in winter, don't allow them to dry out. You won't need to water them as much as you do during spring and summer, though, especially if they're in containers. Once a month or so should be about right, but they may need more if your region doesn't experience much rainfall or snow, or if you're winterizing your hydrangeas indoors.
---
There's a final tip to note when watering these flowering shrubs: if you have blue blooms, and want to keep them blue, you'll need to keep the soil as acidic as you can. This means using harvested rainwater to water them. Tap water, especially in hard water areas, is alkaline – which will turn the flowers pink.
Sign up to the Homes & Gardens newsletter
Decor Ideas. Project Inspiration. Expert Advice. Delivered to your inbox.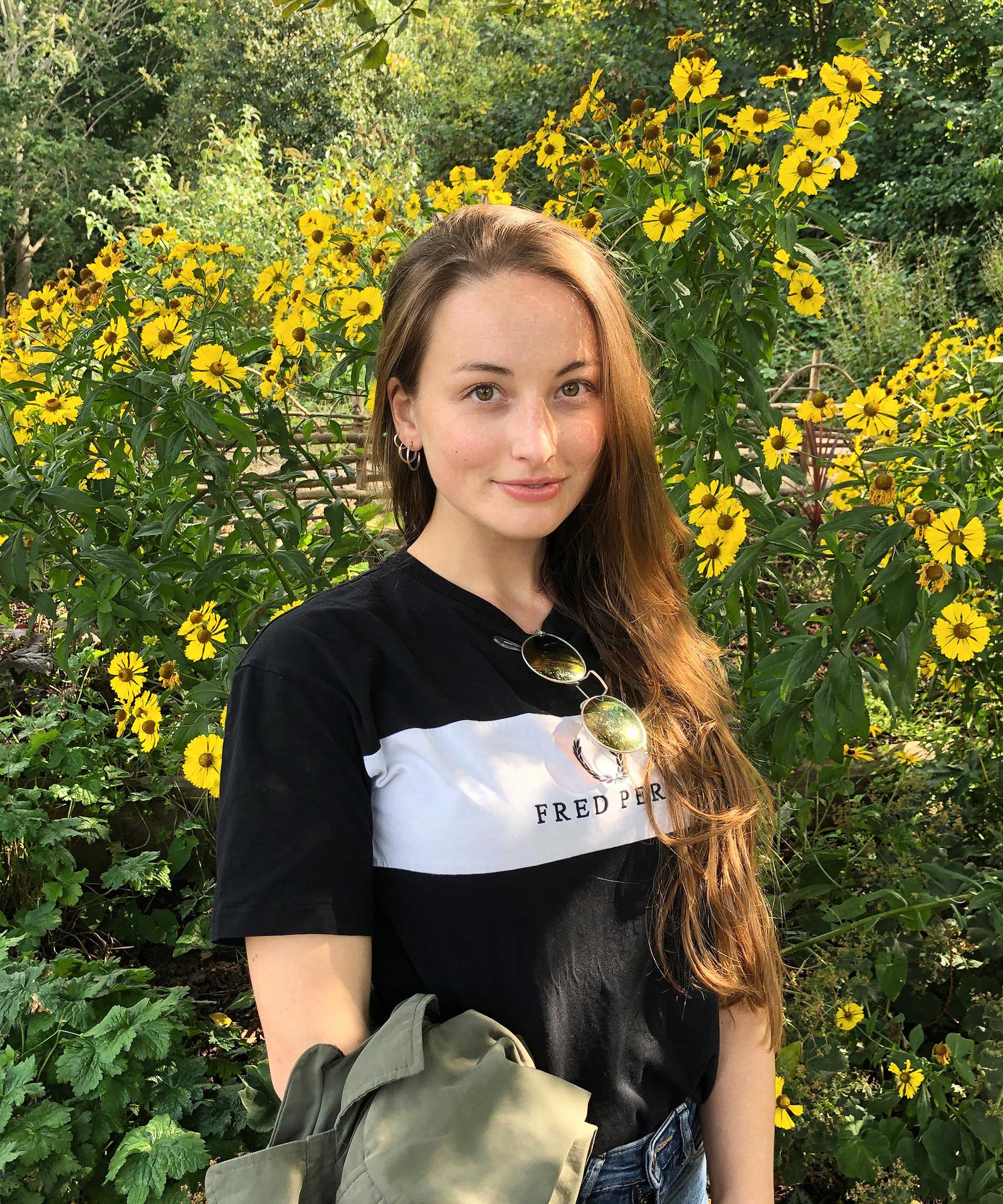 Freelance Gardening Writer
The garden was always a big part of Holly's life growing up, as was the surrounding New Forest where she lived. Her appreciation for the great outdoors has only grown since then; over the years, she's been an allotment keeper, a professional gardener, and a botanical illustrator. Having worked for Gardeningetc.com for two years, Holly now regularly writes about plants and outdoor living for Homes & Gardens.