Flowers for pots in full sun – 10 cheerful choices that will stand up to the heat
Add a splash of color to your patio or deck with these beautiful blooms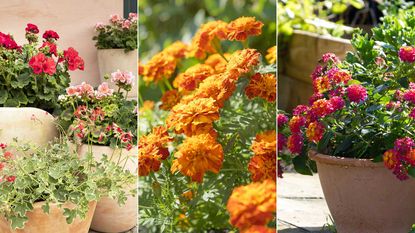 (Image credit: (From left to right) Pelargonium for Europe – sheryl caston / Alamy Stock Photo – Chris Clark / Alamy Stock Photo)
Q: I have a patio that gets full sun for most of the day, meaning it gets very hot in the summer. I want to plant up some containers with flowers – are there any particular types you would recommend that will thrive under these conditions?
A: Container gardening is a great way to brighten up a patio and welcome butterflies and bees to your yard. It's true that not all flowers will tolerate high levels of heat and sunshine, but many will flourish in a sunny setting, especially if you look after them properly.
1. Pelargoniums
Pelargoniums, sometimes called geraniums, are beautiful patio plants with their flushes of red, pink, or white flowers and aromatic leaves. A popular choice for Mediterranean garden schemes, they love the sunshine, and don't need much upkeep to look their best.
'Plant your geraniums in well-draining soil and water them thoroughly once a week to keep them healthy,' advises Aaditya Bhatta, the Editor and Founder of Plants Craze. 'For new growth, remove spent flowers by deadheading,' he adds.
Winterize geraniums by bringing them indoors and they will reward you with more flowers the following summer.
2. Zinnias
Zinnias are easy flowers to grow from seed and dazzle in the garden with their bright and cheery blooms.
They need good drainage, so make sure to amend soil with perlite, pumice or similar, advises Plant Expert Vladan Nikolic. 'Deadhead to encourage more blooms,' he continues, and feed monthly using a fertilizer with a high phosphorus content.
'Avoid getting the leaves wet to reduce the chances of powdery mildew.'
Burpee's 'State Fair Mix' zinnias produce huge flowerheads in a range of show-stopping shades.
Vladan Nikolic is a houseplant expert with over 10 years of experience, and the Founder of the houseplant-care blog MrHousePlant.com. He is also a social media influencer who helps newcomers in the houseplant world become great plant parents.
3. Sunflowers
'Sunflowers are iconic flowers that are well-suited to growing in containers in full sun,' says Zahid Adnan of The Plant Bible. 'They are known for their large, cheerful blooms and can add a dramatic focal point to any container garden.'
They require at least 6-8 hours of direct sunlight per day to thrive, Zahid continues. 'They are also drought-tolerant and can withstand hot, dry conditions.
'To care for sunflowers, use a deep container with well-draining soil, water them deeply but infrequently, and provide support for tall varieties to prevent them from toppling over.'
Try Burpee's 'Sunray Yellow Hybrid' sunflowers for compact, branching plants that produce up to 14 flowers each.
Zahid is a renowned figure in the gardening industry, with extensive experience and hard-earned skills in horticulture. As the Founder and Editor of ThePlantBible.com, he provides top-tier content and professional advice to fellow gardening enthusiasts on a daily basis. In addition to his work, Zahid manages a 10-hectare agricultural land and maintains an exceptional garden in his own backyard.
4. Marigolds
Marigolds are a great choice for sunny containers. 'They come in various sizes, from dwarf varieties that are perfect for small containers to taller varieties that make a bold statement,' says Zahid Adnan.
'Marigolds are also known for their pest-repellent properties, making them a natural choice for organic gardening,' he adds. Try using them as companion planting for nearby vegetables grown in pots.
'To care for marigolds, provide them with well-draining soil, water them regularly, and deadhead spent flowers to promote continuous blooming.'
5. Salvias
Salvias are popular shrubs that offer spikes of flowers in purple, red, pink, and white. They are ideal for a wildlife garden, as the nectar-rich blooms will attract beneficial pollinators as well as hummingbirds. You can also make new plants for free by propagating these plants from cuttings.
Provide good drainage, deadhead the spent flowers, and water them regularly throughout the growing season.
Nature Hills has a good range of salvias to choose from.
6. Lantana
'A vibrant and robust plant like lantana is ideal for container gardening in full sun,' says Aaditya Bhatta. 'It produces clusters of tiny, vivid flowers that draw hummingbirds and butterflies.
'Plant your lantana in soil that drains well and water it frequently, letting the soil dry up between applications. Regular pruning will promote bushier growth.'
Try lantana 'Landmark Rose Sunrise' from Burpee for its pretty pink and yellow blooms.
7. Portulaca
'Portulaca is a succulent plant that is easy to care for and drought-tolerant,' says Taha Arooj, an in-house Horticultural Expert at Chase Horticultural. 'It comes in a variety of colors, including yellow, orange, pink, and white.'
Also known as the sun rose, these annuals can also be grown as ground cover plants, and will spill over the edges of containers to create a stunning display. Pruning isn't necessary. Allow the soil to dry out between each watering.
Burpee's 'Sundial Hybrid Mix' of portulaca makes a statement with its sensational colors.
8. African Daisies
Also known as osteospermums or Cape daisies, these tender perennial plants offer large blooms in various colors which love to soak up the sun's rays. In fact, the flowers close overnight in most varieties.
Provide slightly acidic soil in your containers and good drainage, and feed with a general fertilizer throughout the growing season. Watch out for aphids.
9. Petunias
A favorite for hanging baskets and window boxes, petunias are classic bedding plants that offer trumpet-shaped blooms and a cascading growth habit.
Plenty of sunshine encourages prolific blooms. Water deeply and fertilize them regularly, and pinch out dead flowers to channel the plants' energy into making more.
A wide range of petunias are available at Burpee.
10. Cosmos
Cosmos offer feathery foliage and masses of pretty, daisy-like flowers with silky petals. They're another sun-loving annual that's easy to grow from seed, and they add a touch of romance to a container display.
If growing them from seed, remove the shoot tips of your seedlings with a sharp 
knife to encourage strong side shoots and a bushy habit, recommends gardening expert John Negus. 'Then, position the plants on a warm, sunny windowsill or in a frost-free greenhouse to grow for transplanting outdoors when frosts finish in late 
May or early June. Give seedlings lots of light for good growth.'
Try planting 'Lemonade' cosmos, available at Burpee, for pale yellow flowers.
John has been a garden journalist for over 50 years and regularly answers readers' questions in Amateur Gardening magazine. He has also written four books and has delivered many talks over the years on horticulture.
---
As well as picking the right plants for your sunny container display, there are other things you should bear in mind to ensure success.
First, it's important to use containers with drainage holes to prevent waterlogging, advises Zahid Adnan. Not doing so is a common container gardening mistake that can lead to root rot. You also need to use a well-draining soil. 'Use a high-quality potting mix that is specifically formulated for container gardening. Avoid heavy garden soil, as it can become compacted in containers and hinder root growth,' Zahid says.
Finally, remember that hydration is still important for these sun-lovers. Container plants in full sun may require more frequent watering, as the soil can dry out quickly, Zahid says.
The garden was always a big part of Holly's life growing up, as was the surrounding New Forest where she lived. Her appreciation for the great outdoors has only grown since then; over the years, she's been an allotment keeper, a professional gardener, and a botanical illustrator. Having worked for Gardeningetc.com for two years, Holly now writes about plants and outdoor living for Homes & Gardens.