Vegetable garden container ideas – 17 ways to grow fruit and vegetables in planters
Grow your own potted harvest with vegetable garden container ideas that are both beautiful and productive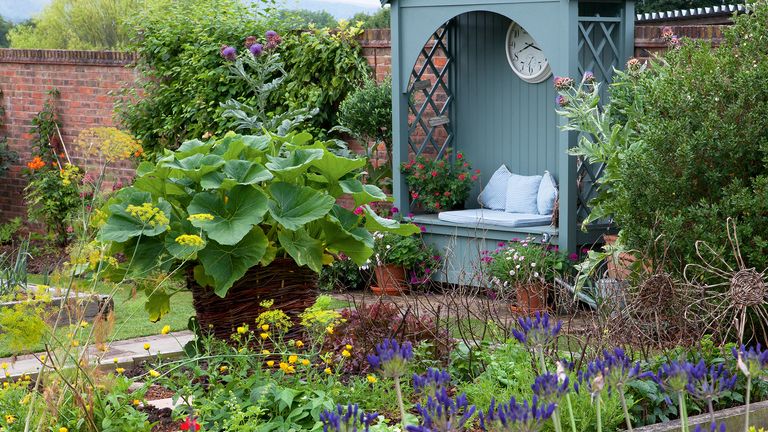 (Image credit: Leigh Clapp)
If you want to grow a home harvest on the patio, these vegetable garden container ideas offer plenty of inspiration to get started.
Container vegetables – and fruit – are ideal for small gardens, balconies and roof gardens, but they are also a good option for those with bigger plots, as they add interest and height, allow you to plant where soil might be poor, and easily change the layout of your crops year on year.
From beans and brassicas to tomatoes and pumpkins, there are so many different kitchen garden ideas that can be grown in containers, so start by choosing varieties that you love to eat.
'Take some time to consider what would suit your needs and where you may have space for containers in your garden,' says gardening expert Leigh Clapp. 'Positioning close to the kitchen allows you to pop out quickly and grab a quick handful or a larger harvest as needed.'
Vegetable garden container ideas
If space is tight, remember that most vegetable garden ideas grow well in containers that you can move around to fill any gaps. Other than small patio containers, one of the easiest options for growing vegetables is raised beds or giant outdoor planters. Use them as mini veg gardens to grow your own all year round.
1. Choose the best crops for vegetable container ideas
From delicate leafy herbs to root vegetables and fruit trees, there's no reason why – given a little thought, forward planning and, of course, some tender loving care – you can't grow varied, productive small vegetable garden ideas, whatever the space or conditions.
'If I could grow only one type of thing in my vegetable container garden, it would be salad leaves and I recommend new gardeners start with this,' says Great Dixter vegetable gardener and chef Aaron Bertelsen and author of Growing Fruit & Vegetables in Pots.
'They're easy to grow, make good use of space and taste much better than shop bought. A couple of pots of cut-and-come again leaves will give you fresh salads for months.'
Other stars of the vegetable container garden include chard and kale, structural plants such as globe artichokes, and showstoppers like peas and gloriously varied sea kale.
2. Choose the right container
As well as complementing your garden, it's important to ensure that the container gardening ideas you choose are compatible with the plants you want to grow.
'In general, containers need to be 4in wider and deeper than the root ball; says Clapp. 'Shallow containers, around 12-16in deep, are suitable for shallow-rooted herbs and annual vegetables, as you can replenish the soil each season when you replant. Larger choices, such as aubergines or tomatoes, do best as one plant per container.'
'The container needs to suit the available space and the style of your property,' says Isabel Palmer, founder and author of The Balcony Gardener. 'From terracotta and stone to galvanized metal, the choice of container material is endless.
'Using a large container has distinct advantages, as it gives vegetable garden container ideas room to grow and works better aesthetically; lots of tiny pots can make a space look smaller and more cluttered.'
3. Nourish vegetable garden container ideas for a bumper harvest
Typically there are three types of soil-based compost available: for sowing seeds; for potting on small plants; and for long-term and permanent plantings. Sold alongside these you will also find multi-purpose composts that contain added nutrients, but soil-based mixes are always a better bet. Their structure means they retain nutrients for longer, and they are also more similar to the soil plants grow in naturally.
Most commercial compost mixes include a slow-release plant food, which lasts between four and six weeks. Then it's a good idea to feed your containers once a week.
'I use liquid seaweed, an excellent feed for all crops, simply adding it to the watering can. Despite its name, tomato food is also a great all-round fertilizer, and is available in both liquid and granule forms. Plants also benefit from being top-dressed with organic matter. Sprinkle in a few handfuls of a fertilizer like blood, fish and bone meal. Then add a layer of fresh compost or leaf mould,' advises Aaron Bertelsen.
4. Design raised beds containers to suit your space perfectly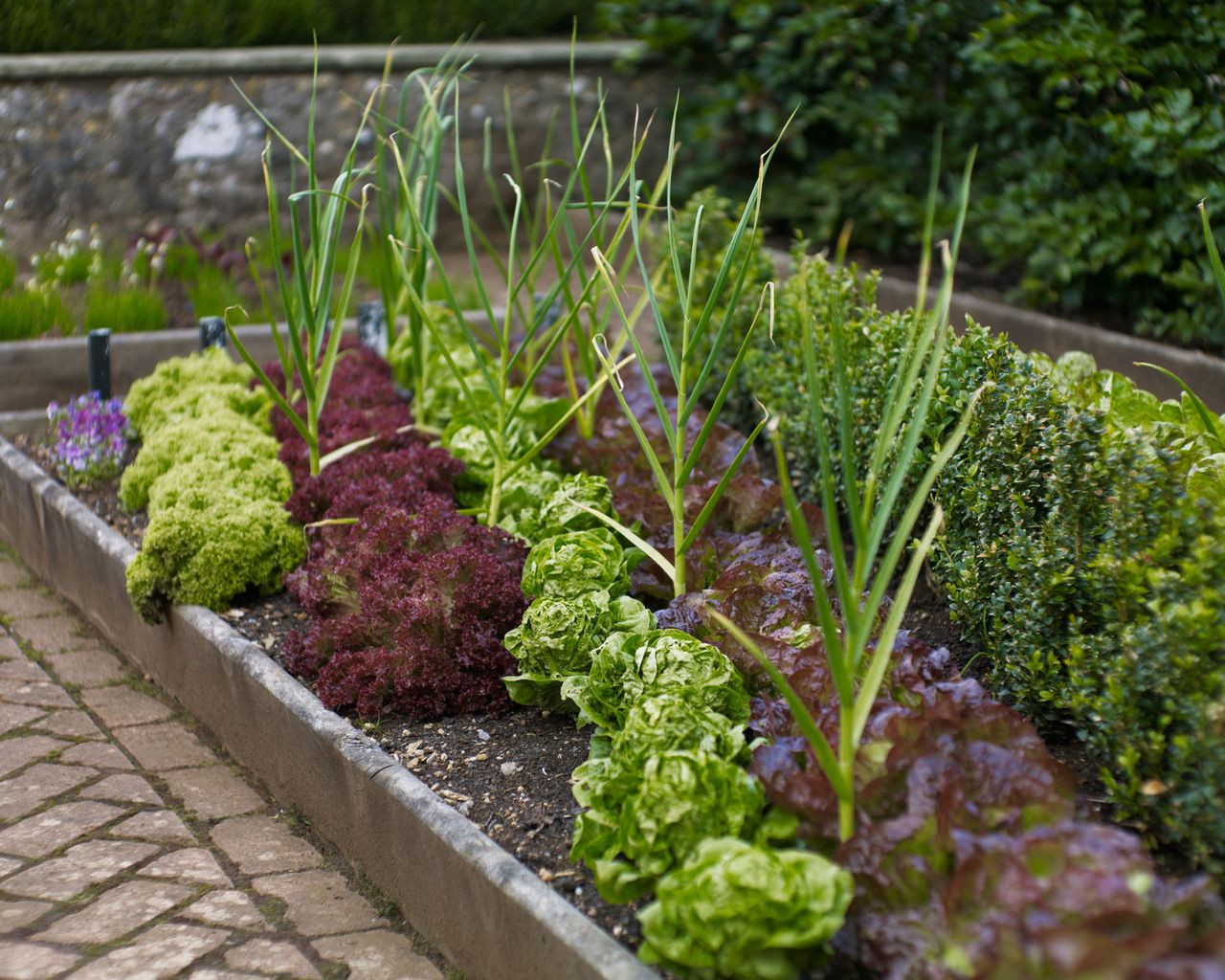 Raised garden bed ideas make great vegetable garden containers in larger spaces – the benefit being that you can have them made to fit your space, however large or small, and at a height that suits.
'There are a number of good materials for raised beds,' says Your Garden Made Perfect designer Tom Massey.
'I like Corten steel for its durability and capacity to be bent or folded into unusual shapes. The deep rust color is also attractive and looks good with other materials such as buff-colored gravel or paving.'
Not everyone has the budget for Corten steel though. 'Mild steel is a good alternative,' suggests Tom. 'It's not as long lasting, but will still outlive timber.'
If you do choose timber, use untreated wood to avoid contamination of any edible plants. Untreated oak sleepers are a good option, or more affordable thermo-treated pine.
5. Grow vegetable garden container ideas in a greenhouse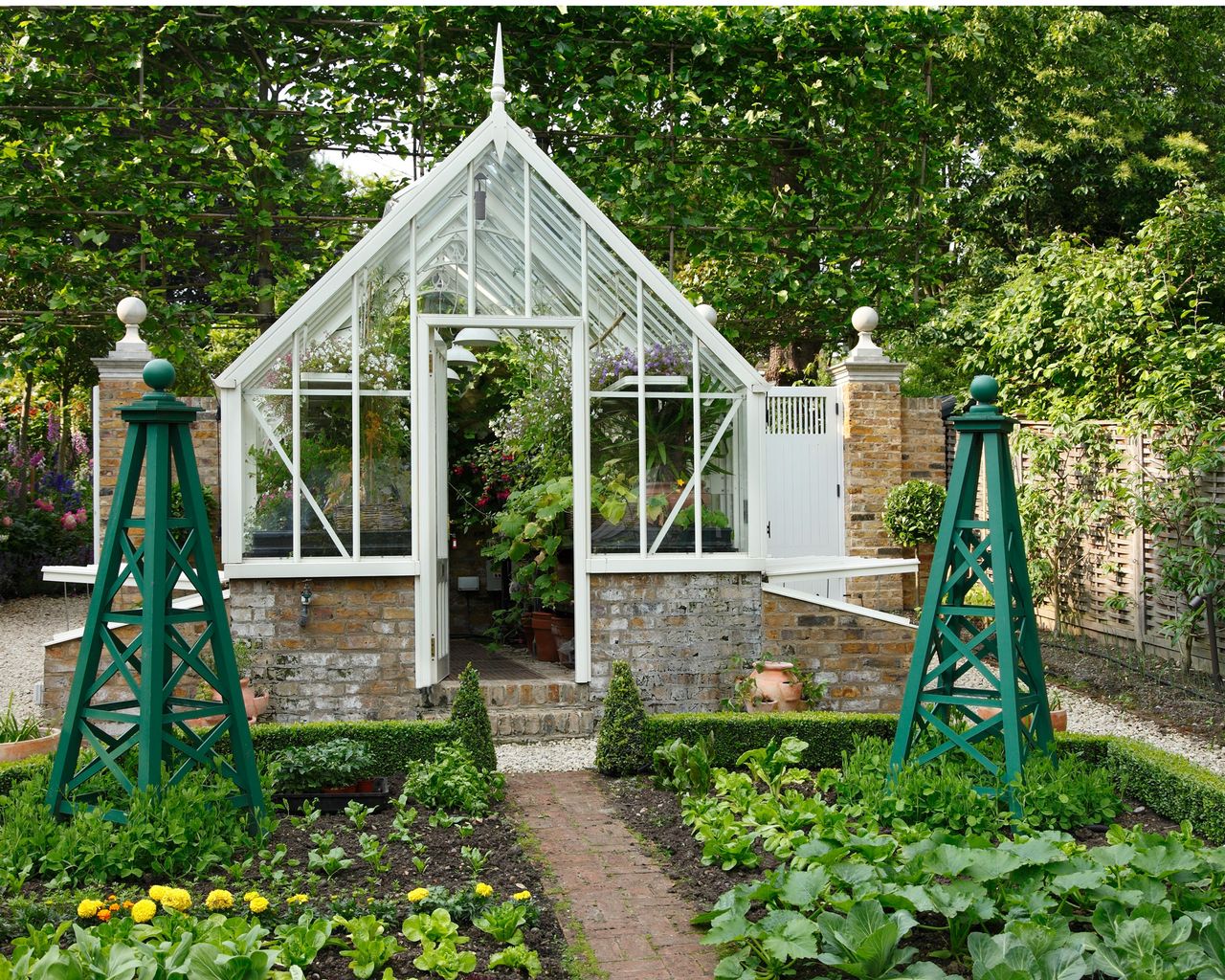 If growing vegetable garden container ideas in a greenhouse, plan well before you start a new growing season.
'Identify what you want to grow and which varieties of crop will happily co-exist side-by-side,' says Alitex's John Lawson.
A multitude of plants and greenhouse ideas all requiring widely different temperature, light and humidity levels are unlikely to thrive, unless the greenhouse has been designed from the outset to have separate partitioned zones in which different growing environments can be maintained.
'Make sure you stick to a routine. Water at the same time every day. Keep an eye out for pests such as slugs, greenfly, whitefly and red spider mite, and act quickly to prevent an infestation.'
6. Plant a mix of veg in willow planters
Willow and wicker planters are perfect for adding a natural look and texture to the patio, and help to soften hard landscaping.
Here, a variety of vegetables, including zucchinis, brassicas and corn, are cleverly used as companion planting with nasturtiums.
'Nasturtiums help to deter aphids and are often used as a sacrificial plant so aphids and black fly attack them but stay away from your precious vegetables,' says Emma O'Neill from Garden Organic.
7. Plant trailing squashes and pumpkins in large containers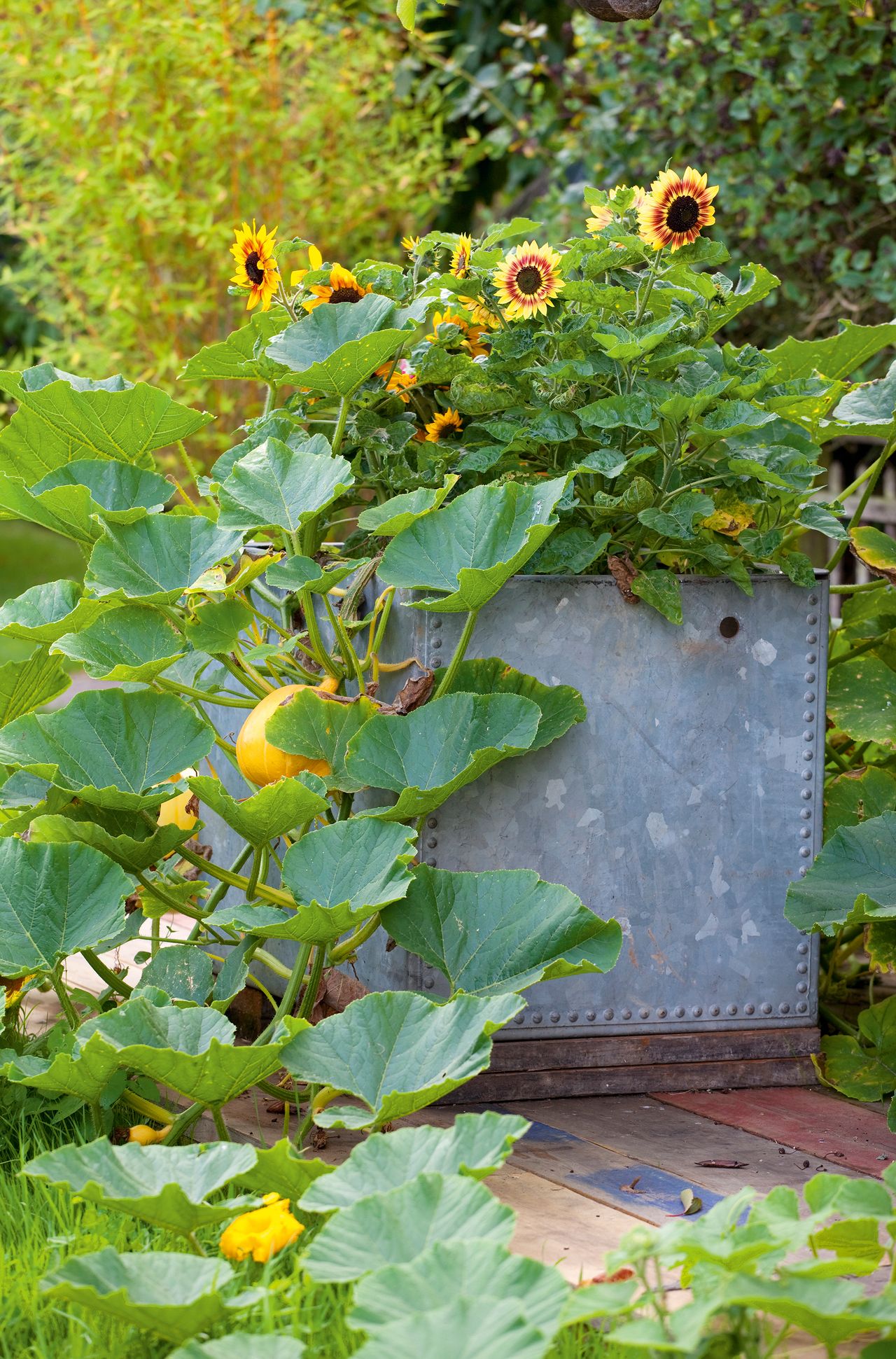 For vegetable garden container ideas with impact, consider trailing striking pumpkins and squashes from large planters.
Trailing vegetables have a soft, romantic look that's ideal for cottage gardens. However, they can spread out by as much as 6ft, so need a bit of growing room.
You can also grow pumpkins and squashes vertically in containers, adding support to grow upwards – perfect for small spaces.
In this garden, dwarf sunflowers beautifully complement the colors of the fruit, while the galvanized metal container adds a classic look and will weather over time.
8. Plant beans and other veg in repurposed planters
Vintage metal containers make some of the best vegetable planters – from old troughs to baths.
Beans and peas can make a striking addition to a patio area and can be grown up trellis or canes and enjoyed for both their foliage and attractive flowers.
'A wigwam of beans in a container takes up little room and looks pretty in flower,' says Clapp.
'Make use of varieties with unusual flower colors, such as broad bean Crimson Flowered and runner bean Celebration or Painted Lady,' adds Peter Adams, edibles team leader at RHS Rosemoor.
9. Grow tomatoes in pots
Growing tomatoes as one of your vegetable garden container ideas is perfect, as they are space efficient and enjoyable to tend to on the patio.
There are a few considerations, as you will need to choose a variety of tomato that is suited to the outdoors in your climate. However, there are a huge range to choose from.
Most tomato varieties can be grown in containers, but you will need to bear in mind their ultimate size and growth habit if adding them to a small garden or balcony.
Sungold, Patio and Terenzo are popular cherry varieties for containers, Tumbling Tom is ideal for hanging baskets, Big Boy and Champion are good bush varieties, and Gardener's Delight is perfect for growing as a cordon.
10. Make a pretty plant display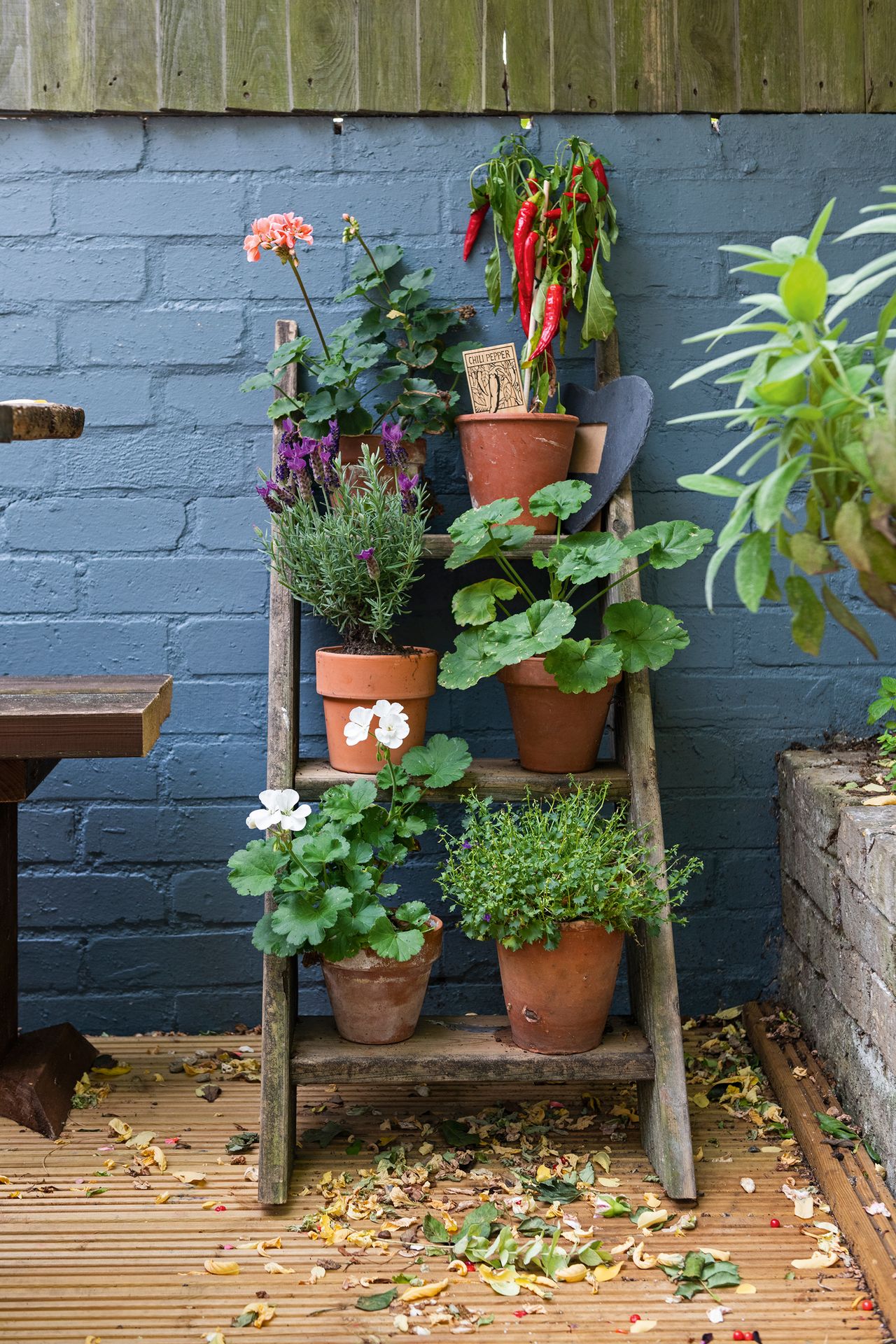 Crops that can be grown in smaller containers can be used to create a charming display on a plant stand. Here, chilis and herbs have been placed alongside potted geraniums, for a mix of foliage and flowers.
Plant stands are available as both wood or metal, and are ideal for adding vertical interest where a trellis would not be an option. Alternatively, you could repurpose vintage steps to add instant character to your garden.
11. Use a mix of different vegetable containers
Even if you already have beds in your garden, vegetable garden container ideas can be used to play with height and add a layered effect.
'I like to use galvanized metal tubs and large zinc planters. A reclaimed onion box or wine crate also makes the perfect container – the warm tones of the wood providing a perfect foil for the plants,' says Palmer.
'If you crave a little color, then just paint an upcycled container.'
12. Plant a cut-and-come-again lettuce bowl
Cut-and-come-again lettuce is an essential crop for salad lovers, and an ideal first crop for beginners.
To grow lettuce, simply plant up a few containers using a mixed lettuce seed variety and harvest the leaves regularly, snipping off the older greenery from the outer edges.
If you find pests a problem, a container of this size can be easily be protected with mesh or netting, so only you will enjoy feasting on your home-grown bounty.
Sow a successional crop and you will be in supply of this healthy salad for much of the year.
13. Get a vintage look with upcycled containers
One of the most creative vegetable container garden ideas, is to upcycle and paint your own planters. Using bright colors will beautifully offset the foliage of your crops.
In this garden, vintage steel drums have been painted in bright shades and etched with flower designs, but you can achieve any look you want on different types of container, including wooden and terracotta designs.
Use your upcycled containers to plant climbers such as beans and peas, or low-growing veg such as brassicas, fennel or carrots.
'If you are looking for vintage or unusual pieces, local sales, antiques centres and charity shops are rich hunting grounds. When choosing, always consider the weight-bearing capacity of balconies and roof gardens, if you live in an apartment,' says Palmer.
14. Plant salads and herbs in the center of a table
Imagine how delightful it would be to eat lunch at this planted table, picking herbs and salad leaves as you go along.
This custom table is designed with a central planter, but you can easily recreate the effect by positioning a long container in the middle of your table. Add color to the display by interspersing the crops with low-growing flowers.
A creative patio design really maximizes the potential to grow vegetables in containers – this one features steps holding baskets of brassicas and planters running around the perimeter.
15. Make a display with statement foliage
Vegetable garden container ideas can be productive and beautiful, with statement foliage used to make a dramatic centerpiece.
'When choosing varieties of vegetables to grow, look for ones with colorful leaves and stems, like beetroot Bull's Blood, or unusual leaves like curly kales that come in a fantastic array of colors, such as kale Candy Floss,' says Adams.
Squashes and pumpkins tend to have big leaves that can be used to add structure to a garden, but even zucchinis planted at a higher level can create a stunning focal point.
16. Grow microgreens in pots for a quick, easy crop
If you're very limited on space, or lack the patience to wait several weeks or months for your crops to grow, then growing microgreens is the answer.
These miniature vegetable or herb seedlings are packed with flavor and nutrients, and are ready to harvest in as little as five days.
'They may be small, but it's as if all the flavour of the mature plant is concentrated,' says Alex Mitchell, author of Crops in Tight Spots.
You can grow microgreens in containers either indoors on a sunny windowsill, or in the garden. They need to be densely planted in order to maximize the crop, and are delicious added to salads and sandwiches.
17. Position pots among the flowers
Pots don't have to be confined to the patio, and can look lovely nestled in among the flowers. In fact, taking this approach can offer companion planting benefits, as pots can be moved close to flowers that deter pests.
'Edibles among your flower beds can blend attractively beside other plants, emulating the traditional potager cottage gardens of the past,' says Clapp.
Strawberries are a classic choice for containers as they do best raised off the ground. Here, a vintage chimney pot has been used as a tall planter, and is accompanied by a tomato plant and pot of carrots.
What vegetables grow best in containers?
Most vegetables will grow well in containers, but those that really thrive include many of the summer vegetables that will be usefully to hand on the patio as you pass from kitchen to barbecue and back. These include: tomatoes, eggplant, green beans, lettuce, peppers and chilis, radishes, herbs and even squash
What size container do I need to grow vegetables?
The size of container you need to grow vegetables obviously depends on the type of vegetables you are growing. For small vegetables, such as herbs and lettuce – and dwarf varieties, a two gallon container will be large enough. For mid-sized vegetables, such as peppers, tomatoes, beans and eggplant, you will ideally need a 5 gallon container.
As editor of Period Living, Britain's best-selling period homes magazine, Melanie loves the charm of older properties. I live in a rural village just outside the Cotswolds in England, so am lucky to be surrounded by beautiful homes and countryside, where I enjoy exploring. Having worked in the industry for almost two decades, Melanie is interested in all aspects of homes and gardens. Her previous roles include working on Real Homes and Homebuilding & Renovating, and she has also contributed to Gardening Etc. She has an English degree and has also studied interior design. Melanie frequently writes for Homes & Gardens about property restoration and gardening.