How to build a raised garden bed – materials to use and planting ideas
Find out how to build a raised garden bed for maximizing the growing potential in your garden and creating the perfect environment for plants to flourish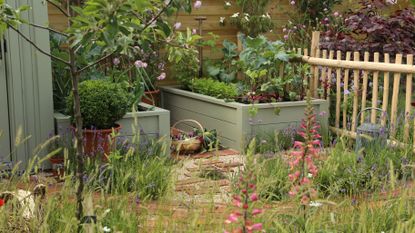 (Image credit: Claudia de Yong designs)
It is worth the effort learning how to build a raised garden bed as they offer endless possibilities for growing crops and flowers, and they are so easy to include in your backyard.
Whether you want to grow your own fruit and veg, create more planting spaces for flowers, or improve your soil, raised garden beds are the ideal solution, and there are many raised garden bed ideas you could incorporate into your garden plans.
How to build a raised garden bed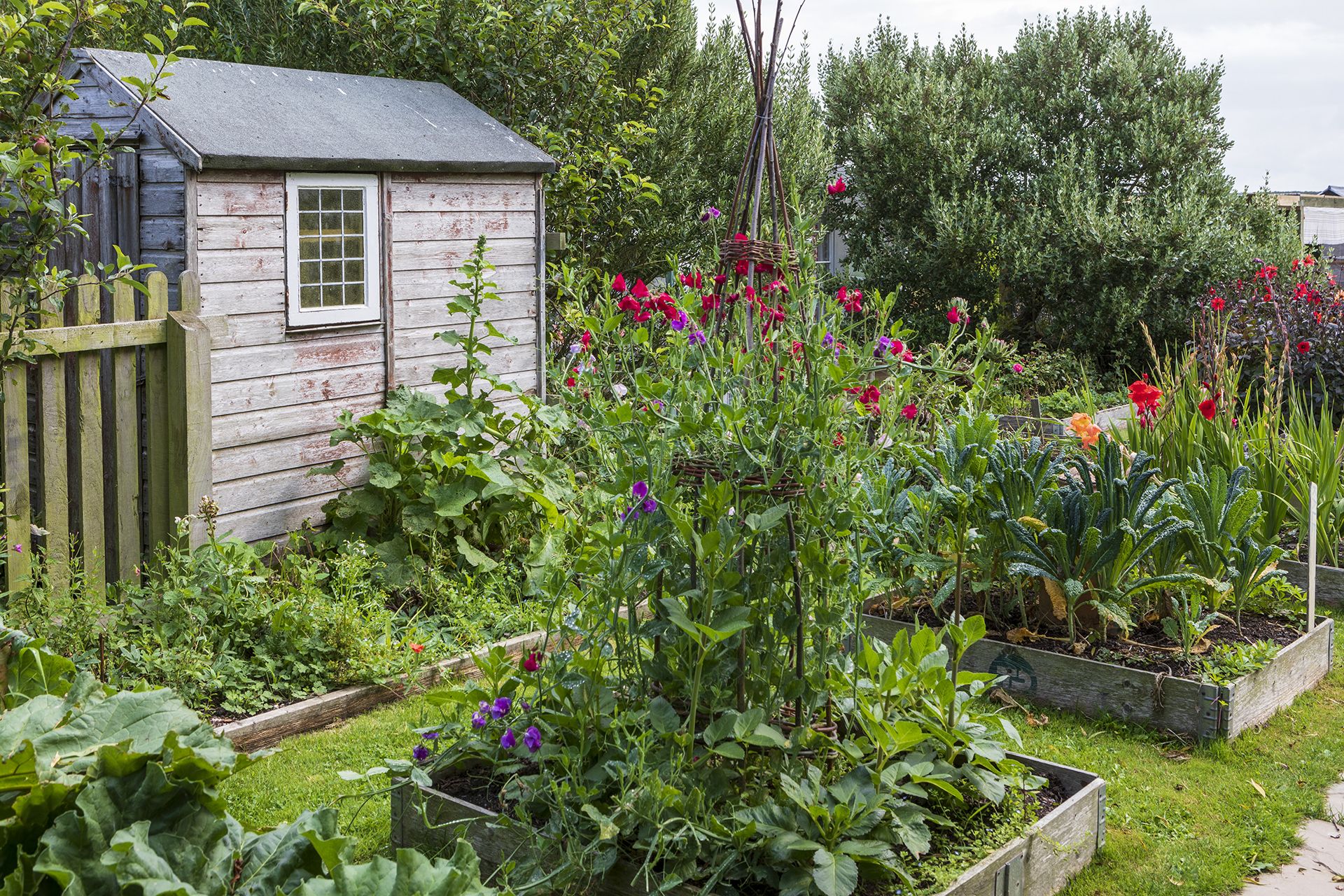 Timber beds are straightforward to build on a DIY basis using scaffolding boards as soon as you work out how deep raised garden beds should be. To do so, follow this step-by-step:
1. Prepare the soil
First, dig over the soil to level the surface and clear out weeds and debris. 'In the main, raised beds are constructed on existing ground, so the newly introduced soil sits on top of the existing allowing for good drainage and less soil compaction. Bury any removed turf deeply within the new bed which will enrich the soil as it decays,' explains Claudia de Yong.
2. Stake out the corners
You can do this with wooden posts; these should be around 2x2 inches. If you want to add netting to protect crops, then make the posts taller than the planks' width.
3. Position the boards
Position the scaffolding boards in place, and bed the edges around an inch into the ground, before screwing or nailing them to the planks.
4. Fill the raised beds with soil
Fill with a soil mix tailored to what you want to grow. A good general mix is two thirds' multi-purpose compost to one third garden soil or John Innes. Enrich this with some organic matter, such as well-rotted manure or homemade compost. The addition of sharp sand will aid drainage.
5. Keep raised beds low-maintenance
Consider using no dig gardening methods in your raised garden beds to help keep weeds at bay and enrich the health of the soil.
Choosing the location for a raised bed
The first thing to consider when deciding how to build a raised garden bed is to choose the right site.
Many fruits and vegetables will benefit from a sunny spot, so raised garden beds can be added to your vegetable garden ideas.
'The position of a raised bed is important as having exposure to the sun helps to warm the soil more quickly, which in turn helps plants to germinate and extends the growing season,' explains awarding-winning garden designer Claudia de Yong.
'In addition, the advantage of raised beds means you can introduce a different soil type to your garden within them, so you can grow plants such as blueberries, which need ericaceous compost. It also means if you have 'problem soil', such heavy clay, you can amend the soil to provide better growing conditions for your plants,' Claudia adds.
You can add to your flower bed ideas by creating growing spaces with the ideal conditions for particular varieties of flowers.
Consider access to your water supply and drainage – avoiding low, waterlogged areas. Don't position a raised bed right next to a wall or fence, as it will shelter the plants from rain.
If you're considering building a raised garden bed on an area of gravel or hardscape, such as concrete, consider the drainage. Water needs to be able to flow out of the bottom of your raised bed onto the concrete or gravel, but it might impede drainage. The deeper you build your beds, the less likely this will be a problem,' explains TV gardening guru, Joe Gardener.
What kind of wood should be used for raised beds?
'The majority of raised beds are created using timber, however, even the toughest wood, such as oak or cedar, will rot over time unless treated,' explains Claudia de Yong.
All types of untreated wood will need to be replaced at some point. 'The lifespan of your wood will depend on the type of wood and your environment. If you live in an arid climate, untreated wood can last for several years, but only a couple of years in a a hot and muggy area,' explains Joe Gardener.
For this reason, any new timber is best treated, prior to installation, and re-treated at least once a year to keep the rot at bay. 'Most timber will fade naturally, so a colored preservative, stain or paint could be used, if so desired,' Claudia adds.
It is important, particularly if you are interested in sustainable garden ideas, to check that the wood is FSC certified and comes from a sustainable source.
Other raised garden bed material options
As an alternative to wood, there are many other materials that can be used when you're considering how to build a raised garden bed.
Railroad ties – 'Using railway sleepers – or railroad ties – to build raised garden beds is very popular, and they can be purchased new untreated, green, or "tanalised", which makes them safe for use around the garden,' explains Claudia. 'Old creosote treated railway sleepers should not be considered, however, due to the nature of the harmful chemicals used,' she adds.
Hard landscaping materials – including brick and stone can be recycled for building a raised garden bed, just be sure to consider drainage.
Woven willow or hazel – 'this is a favourite in the traditional or country garden to edge raised beds for a more rustic look,' says Claudia.
Scaffolding planks – These are heavy, thick and you just need a post at each corner to support them because of their strength. If you can't get hold of scaffolding planks, you can ask a local sawmill to cut pieces of wood to the same proportions.
Pre-made raised garden bed kits – in addition to building a raised garden bed from scratch, there are many pre-made kits available, including both permanent features and moveable, modular options in a variety of shapes – which can be flexible and useful for small vegetable garden ideas. These can be made from a variety of materials, including steel and recycled plastic, and are easy to assemble.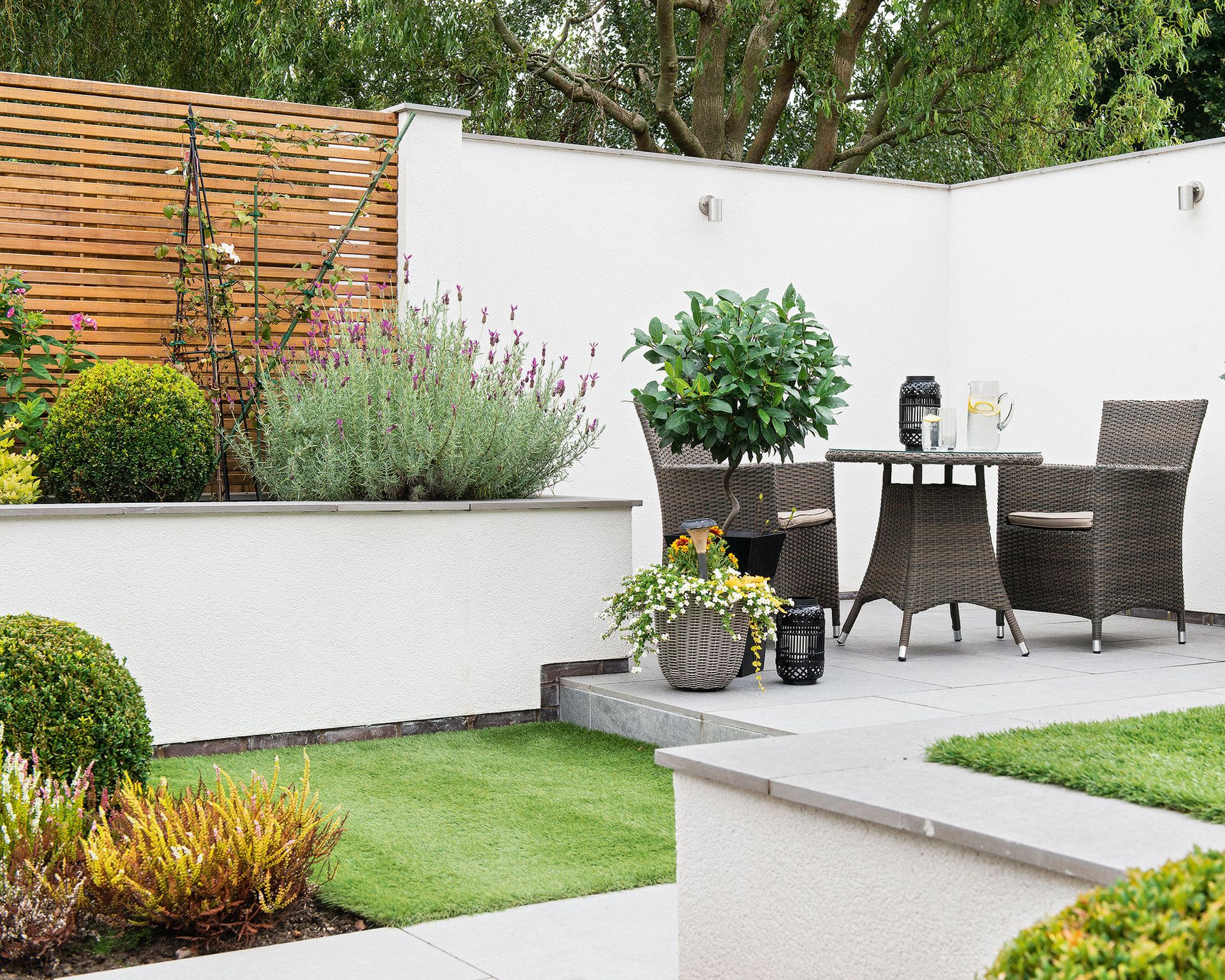 Should you line the bottom of a raised garden bed?
You can line the bottom of a raised garden bed to help reduce any grass or weeds 'popping' up through the new soil and taking over your bed.
'The use of old cardboard or landscaping fabric can be used to line the base of the new raised bed, with holes for drainage, and you can also line the inside of the upstands with black plastic liner to keep the moist soil away,' explains Claudia De Yong.
'When building a raised bed on a hard surface, such as concrete, make sure you have adequate drainage holes in the structure, and fill it with a free draining soil mix to a depth of no less than 23 in (60cm),' she adds.
How deep should a raised garden bed be?
When you're deciding how to build a raised garden bed, there is no rule as to how deep the bed should be, and it will depend to some extent on what you intend to grow and where the bed will be positioned.
'It is important to recognize your reach without stepping onto the soil. Make sure you can get to the middle. Don't make it hard for yourself stretching across the bed, which will inevitably hurt your arms and back,' Claudia de Yong advises.
'Aim for making the beds around 4 foot (1.2m) wide, which is sensible for access from the sides. If you are building more than one raised bed, ensure the path between is wide enough to push a wheelbarrow through.'
Always take in to consideration the height you would like your beds built. '12-18" (30-45cm) is ideal, but building raised beds even as low as 6" (15cm) can work and still be productive,' says Joe Gardener.
If you are building a bed that is shallower, then look to include crops that do not have deep roots, such as those that are suitable for vegetable garden containers.
'The higher the bed, the more soil will be used which will create "heave" against the retaining wall. By adding cross bars to keep the walls from bowing may be necessary,' adds Claudia.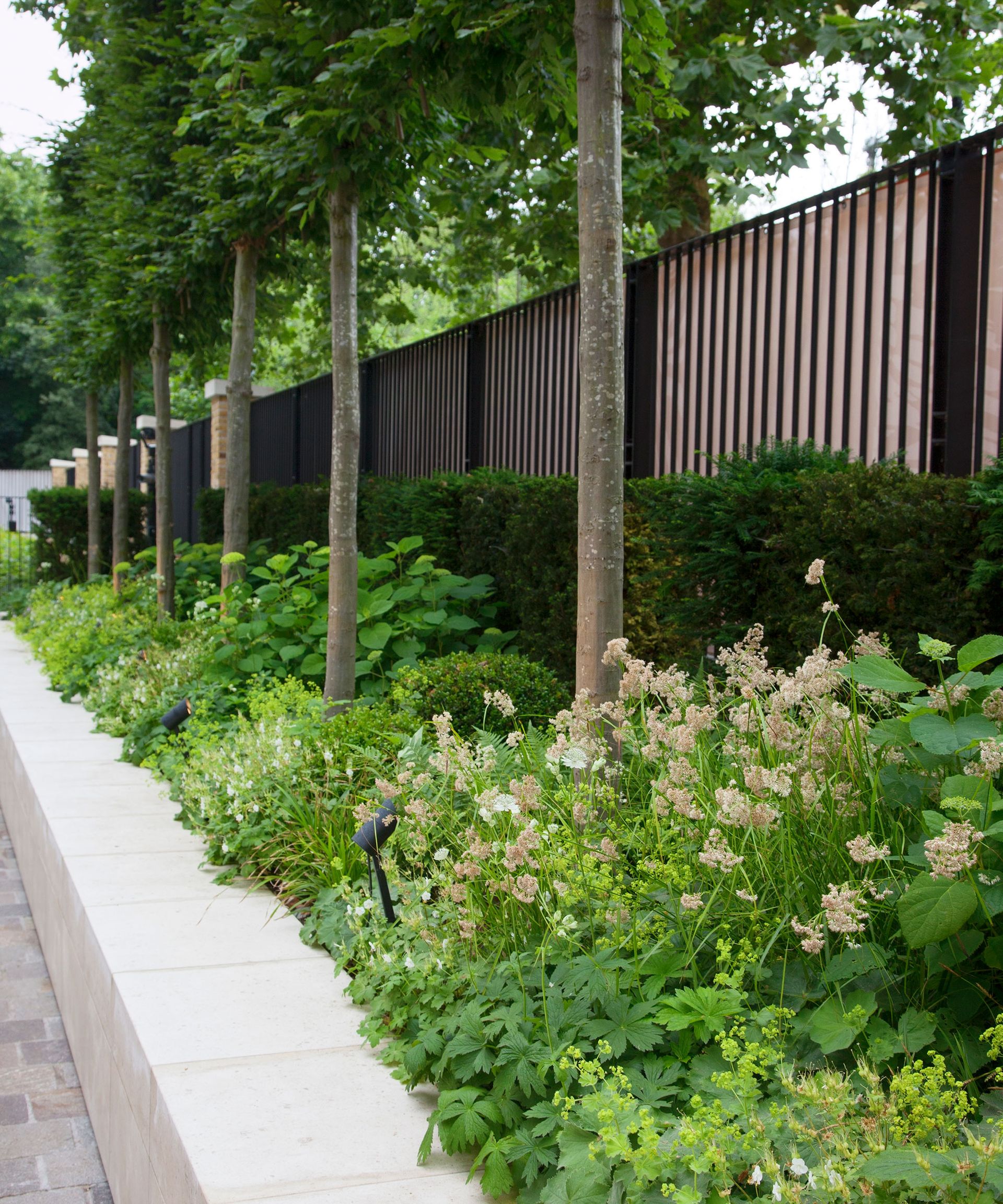 What to plant in a raised garden bed
You can grow almost anything in a raised garden bed, but certain plants will benefit more than others:
Evergreen shrubs make striking architectural features year round when planted in raised beds.
A cut flower garden is ideal to grow in raised beds, as you can plant more densely. A dahlia bed would look stunning come late summer, while sweetpeas need plenty of support.
Salads, such as lettuce and leafy greens are perfectly suited to raised beds, as they like well-drained soil. Cut-and-come-again varieties will also be easier to access.
Herbs planted together in a raised bed near the kitchen will be a useful and aromatic addition.
Crops with long growing seasons, such as onions, are good choices for raised beds, as the soil warms more quickly than in the ground, extending the growing season.
Root vegetables work well as they need rock-free soil. If you build your raised beds with taller posts, you can also more easily net your crops to protect them from pests.
Plants with specific soil needs are ideally suited to raised beds. For example, raspberries, blueberries and cranberries like acidic soil, so you can fill the bed with ericaceous compost.
Sign up to the Homes & Gardens newsletter
Decor Ideas. Project Inspiration. Expert Advice. Delivered to your inbox.
Rachel is senior content editor, and writes and commissions gardening content for homesandgardens.com, Homes & Gardens magazine, and its sister titles Period Living Magazine and Country Homes & Interiors. She has written for lifestyle magazines for many years, with a particular focus on gardening, historic houses and arts and crafts, but started out her journalism career in BBC radio, where she enjoyed reporting on and writing programme scripts for all manner of stories. Rachel then moved into regional lifestyle magazines, where the topics she wrote about, and people she interviewed, were as varied and eclectic as they were on radio. Always harboring a passion for homes and gardens, she jumped at the opportunity to work on The English Home and The English Garden magazines for a number of years, before joining the Period Living team, then the wider Homes & Gardens team, specializing in gardens.