How to grow sunflowers – a step-by-step guide
All you need to know to confidently grow this cheerful bloom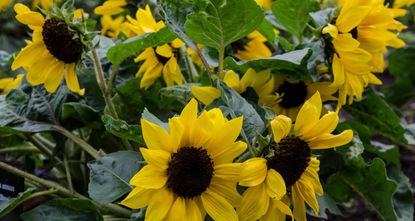 (Image credit: RHS)
Made iconic by Van Gogh, the sunflower is arguably summer's most famous bloom. Its large, daisy-like face is a certified crowd-pleaser, and one that can brighten up any and every garden.
Usually bright yellow, they also come in red, orange, or brown. While these colors don't shine as bright, they're still bold enough to stand out among the rest of your garden foliage, while adding a nice variation on the classic.
The other main characteristic of a sunflower is its height. The tallest varieties can grow to over 16 feet, which is only a few feet less than the average height of a two-story house. It's important then that you can consider where you're going to place your sunflowers, as a grouping of tall ones close to your home may affect the natural light you have coming in. At their best though, sunflowers make show-stopping flower bed ideas.
How to grow sunflowers
To help guide you further in your sunflower growing endeavors, we've put together a step-by-step guide to growing them, with expert advice on how to grow sunflowers – the right way.
Pick your sunflower seed
The real show-stoppers are the larger varieties of sunflower. All aptly named, the Skyscraper, Giant American and Mammoth sunflower varieties all fall into this bracket. These are all fairly standard in terms of what you'd expect visually from a sunflower.
The smaller varieties tend to deviate a little from the script however. The Firecracker for example only grows to around 2-3 inches in height and stands out with its blend of mahogany-red and amber-gold leaves.
Also take note of Irish Eyes which comes with the traditional golden leaves, but contains a green center instead of the customary brown.
Think about fertilizer and compost
'Any fertile garden soil in full sun that does not get water-logged will suit sunflowers,' says Guy Barter, chief horticulturist at the Royal Horticultural Society.
'If in doubt add 50g per square metre of general fertiliser before sowing or planting. Alternatively, add one bucketful of compost or manure per square metre.'
Plant outdoors or inside
It's important to know when to plant sunflower seeds to suit your zone's climate. You can either sow directly outside or if choosing to grow your sunflowers earlier in the season start indoors. Sow your seeds about half an inch (1cm) deep in a cell tray if growing indoors, and just under an inch (2cm) deep if outside.
Sunflowers started indoors will grow rapidly because of the warm environment. You should see them begin to shoot within about a week. Do take them outside after the threat of frost is done, or they might just start to take over your windowsill.
Barter recommends you leave around 12 inches (30cm) between each plant and where you have grown the plants in rows allow yourself a 30 inch (75cm) wide path for access to cut them. The seeds will start to emerge outside in around three weeks.
Caring for your sunflowers
Weeds and garden pests are your main enemies when caring for any flowers. 'Once emerged the plants will grow very fast and to some extent shade out weeds but some hoeing and hand weeding will be needed,' explains Barter.
'Weeds that are allowed to overtop the sunflowers will spoil them very quickly.' It's important then that you regularly keep an eye on them in case any weeds do appear.
As sunflowers grow very quickly, pests are rarely an issue. A regular garden insecticide should do the job just fine if you're worried. Slugs and snails can be damaging until the first true leaves are formed though.
'Either apply slug protection or raise plants indoors where slugs can be excluded,' says Barter. 'Once true leaves have formed the plants are largely safe against mollusc pests.'
Being a summer plant first and foremost, sunflowers are very drought resistant if sown directly in the soil. The roots are less efficient for pot-raised sunflowers though and may need watering every 10 days in dry spells.
Finally, Marcus Eyles, horticultural director at Dobbies Garden Centers, advises tying your sunflowers to a wooden stake for support as they grow. This will help them grow straight as well as prevent a gust from blowing your hard-earned sunflowers away.
Cutting your sunflowers
If you decide you wish to bring your sunflowers back into your home, you can always cut them for display in a vase. 'For cutting, sever the flower stalks as the flowers are on the cusp of opening with just a few rays of the florets being visible,' advises Barter. 'They also last best if a flower preservative is added to the vase.'
Are sunflowers easy to grow?
Yes, sunflowers are easy to grow, provided you protect the very young plants from pests. However, once the first, tougher leaves have formed, growing sunflower mostly looks after itself – they are heat-tolerant, fast-growing and pretty much pest-resistant.
Sunflowers are native to North America, so will grow happily in most states.
Can you grow sunflowers in pots?
Sunflowers can be grown in pots, especially the young plants. However, unless you have very large, deep pots for larger, mature sunflowers, you will need to put them into flower borders because they will fast out-grow small containers.
How long does it take for a sunflower to grow?
Sunflowers can reach up to 12 feet in just three months – reckon to have mature sunflowers within 70 to 100 days of planting them.
Rachel is senior content editor, and writes and commissions gardening content for homesandgardens.com, Homes & Gardens magazine, and its sister titles Period Living Magazine and Country Homes & Interiors. She has written for lifestyle magazines for many years, with a particular focus on gardening, historic houses and arts and crafts, but started out her journalism career in BBC radio, where she enjoyed reporting on and writing programme scripts for all manner of stories. Rachel then moved into regional lifestyle magazines, where the topics she wrote about, and people she interviewed, were as varied and eclectic as they were on radio. Always harboring a passion for homes and gardens, she jumped at the opportunity to work on The English Home and The English Garden magazines for a number of years, before joining the Period Living team, then the wider Homes & Gardens team, specializing in gardens.