Cottage front door ideas – 10 ways to create a warm welcome
From picking a design to choosing the color, these cottage front door ideas will elevate your home's curb appeal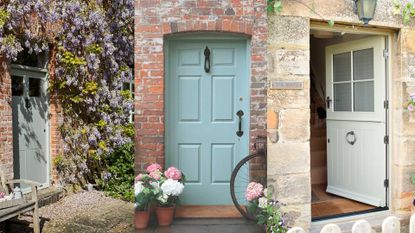 (Image credit: Bridget Pierson/Little Greene/Richard James Joinery)
Sign up to the Homes & Gardens newsletter
Decor Ideas. Project Inspiration. Expert Advice. Delivered to your inbox.
Thank you for signing up to Homes & Gardens. You will receive a verification email shortly.
There was a problem. Please refresh the page and try again.
Selecting the right cottage front door ideas for your home will create the finishing touch that will take your cottage from lowly to idyllic. Of course, choosing a new front door is no small task, in fact it is one of the most important decisions you can make for your home. When researching cottage front door ideas you must find a design that offers protection while also being aesthetically appealing.
So how do you know that you've chosen the right design for your home? With so many different front door ideas to choose from it can feel daunting. However, so long as you opt for a front door design that you love, which is in-keeping with your home's style and that complements the other home's found in your area, you can't go too far wrong.
Cottage front door ideas – 10 ways to create a warm welcome
Your front door is the most seen part of your house and, as such, makes an important first impression, setting expectations for the interior beyond. Therefore, choosing the right design is vital. The materials, color, size and fielding, as well as the doors that are used on other houses in your area will all influence which cottage front door ideas will best fit your home.
'When researching into styles for your new front door, always take the age and architecture of your home into consideration to ensure you choose an appropriate style door that perfectly complements and enhances your home's beauty. Take some time to do some research online and look at neighboring properties of a similar style to see what would be a suitable choice,' advises Charles Fox, director at Timber Windows.
1. Consider the color when researching cottage front doors
Color is a defining feature of many cottage front door ideas. However, it's far more complex than just picking a color that you like. 'When thinking about which color to select for your front door, there are a number of considerations; is the property brickwork or painted, is it a specific color or is there a color within the brick that you can pull out and coordinate with your front door? Alternatively, consider a bold color to create impact,' advises Ruth Mottershead creative director at Little Greene.
'If you're struggling to select a shade, greens work well in an exterior setting, it's a really comfortable color to use outside as we are surrounded by green in our natural environment. If you're looking for a shade that will bring personality to your cottage exterior, consider a bright and cheerful yellow or pretty pastel pink which will put a smile on the face of your guests and passers-by.'
2. Add unique charm with a bespoke front door
Cottage style is all about the craftsmanship behind the products, so why not consider a bespoke cottage front door?
'Getting the right door for the house, sitting just right in the doorway, can transform the entire look of the building and be equally rewarding every time you use it,' says Chris Harrison, commercial director of joinery company Jack Badger. 'The character and age of cottages lend themselves to using a specialist joinery company to work with on something as prominent and fundamental as a front door. A specialist will be able to help inform the design process to ensure the period detail is correct, and importantly will have the experience to fit the door in a way that works with the character of the property.'
3. Add period charm by selecting an antique door
When looking for cottage front door ideas, be sure not to discount antique doors. Available from a variety of salvage yards, antique front doors bring with them an aged patina that is impossible to replicate with modern doors.
However, buying a reclaimed front door requires some additional consideration. 'Check the measurements and make a list of the size of doors you need,' says Andy Warnes from The Reclaim and Salvage Company. 'Be aware that door frames require doors up to 10mm smaller in width and height – to allow a 5mm gap all round the door. You may have to be adaptable, especially on heights, as old homes often used to have thresholds in the doorways. The majority of these have now been removed making the height generally 20mm taller than the door it originally contained.'
'Be wary of doors that have been stored outside in the elements, and avoid doors with black mould spot on them, especially if you wish to wax or oil them as the marks are hard to remove,' adds Andy.
4. Dress a minimalist front door with seasonal wreaths
Contrary to popular belief cottage front door ideas aren't all pastel colors and cheery designs. Darker front doors are very much in vogue at the moment, especially when paired with a white trim, and can work well as alternative cottage front door ideas.
A dark front door provides the perfect backdrop to other front door accessories such as wreaths and hardware. Antique brass door knockers and latches are a great way to elevate the look of your cottage front door ideas, while a seasonal wreath adds the elements of rustic charm that define the look.
You can even learn how to make a pine cone wreath or how to make a poinsettia wreath to add the finishing touches to your cottage front door ideas – both of these designs would look great all year round.

5. Restore an original door to add to the rustic charm
If you're lucky enough to have an original front door, then it is vital that you preserve it. 'Always try to retain as much of the door's existing fabric as possible, including door furniture. Seek professional assistance and minimise the amount of original material lost by splicing in new timber only where necessary. When making repairs, use like for like materials and techniques,' says Alison de Roeck, managing director of Kierson Sash Window and Timber Restoration.
You can also update an original door by adding new door furniture. 'Buy the best you can afford and check the manufacturer's instructions for the correct use of external lacquers and protection. Reclaimed or salvaged antique door furniture generally has the advantage of assured longevity and quality, even if it does need polishing,' continues Alison
8. Consider a Dutch door for an unusual design that exudes with country-charm
While commonly used for backdoors, a Dutch door, sometimes known as a stable door, also offers some great cottage front door ideas.
Dutch doors get their name from the fact that this style of door was common in colonial Dutch-American houses in the early 1700s. 'Split at the center, the upper section could be opened independently of the lower half to let in light and fresh air while simultaneously keeping children in and unwanted animals and vermin out of the house,' explains Peter M. Kenny and Beth Carver Wees from The Metropolitan Museum of Art. These same benefits continue to be one of the major draws of this Dutch style of cottage front door ideas.
As well as offering safety from the outside, it also means that you can answer the door without providing access into your house. This is especially helpful if you have pets, as it enables you to open the door to delivery people while keeping your furry-friends safe behind the lower portion of the door.
7. Bring life to a cottage with a bold front door color
While a color palette of pastels or natural wood might seem like the go-to choice for cottage front door ideas, you can still go bold while embracing cottage-chic.
'Don't underestimate the impact of the color of your door on the overall look of the property. Keep the style of the house in mind, as the wrong color can devalue the property or reduce its appeal,' suggests Ryan Schofield, managing director of Thames Valley Window Company.
Therefore, if deciding to opt for a bolder hue, take into account not only your own home's exterior but those around you. If your door is the only bold one on the street it will stand out, and not necessarily in a good way. If your cottage is on a street where several front doors can be seen in one glance, then you need to make sure that your door works with the palette of the neighbors' doors.
8. Give your front door a cottage feel by growing wisteria
Purple wisteria tumbling over the facade of an idyllic brick cottage is a definitive feature of cottage-style. Of course, knowing how to grow wisteria is a key part of achieving this quintessential look, as is knowing how to prune wisteria – so before embarking on this gardening exercise, make sure you've done your research as this will ensure you get the very best blooms.
Your cottage front door ideas will then revolve around complementing your cascading floral display. Opt for a more minimalist front door in a pale grey or sage shade that will not compete with the blooms for attention. Natural wooden cottage door ideas also work well as they complement the twisting trunk and branches of the tree.
9. Add a porch to complement your cottage front door
Offering shelter while you unlock the door, a porch offers a practical addition that also helps to create a cozy, welcoming entrance to your home. There are endless cottage porch ideas from which to choose, whether you're looking for an authentic oak frame pergola, a beautiful glazed design or a spacious sheltered area where you can enjoy the results of your front yard cottage garden ideas.
When trying to pair cottage front door ideas with front porch design, it is important to consider how the two will work together. Try to echo architectural elements, such as matching weatherboards or gable ends with patterning in the door's fielding. Alternatively, opt for a complementary color palette that ties the two looks together.
Once built, your porch will also present lots of decorating potential. Wondering how to decorate a front porch? Planters filled with cottage garden plants, ambient twinkling lights or even a cozy seating area are all great ways to add cottage charm to the front of your home.
10. Think about how your door looks from the inside as well as the outside
Cottage front door ideas are usually orientated around how they look from the outside, and this is important – after all it's the most seen part of your home. However, it is also vital to consider how your front door will look as part of your cottage hallway ideas.
White is a timeless choice that suits a variety of schemes and as such is a brilliant to pair with cottage front door ideas. However, when choosing white durability is essential, 'opt for a semi-gloss finish as it is a little more forgiving than a standard gloss paint,' says Ryan Schofield of Thames Valley Window Company.
What is cottage door?
A cottage door is one that exudes country charm. Think tongue and groove designs in pastel tones; the warm character of rustic wood or a versatile Dutch front door. Cottage front door ideas are not prescriptive, as is the ethos with all cottage designs, it is about embracing the character that makes your home unique and adding elements that complement its overall look.
How do you make the exterior of my house look like a cottage?
There are many ways to make the exterior of your house look like a cottage. From replacing your front door with a cottage-style design to growing wisteria up the front or adding a rustic wreath, all add cottage charm to the exterior of your house. You can go one step further and research cottage porch ideas or grow cottage garden plants as these will also help the exterior of your house look like a cottage.
Sign up to the Homes & Gardens newsletter
Decor Ideas. Project Inspiration. Expert Advice. Delivered to your inbox.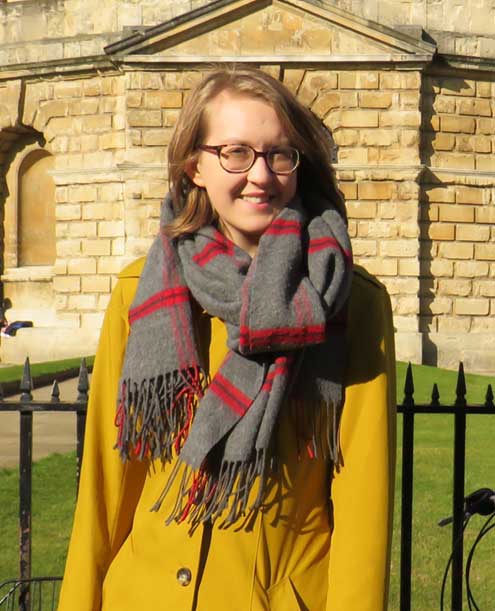 Content Editor and Sub-editor
Having graduated with a first class degree in English Literature, Holly started her career as a features writer and sub-editor at Period Living magazine, Homes & Gardens' sister title. Working on Period Living brought with it insight into the complexities of owning and caring for period homes, from interior decorating through to choosing the right windows and the challenges of extending. This has led to a passion for traditional interiors, particularly the country-look. Writing for the Homes & Gardens website as a content editor, alongside regular features for Period Living and Country Homes & Interiors magazines, has enabled her to broaden her writing to incorporate her interests in gardening, wildlife and nature.