12 cottage porch ideas – design inspiration for a cozy, welcoming entrance
Embrace the cottage porch look to make your home feel warm and inviting, and even extend your living space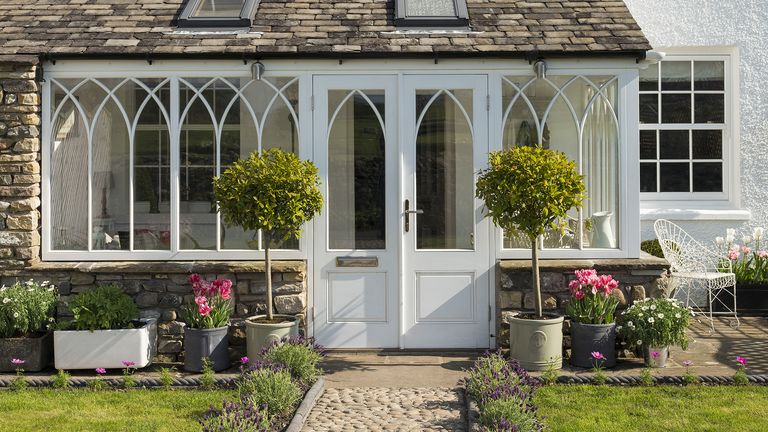 (Image credit: Jeremy Phillips)
By Melanie Griffiths published
A cottage porch is not just an essential addition to quaint country homes – it's a look to aspire to for anyone wanting to create an entrance that is welcoming, intimate and cozy.
See: Cottage decorating ideas – charming ways to get a characterful look
'These little outdoor rooms – usually off the front, back or side of the house – can be so many things: a stately extension of the front hall, a depository of rocking chairs, or a shady room for naps,' says interior designer Miles Redd, from New York City-based Redd Kaihoi .
Redd originates from the South, where porches are particularly popular. 'In the South, we relish a good porch, especially in the spring – when it is warm, but with a cool breeze waiting in the wings.'
More than just a practical addition, a cottage porch is the ultimate expression of comfort. It gives a warm embrace that makes you feel truly at home.
1. Add seating to your cottage porch – and take in the view
As Redd suggests, rocking chairs are a charming addition to a cottage porch, allowing you to while away the hours and soak up the local atmosphere.
If your porch is raised, it will need to be fairly deep to be able to fit in rocking chairs and safely roll back and forth.
For a narrower porch area, choose a more compact seat with comfy cushions. Rattan or all-weather wicker furniture is an ideal choice, as it has a softer look and will stay looking good year round.
2. Turn your cottage porch into an extra living room
Though cozy and homely, cottages are not known for their generous room proportions, so consider adding a porch that doubles as a second living space.
This stone cottage has been extended with a shiplapped front porch, which has added an informal living room and softened the exterior. Double doors open onto a patio seating area with spectacular views.
'A living-porch makes the ultimate warm welcome, and a great spot to wait for visitors to arrive – even on a cold day,' says Andrea Childs, editor of Country Homes & Interiors.
'Make the space an inviting sanctuary with a cozy bench seat, lots of cushions and a soft rug.'
See: Cottage extension ideas to add to your home's character
3. Add homey touches for a cottage porch look
A cottage porch should make an entrance feel warm and inviting, and connect emotionally with a visitor. One of the best ways to achieve this is by adding thoughtful touches that treat the space as an extension of the inside.
No one knows the importance of accessorizing a porch more than Magnolia founder and Fixer Upper star Joanna Gaines. 'I think little things like potted plants, sconces, front door mats… things that when you walk in just feel intentional,' she revealed on a tour of her family farmhouse on the Today Show.
Gaines often adds flower boxes and sitting areas to front porches when designing homes, to evoke the perfect cottage feel. In this design, painted outdoor storage and bench seating add a snug corner, and somewhere to take off muddy boots.
See: Cottage hallway ideas – style inspiration to create a welcoming space
4. Build a cottage porch on the side of your home
When the entrance is located to the side of a house, the front facade can lack impact and a central focus. However, adding a side porch extension allows for the creation of a street-facing door, and creates a generous space that can double as a mudroom or sitting area, and can run to the back of the house, giving access to the garden.
If your entrance is already on the front elevation, then adding a porch to the side of a house gives the opportunity to change the interior layout, which can be ideal if the front door opens a main living space directly onto the street.
Clad in dark-stained shiplap, this pretty porch has a lovely country feel, while the cottage-style gate and sage paint add a softer touch.
5. Illuminate your cottage porch with stylish outdoor lighting
Outdoor lighting is essential to include for any style of porch, but for cottage porches, it will set an even homier atmosphere.
'Bulkheads, path and step lights make dark or steep walkways safer to use, while a pendant in a covered porch or box wall lights flanking the front door create a warm welcome, as well as enabling you to find your keys,' says Charlie Bowles, director at Davey Lighting.
The brand's square pendant is a simple, classic design with a weathered brass finish, which will tone in beautifully with a cottage aesthetic.
Don't miss our cottage lighting ideas for pretty, practical solutions.
6. Make a cottage porch feel part of the garden
This classic English Cotswold cottage makes its porch feel at one with the garden by enclosing it with planting and painting the woodwork in a soft moss shade.
But it reveals another clever idea – using the roof to display containers. This trick really frames the porch with greenery and entices you to go inside.
See: Cottage garden ideas – pretty ways to embrace rustic style outdoors
You can only really do this where there is a flat-roofed section that can take the weight. Where this isn't possible, add hanging baskets or window boxes to heighten the connection between porch and garden.
7. Design an indoor-outdoor sitting space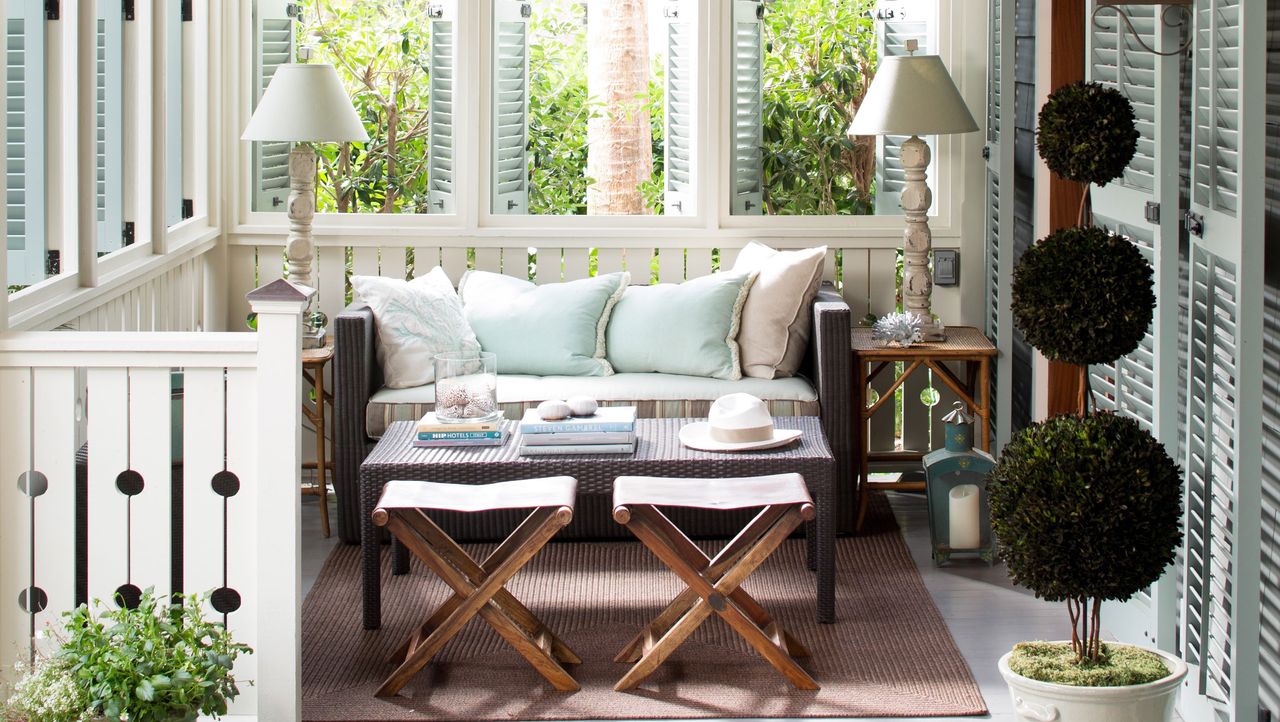 The weather can rarely be relied upon to be consistently temperate. So consider making your porch more versatile with external shutters, which can be closed off when the sun or wind get too much, or if you want extra privacy.
The soft blue and cream of this color scheme by Benjamin Moore are perfect for a country cottage look.
8. Create a vintage-style reading nook
Cottage porches are perfect for creating a small corner to escape the hustle and bustle of family life. If you can squeeze in room for a chair and side table, then it makes a fabulous spot for reading or writing.
Unlike a rear garden room, relaxing in a front porch makes you feel connected with the world beyond your property, so you can while away the hours watching people and animals pass by.
Make the space feel relaxed and intimate with painted furniture and vintage accessories.
The porch on this English country cottage has a charming exterior to match, with a pretty barge board and finial, and country-style double doors. A cottage garden makes the perfect approach.
9. Add color to a cottage porch with containers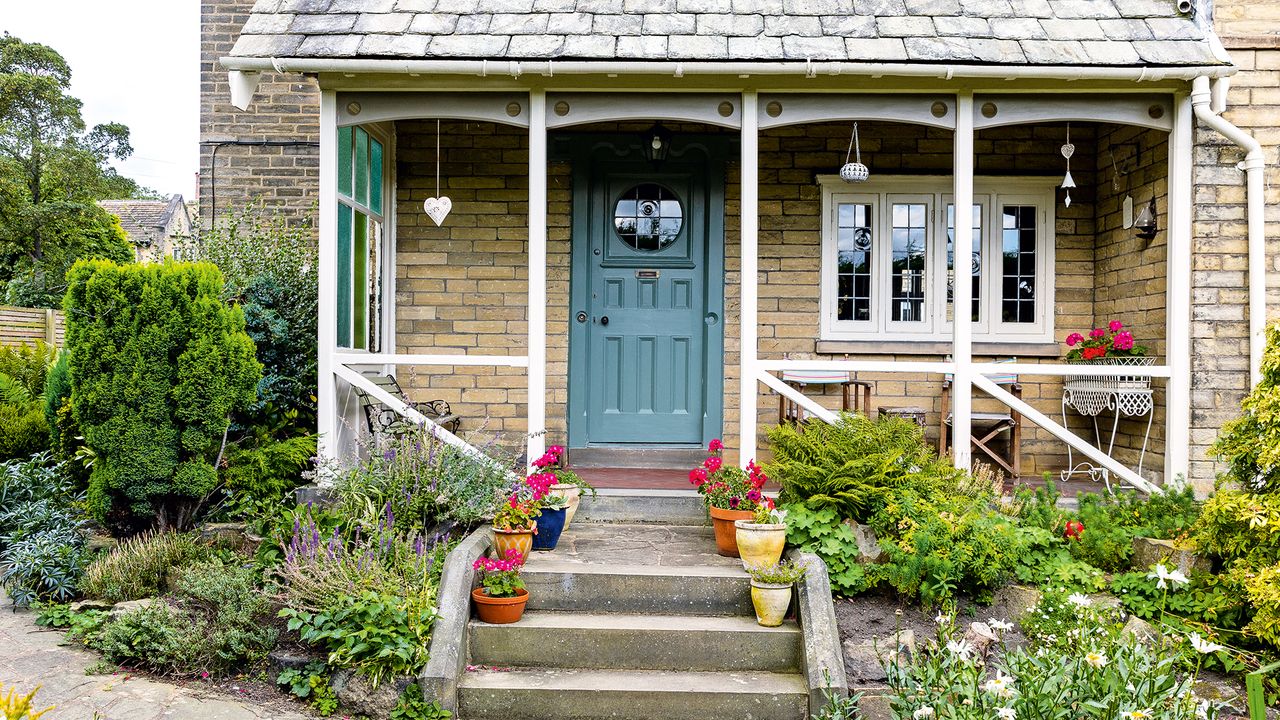 Plants are essential for adding color and life to a cottage porch, so fill your space with containers, or perhaps line the steps leading up to your front door with pots.
'Garden pots are always going to be a good look – don't be shy of scaling these up,' says interior designer Benji Lewis.
'When it comes to pots, I would likely choose terracotta – those glazed ones that suggest that farmhouse holiday in Provence, filled with something the bees will love, then pop a climbing rose in another pot and train it over the door.'
10. Enhance the cottage feel with rustic materials
Part of the appeal of cottages is that they are humbler homes, so use natural and rustic materials to enhance the look and make the space feel more lived in.
'Think cool brick floors, old wicker, and lush ferns,' says Miles Redd. 'Porches are a magnet, because they offer so much comfort in the great outdoors.'
In this porch, an exposed timber ceiling, aged stone floor and textured brick walls are beautifully softened by painted woodwork, sheer drapes, an antique rug, and plants in terracotta pots. A vintage wicker chair (just seen) provides the perfect spot to take in the views.
See: Cottage curtain ideas – inspiration for a pretty, cozy home
11. Keep it simple with an oak-frame cottage porch
An oversized porch can detract from the charm of rustic cottages, so consider that a simple open-sided structure might best suit your home.
The roof of this oak-frame porch by Welsh Oak Frame keeps you dry while unlocking the front door, and adds a warm focal point to the facade.
12. Bring in the light with plenty of glazing
If you're worried that adding a cottage porch will block light to the inside of your home, then make sure the design maximizes glazing.
On this home, the glass features stunning gothic arch detailing on the tall windows, to complement the period property. The roof also includes rooflights, to bring in ample light.
Furnished with vintage-inspired metal furniture, the space doubles as a garden room, and is the perfect spot to remove muddy boots after a walk in the countryside.
As editor of Period Living, Britain's best-selling period homes magazine, I love the charm of older properties. I live in a rural village just outside the Cotswolds, so am lucky to be surrounded by beautiful homes and countryside, where I enjoy exploring. I am passionate about characterful interiors and heritage-inspired designs, but I am equally fascinated by a house's architectural elements – if I spot an elegant original sash window or intricate stained-glass front door, it fills my heart with joy. It's so important to me that original features are maintained and preserved for future generations to enjoy. My other passion is my garden, and I am slowly building up my planting knowledge, and becoming more confident at experimenting with growing my own. As well as editing Period Living, I am also co-editing the Country Channel of Homes & Gardens. In my previous roles, I have worked on Real Homes and Homebuilding & Renovating, writing about modern design and architecture, so my experience is broad – but my heart belongs to period homes.